8 Red Pearls: "The Martian" and Other Best Mars Movies
Oct 5, 2015 &nbsp • &nbsp Karl R. De Mesa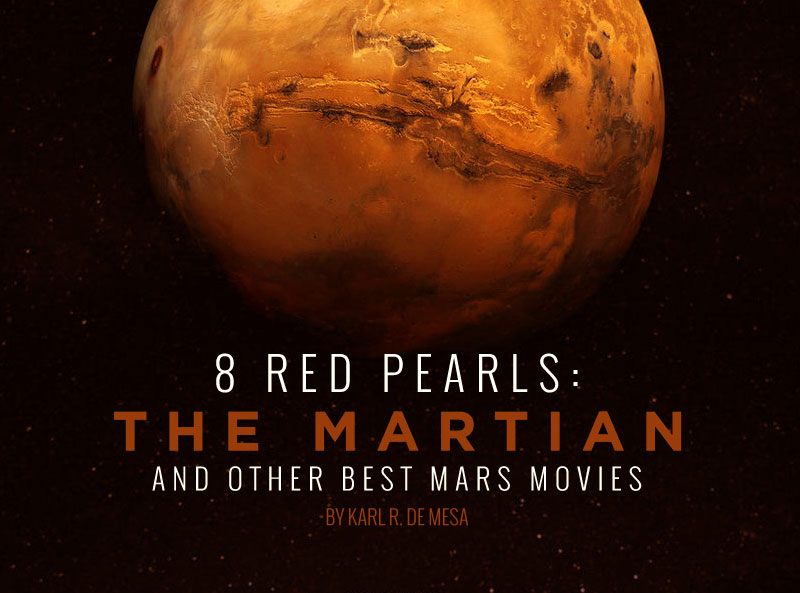 Ridley Scott makes a bid here for the man vs space survival drama genre and he sure does deliver. The Martian is paced like one of Scott's gritty action epics, full of heart, and as much accurate science as you can pack in while letting the human spectacle play out with minimal fictionalized element—the last one is courtesy of novelist Andy Weir, whose book the adaptation by screenwriter Drew Goddard is based on.
The formula is simple: Maroon Matt Damon on Mars and pit him against Martian natural forces, while, back on Earth, let the human drama unfold with NASA and the American government debating whether it would be better to let the stranded astronaut die or bring home the team (who are en route to Earth) that left him and have them live, instead of them risking their lives to rescue the guy and possibly die in the attempt.
The result, under the masterful hand of Ridley Scott, is pure, riveting popcorn entertainment that has you rooting for Damon and cursing the red planet for its fickle brutality. Unlike Nolan's Interstellar, love doesn't win the day or solve squat at all, which makes this movie way better, logical viewing even if you have ambiguous feelings (or possibly hate) Jason Bourne or have zero knowledge about astrophysics.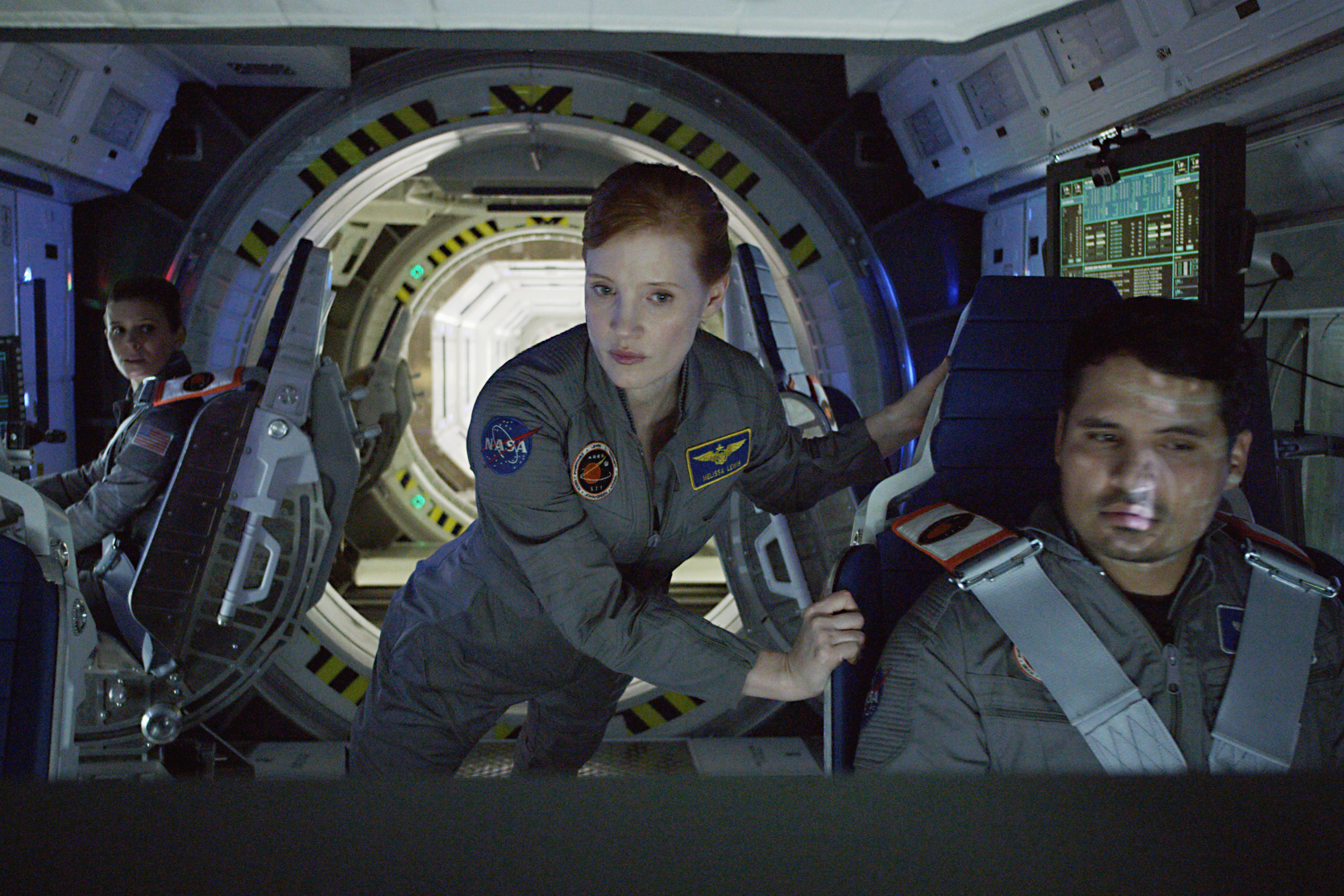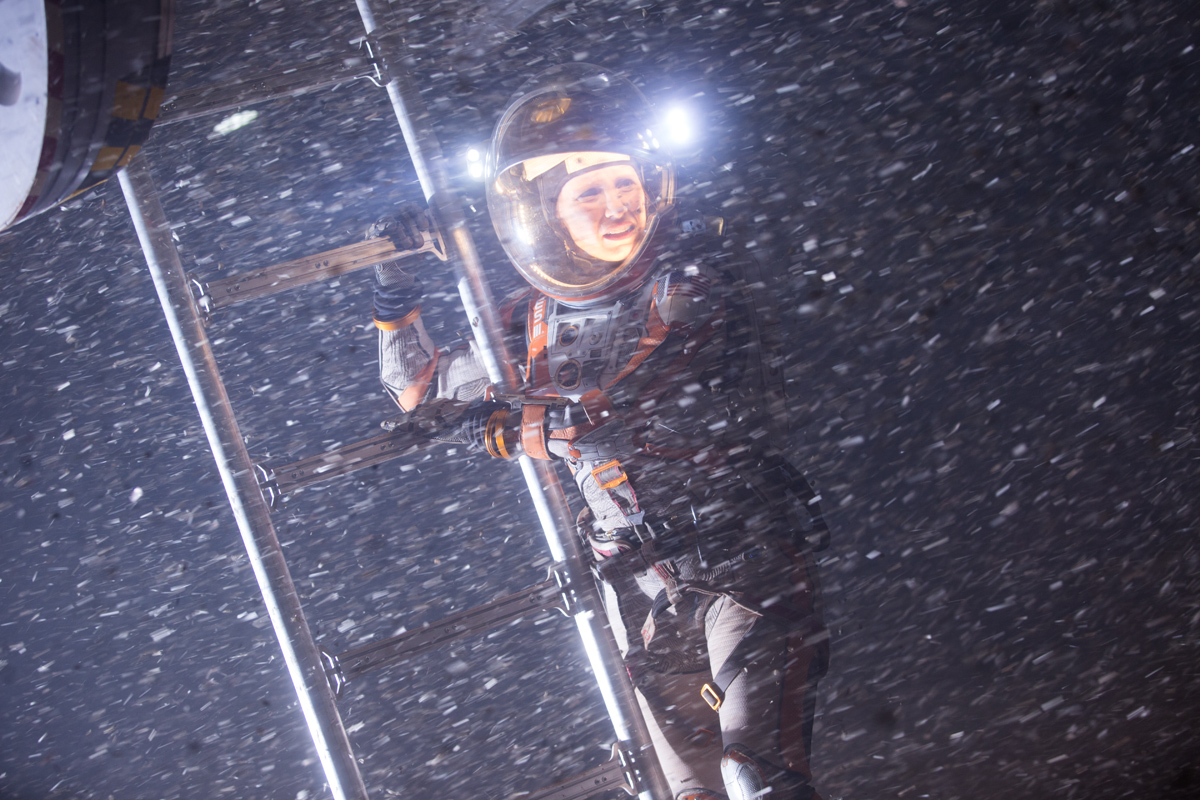 I must also tell you that you might consider skipping this if you actually do harbor any feelings of intense loathing for Matt Damon, since he does get more than half the screen time and his jockish/nerdish charm (along with perennial scene stealer and roguish clown Michael Pena as astronaut Rock Martinez) does carry the day, but it would be a disservice to not at least take a peek at the trailer on the list below. It'd be a fair bet to say you might like them Martian apples (or taters).
Also, good on Jessica Chastain (as mission commander Melissa Lewis) for taking another space movie project where love doesn't get you to time/space travel through the fifth dimension and back to your Earthling bookshelf intact. Applause for her strong female character in a leadership role is very well deserved, but you'll need to watch this to find out why.
Here are other top-shelf movies set in Mars with Scott's movie as the current leader in terms of story, prod value, and aspirational scientific context—one day, Mars, one day we'll build our cities on your red soil. *Shakes Fist*

Loosely-based on the video game series of the same title, a group of Marines investigate an incident on a Martian research facility that was originally a rescue and retrieval mission after communications got cut off. Soon, The Rock and his crew uncover the facility's deadly secret of weaponized, genetically-enhanced creatures. C'mon, it's The Rock versus giant zombie demons!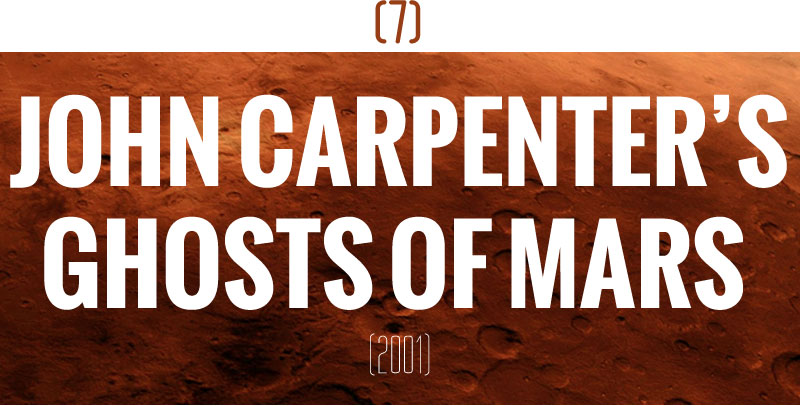 Low on the story and logic but high on entertainment B-movie value, John Carpenter takes possessed humans, buried Martian civilizations, some softcore nudity, Ice Cube and Natasha Henstridge, and puts them all inside a blender then hits puree. The result is this fine, bloody, gritty cult hit. It also doesn't hurt that Jason Statham, Pam Grier, and Clea DuVall are on the bill as trigger-happy soldiers.

Brian De Palma's sci fi effort is meditative, moody, and fascinated by the colonization possibilities of Mars in the year 2020,. Which also makes for post-viewing discussion point now that our scientists have recently discovered that there is indeed frozen water on Mars, something which the mission of the astronauts in this movie hinges on: the team here discover a crystalline formation in the Cydonia region, by which they suspect an extrusion from a subsurface geothermal column of water will be useful to future human colonization. Unfortunately the native Martians didn't like this and sent some pretty bad weather to stop the humans.

One of the best parodies of science fiction B movies, which is probably the kind of society you'll end up with when Jack Nicholson is the president of the USA with elements of black comedy and political satire. This is the crude, LOL-kind of funny even if it dies mix in elements of satire and pplitical lampoons. The ensemble A-list cast is also a bonus featuring Glenn Close, Annette Bening, Pierce Brosnan, Danny DeVito, Martin Short, Sarah Jessica Parker, Michael J. Fox, Tom Jones, and Natalie Portman.

A Spanish production that is as finely crafted an art/indie film can be about space exploration and being marooned on another planet, foreshadowing Ridley Scott's grander vision. This movie is well worth the look for its metaphoric, gloomy disaster-film like approach, if you can find it in tis completeness online. Plus, the screenplay was written by Spanish cult sci-fi author Juan Miguel Aguilera.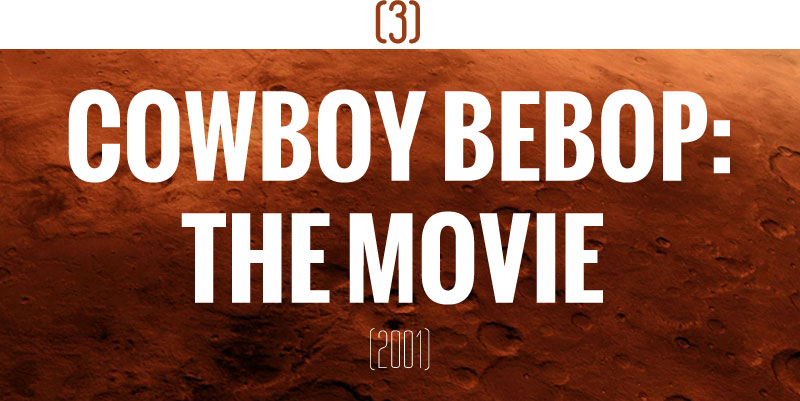 The cyberpunk standard for Mars movies, Cowboy Bebop is set on Mars in the year 2071, 49 years after Earth was abandoned after a catastrophe. We follow a band of misfits led by Spike Spiegel as they go through semi-legal ventures to make a living. The inclusion of Ein, an artificial dog with human level intelligence, in the mix is hilarious and may even be prophetic.

Do not, I repeat, do not watch the atrocious 2012 version of this classic. Unlike other 90s cult hits, this one needs no updating for the psot-noughties hipster set. With Paul Verhoeven directing, Arnold Schwarzenegger in his best put-upon action hero mode, and inspired by Philip K. Dick's We Can Remember It for You Wholesale, the visceral storytelling and signature Dicksian twists (plus requisite eye candy courtesy of Sharon Stone in her heyday) make this compulsive viewing and re-viewing. It never gets old and will have you shouting (in your best Governator voice): "See yah at the partay Rictah!"

Sigh, Matt Damon needs rescuing again. You'd think he'd learned his lesson from "Saving Private Ryan" and the love-wins pablum of Interstellar; but no.
Presumed killed by a devastating windstorm that forced an emergency evacuation, Astronaut Mark Watney (Matt Damon) awakens, injured and alone on Mars. How will Watney stay alive and get in contact with Earth for a possible rescue mission? With only meager supplies, he must draw upon his ingenuity, wit, and spirit to subsist and find a way to signal to Earth, meantime calculating that, if he's to stay alive he'll need to "science the shit out of it." Millions of miles away, NASA and a team of international scientists work tirelessly to bring "the Martian" home, while his crewmates concurrently plot a daring, if not impossible rescue mission.
Based on a best-selling novel by Andy Weir, this story is set in the near future, roughly 12-15 years ahead, and virtually every scientific aspect of the book is plausible and supported by current theory.
"This is the ultimate survival story," says director Ridley Scott. "Mark Watney is placed under unimaginable duress and isolation, and the movie is about how he responds. Mark's fate will be determined by whether he succumbs to panic and despair and accepts death as inevitable —or chooses to rely on his training, resourcefulness and sense of humor to stay calm and solve problems.
HONORABLE MENTIONS
THE MARTIAN CHRONICLES (Made for TV Movie)
Based on Ray Bradbury's classic sci-fi collection of the same title and starring Rock Hudson, even Bradbury found the miniseries "just boring."
RED PLANET
Four words: Val Kilmer sucks ass.
All photos courtesy of 20th Century Fox. The Martian is now screening in Metro Manila cinemas in 2D and 3D from 20th Century Fox.