The threat of living death and eternal night hanging over their heads notwithstanding, love was most definitely in the air in the latest Game of Thrones, "A Knight of the Seven Kingdoms". Following last week's reintroduction to the characters and world of Westeros following a nearly-two-year wait, director David Nutter (ER, Supernatural, The X-Files, Smallville) returns to helm his second instalment in a row before turning over the reins for the remaining four episodes of the season.
So how did our favorite cripples, bastards, and broken things fare this week?
THE STORY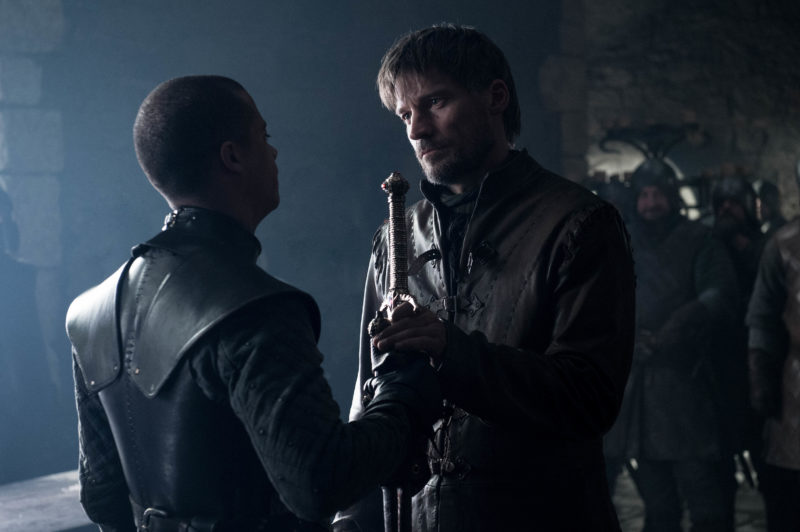 Newly-arrived at Winterfell, Jamie Lannister (Nikolaj Coster-Waldau, Gods of Egypt) is on trial before a council comprised of Sansa Stark (Sophie Turner, X-Men: Dark Phoenix), Daenerys (Emilia Clarke, Me Before You), and Jon Snow (Kit Harrington, Pompeii). In trial, not just for his own crimes, but for his sister's broken promise to join the coalition of the Living, it is only through a testimonial from Brienne of Tarth (Gwendoline Christie, Star Wars: The Last Jedi) that Jamie escapes execution.
As Daenerys takes Tyrion (Peter Dinklage, Three Billboards Outside Ebbing, Missouri) to task for not foreseeing Cersei's treachery, the final Night's Watch and Wildling survivors arrive at Winterfell to warn their comrades of the Night King's imminent arrival. While the combined forces of the Wildlings, Unsullied, Night's Watch, Dothraki, and assorted northern territories make final preparations for battle, everyone tries to make peace with the idea that the night ahead may be their last.
LAST STAND AT WINTERFELL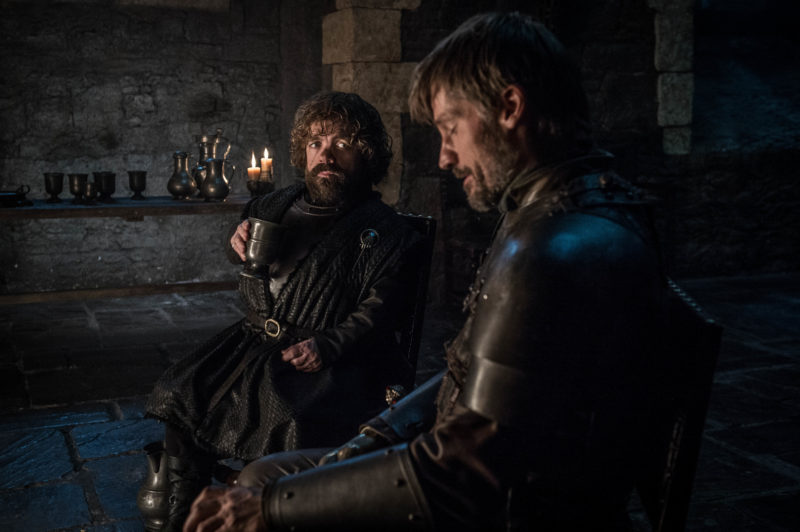 If last week's episode was about getting everybody to the same place, this week's was about getting them all on the same page. Nutter manages the episode well, allocating everyone adequate screen time to settle old issues, make promises, and bury grudges in the proverbial calm before the storm. This episode fleshed out the implications of characters' reunions beyond the main cast, both in terms of letting us into their headspaces and their respective emotional states. Amidst shots of armaments, traps, and barricades being readied, "A Knight of the Seven Realms" took its time, not just to remind us that we love these characters, but why.
The episode takes cues from other siege stories, such as, 55 Days at Peking (1963) and The Lord of the Rings (2001-2003), delving into the effect of the coming battle on regular citizens via interactions with Davos (Liam Cunningham, War horse) and Gilly (Hannah Murray, TV's Skins). A scarred child declares to Davos her intention to fight, causing the Onion Knight to recall his own lost daughter, and a peasant voices his fears on being called upon to fight, each finding reassurance over a bowl of (onion?) soup. By the time Podrick (Daniel Portman, Paul) launches into a soulful, lyrical ballad intercut with scenes of tearful goodbyes and battle preparations, the similarities to the preludes of LOTR's largest battles seem downright deliberate (and that's not a bad thing).
REDEMPTION QUEST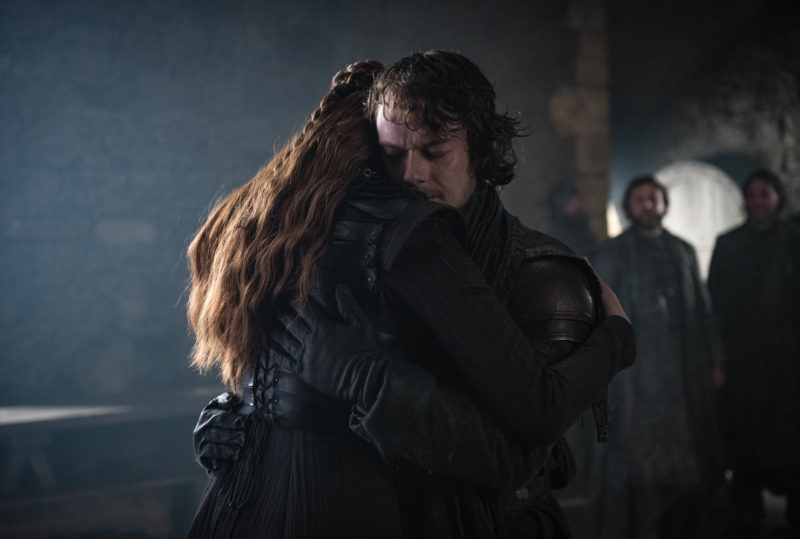 A running thread through the episode was the pursuit of redemption in the face of certain death, primarily personified by Jamie and Theon (Alfie Allen, John Wick). Jamie comes full circle from 2011's pilot episode, actually apologizing to Bran (Isaac Hempstead Wright, Closed Circuit) for crippling him all those years ago. Coster-Waldau convincingly conveys Jamie's inner demons through an intriguing mixture of remorse and pride, as in a scene where he declares that he would do it all again in the defense of his family. When Brienne springs to his defense, however, Jamie's facial expression tells us all we need to know about how much this former lion has changed over the course of seven seasons.
Theon, whom we last saw having rescued his sister, is finally back at Winterfell, seeking to make up for his role in capturing the castle as Ramsay Bolton's (Iwan rheon, The Dirt) brainwashed captive back in Season 2. The joy with which Sansa greets Theon's arrival is shocking (if not outright alien) to Dany, given that she's never experienced a genuine human connection in her life, and she certainly isn't going to go looking for one this close to the Iron Throne.
BALANCE OF POWER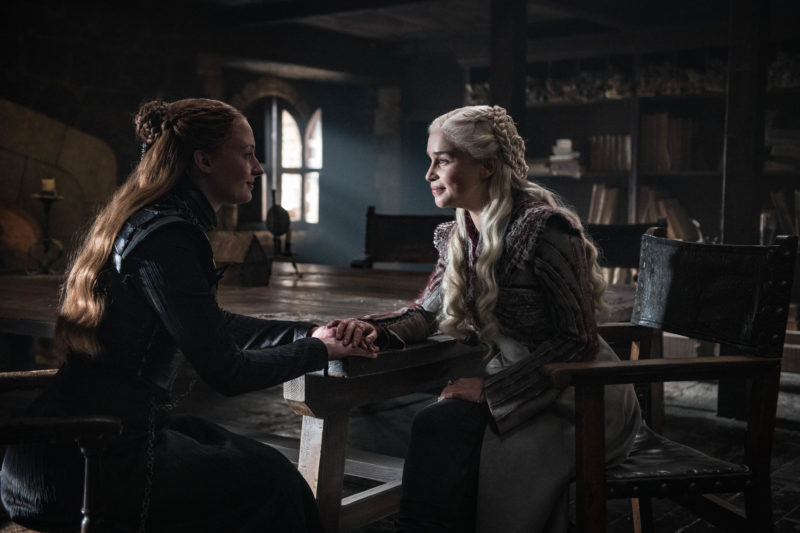 Last week, it was glaringly obvious that Sansa and Dany weren't going to be fast friends, with the former concerned for her peoples' well-being, and the latter blinded by her lust for power and (supposed) love for Jon Snow. This week, on the advice on Jorah (Iain Glen, Resident Evil, Downton Abbey), Dany seeks an audience with Sansa to try smoothing things over, only to abandon the attempt when asked on her intentions for the North should she ascend the Iron Throne.
Truth be told, as far as potential rulers go, Sansa continues to be the best candidate for the job, frequently asking the right questions, making the right choices, and putting her foot down when she has to. Think about it: she lacks Cersei's self-delusional narcissism, has none of Jon's (frankly tiring) naiveté, and she definitely isn't the emotionally unfit brat that Dany's been showing herself to be as of late. Cool, collected, tough as nails, and with a keen strategic mind, one wouldn't be surprised if Sansa ends up winning the series' titular contest.
FRIENDS IN STRANGE PLACES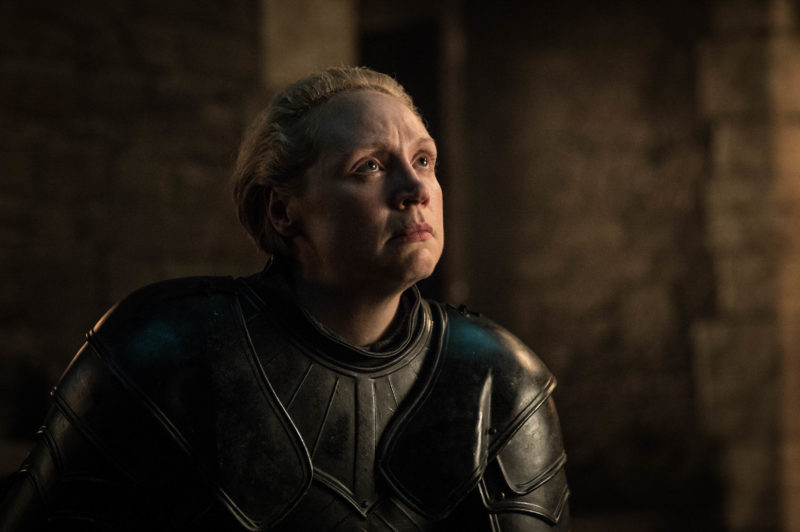 Seeking warmth in front of a fireplace, Tyrion and Jamie indulge in a jug of wine while reminiscing about their lives. In short order, they joined in an impromptu drinking session by a decidedly motley crew consisting of Podrick the squire, Brienne of Tarth, Tormund the Wildling, and Ser Davos Seaworth. The sequence is brilliant and tragic for how perfectly each actor has come to embody their characters, especially when one considers this is both the first (and probably last) time they've ever been assembled in a non-violent context.
The emotional highlight comes when Brienne of Tarth receives an impromptu (if much-deserved) knighthood, courtesy of the Kingslayer, Ser Jamie Lannister. What starts as drunken banter quickly becomes something so much more, as Jamie confers the vows of knighthood with such sincerity and gravitas, it is impossible to not be moved. Sure, Jamie may yet perform some incredibly heroic deed over the next few episodes, but with this noble act, he's already redeemed himself.
SEEKING A FRIEND FOR THE END OF THE WORLD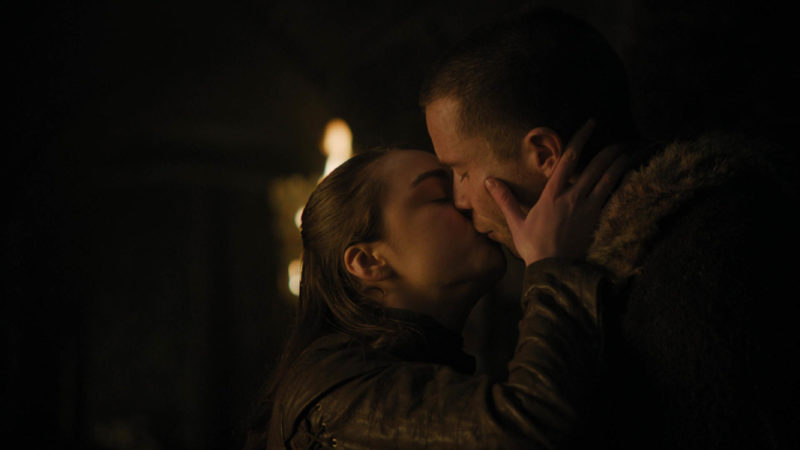 Even as Brienne fulfills her dream of becoming a knight, (Rory McCann, Hot Fuzz) is sharing a drink of his own with Arya (Maisie Williams, Then Came You) and Beric (Richard Dormer, TV's The Musketeers), before the youngest Stark leaves to seek more pleasant companions.
She takes her quantum of solace with Gendry (Joe Dempsie, TV's Skins), paying off years of sexual tension between the two, to the simultaneous delight and horror of fans everywhere. Unsettling as it is to see someone we've watched since she was a little girl get her kit off, the moment comes across as surprisingly honest and tender, rather than exploitative.
THE BOTTOM LINE

There is a moment when Tyrion points out the irony of so many former Stark enemies gathering to defend their home, and on hearing this, the audience can't help but nod knowingly. Such is the combined history of the gathered characters, such is the earned weight of these final episodes; inasmuch as the characters are toasting to their last night, they may as well be drinking to the end of an era nearly ten years in the making.
Whatever happens next, regardless of who survives, this viewer is happy to have shared one last drink with old friends.
All images courtesy of HBO.
What are your thoughts on episode 2? Tell us below!