The Umbrella Academy: Superhero Dysfunctionality
Feb 26, 2019 &nbsp • &nbsp Mikhail Lecaros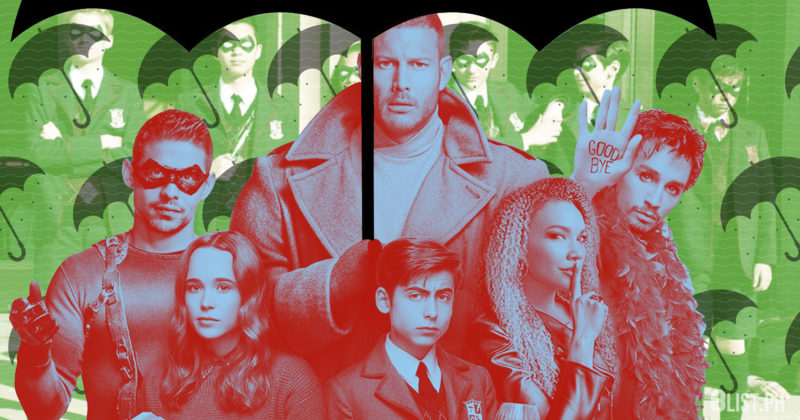 Last week, Jessica Jones and The Punisher joined Daredevil, Iron Fist, Luke Cage, and The Defenders on the unemployment line, with Netflix announcing they would no longer produce the fan-favorite shows. Initial speculation pointed at Disney's expensive licensing fees and upcoming streaming service (despite it having been announced that mature content would not be offered on said platform) as the reasons for the decision.
The actual cause would prove to be closer to home, as, in the years since partnering with Marvel, Netflix's credibility in producing original content has grown by leaps and bounds. When Daredevil premiered to rave reviews back in 2015, Netflix was nowhere near as popular as it is now, and their original content was in its infancy. Today, the playing field is very different, with the platform going all-out in producing award-winning original content across every conceivable genre.
With Netflix effectively severing its Marvel ties, the streaming giant has hedged its superhero bets on The Umbrella Academy, the story of a dysfunctional family of superhero siblings. Based on the Dark Horse comic book written by My Chemical Romance frontman Gerard Way, The Umbrella Academy is Netflix's first stab at a property from a smaller publisher.
The Story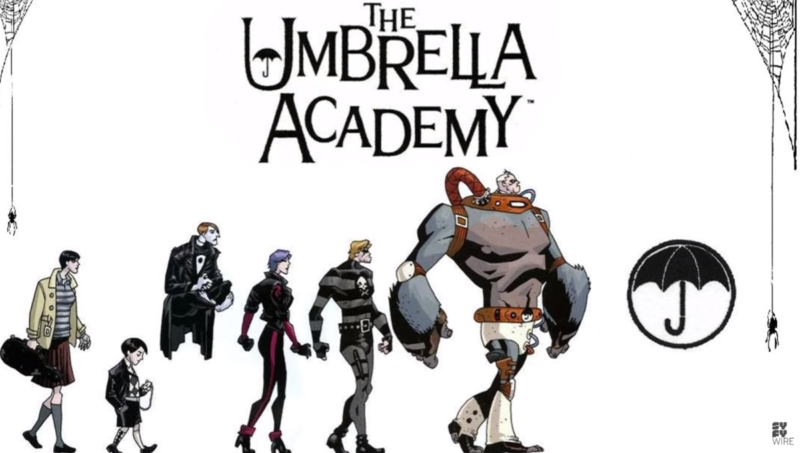 The Umbrella Academy opens in 1989, as previously non-pregnant women across the world spontaneously go into labor. Seven of the resultant babies end up in the care of eccentric billionaire Reginald Hargreeves (Colm Feore, House of Cards), who takes them to his school (the titular Academy) to train them as superheroes. Following years of adventures, and Hargreeves' cruel parenting (he assigns them numbers years before giving them actual names), the children go their separate ways, only to be reunited when their adoptive father passes away under suspicious circumstances.
With years of unresolved issues between the now-grown children, the reappearance of a sibling long thought lost, and the threat of a pending apocalypse, the members of the Umbrella Academy must put aside their differences in order to save the world once more.
When compared to the madcap, over-the-top nature of the original comics, it's clear that showrunner Steve Blackman (Altered Carbon, Fargo) plays it safe with his adaptation, swapping out whimsy for pathos and dark outfits (much like the early X-Men films). While purists may cry foul, the majority of changes actually work in the show's favor.
The Creepy and the Kooky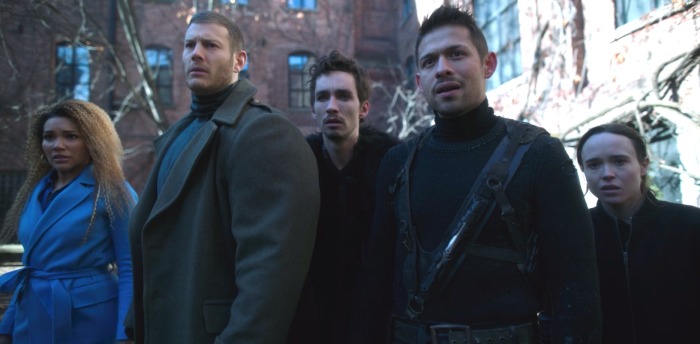 One doesn't need to have a working knowledge of superheroes to follow the story, as Umbrella Academy takes cues more from dramatic conventions than anything else: Luther is the ostensible good son who has a strained relationship with hot-headed brother Diego (David Castaneda, Sicario: Day of the Soldado). Allison (Emmy Raver-Lampman, of Broadway's Hamilton) is the pretty older sister who gets everything she wants, while Vanya (Ellen Page, Juno) is the insecure younger one, and Klaus (Robert Sheehan, Misfits) is the (proud) family black sheep.
The only ones who aren't painted in such broad terms are Ben (who died years ago under unspecified circumstances), and Number Five (Aidan Gallagher, of Nickelodeon fame), who, despite not having visibly aged a day since he disappeared, is newly returned from spending decades stranded in a post-apocalyptic future.
Family Feud(s)
What makes Umbrella Academy stand out in a glut of superhero shows and films is how everything takes a backseat to the inner workings of a dysfunctional family raised by a potential lunatic.  While there is a villain and a plot to destroy the world, these never threaten to overshadow our dive into the characters' damaged psyches.
At first glance, Royal Tenenbaums-levels of familial angst and self-loathing would seem an incongruous fit for superhero drama, but here it serves to humanize the characters in a way the comics never entirely got around to. From Luther's incestuous pining for Allison to Klaus's personal demons, nearly every member of the Academy is rendered infinitely more interesting the farther they are from superhero ideals.
Issues, Issues, and More Issues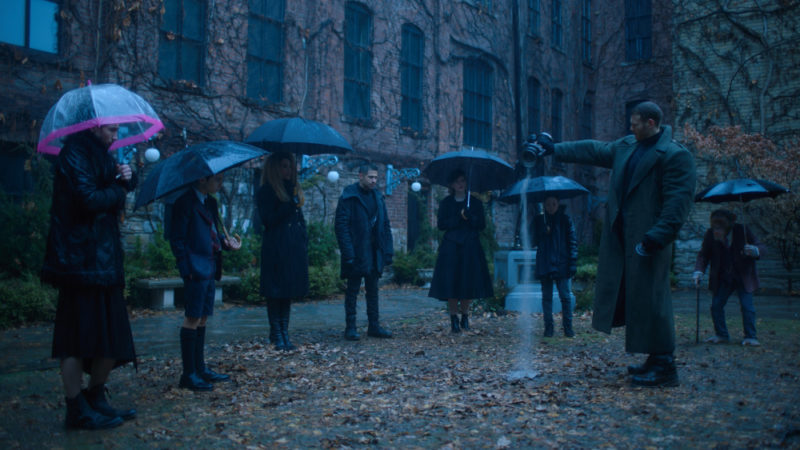 Much of what makes the show succeed is the manner in which Way and Blackman have worked layers into the characters; from Hargreeves' true intentions towards his adopted brood, Vanya's beliefs versus her actual nature, everyone in The Umbrella Academy has messed-up aspects of themselves that they'd rather not have to deal with. When these neuroses intersect with superhero convention, the show is at its most fascinating. Take Diego, for instance – despite his disdain for both Luther's ongoing stoicism and how his father raised them, he is the only one who continues wearing a masked costume into adulthood.
The Weakest Link

Sadly, the only team member who doesn't really benefit from the long form storytelling is Ellen Page's Vanya. As written, her descent into madness is cringe-worthy, resulting from machinations so obvious, one wonders if her IQ was locked away along with her powers. Compounding the character's ineffectiveness is Page herself, who, a decade removed from Juno, still insists on playing every role like a socially-awkward automaton attempting to approximate human emotion.
Filler for Filler's Sake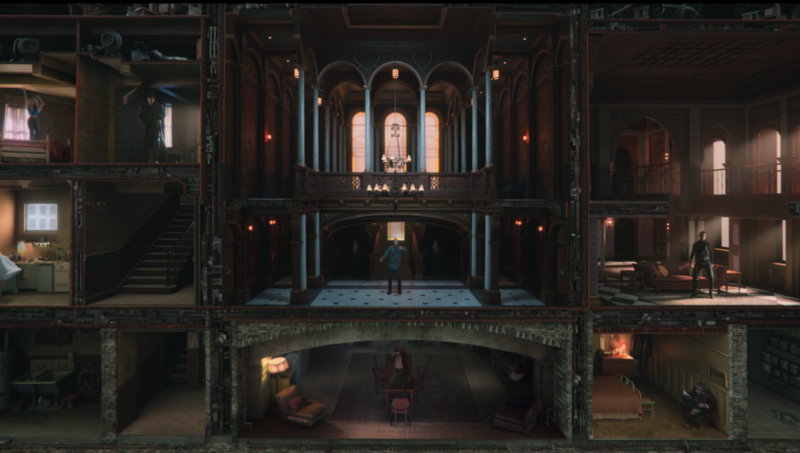 If the writers had trusted their characters' inherent flaws to carry the day, less filler would have been needed to stretch the story out to ten episodes. However, around the midpoint, an over-reliance on contrivances and mysteries-within-mysteries to kill time becomes clear, especially once Vanya's true nature is revealed. While there is nothing here as outright painful as the mountain lion from 24's inaugural season, or as drawn-out as the fog monster from Lost, Umbrella Academy features far too many instances where things could have gone a whole lot faster if characters just took two seconds to speak with one another.
Multiple episodes see characters come and go without so much as a note, text, call, or voicemail to tell the others where they've gone, resulting in misunderstandings, arguments, and even deaths. Granted, the majority of these people resent each other, but with the actual end of the world looming over their heads, it probably should have taken some precedence over petty squabbling.
The MVP's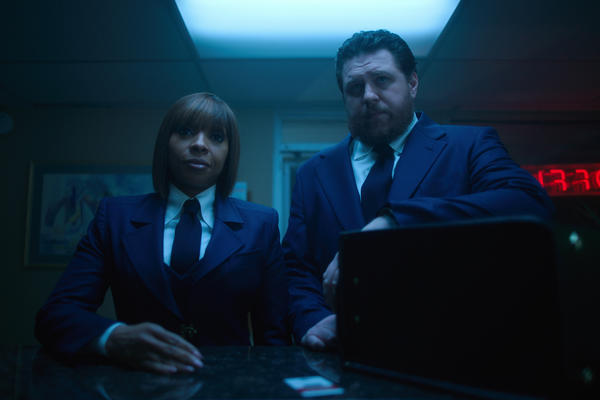 While the heroes vacillate on varying levels of dour, the show manages to squeeze in moments of levity, primarily through Klaus' drug-fueled shenanigans and an endearingly irreverent soundtrack. By far, however, the show hits peak hilarity whenever assassin duo Hazel (Cameron Britton, Mindhunter) and Cha-Cha (Mary J. Blige, Rock of Ages) are onscreen. There is just something inherently hilarious about time-travelling hitmen having Coen Brothers-level exchanges about the mundane nature of their profession. The duo is so engaging, in fact, that when Hazel's predilection for donuts becomes a matter of the heart, his subplot threatens to overthrow the main story for sheer entertainment value.
The Bottom Line
While the trading of over-the-top whimsy for emotional impact may be jarring to longtime fans, this adaptation nevertheless manages to deliver on the spirit of its source material in a somewhat satisfying manner. Unexpected flourishes in atmosphere and tone make up for whatever details were lost in translation, while the expanded characterizations (Ellen Page's monotone aside) are a welcome addition.
With chances for a second season looking pretty good, the writers should have plenty of time to smooth out the kinks from The Umbrella Academy's first go-around. At any rate, one hopes future adventures derive plot longevity from more than just people refusing to speak with one another.
Have you seen the show? Tell us what you think of it below!