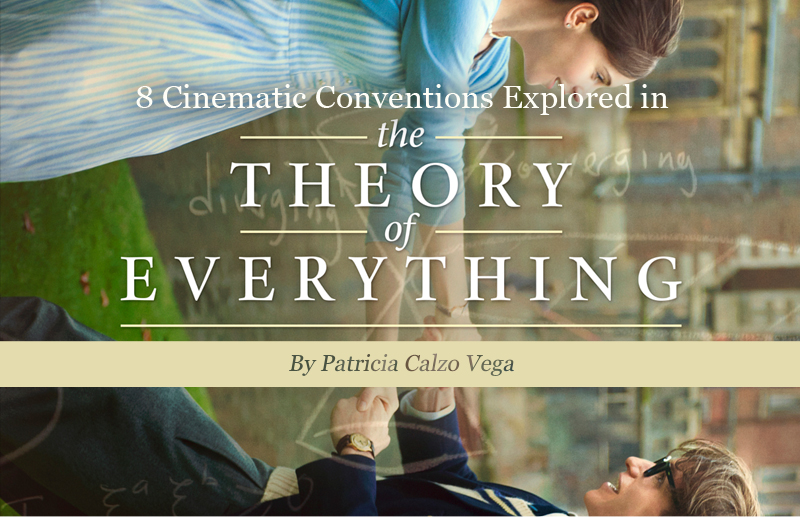 A young Stephen Hawking cemented his cosmology credentials with formulations in support of one single, elegant equation to explain everything in the universe. It is rather apropos that art imitates life and Eddie Redmayne's star power is magnified by his recent Oscar (and BAFTA and SAG and Golden Globe) winning turn as the popular physicist in "The Theory of Everything."
Redmayne's accolades are well-deserved: his portrayal uncanny in its mimicry of Professor Hawking's disease-ravaged demeanor yet emotionally resonant with an audience far removed from his reality. But, let's be honest, "The Theory of Everything" is classic awards show-bait; enjoyable yes, but designed to tug at the heartstrings of viewers and Academy members. It's a credit to the skill of the cast and crew that the picture doesn't come across as a paint-by-numbers canvas, but rather is a well-crafted version of timeless tropes—we identified eight, of course—employed to tell a singular story.
8. The cultural moment
First on the checklist for critically-acclaimed movies is cultural relevance. "The Theory of Everything" benefited indirectly from the ALS Ice Bucket Challenge. One of last year's viral successes, it engaged individuals from all walks of life to raise funds for and awareness of amyotrophic lateral sclerosis (ALS), also known as Lou Gehrig's disease. Apart from Gehrig himself, Professor Hawking is the most prominent individual associated with the condition, and his children participated in the challenge on his behalf.

7. The triumph in adversity trope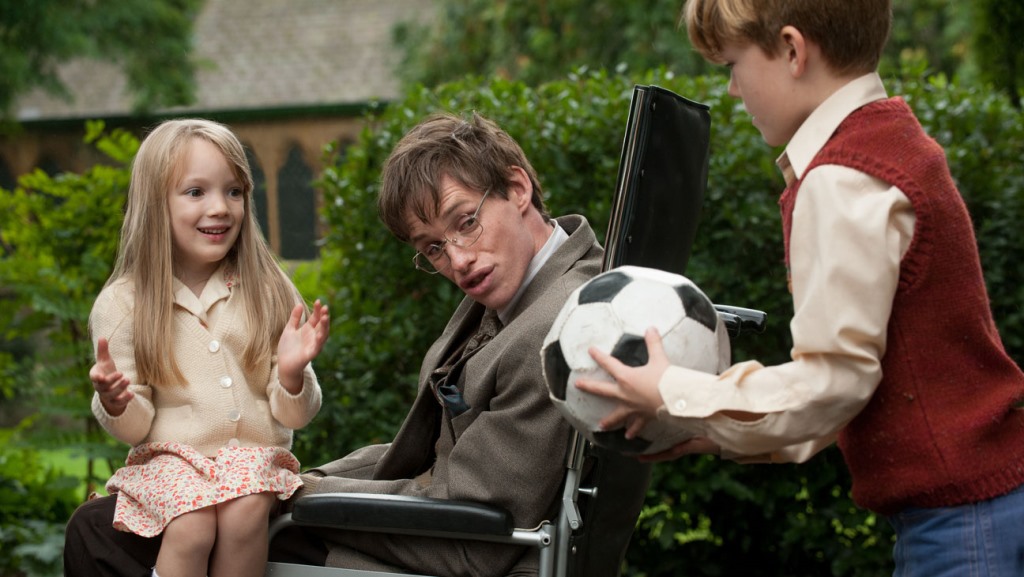 The resilience of the human spirit is another universally loved theme, and a successfully executed physical transformation practically guarantees critical acclaim for an actor. The movie presents an unflinching look at Professor Hawking's physical degeneration and the emotional toll it takes on himself and the people around him, but never portrays him as a victim. People unfamiliar with his life story may even be surprised at how much of a traditional home life he enjoyed, due largely to the efforts of his first wife Jane (Felicity Jones).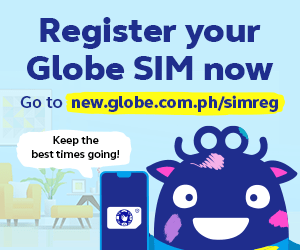 6. The visionary genius stereotype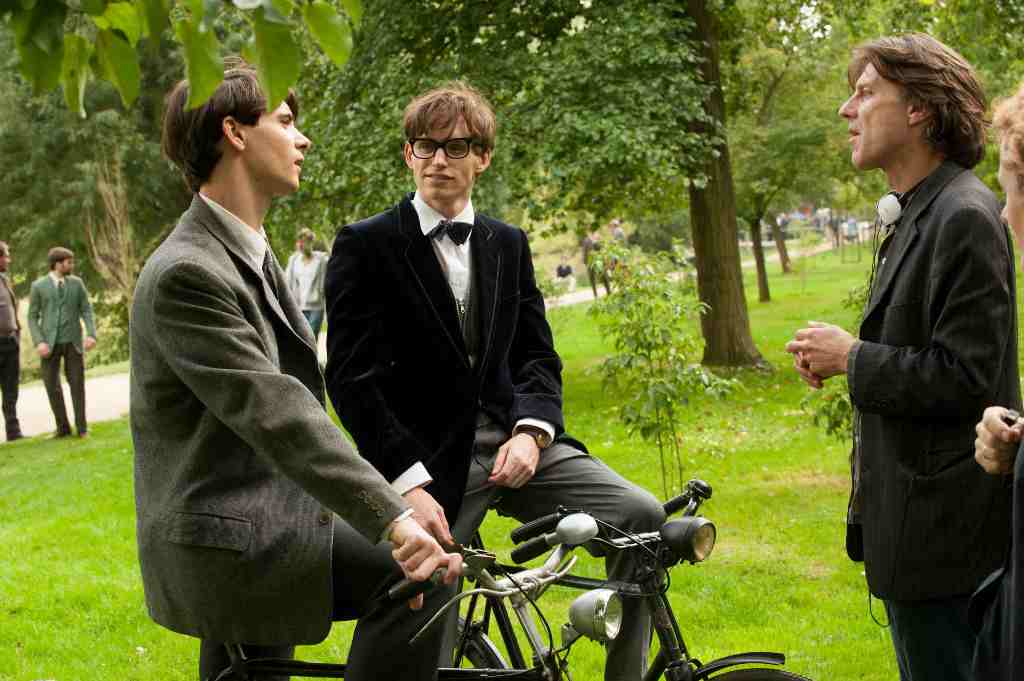 Audiences live vicariously through portrayals of genius, if only because it affords a glimpse into their unique way of viewing the world. Having Professor Hawking as subject matter added another degree of difficulty: the film had to successfully show how his frustration at his body's increased inability to cope with his rapid-fire thought processes.

5. Cinematic science
Because "The Theory of Everything" focuses on Professor Hawking's personal relationships, it largely avoids the issue of making PhD-level scientific concepts accessible to the audience. When it does, it makes use of visual imagery like milk-in-coffee swirls for black hole singularities, and character dialogue as exposition—Fellow PhD student Bryan (Harry Lloyd)'s layman's explanation of Hawking radiation is interspersed with the lecture scene, making it easier to follow the science and Professor Hawking's then un-assisted speaking voice.
Also, those who think that science is a gateway to romantic conversation will be validated by the movie portrayal of the Hawkings' courtship.

4. A matter of faith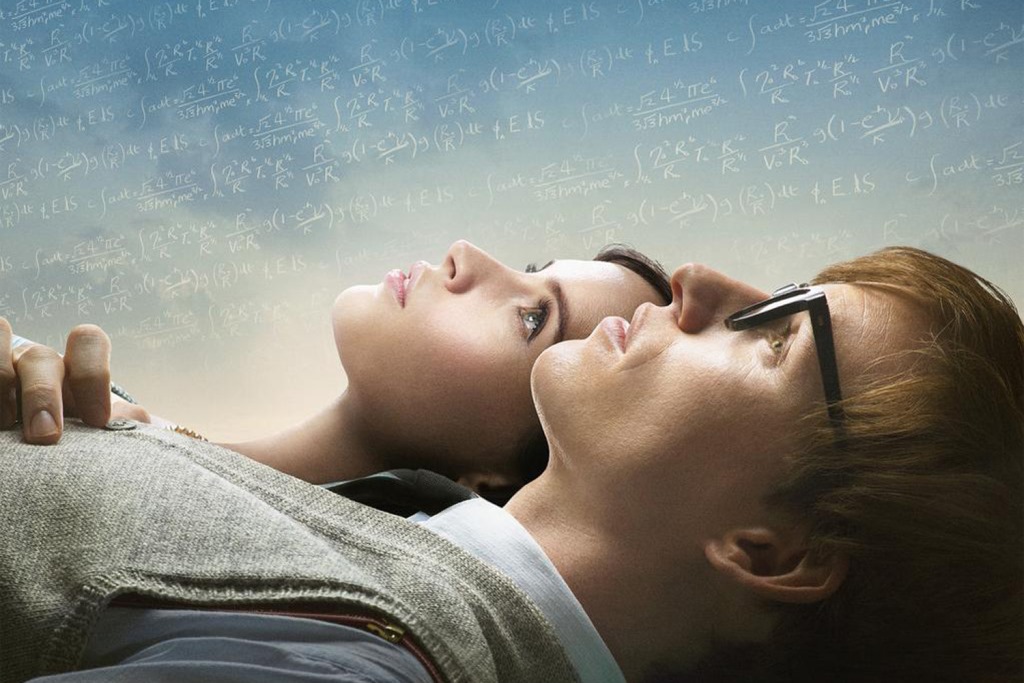 An early scene shows Professor Hawking describe cosmology as a religion for intelligent atheists to Jane, a devout Church of England member. Faith is a major sticking point between these two, and Professor Hawking's evolving beliefs on science and faith affect their relationship. And yes, there is an epiphany, but it does not play out the way one might think.

3. Instafiltered history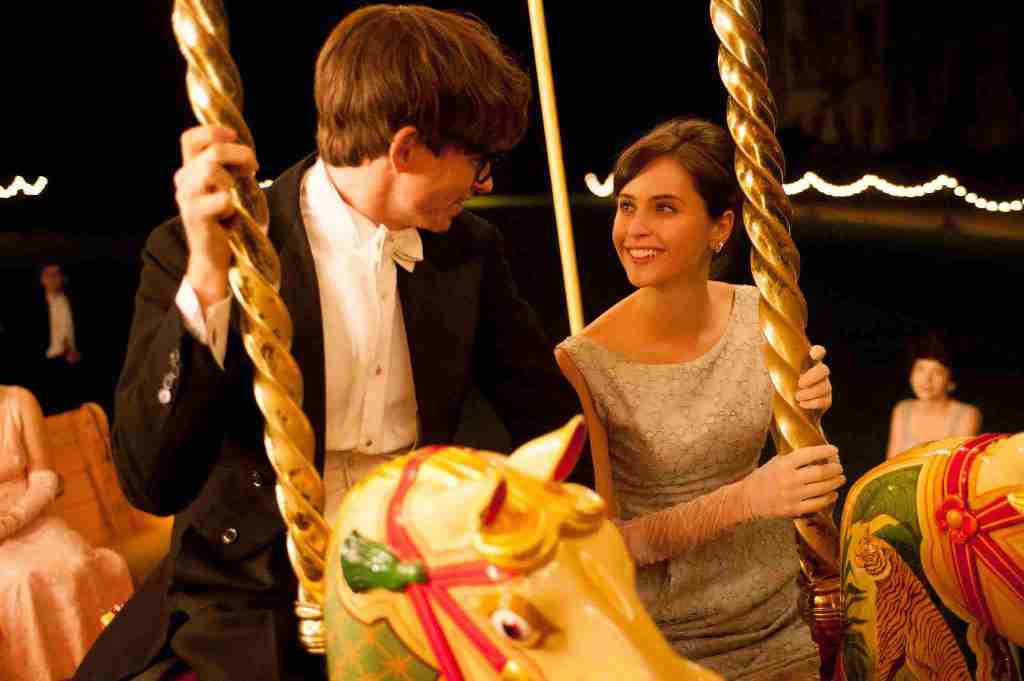 "The Theory of Everything" is based on Jane Wilde Hawking's memoir of her marriage to the professor, "Travelling to Infinity: My Life with Stephen", which is a revised version of an earlier book, "Music to Move the Stars: A Life with Stephen" that was published shortly after their somewhat acrimonious divorce. These days, the former spouses enjoy a more amicable relationship and this is certainly reflected in the story, which Professor Hawking notes is broadly true: they may simmer and seethe, but never boil over in anger. It also helps that three decades of marriage have to be condensed in a two-hour narrative leaving little time to linger on melodrama, and the clever conceit of filming family milestones home movie-style, complete with Instagram-worthy filters, allow the audience to see their happier days through the proverbial rose-colored glasses.

2. The great woman hypothesis
Behind every great man is a woman, or so the cliché goes. Redmayne's portrayal would not have been so effective without Jones's equally powerful performance as Jane, whose staggering emotional support and career sacrifice to raise their family and run their household enabled Stephen to focus on his life's work. Her narrative is equally potent, and viewers will sympathize with her as she realizes that relationships require equal responsibility and that she is also entitled to care and support as she aspires for achievements beyond family and home.

1. The marriage plot
The best love stories are not those with happy endings, but those whose resolutions are earned. Disease marked the Hawkings' marriage as atypical from the very beginning, and it was a tremendous effort to keep it afloat for as long as it did. While it glosses over the more contentious events of the marriage, The Theory of Everything shows that detachment and emotional infidelity are as much to blame for the end of relationship as external parties. More importantly, it shows that respect can return when resentment has passed.
Yes, the Hawkings split up, but The Theory of Everything plays out in such a manner that allows the audience to leave thinking that it was not an unsuccessful marriage. It's as happy an ending as most of us will ever get.
The Theory of Everything screens exclusively in Ayala Cinemas beginning 25 February.