There Will Never be Another Manu
Aug 28, 2018 &nbsp • &nbsp Naveen Ganglani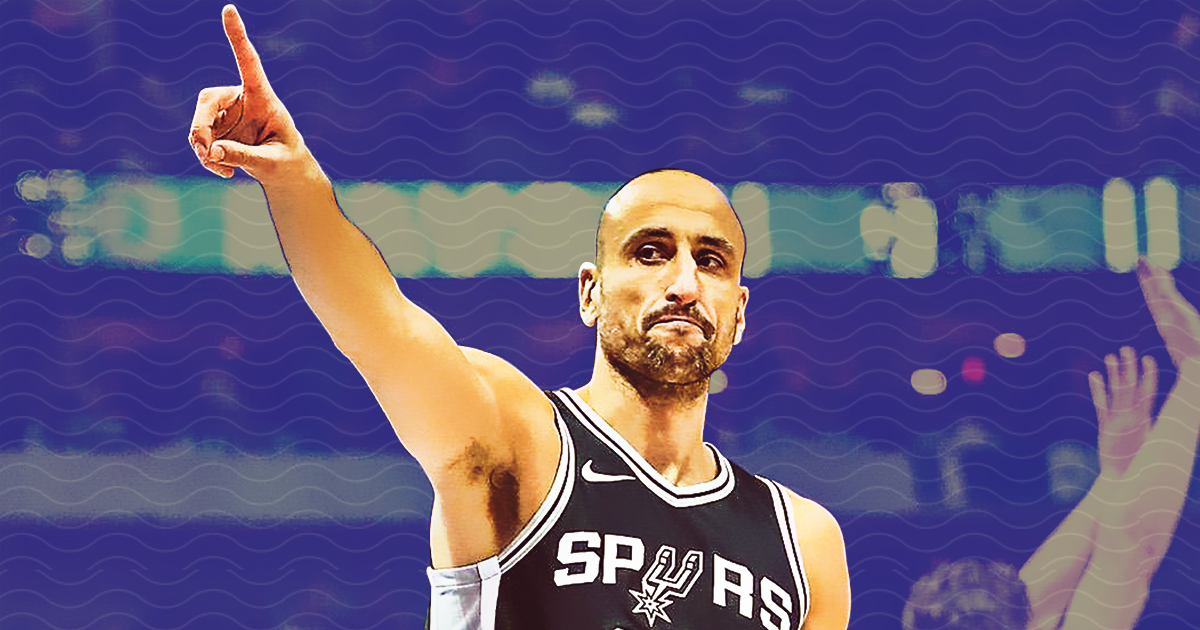 The NBA lost one of its greatest players ever when Manu Ginobili announced his retirement from the game this week.
Talented and crafty, Ginobili created many moments that fans of both the San Antonio Spurs and NBA will cherish for a lifetime.
Here are eight of Ginobili's best on-court moments:
One on one with The Man
After winning a title in his rookie season with the Spurs, Ginobili blossomed as a future NBA star in his second season. Part of that campaign included going head to head with Kobe Bryant while Tim Duncan and Tony Parker sat out with injuries.
Ginobili finished with 33 points, 12 boards, and 7 assists but the Spurs came up short against Kobe (37 points) and the Lakers. Nonetheless, it gave everyone a preview of what Ginobili had in store for the years to come.
Scorching the Suns
https://www.youtube.com/watch?v=SvqZO1LIf0U
Ginobili notched a career-high 48 points in a game vs the Phoenix Suns in early 2005. Back then, Phoenix and San Antonio was the hottest rivalry in the West, making the contest extra special.
The Spurs trailed by 17 entering the quarter, but a heck of a quarter for Manu en route to his brilliant performance led San Antonio's comeback in overtime.
8 Greatest Buzzer Beaters in the NBA
8 Greatest Buzzer Beaters in the NBA
Jon Carlos Rodriguez | Apr 24, 2017
Down goes America
One of the most disappointing times for the United States in the Olympics was when they were eliminated by Argentina in the semis back in 2004. They have Manu to thank for that, since he scored 29 points to lead his home country to the upset victory.
A day later, Argentina won the gold medal thanks to its main man.
Another championship
Duncan was named Finals MVP for San Antonio after they beat Detroit in the 2005 NBA Finals, but it was actually Ginobili's performance that spearheaded the Spurs to their third title.
Manu scored 27 points in the all-or-nothing Game 7, including 11 in the fourth period thanks to clutch heroics which took down Detroit.
Manu vs Bat
Who could ever forget this?
During the first quarter of a game against Sacramento in 2009, a bat entered the playing court in San Antonio. Ginobili was able to swat the animal out of midair, picked it up from the floor, and handed it to an arena person.
It had nothing to do with basketball, but turned out as one of Manu's most defining moments.
8 Greatest NBA All-Star Weekend Moments
8 Greatest NBA All-Star Weekend Moments
Jon Carlos Rodriguez | Feb 16, 2017
Hammering Bosh
It's no secret the Spurs let the 2013 NBA title out of their grip against the Miami Heat, thanks in large part to Ginobili's terrible performance in the final two games. A year later, San Antonio exacted revenge by beating LeBron and company in 5 games. The championship was highlighted by Ginobili's poster dunk over Chris Bosh.
Sorry, James
After Houston blew out San Antonio in Game 1 of the 2017 Western Conference semis, it seemed like the Rockets were on their way to beating the Spurs.
Not so fast. Ginobili and co rallied for the rest of the series, winning in 6 games. The pivotal moment came in the closing seconds of Game 5, when Manu blocked a potential game-tying 3 from Harden to award his team a 3-2 series lead.
Sure, Ginobili was already past his prime by then, but he knew when to deliver when it counted.
The Ovation
After the closing seconds of Golden State's Game 4 victory in San Antonio in the 2017 West Finals, the Spurs crowd gave Ginobili a standing ovation in case it was his final ever game. Manu came back for another year, but the admiration he received from the crowd shows how importance his place is in NBA lore.
What are your favorite Manu moments? Tell us below!