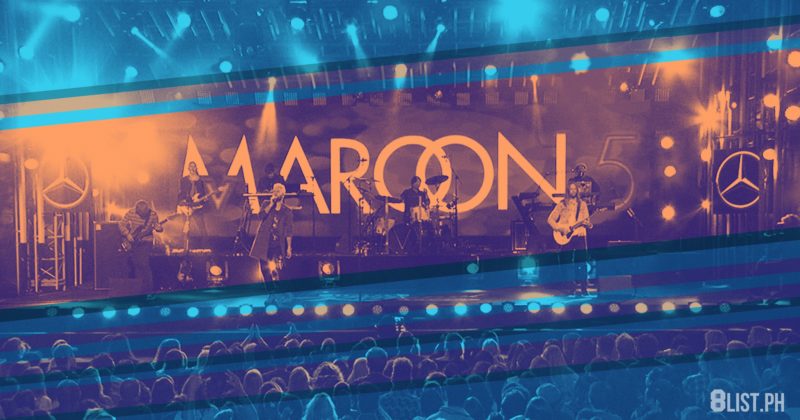 Fresh off their Super Bowl Half Time performance, Maroon 5 is coming back to Manila this year with their Red Pill Blues Tour, presented by MMI Live. It will be their 5th concert in the country, and if you haven't been to the previous ones, then that's one major reason why you should go buy a ticket already!
Check out these Maroon 5 live videos, and imagine missing them on March 5:
Maps (Live at Bowery Ballroom, 2014)

After watching this live version, we wanted to thank the person who hurt Adam Levine so he could write this masterpiece.
She Will Be Loved (Live on Letterman, 2012)
This stripped-down acoustic version of "She Will Be Loved" is just everything. Can we ask them to play this on their Manila concert, please?
Victoria's Secret Fashion Show 2011
Of course, who could forget Victoria's Secret Fashion Show 2011 when Adam serenaded his then-girlfriend Ann V on stage (until they would eventually break up months later; he's now married to Behati Prinsloo, another Victoria's Secret model). It was a cheesy, yet stellar performance, though.
Payphone (Live on Letterman, 2012)
This live version of "Payphone" didn't include the rap part, but it still sounds so good (maybe even better).
Wait (Jimmy Kimmel Live, 2018)
We're loving this new hit from their latest album. Not to mention, he's rocking that white hair!
Sunday Morning (Live Friday the 13th, 2005)
Throwback to the good, old Maroon 5. This video made us remember why we love them in the first place.
Live at Rock in Rio, 2017
Almost two hours of great singing, this video is a must-binge before their Manila concert. It's the setlist of our dreams!
Live@Home, 2013
If you loved the acoustic versions of their songs, here's a full live acoustic set. You're welcome.
What is your favorite Maroon 5 song? Tell us in the comments section below!!