On top of fining both the transport network companies (TNC) with P5 million each, Land Transportation Franchising and Regulatory Board (LTFRB) ordered to stop the operations of all its vehicles without certificate of public convenience (CPCs) and provisional authority (PAs).
This means that if a TNC driver doesn't have the proper permits, he/she will not be allowed to take in a rider and if so, will be apprehended and may be fined as high as P120,000 and detained for as long as 3 months.
To put this in perspective, out of Uber's 10,054 active drivers, 5,850 were rejected to get PAs while 3,505 are still in the process of acquiring them. Only a little less than a thousand Uber drivers will be allowed to operate. Grab, while it has a bigger network, maintains a similar ratio.
We all know too well that LTFRB means well when they want to regulate the Transportation Network Vehicle Service (TNVS) of these TNCs and make sure that should something happen with the ride, the customer can have a government venue to file a proper complaint. But if we are really thinking of the public, more than restricting the alternative option, we should also look at the current ones and see how we can improve them.
To appease the public uproar for this government measure, there has to be a better way to improve the option we are leaving the public with—taxicabs.
Employ pickup points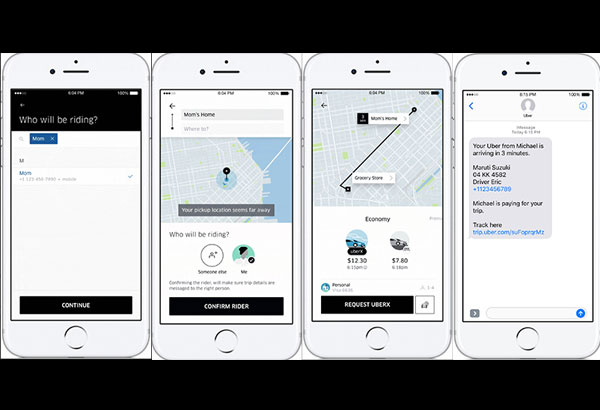 One of TNCs' advantages in its services is convenience, and this changed the transportation game dramatically. For ride-sharing app users, gone are the days when you frantically wave your hand just to hail a cab, only to be declined by the driver. Unlike in a hail market, riders have the power to choose the operator they prefer with TNCs, i.e. what app to use, what kind of car, etc. For taxis to be a viable option, they should approximate the same convenience in their service—the same convenience that the TNVS riders have gotten used to.
While there are a number of taxi operators that offer pickups through a phone call, there has to be a more apparent shift to offer the same service to all, if not a unified one.
Use Waze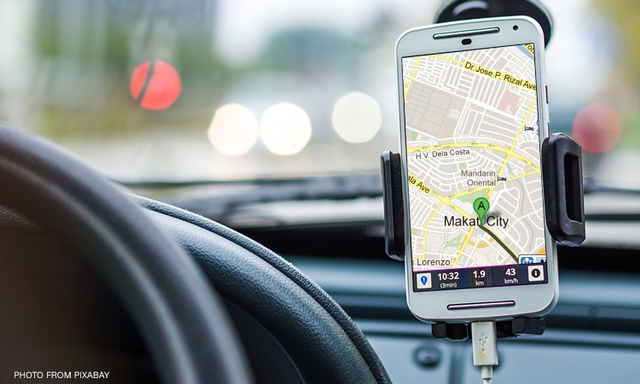 Just embrace technology. There are horror stories from taxi riders that the driver would go on a circular journey in the guise of getting lost or figuring a better route just to bring the meter up.
Waze offers more than a calculated route to reach the destination. It gives riders comfort that as we follow the violet line, we know that we are inching on our way to where we're supposed to be.
Display contact details conspicuously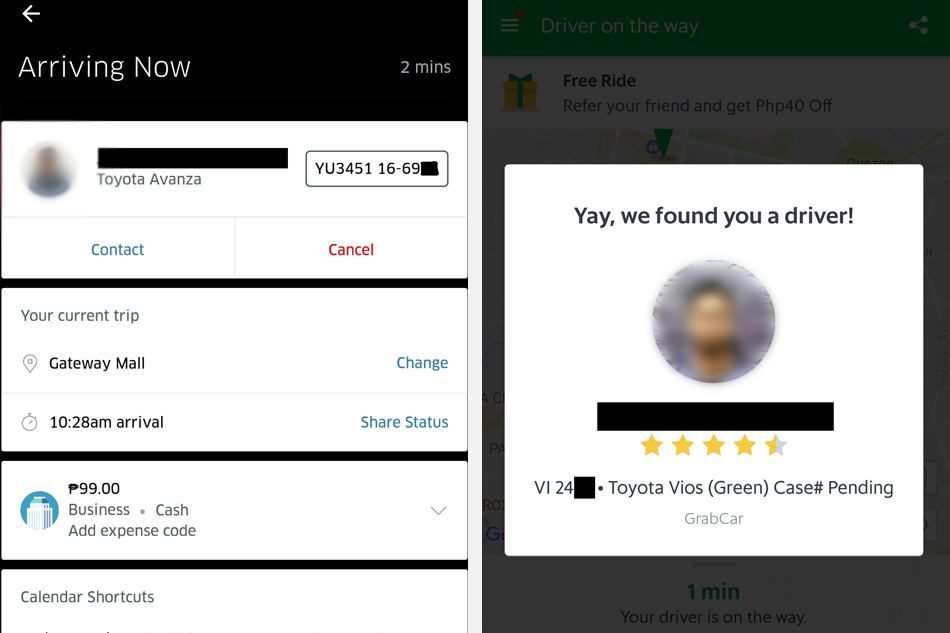 As long as we're talking about addressing a possible aberrant issue with a ride, taxi operators should offer a better show of its might to give riders the peace of mind. TNCs have all the details of the car and the driver stored in their database and it is just well within the reach of the rider's fingers to contact them. At the very least, taxis should make it easy for them to get the contact details of the driver/operator (and not just the proverbial 'how's-my-driving' LTFRB hotline) should there be a concern with the ride.
Don't be choosy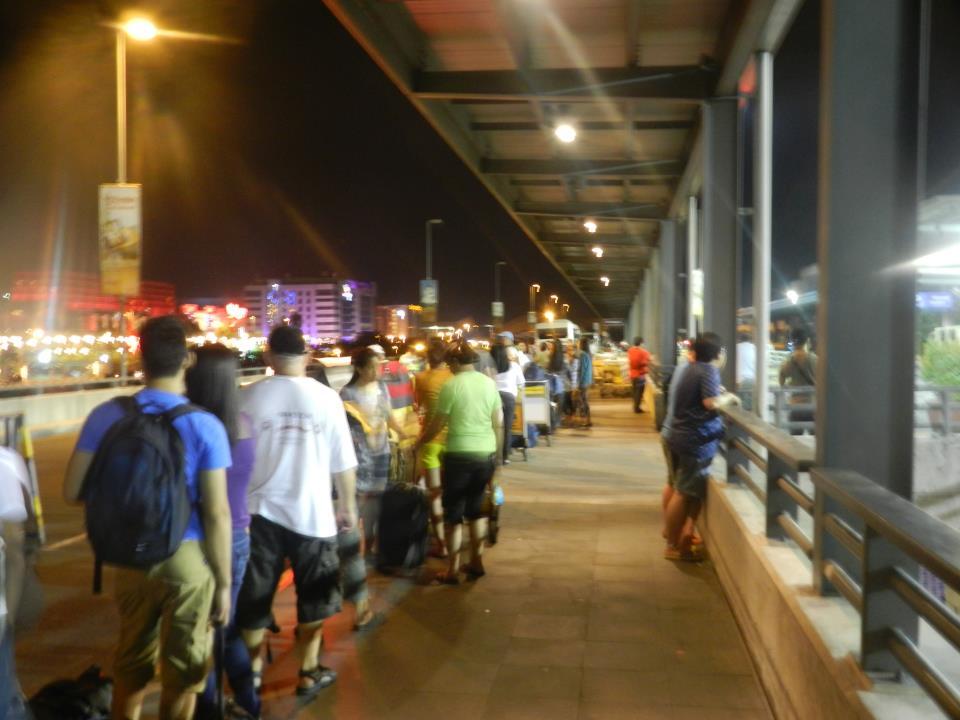 Choosy taxi drivers sure got a taste of their own medicine when riders opt to book a TNVS ride rather than hail cabs. So don't be choosy when it comes to riders. Riders shouldn't even be checking with the driver first if he/she will be willing to go to a certain destination. As a business, that is basically the job of a taxi. Imagine if a restaurant refuses a customer because the order was too hard to cook.
Also, if you're already on your way to the garage, don't turn on that 'for hire' light anymore. It's either your whole service or nothing at all. Riders don't want, and don't deserve, your limited and selective service.
Stick to the fare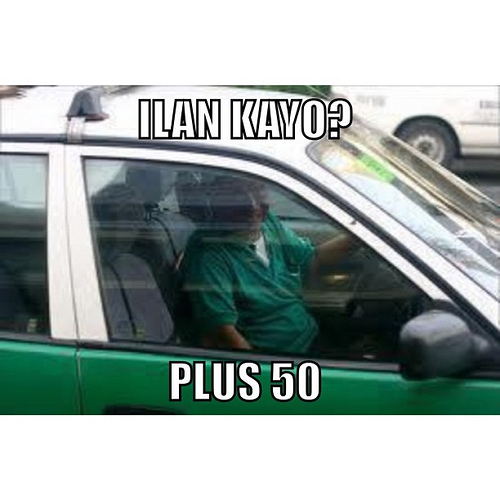 Then, to avoid being choosy, taxi drivers offer a compromise by asking for premium on top of the fare—-or even ditching the fare and just asking for a straight up overpriced rate.
Sure, there's traffic. Sure, sayang sa gas. But if a TNVS can do it, so can you.
There also has to be a conscious effort from the taxi operators and owners to have a decent commission split with the driver. A happier driver would mean a happier customer that could translate to a happier business. For all those who take the taxi, we all know that there are certain taxi brands/names that we prefer because, "ok yan, hindi yan nagpapadagdag."
After all, a happy customer would more likely to give tips themselves, without cab drivers having to force them.
Drop off at the drop off point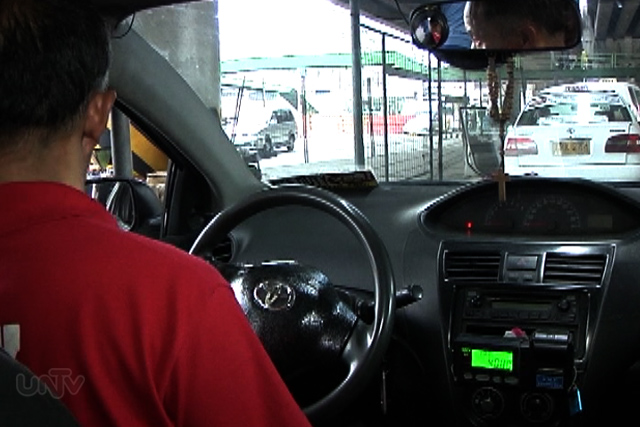 And please, when taxis take on passengers, there is already an unspoken understanding that the service is only fulfilled upon reaching the exact destination. That's why taxis, like TNVS, are called door-to-door transportation services.
The same way that a single bad incident with Uber or Grab reflects to almost all Uber or Grab drivers, a simple Facebook rant from a pissed passenger just because his taxi driver doesn't want to enter the alleyways would reflect terribly on taxi drivers at large.
Facing a fierce competition, it wouldn't hurt for taxis to go the extra mile, so to speak.
Fix your cars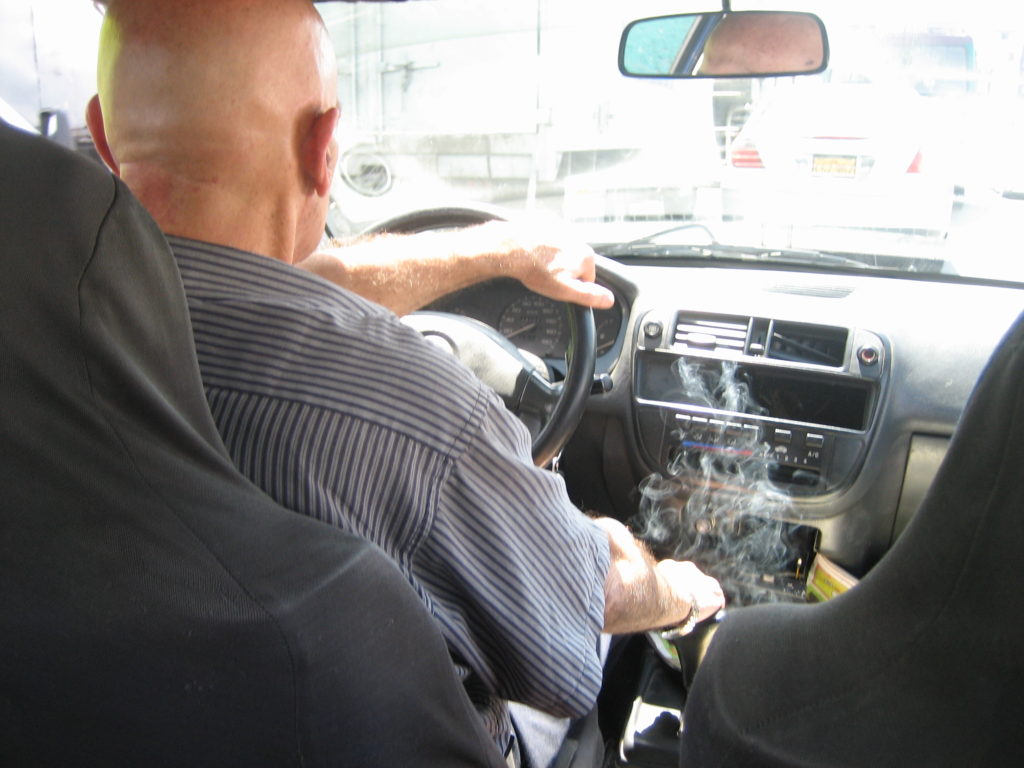 This might be superficial, but presentation scores a lot of points in the riders' book. After all, who would want to ride in a dingy car with paint almost worn off and a questionable rattling sound (or smell)?
While the uniform taxi look limits the cabs to match the feel of being driven by a personal car, taxis can spruce things up a little to at least make the ride comfortable. A little design revolution and branding in the part of the operators wouldn't hurt.
Fix your attitude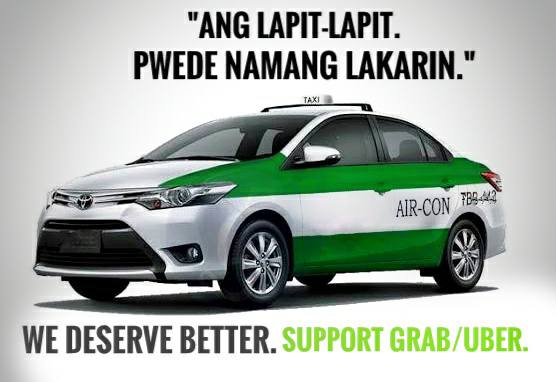 For sure, when taxi was just starting, they were as nice as how TNVS is today. But storied experiences between taxi drivers and riders have painted taxi riding experience in a bad light.
There must be a conscious effort to change that back. A study has surveyed both taxi and Uber drivers and got to conclusion that, "Uber operates with mostly the same dynamics as the taxicab, but makes its users feel like they have a personal driver in the safety of their own vehicle." Note that the keywords here are 'personal' and 'safety'. Because of the rating system, TNVS drivers go a long way to provide the best service for their riders and receive that 5-star approval. Taxis must always have that same internal gut check.
Let's face it: taxis are losing their business to the TNCs and losing the patronage of the public. Maybe they should ask themselves: Why is that?
What do you think of the whole debacle? Share with us your thoughts below!