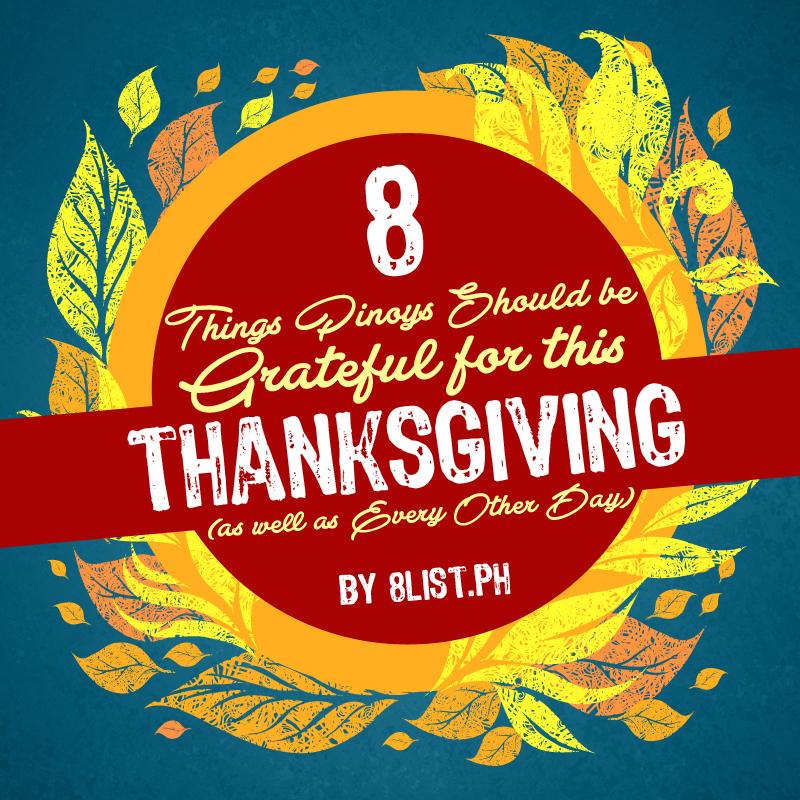 Get yourself in your happy place. If that means taking off your shoes, eating a whole pack of bacon, downloading your show's latest episode or all of the above, then by all means, do it!
In your happy place already? Great. Now you're more probably game to say "Happy Thanksgiving!!!"
While this American holiday isn't prominent here in the Philippines, this day serves as a reminder how great it feels to focus on the positive and forget about the negative. You may have a lot of complaints, but listing the good things will definitely get you in a better mood.
Aside from your own blessings, here are 8 things that every Pinoy can be proud of and grateful for.
You're only a short trip away from breathtaking views, amazing islands and an infinite pool of adventure. Palawan, for example, has been hailed CN Traveler's top one island several times. It even beat Maldives, Bora Bora and Santorini in this international list.
Palawan's just one of the many natural wonders that the Philippines is blessed with, though. We live in a place that's wealthy with beautiful sights and awesome experiences that we can definitely be proud of.
Manny Pacquiao, Lea Salonga and 4th Power are names that resound not only to Pinoys, but also to people in other parts of the world. Whether it's in sports or entertainment, Pinoys still shine, even in the international arena.
Impressive talent is everywhere in the Philippines, too. You'll be pleasantly surprised to find it in fiestas, on YouTube, on the streets and in other mundane places (like within you, for example hehe). Ellen and Oprah are thankful to be able to feature Pinoy talent on their shows, and so should we.
It's no secret that Pinoy families are very close-knit. The family's welfare is always number one, and members are willing to sacrifice their personal comfort for that. The Philippines' modern day heroes, OFWs, are prime examples of this selfless trait Pinoys can be very proud of.
This thanksgiving, make the OFWs and the hardworking members of your family feel your gratitude the most–thank them for everything that they do. If that's you, pat yourself on the back for being a true Philippine gem.
The Philippines experiences an average of 20 typhoons per year, but Pinoys impressively bounce back every time. Filipinos have suffered through selfish governance time and again, yet we have successfully fought back and continue to do so. In every disaster, the strong Pinoy spirit is revealed and emphasized for the whole country and the entire world to marvel at.
Forget personal and others' moments of weakness this Thanksgiving Day. Instead, look back at the many times Pinoys have risen above seemingly impossible challenges, and be proud of that incredible Pinoy spirit.
Pagiging kenkoy–a trait that isn't only present during karaoke nights, fiestas and simbang gabi. Strangely, this cheerful Pinoy spirit becomes more evident with adversities. Pinoys take selfies of their fail moments, smile through tough jobs and remain optimistic despite disasters. Pinoys have a very positive way of coping, which we should be thankful for.
No country is perfectly peaceful. Various groups in Philippines don't agree on many things, and there are more cases of violence than you can count. However, the Philippines is still blessed to be free of widespread war and terrorism.
A majority of Pinoys still get to enjoy going out safely at night, the comforts of their home and the sacredness of their human rights. Be thankful for all those things and for still being able to enjoy your life. If anything else, be thankful for the luxury of choice–being able to make decisions like going to the market or taking a break to rest is a luxury that other people don't enjoy.
You may have complained about the Philippines' political system once or twice (or every day), but the fact that we get to live in a democratic society is something to be very happy about. Pinoys are free to express their opinions, practice their beliefs and form associations.
You may see things lacking in our country, but at the end of the day, let's not forget that our freedom actually makes us powerful agents of change in society.
The forthcoming 2016 Elections is an opportunity for every Pinoy to be the spark that will ignite the change we want to see in the country. This is a powerful ability that every Pinoy should take advantage of and be grateful for.
What else are you thankful for? How about things that contribute to your #PinoyPride? Make it a happy Thanksgiving for everyone, and share your thoughts below!