Things We Need To Accept if Inday Sara Were Right
Mar 13, 2019 &nbsp • &nbsp Tim Henares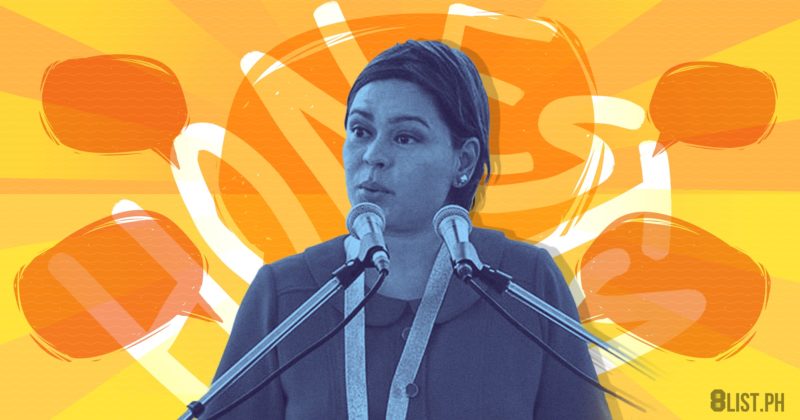 Recently, in defense of somebody caught in a web, Inday Sara bluntly stated that "honesty should not be an issue in the elections." She then followed up this amazing bit of wisdom by handwaving the issue, since "everybody lies." Presidential Spokesman Sal Panelo had his work cut out for him trying to massage this message, clumsily saying the Presidential Daughter meant "white lies," because lying about one's qualifications while applying for a job is totally a white lie that never gets normal people fired in normal situations.
But here's an interesting thing to think about: what if, no matter how ridiculous that sounded, Inday Sara was actually correct? What if, to the average voter, honesty simply isn't an issue in these coming elections anymore? Well, with those assumptions, we have to accept a few other realizations, such as…
Being "conservative" no longer means upholding values
The Duterte administration is as right-wing as they come, with smatterings of progressive ideas here and there, since the conservative-progressive divide in the country isn't drawn along party lines.
That being said, the Duterte administration is, in the supporter's mind, a harkening back to the times when people did things instead of talked about it. An exercise in political will in a time of indecision and wishy-washiness. It's conservative in those ways.
Yet, despite all this, it is quickly becoming clear that the good ol' values a conservative government should be espousing are practically non-existent in the current dispensation. We were told not to kill, yet here we are, killing addicts. We were told not to steal, yet we turn a blind eye to China doing that to us. We were told to always tell the truth, yet the presidential daughter insists this is a non-issue. That goes beyond what being a conservative mean.
This also means Bato is right
If Inday Sara were correct, and honesty were truly a non-issue, you know who else is right?
Our favorite biopic subject,
Bato, who, in a nutshell, said that
political rallies aren't for platforms but for entertaining the voters.
This election should be a referendum not on personalities, but on issues and practices that we should not reward, but it seems to be one that says "yes, we're fine with the dog and pony act, let's not talk issues."
This puts everything anyone said into question – especially on their side
If Inday Sara truly believes everyone lies, then what exactly does she think her dad is lying about when it comes to his pronouncements? And if he's now magically telling the truth, doesn't that prove that honesty is an important issue, after all? Yes, the statement applies to admin and opposition alike, but it casts a lot of aspersions of doubt on their own side, which is dangerous, because so many people believe in the current dispensation, and shattering their faith in it is on par to being unplugged from the Matrix before they're ready.
We may have more important issues than honesty – but what are they?
Inday Sara possibly being correct about lying being a non-issue should lead us to consider – exactly what issues are on the line, then? The economy? Peace and order? Taxation? How exactly could we find out which issues are important if they're too busy singing and dancing during their campaign sorties?
You don't have to like the opposition to recognize that there is nothing wrong about their insistence on debating to discuss issues, because that's exactly what we expect our leaders to do after being elected – not sing and dance for us. For all we know, the administration could have a better grasp on how to solve the country's problems, but we'd never find out for as long as they keep avoiding discussing these issues.
Remember: we need to hold everyone to the same standards. Even the guys we like. Anything less is hypocrisy.
We need to believe in the things we can believe in
If everyone lies, then we need to hold on to the things we can trust. If someone wants to reinstate the death penalty and the science clearly says that this has never worked anywhere, then why would we want to support someone who clearly has no idea what they're talking about? The onus is upon us to be more discerning. To find the truth in the midst of the lies. You would think this is easier to do when our phones are powerful computers that can access the entire world's information with a few swipes, but no, with flat-earthers, anti-vaxxers, and more deliberately ignorant people, it's clear things have not gotten better in that department.
Where exactly is the "Pagbabago" in this Hugpong, then?
If everybody lies, and whether Otso Diretso or Hugpong ng Pagbabago or independent, everyone is a liar, then how is there any "Pagbabago" going on in this Hugpong, then? You might say that at least, Otso isn't promising change in its very name. Hugpong clearly is promising change, but if they lie just like everyone else does, not to mention all the re-electionists clearly running under their banner, doesn't their name become a glaring misnomer?
In defense of
With her statement, did Inday Sara imply that Imee Marcos has totally been lying to us?
This misfire is about on par as someone saying "Kung makapagsalita naman kasi ang mga anti-Marcos, parang gabundok ang ninakaw," to defend the Marcos, because it pretty much admits that yes, the Marcoses did totally steal from us.
And when we live in a society where a security guard gets shamed and imprisoned for stealing condoms, why are we holding our supposed leaders to a shockingly lower standard than our security guards?
*The views and opinions expressed in this article are solely those of the original author. These views and opinions do not necessarily represent those of the 8List.ph.