8 Helpful Tips for People Who Take Cabs All the Time
Jul 24, 2015 &nbsp • &nbsp Cattleya Mariano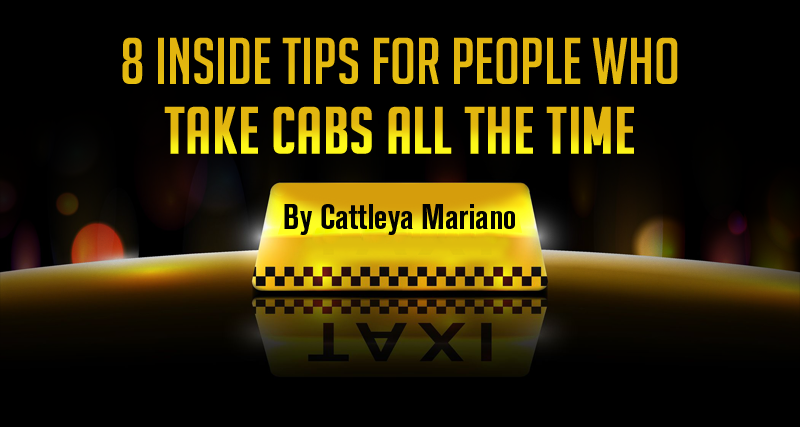 Living in the metro comes with its ups and downs. Sure, everything we need is a few minutes away, from entertainment to laundry services to convenient stores, but there are days that we don't want to hop on a jeep or trike to get there.
I mean, we work our butts off five days out of the week–we deserve to save ourselves the hassle of commuting every once in a while. Or, you know, every day. That said, here are 8 tips that might make your cab riding life better, cheaper and most importantly, safer.

Sending a text to your loved ones isn't enough. Make sure that the driver hears you tell another person his name as well as the car's details. Chances are that if you do this and the driver does indeed have scary motives, he'll back off because his identity has been shared.

Don't be afraid to dictate where the car should pass. Always take routes that you are familiar with, and agree to dagdag if you have to just to get your driver to agree to take on the "traffic" on highways.
Also, never get into a cab without the ability to call for help. Try to have access to mobile data as much as possible, and use map applications to keep better track of your location.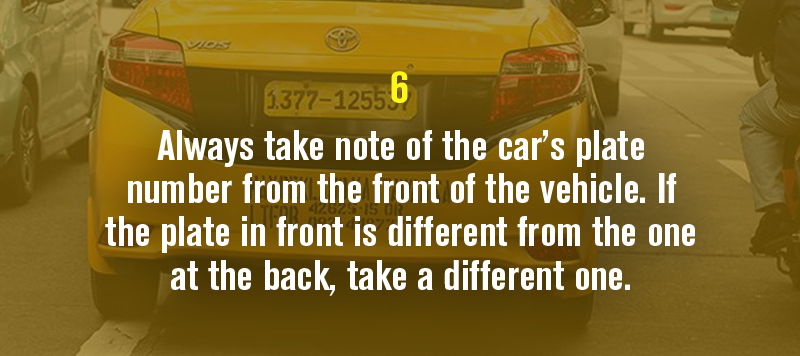 Don't be afraid to say no to a driver if the car details are inconsistent. First of all, its illegal, and second, the worst he can do to you is tell you off anyway. Always take the cab name and operator from the stencil outside the door instead of the inside panels. Your safety is worth more than the few extra minutes it will take to hail a different one.

We're always told to ride in the back of the vehicle in order to keep an eye on the driver. Before you hop in, always check if the front seat is clear because you never know if someone could be hiding there, especially at night.
Don't forget to double check if the doors open from inside, and if the locks work properly. You never know if you'll need to open it quickly in case of an emergency.
Sometimes you give in and take a cab out of sheer exhaustion and inability to take any other mode of transportation. On nights or days like these, do your best not to doze off. Pinch yourself if you have to, or munch on some candy to keep you occupied and alert. Trust your instincts, and don't be afraid to speak up if something seems amiss. Don't hesitate to ask the driver to pull over and let you off if you feel like something bad is about to happen.
Thanks to the miracle of modern technology, every imaginable service is at the tip of our fingers. High on this list are taxi service apps that make getting from point A to point B a whole lot easier. Do yourself a favor and download one (or all) of the ones available in the Philippines, such as Uber, GrabTaxi, and Easy Taxi. Sure, you may spend a little bit more on booking fees and mobile date charges, but it's negligible for safety and comfort.

The taxi service apps mentioned above have their own promos native to their service. Be sure to check out their respective Facebook pages for updates! Easy Taxi has frequent promos that award the winners with prizes, while Uber has its own system for earning credits and free rides. GrabTaxi, at the moment, features two promos as of this writing: From July 21 to August 3 the service will only charge P40 on top of it's metered fare (instead of the standard P70) with no promocode needed, and also features the UMBRELLA promo, taking P100 off for 10 rides from July 22-31.
Have safe trips!
Do you have any other helpful tips for your fellow cab-riders? Share them with us by leaving a comment below!