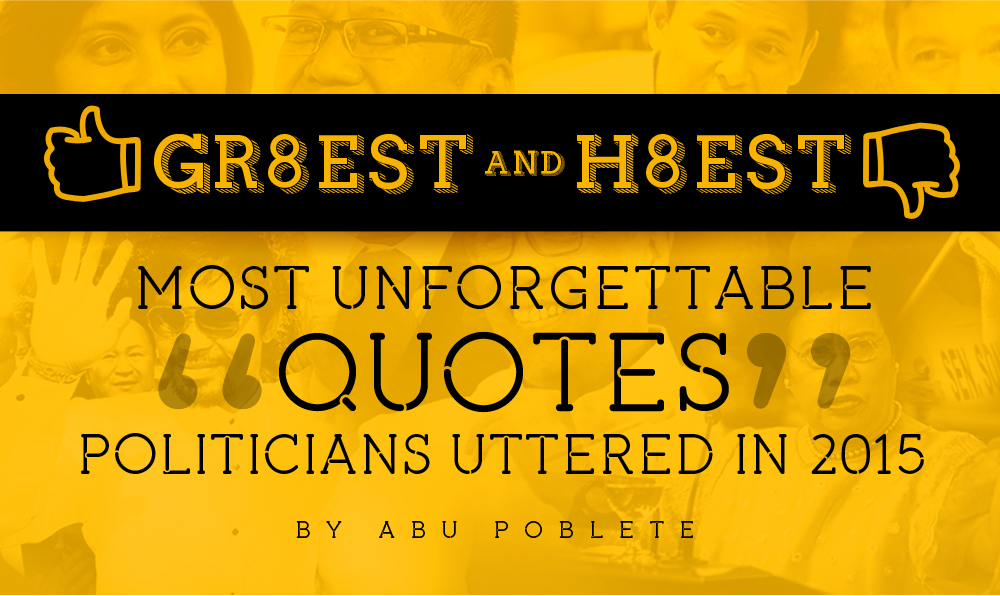 Politics in the Philippines is always fun to observe. Some "slip" in speeches, some actually try to make most out of their podium time, and some don't even know what they're saying at all. It's the only entertainment show that can make you feel sad, happy, hysterical, or (mostly) mad all at the same time.
Here are 8 quotes from our dear leaders that has made 2015 one of the best shows to watch.
8. Presidential Speaker Edwin Lacierda's tweet to Davao Mayor Rodrigo Duterte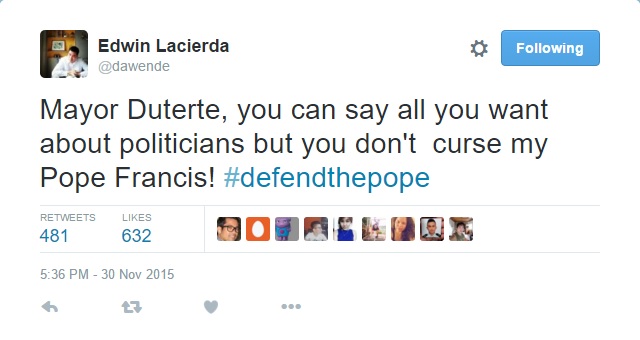 As a reaction to Davao Mayor Rodrigo Duterte's "slip of the tongue" cursing at the Pope for causing traffic, President Speaker Edwin Lacierda turned to Twitter to rant about the alleged slip-up of the mayor. So sassy, this guy.
7. Camarines Sur Representative Leni Robredo on traffic

"I don't know about that–the more progressive a place is, the more there's traffic–that's not a justification not to address traffic," Robredo said yesterday during a vice presidential forum organized at the University of the Philippines in Diliman. She also added, "I don't think that's a correct position. Yes, there's progress but that's no reason for traffic."
Robredo's quote was contrary to Presidentiable candidate and running mate Mar Roxas, who said traffic is a sign of economic growth.
6. Senator Ralph Recto over Tanim Bala

"One hundred forty five people get robbed every day, 451 people are victimized by thieves every day, 28 women get raped every day, and 27 are killed every day. And the only 'criminal' they can parade on TV is a hapless OFW who's been caught with one bullet whose provenance was later doubted by Justice department prosecutors?"
Recto was pretty spot-on when he said his speech regarding the tanim-bala issue that blew up late in 2015.
5. Senator Sonny Angara defends the public's tax woes

"We don't agree with what the President said that we are pushing for the bill just to get on the good sides of the people because we can hear the complaints of the ordinary employees who don't earn much money and yet their tax percentage is equal to that of the billionaires."
Sonny Angara preached about the public's main concern after PNoy rejected the proposed income tax cut.
4. Manny Pacquiao's senatorial promise

"I will not be absent because the whole country would be my responsibility."
This is what Manny Pacquaio promised when he told reporters how serious he will be if he wins a senatorial position in next year's election. Pacquiao will be retiring from his boxing career after one more fight.
3. DILG Secretary Mar Roxas' sassy reaction to Duterte's decision to run

"Do I look worried?"
When asked if he's worried about the decision of Duterte to run as president, DILG Secretary Mar Roxas replied with this quick remark.
2. Senator Miriam Santiago and her health

"The positive development in the case of Mr Carter's cancer trumps the macabre wishes of my naysayers that I should die before I finish a 6-year term as president. If Mr Carter can do it, I, too, can beat cancer to serve the Filipino people."
Senator Miriam Santiago keeps her head high despite her stage 4 lung cancer.
1. P-Noy's humble bragging during APEC

"Might I emphasize that we did all this, and more, without raising any taxes, apart from the sin tax."
During the APEC Summit, P-Noy credited the growth of our economy to good governance.
What other quotes from politicians got your attention in 2015? Sound off in the comments below!