'Weathering With You' Delivers Tears in the Rain
Sep 6, 2019 &nbsp • &nbsp Mikhail Lecaros
With no shortage of rain over the last two months, it is ironically appropriate that Philippine cinemas have started screening Weathering With You, the latest animated feature from director Makoto Shinkai (Five Centimeters Per Second). Seeing as his previous effort, 2016's Your Name, is now recognized as a modern classic, expectations are understandably stratospheric. So how does Weathering With You stack up?
THE STORY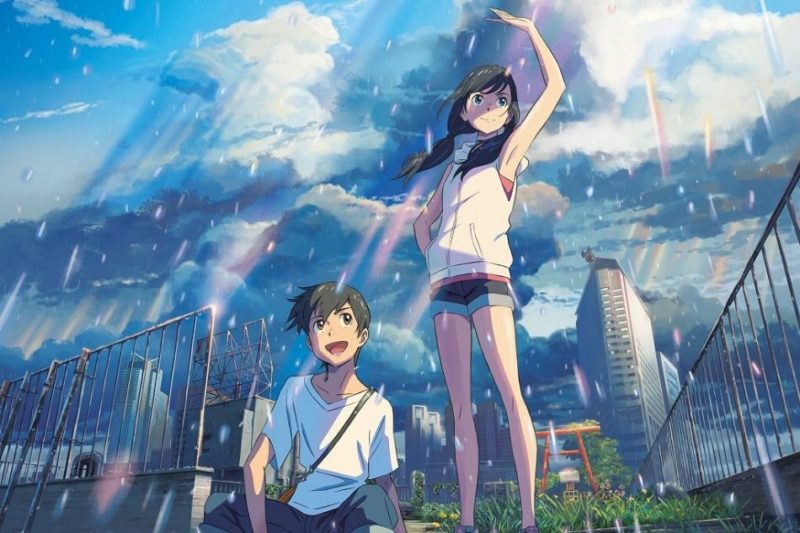 Hina Amano (Nana Mori, Tokyo Ghoul S) stands watch over her ailing mother, the desperation of the situation leading the young girl to seek solace from a rooftop shrine. An earnest plea and a twist of fate later, Hina finds herself blessed with the powers of a "sunshine girl", able to manipulate the weather through the invocation of a well-placed prayer. When teenage runaway Hodaka Morishima (Kotara Daigo) finds work at a magazine specializing in supernatural cases, his path crosses with Hina's, leading the two on a journey of friendship, self-discovery, and, perhaps most significantly, first love.
SEASONS OF LOVE

Weathering With You treads much of the same ground its predecessor in featuring young people learning about themselves and the world around them while an extraordinary phenomenon looms overhead (all set to an awesome Radwimps soundtrack). In this case, the phenomenon in question isn't a comet, but unrelenting, torrential rains that render Tokyo and its surrounding areas woefully waterlogged.
When Hodaka decides to leverage Hina's talents for profit, neither teenager could possibly imagine the direction their friendship would take, especially when it's revealed that the long-term implications prove detrimental to the sunshine girl's health. In retrospect (her age notwithstanding) the speed with which Hina takes to her role as sunshine girl for hire is somewhat questionable, but the whole thing is presented in such a charming manner, one just rolls with it.
FAIR WEATHER FRIENDS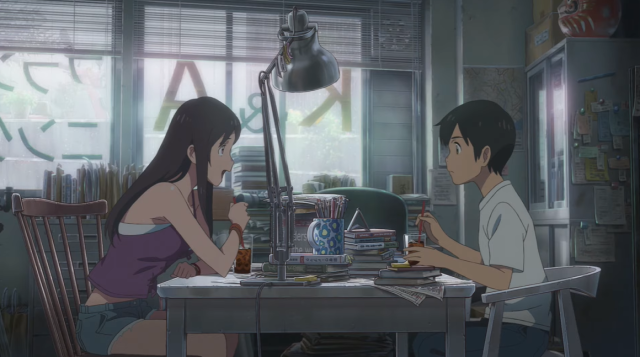 The central friendship here is born under most-trying circumstances, with the first encounter between a then-homeless Hodaka and Hina taking place in a McDonald's where the latter is working. The meet-cute may is undercut somewhat by the blatant (and extraordinarily-detailed) branding on display, but the earnest performances of the voice actors save their meeting from just being an extended Big Mac commercial.
The two don't fall for each other immediately, with Shinkai wisely giving their friendship time to develop and grow as Hodaka and Hina get to know each other over the course of the film. Curiously, while we are given ample glimpses into Hodaka's point of view to know what he appreciates about Hina in order to love her, the converse doesn't really happen, with Hina's pious sense of duty being essentially the only thing we know about her.
TEARS IN THE RAIN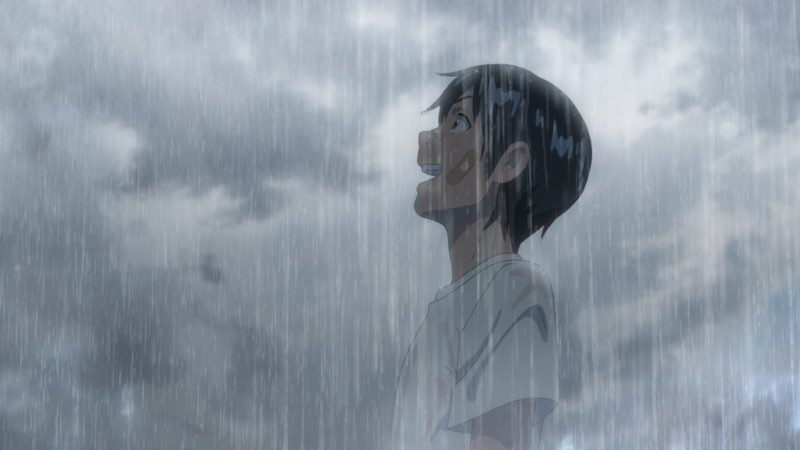 Sadly, the film's final section loses a bit of the momentum built up from its strong earlier sections. Make no mistake, the final act is packed with stunning visuals, epic character beats, and a race against time, but coming immediately after Your Name, it can't help but feel a little bit familiar. Further diminishing the impact of the finale is a coda that shows the consequences of our heroes' actions, and, man, it is not pretty – it's one thing to sacrifice everything (and, in the process, pretty much destroying everyone's lives) in the name of love, it's quite another to not actually follow through on said love until three years later.
While a token attempt to explain Hodaka's recalcitrance in dialogue, the excuse given is so flimsy as to be laughable. Of course, this isn't to say that it would have been less selfish for him to act on his feelings earlier, but seeing as he'd already condemned his homeland to death by eternal rain, one wonders what he even had to lose anymore at that point.
In an otherwise wonderful film where rain plays a central role, the ending, sadly, just doesn't hold water.
THE CHARACTERS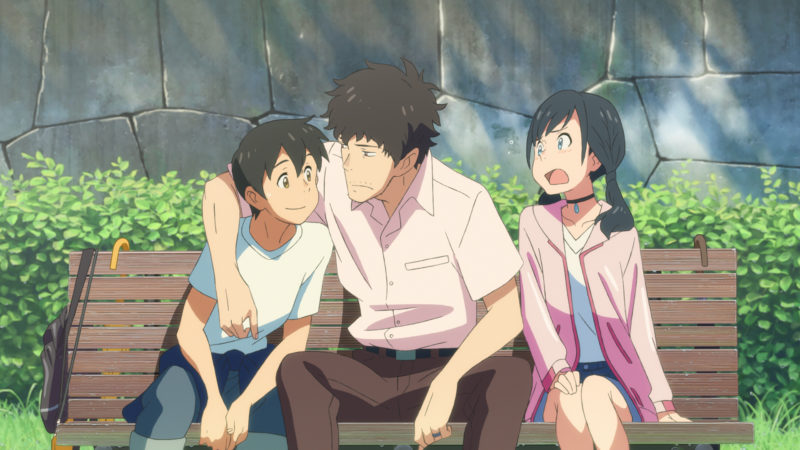 The world of Weathering with You is peppered with memorable characters, such as Keisuke Suga (Shun Oguri, star of the live-action Lupin the Third), the magazine editor who gives Hodaka a job after the boy fails to find employment anywhere else. Between the two, we get a classic matchup of an offbeat mentor teaching his wide-eyed apprentice the ways of the world, though Keisuke does vanish from the proceedings for a bulk of the film's mid-section.
Keisuke's only other employee is his buxom niece, Katsumi (Tsubasa Honda, of the live-action Fullmetal Alchemist), a hard-drinking, scooter-riding free spirit with a penchant for teasing the boys she works with. As much joy as she takes in poking fun at Keisuke and Hodaka, Katsumi is a good worker, and a loyal friend, whose scooter skills come in handy in a third act chase.
The final side character is Nagi (Sakura Kuryu), Hina's little brother, who, despite being of grade school age, is well-versed in juggling relationships with multiple female classmates. Initially suspicious of Hodaka, he comes to like the guy enough to trust him around his sister.
ANIMATION PAR EXCELLENCE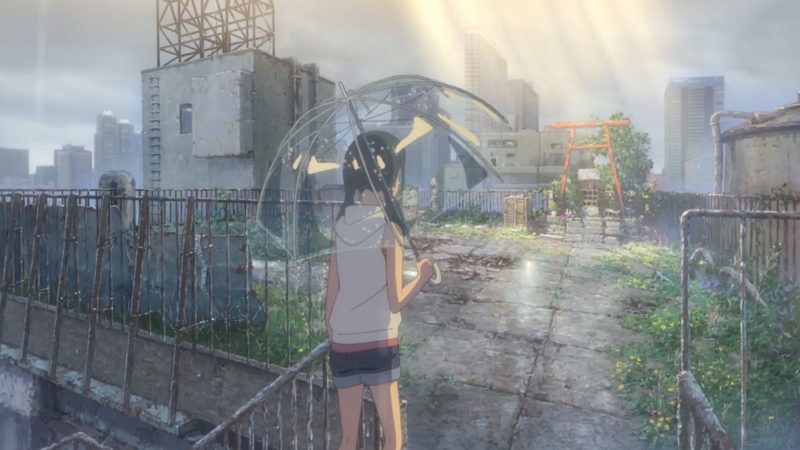 While the ending doesn't entirely hold up, Weathering With You is nevertheless a film that demands to be experienced in the theater, as its traditional hand-drawn aesthetic gives it a look that is both immediately refreshing and distinctive. Given that the bulk of animated releases these days are of the three-dimensional CGI variety, it was particularly striking to be reminded just how beautiful the classic format can look on the big screen; whether it's a comedic bit in Keisuke's below-ground apartment/office or a sobering glimpse of Tokyo's flooded sections, there are details to be discovered in nearly every section of every frame.
WELCOME TO TOKYO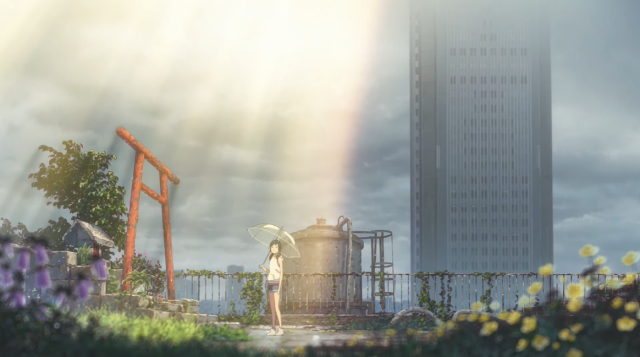 In anime, interstitials of everyday life are often used as buffers, especially following scenes of high action and/or emotion. Whether it's shots of school corridors or power lines serenaded by cicada song, these scenes tend to add texture to the fictional world being depicted. In Weathering With You, that texture is woven into the story by the inclusion of real-life brands, neighborhoods, and even signage, all depicted as accurately as if they'd been shot it in real life. While one does wonder how much of the movie was funded by product placement, such questions are silenced somewhat by the altogether naturalistic manner in which the filmmakers have crafted a living, breathing world onscreen.
THE BOTTOM LINE
While Your Name is still the film to beat, Weathering With You's themes of friendship, loyalty, and first love prevailing against impossible odds make it a worthy entry in Shinkai's filmography. Now, with the film being touted as Japan's candidate for the Best International Feature category at the 92nd Academy Awards, hopes are high for the stars to align and have the Oscars acknowledge what millions of fans around the world already know: Makoto Shinkai is a master of showing that old-school animation still has life in it yet.
What do you think of Shinkai's latest? Tell us below!