Another week has gone by, and it's been another week where the universe was playing with our emotions. Just this week, we got Senator Manny Pacquiao defending the death penalty by saying Jesus himself was sentenced to death. Never mind that Jesus Christ was innocent and was convicted by corrupt politicians. So we got another week showing how stupid people should never be elected to higher office. And what's weird is that we have politicians who still think and act like we're in the damn dark ages considering the number of scientific breakthroughs and fact-based arguments because we're in the DAMN 21ST CENTURY.
Speaking of weird, the realm of oddities and strangeness are more active this week as the Lunar New Year approaches. Stuff like:
Beer Yoga is a thing now so where do we sign up?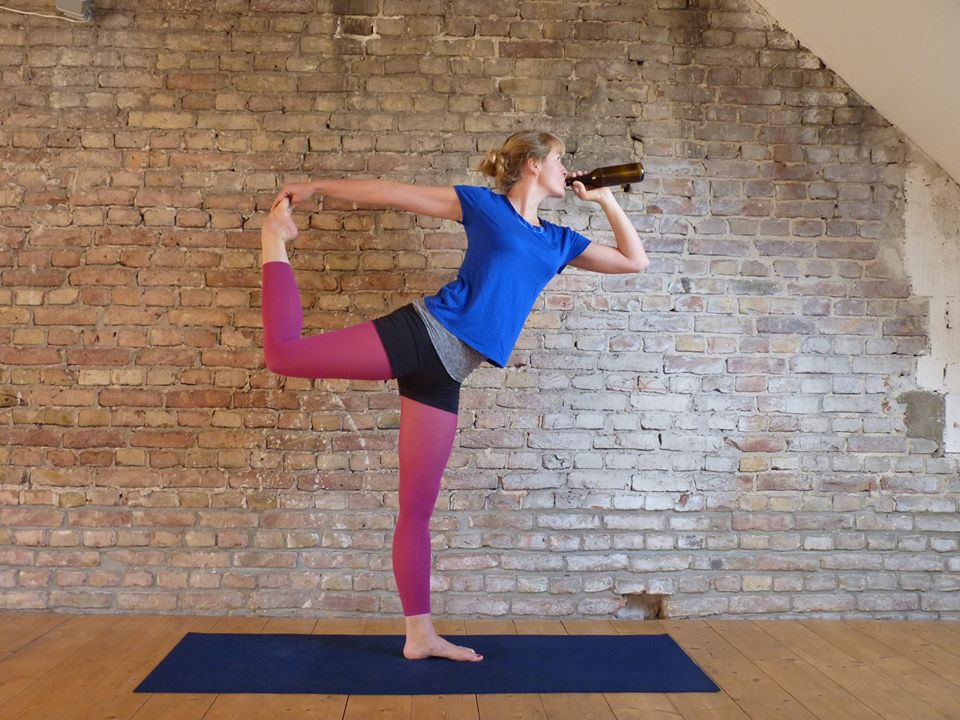 Have you ever wanted to achieve nirvana and expand your consciousness while chugging an ice cold beer? Of course you have! And if you say no, you're a liar and liars enjoy angry butt sex with Satan. Luckily for you, geniuses over at Germany invented Bier Yoga, merging (you guessed it) beer and yoga. The website says "BeerYoga is the marriage of two great loves – beer and yoga. Both are centuries-old therapies for body, mind and soul. The joy of drinking beer and the mindfulness of yoga complement each other, and make for an energizing experience."
If you're thinking that this is just some new age, hipster bullshit, think again. Their philosophy states, "BeerYoga is fun but it's no joke – we take the philosophies of yoga and pair it with the pleasure of beer-drinking to reach your highest level of consciousness." With the current situation our world is in, it's good that we can align our chakras while downing a tasty beverage. Be right back. Going to Germany.
Where did Kendall Jenner's leg go?
Another week, another optical illusion. A few weeks ago, we got a photo of a group of friends with one of them missing a pair of legs. This week, it's Kendall Jenner without anything to walk on.
The photo was posted on Instagram by InStyle Magazine, showing sisters Kendall and Kylie Jenner with Hailey Baldwin. The big question is, where is Kendall's leg?
One commented  that the missing leg is under the one that's showing. But that might be too obvious and not fun. What do you think guys? Maybe Ray J stole it as an effort to desperately cling to fame and align himself with the Kardashians? Who knows.
Teen pretends to eat ramen out of a toilet bowl, revolts internet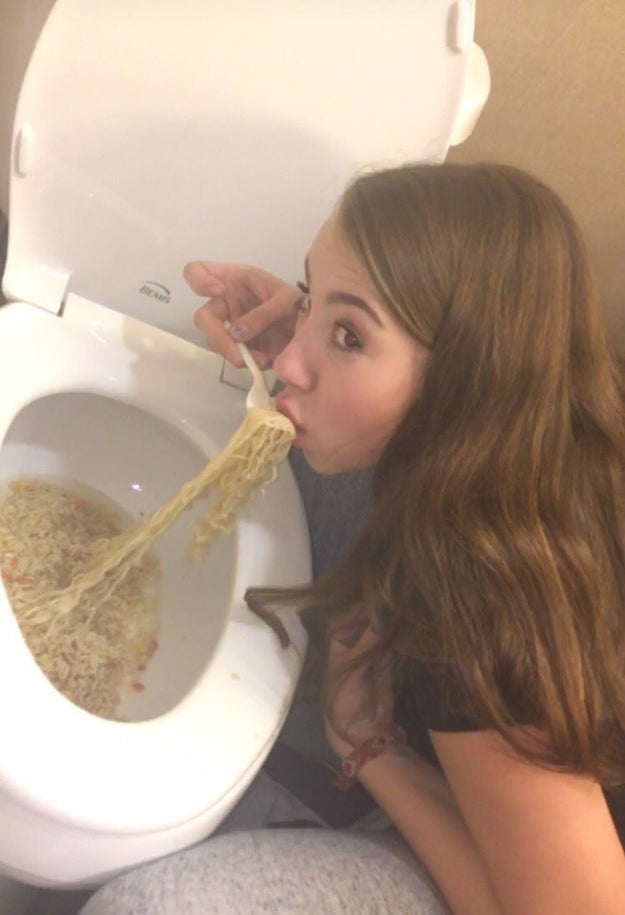 In "why" news, BFFs Taylor O' Dore and Hannah Hepler made a bunch of instant ramen while drunk, because instant ramen are the bomb. They weren't able to finish all the noodles, so they decided to dump it in a toilet. Hepler asked O' Dore to take a photo to make it look like she's eating the ramen from the toilet, as one does.
O' Dore would later tweet the photo with the caption, "When it's your turn to do the dishes and all the bowls in the house are dirty except this one."
When it's your turn to do the dishes and all the bowls in the house are dirty except this one pic.twitter.com/Vr0RWC8Ia6

— Taylor (@TaylorODore) January 16, 2017
And that's when people almost vomited in their mouths:
@TaylorODore @Han_nah_Hepler What in the … pic.twitter.com/TiyFkvICOQ

— Jeremy Pond (@JeremyPond) January 18, 2017
@TaylorODore I've had enough of white twitter today, deuces. pic.twitter.com/PxX80B7nYt

— Zu (@ghetto004) January 18, 2017
@Michete pic.twitter.com/HLBU9hfZEg

— debbo jontaaɗo (@fulaheaux) January 18, 2017
Homeless mom thinks Michael Jackson's "Smooth Criminal" is about her
A woman with a 14-year old daughter is now homeless due to her quest to prove that Michael Jackson's "Smooth Criminal" was about her.
Her own daughter is calling her "delusional" since she refuses to work because she believes that the late King of Pop's estate owes her money.
.
Speaking to the Dr. Phil show, her daughter Akeeya says "My mum, Annie, is delusional. She actually believes Michael Jackson wrote the song Smooth Criminal about her. My mom does not work because she believes she's entitled to the rights of Smooth Criminal." She adds,  "I am livid. I want my mother to stop trying to cash in on the rights to this song and get a job and support her and my little sister."
Annie claims that she was in an abusive relationship during the release of the song in 1988. Speaking on the show, she says "When all this was happening I saw a limousine outside the window. I believe it could have been Michael Jackson in that limousine. I know that Michael Jackson had family that lived in the area. 'Annie, are you ok?' Why do you think he said that? Because he wanted to know if I was ok."
The lesson here? There are a lot of stupid people in this world.
Here's a version of Smash Mouth's "All Star" where every note is in C because why tho
Love them or hate them, Smash Mouth dominated the late 90s. In particular, their catchy 1999 hit song "All Star" gave us instant ear-worm.
But since the internet is full of sensible individuals, some spawn of Satan decided to give the song an overhaul by making every word sung in the note of C because some people just want to watch the world burn.
The result? We don't know if it's better or if it makes us comfortable.
The big question is,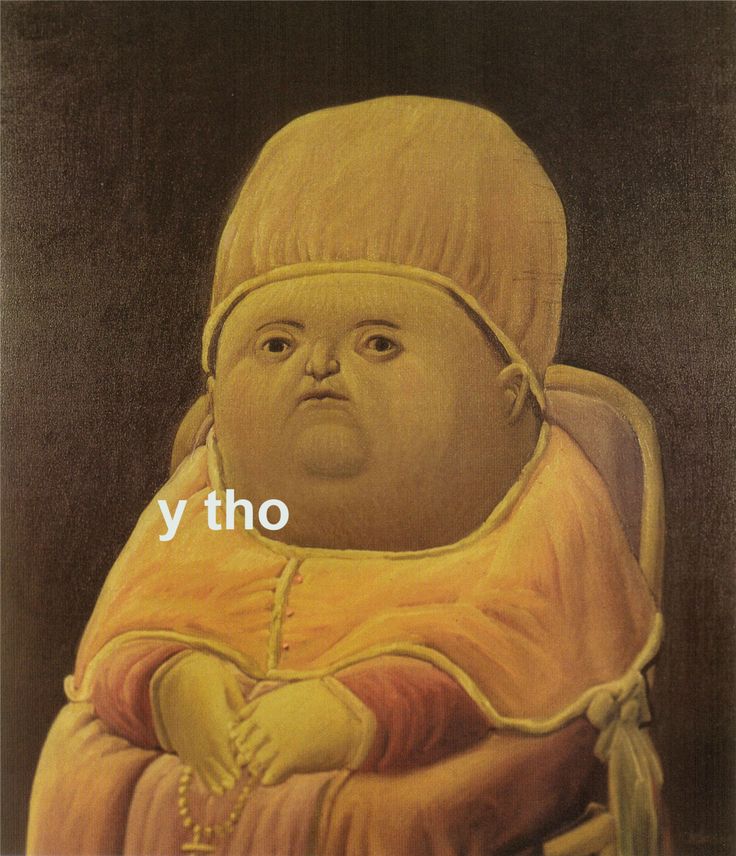 Woman creates art from her period blood because why not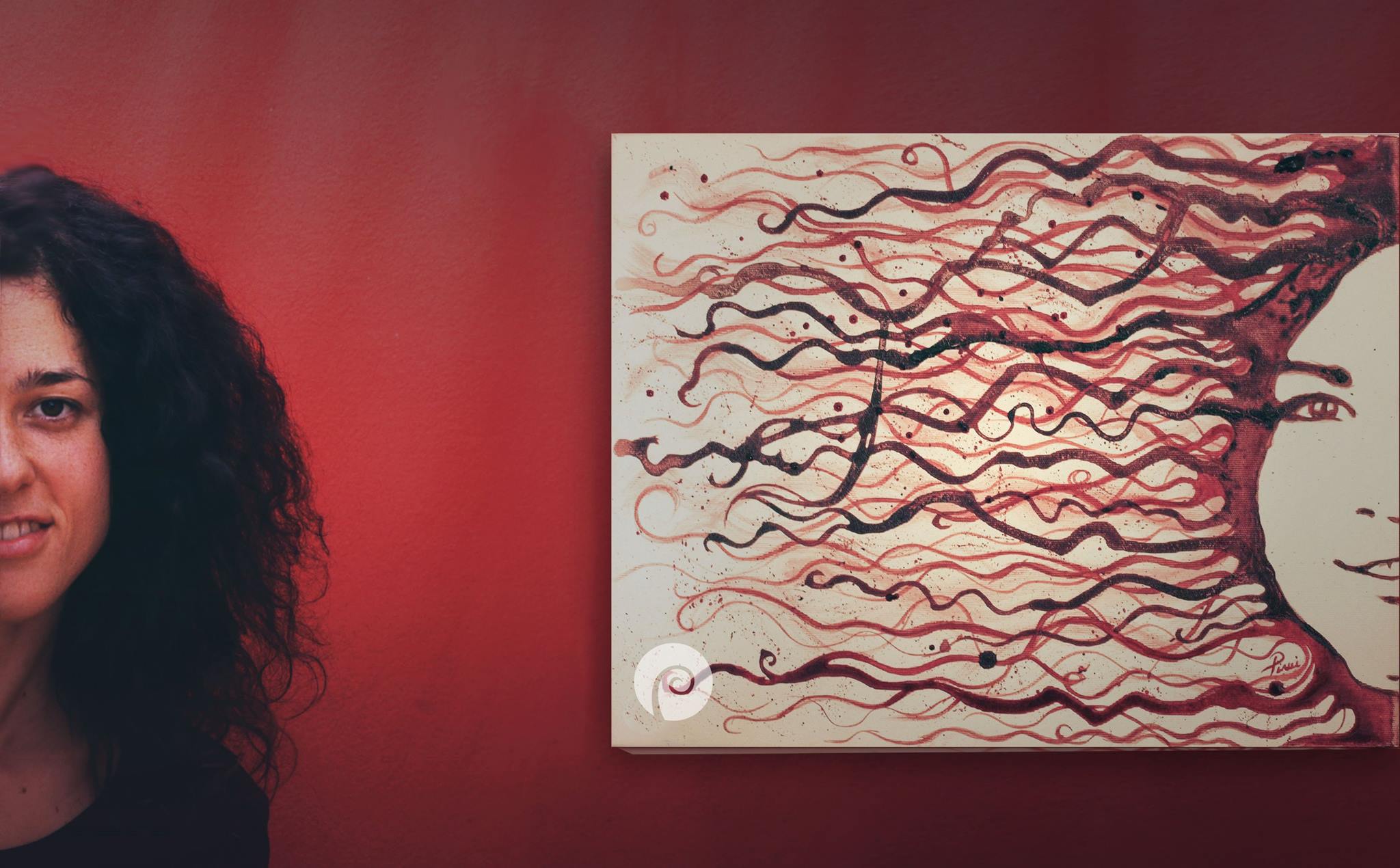 Twenty-eight year old artist Timea Páll has generated a lot of discussion with her artwork. Why? She made a painting of a fetus that she made with her period blood that took nine months to make. She calls it "The Diary of My Period."
In her Facebook page, she explains "One drop of experiment and I realize the beauty of the pain, the value of the period, fertilizing my whole being. The periodic elimination of my ovum with my menstrual flow inspired me to give birth to something which has a biological end, and to create the start of the end. The focus is not on the blood, but the work has it's message because of the menstrual flow. Each month a woman has the chance to became pregnant, but with the menstrual flow the ovum is eliminated, and the chance to have a baby in not relevant at all. My concept with this elimination of the ovum through the menstrual blood was to gave birth to an artwork during these nine month and actually I created a "start of the end… I feel that this artwork has a mission, even if it's not able to see, to talk, or to breathe but maybe the audience will see, talk and breath instead of this little creature, independently from any sexual orientation, any skin tone or religious views… When an "ovum dies" an "artwork is born"."
Speaking to Buzzfeed, Páll says reaction to her work has been mixed. Some were revolted and disgusted and accused her of fishing for attention. She also got positive messages, proclaiming the work to be inspirational, emotional, and original. "I really would like to expose my work at art galleries as well, all over the world, to shock people that it doesn't have any smell at all," she adds.
And that's enough internet for today.
Man begs and charges strangers to whip him to raise funds for his son's operation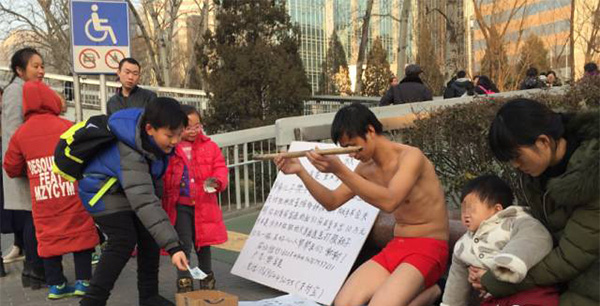 In Beijing, a man is begging strangers to whip him for a fee in order to reaise funds for his son's operation.
The man, Fan Fugui, knelt on a street in Beijing and charged 10 yuan (Php 72.60) per strike. Fan's one-year old son was born with complications in his eye and may soon go blind. The operation costs 100,000 yuan, or roughly Php 725,976.74.
The man held a rod in front of him, with a sign beside him that says "hit my thighs to save my son" and that his family is poor and cannot afford the hospital bills. The sign also says that his son has optic atrophy and may soon go blind without treatment.
A report said that strangers left money but no one struck him. Since his story was published in China, the man has received over 50,000 yuan (Php 362,988.37) towards his goal. He says it's enough money to pay for the hospital's deposit.
Donald Trump's busy week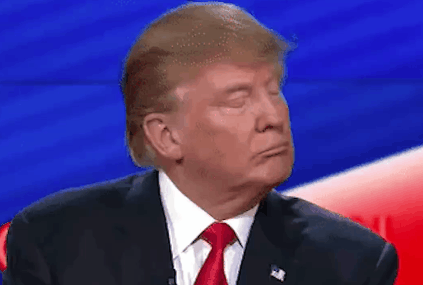 US President-elect Donald Trump has had a busy week. From being roasted for tweeting a photo of himself writing his inaugural speech, the guy can't catch a break.
First, a 2006 photo of him climbing at a golf course made the rounds on Reddit.
This resulted in a photoshop battle: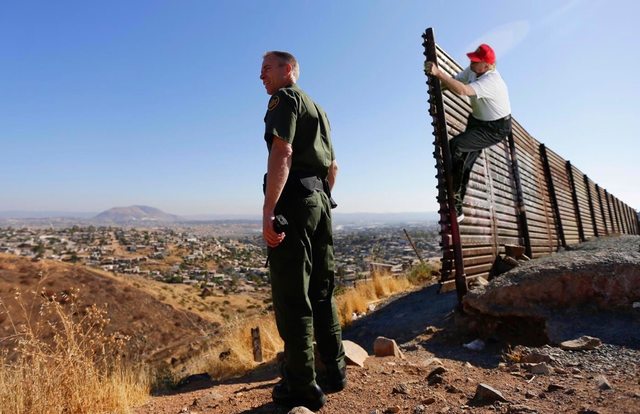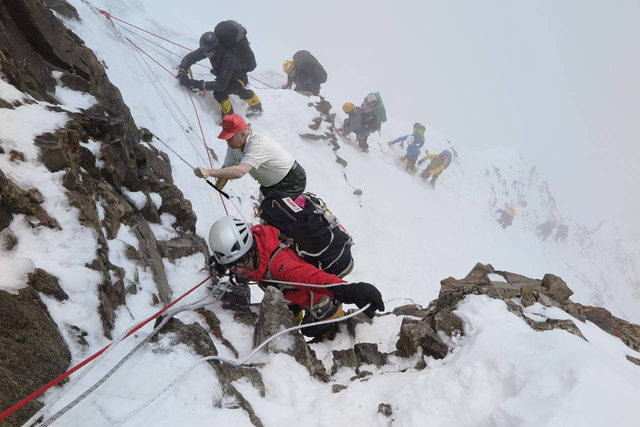 Next, artist and cartoonist Robert Sikoryak turned Trump's controversial statements into parodies of popular comic book cover art. He's posting them on Tumblr page the Unquotable Trump.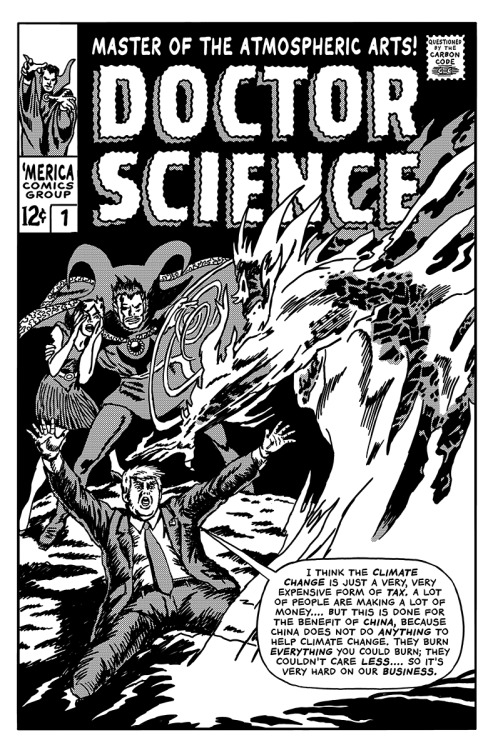 With fake news and people comparing fake news to fiction, the lawlessness of our police, threats of Martial Law, and people choosing fake news over fact-based arguments, we really are in a state of Idiocracy.
What were the weirdest things you've seen all week? Share them with us below!