Hey team! This week, people are still terrible. Seriously. It's like we're Sisyphus and the Philippines is our immense boulder. We make little progress here and there, pushing it up a hill.. But ultimately its people that makes said boulder fall down the bottom of the hill over and over again. Why? Because people suck. And it shouldn't be surprising given today's surroundings.
Know what else isn't surprising. WTF-ness happening around the world. Well it's a good diversion, because we got stuff like:
1. CNN's Reza Aslan causes outrage by eating human brains on television
Author Reza Aslan is the host of CNN's new show, Believers. The show features Aslan immersing himself in the world's strange and most fascinating faith-based groups to experience what it's like to be a "believer." Sounds pretty interesting right? However, things are off to a rocky start after Aslan ate human brains on the show, causing outrage.
The outrage stems from Aslan immersing himself with the Aghori, a Hindu group known for their strange and bizarre rituals. Disciples of more traditional Hindu sects saw this as an insult. His behavior wasn't well-received as well, as he's being criticized for being insensitive on the show. He said the brains "tasted like charcoal" for starters. Aslan also pisses of the Aghori, with one member throwing poop at him. His critics are saying that his show promotes religious intolerance, given the sensitive environment we're currently in.
After the barrage of outrage, Aslan tweeted:
This is a show about the Aghori not Hinduism #believer https://t.co/uwroTHp5Ka

— Reza Aslan (@rezaaslan) March 6, 2017
Watch the clip and judge for yourself. It goes from 0-100 in seconds.
2. Pancake bathhouses opens in Japan, because why not
森永ホットケーキ風呂が今日からスタート٩(๑❛ᴗ❛๑)۶!
あま〜い香りに癒されてみて#ホットケーキ #水着 pic.twitter.com/YEBOCOqFfr

— 箱根小涌園ユネッサン (@boxhappy_yns) March 3, 2017
Ever wanted to bathe in your pancakes? Of course you have. Ever the nexus of awesomeness, Japan has got your back covered in sweet, sweet maple syrup.
To celebrate the 60th anniversary of Morinaga hot cake mix, the Hakone Kowakien Yunessun resort is throwing a pancake bath party to celebrate the momentous occasion.
ポカポカ陽気の日曜日箱根観光の定番ユネッサンを午後からお得に楽しむクーポンはこちらからhttps://t.co/RdamwBOm9h
楽しい投入パフォーマンスも体験できますよー‼︎
#ユネッサン#森永ホットケーキ風呂#投入パフォーマンス#アフタヌーンパス pic.twitter.com/aVzj7kzFoQ

— 箱根小涌園ユネッサン (@boxhappy_yns) March 5, 2017
Though the tubs won't be filled with pancake batter, the baths will be scented with maple and vanilla, with maple syrup being added three times a day.
In addition, the resort also has a red wine bath and a coffee bath. Why? Because Japan is awesome.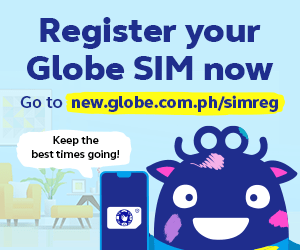 3. Radioactive boars are roaming an abandoned town in Japan after the Fukushima disaster
After six years, people are finally given the ok to return to their homes after the Fukushima disaster struck. What officials didn't expect are the boars that are now ruling the abandoned town. They destroy crops, stay in deserted homes, and even attack humans. They're the real-life version of internet trolls. What's more, the boars are radioactive.
The New York Times report that these boars have been showing levels of the radioactive element celsium-137. That's 300 times higher than normal safety standards. The boars have been destroying craps and show zero shyness to people. They have a tendency to attack.
To remedy this situation, officials have been killing the boars and setting up traps to scare them away. Officials also have to find a solution for the boar corpses, considering they're too radioactive to eat. Burying them in land isn't exactly a smart thing to do given their radioactivity.
This is just another side quest. Kill all radioactive boars, receive 500 XP and win Musashi's sword.
4. Footage of door slamming on its own is obviously freaking people out
Assistir filme de terror é fácil
Difícil é ser guarda do IML de Cuiabá a noite. pic.twitter.com/7kHYNnX94N

— Enrique Lussich (@enriquelussich) March 14, 2017
If insecurities and that stupid thing you said 10 years ago isn't enough to haunt you in your dreams, more proof that ghosts exists made its way this week.
Twitter user @enriquelussich uploaded footage of a haunted door opening and slamming itself shut with its lights flickering on and off, much to the horror of people everywhere.  As Enrique makes his way closer to the door, the slamming comes to an end and the lights stop flickering. Footage shows investigating the area with nothing particularly strange to cause the spooky effect.
However, some people aren't buying it. Some commenters pointed out that the guard has a pull cable to replicate the door's slamming effect.  Some are also saying that someone was pressing the lights on and off, and conveniently hid once Enrique was fast approaching.
Don't let this distract you that ghosts aren't real. Why, we have tons of ghost employees here working for the government.
5. Indonesian tiger statue turns into a meme, gets demolished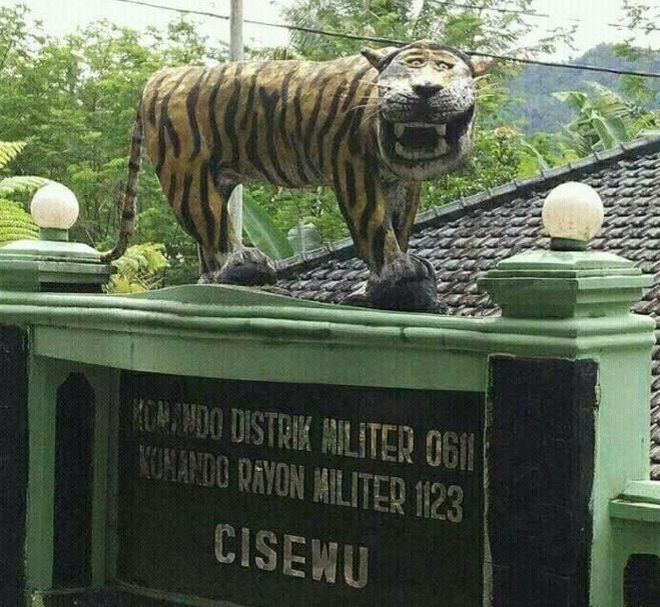 As further proof that we can't have nice things, a much-mocked tiger statue in Indonesia (it was even turned into a meme) has been demolished. It was supposed to be the mascot for the Siliwangi Military Command. The statue has been in place for several years now, but only gained viral fame recently. The military command's logo is pretty badass: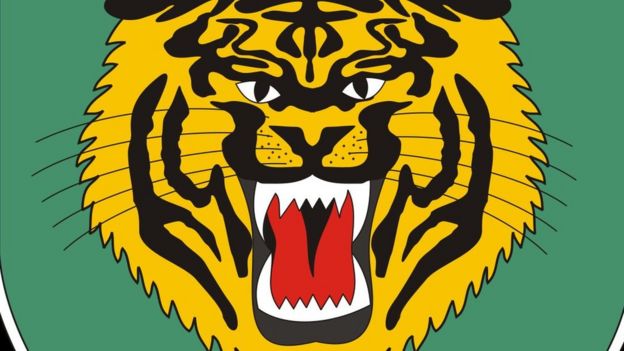 And what the hell is that in statue form? Given that the internet is full of mature individuals, the statue got turned into a meme and gave us glorious gems:
main filem pic.twitter.com/3vSOh1kBmz

— aji riyantani (@si_wel) March 13, 2017
reaksi oknum warga semak2 pinggir tol,,kalo lihat bis yg mereka timpukin berhenti. pic.twitter.com/ESTYdZaVge

— KLNMCN (@KoloneMacan) March 14, 2017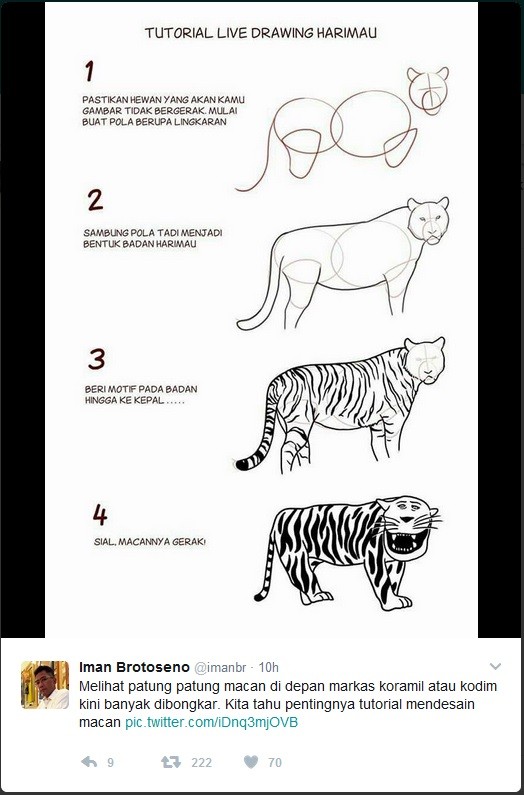 RIP macan cisewu, now up there with Harambe and the other legends in heaven. pic.twitter.com/W2yQkZ8J87

— Evri Febrian (@evrithings) March 14, 2017
Speaking to the BBC, Siliwangi military commander Maj Gen Herindra said "Every unit has their own decision on how the statue was made, but sometimes the artist was not that good." "Not good" is an understatement.
RIP meme tiger. After the original statue was destroyed with chisels, this badass one stood as replacement:
The New "TIGER STATUE" of Cisewu. Segan! (Picture: @kodam3siliwangi) pic.twitter.com/t83e7sMTYE

— Vincent Candra (@halleluhellyeah) March 17, 2017
Now THAT's a tiger. However, we still want it to shoot laser beams out of its eyes and have harpoons for legs. Now that is a tiger you don't want to fuck with.
6. A good Samaritan left a generous amount of weed at a charity
Here's some news to restore your faith in humanity: a man left nearly four pounds of marijuana in a cooler at a charity store in Washington.
Monroe, Washington police posted a picture of said cooler, with a smiling, maybe not high police officer posing with the sticky-icky find.
This cooler was donated over the weekend to the Goodwill. Employees surprised when they opened the lid. Police were called… pic.twitter.com/50z1OinsER

— Monroe PD (@MonroePolice) March 14, 2017
In Washington, sale of marijuana is actually legal for medical and personal use. The law states that no one should possess more than ounce of marijuana. Anything more than that can carry a five-year sentence and a $10,000 fine.
Police are already investigating to see if they can identify the generous stoner. Now whoever said weed makes you violent?
7. Blue "sea sparkle" phenomenon is set to get your Instagram hella likes
Over in Tasmania, bioluminescent algae lit up Preservation Bay, giving waters a breath-taking blue glow. The cosmic glow made it look like we were on another planet.
The algae are called dinoflagellates, otherwise known as the fitting "sea sparkle." They light up when threatened, and National Geographic points out that they use the glow to look for prey as well.
The sea sparkle lit Instagram with these breath-taking photos:
8. Is Justin Bieber secretly a Lizard-Man?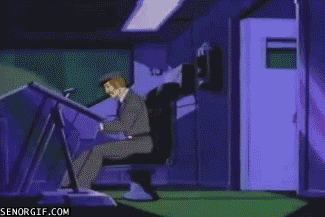 Mashable reports that certain (albeit questionable) news sources are saying that witnesses are claiming that they saw Justin Bieber morph into a reptile.
Celebrity conspiracy fans assemble, Australians think Bieber might be a giant lizard https://t.co/Usa9M54Whd pic.twitter.com/m6PW7pvQUr

— Michael Richardson (@HRFMichael) March 16, 2017
The articles had definitely legit statements from definitely credible witnesses such as "There were girls hiding in toilets, crying. Guys were running for the exits, jumping in taxis to get out of there." Another source said "He was hanging around with this big guy, his bodyguard I guess, and we were just staring because he kept turning into a huge reptile. His bodyguard was pointing at us, shouting that he'd kick our teeth in if we didn't put our phones away."
So is Justin Bieber a reptilian man? Or are people just taking too much bad acid? Drugs are bad mmkay.
What's on your list? Share them with us below!