The 8List Beginner's Guide to the World of Wes Anderson
Feb 27, 2015 &nbsp • &nbsp Jozza Alegre Palaganas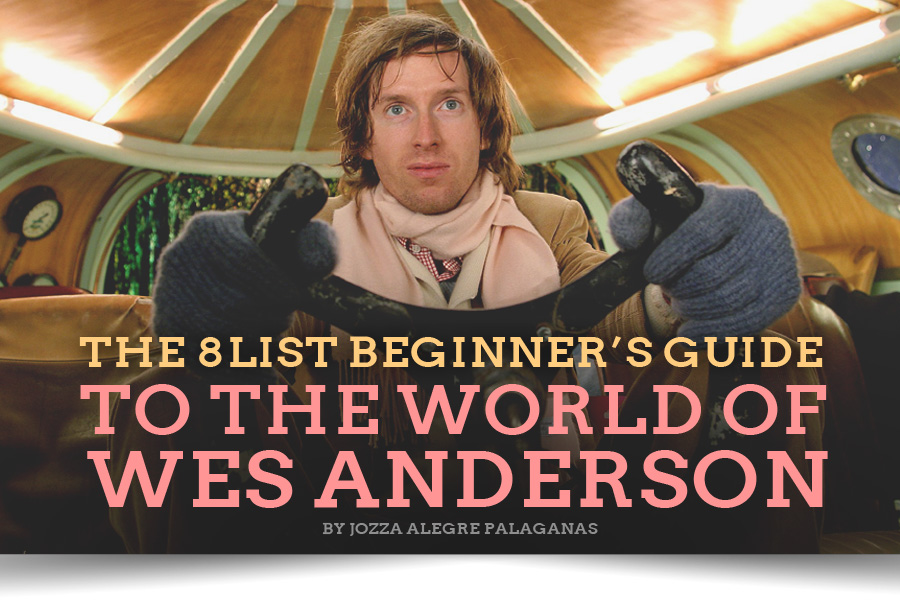 You've been hearing about Wes Anderson a lot lately. His most recent film, "The Grand Budapest Hotel," has been to all the mainstream awards nights and a lot of the big festival-related ones. What's the big whoop, you ask? Well, Wes is one of this era's most memorable filmmakers. If you haven't seen any of his films yet (or if you haven't seen all of it), here's our quick beginner's guide.





You'll see a lot of Owen Wilson in his films. Wes met Owen while attending the University of Texas at Austin (he studied Philosophy while Owen took up English). Their friendship resulted to Owen co-writing his first four films and acting (if not starring) in seven of Wes' 8 films. Owen's brother Luke was also in Wes' first three films.





Most of his characters are lovingly written. His leads are big on personality–always self-absorbed and somewhat strange. The way they speak is even different. They're never boring. If they are, it's in a distinctively peculiar way.





One of the Wes' characteristics as one of this generation's most prominent auteurs is his use of the same set of actors across his films. In the first part of his career, his favorites are Owen Wilson and Bill Murray (both appeared in seven of Wes' 8 films), Jason Schwartzman, the late Kumar Pallana (appeared in four), Angelica Houston, Adrien Brody, and Luke Wilson (each appeared in three of his films).





His films exist in their own self-contained reality. All seemingly belonging to a world, a life we once knew–except whimsical and visually organized.





You'll see a lot of flat, frontal and overhead shots with the character or object in the middle of a symmetrically-organized frame. Wes has an apparent love for (or obsession with) unnatural architecture, symmetry, and rectilinear camera movement.





He is known to use stop motion animation (with one film shot entirely in stop motion) and exquisite, obsessively-created miniatures. Life is Wes' art lies in a symmetrically-organized, khaki pants-wearing diorama.




His themes center on the family–carefully tackling heartbreak, grief, parental abandonment (case/s in point, 'The Royal Tenenbaums' and 'The Darjeeling Limited'), sibling rivalry, and putting broken things back together.





The film has, so far, received a ton of nominations and around 20 awards. And it's beautiful! Have you seen it?