Everybody loves free speech. In fact, it's so beloved, Elon Musk recently bought it for $44 Billion!
But the topic of free speech always crops up in an era where it feels like anyone can get silenced if they say the wrong thing. Some people call this cancel culture, and they think that it is one of the biggest enemies free speech faces in the modern day and age.
For us to truly understand what's at stake here, maybe it's a good idea to actually step back for a moment and discuss exactly how free speech works. Here are a few things we need to remember…
8. It is the state's job to uphold free speech.
Or more to the point, private companies like Twitter and Facebook are not expected to be the vanguards of free speech. As private entities, they have their own terms and conditions plus a growing responsibility towards combating misinformation and lies.
With that in mind, you know what's a key example of killing free speech? Shutting down a TV network, that's what.
7. Social media platforms have the right to deplatform you.
It's literally in their TOS that you never read but agreed to. The thing is, when this happens, we say that we're being silenced. Guess what? We're not being silenced because most people who get banned on Facebook promptly go to Twitter to whine about it, then eventually find a way to be interviewed on CNN or something, if they're famous enough. You call that being silenced?
What Should You Do If Your Facebook Account Gets Suspended?
What Should You Do If Your Facebook Account Gets Suspended?
Meryl Medel | Apr 27, 2022
6. Freedom of speech cuts both ways.
Just as you are free to say some really stupid things, people are also free to call you stupid for it. That's not you being bullied per se, or your freedom of speech being encroached upon. That's just other people also exercising their freedom of speech.
5. Freedom of speech is not absolute.
There are certain things we simply aren't allowed to say, even in a free country like the Philippines. Freedom of speech has its limitations, such as the fact that you cannot just slander someone or libel them online. Your freedom to say these things end when other people's rights are being trampled upon.
4. Yes, people generally have the right to offend.
Offensive speech on its own is still covered by free speech. There's such a thing as hate speech, especially those directed at minorities, but blue language, off-color jokes, and general crassness is well within the bounds of free speech. A lot of comedy lives and dies by the right to offend!
So in that case, it's not so much a question of if we can say these things, but rather, should we?
Elon Musk Bought Twitter For His 'Free Speech' Agenda — Here's What That Might Mean for Twitter Users
Elon Musk Bought Twitter For His 'Free Speech' Agenda — Here's What That Might Mean for Twitter Users
Kyzia Maramara | Apr 26, 2022
3. The desire to curtail speech cuts across both sides of the aisle.
Conservatives think that liberals pushing their liberal agenda will cancel anyone who so much as hints they don't think gay people should marry. Yet at the same time, conservatives seem to have no problem wanting to ban any book that so much as mentions the possibility of gay people existing. Attempts at censorship do happen across the aisle.
2. Speaking for a political candidate is not an exercise in sovereignty.
Even just by reading up on the dictionary definitions of this odd combination of words, you can pretty much guess this to be the case. Ergo, banning someone like that is not an attack on a country's sovereignty. Again, it's not like you suddenly lost other platforms from which you can speak from.
1. Freedom of speech does not mean freedom from consequences.
People hate on cancel culture unless they get to use it for themselves. The same people who hated that businesses or artists supporting a certain candidate get unfollowed or boycotted are also the people who think that shutting down a network they didn't like is just fine.
The reality is, freedom of speech does not protect you from repercussions. If you don't get the concept, let xkcd spell it out for you: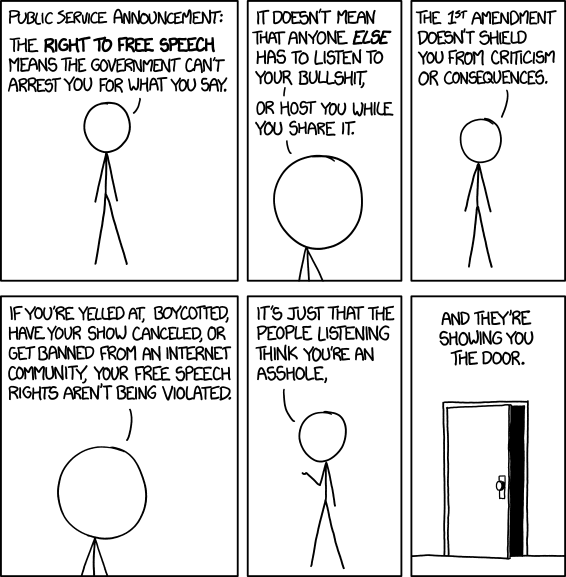 Yep.
What are your thoughts on free speech?