Arguably the best UAAP opening ceremony took place this past Sunday, September 1st, at the Mall of Asia Arena, just 103 days after the last season concluded. The commencement of UAAP 82, in its simplest sense, was a party. Filled with fun, good vibes, friendly, competitive spirits, and great music, Ateneo De Manila, host university, did a stellar job hyping up athletes and fans alike for the coming season, as well as for the Southeast Asian Games which will take place in the Philippines in November.
Here are 8 highlights that you missed from the opening ceremony:
All for More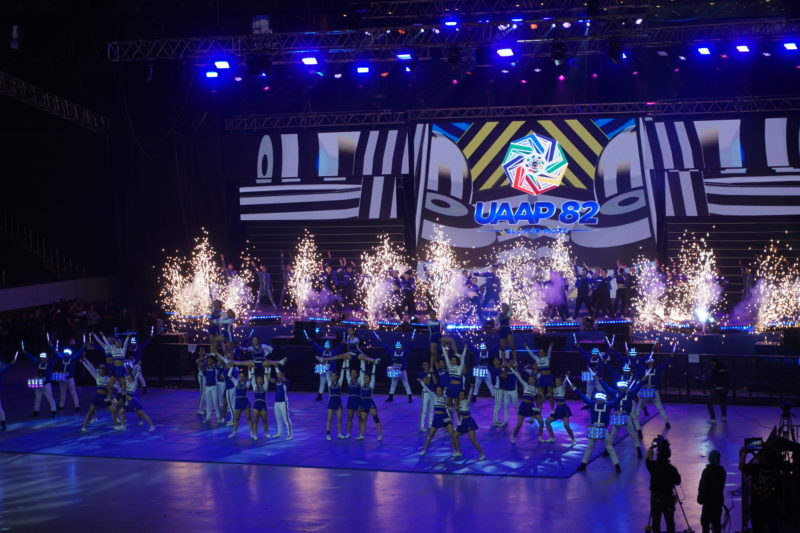 The theme for UAAP Season 82 is All For More. As explained by Ateneo President, Fr. Jett Villarin, this year's theme signifies everybody working together for a cause bigger than themselves, bigger than their teammates, bigger than their schools; for the country and for God. After all, as he said, we are first and foremost a community working for the greater good, before we are competitors.
Medals and Trophies for a Greater Cause
Another groundbreaking milestone — our #UAAP82 trophies are all made with recucled materials! Watch the video below to learn more. #UAAP82MoAArena pic.twitter.com/Icu3PZgRmI

— MALL OF ASIA ARENA (@MOAArena) September 1, 2019
In line with the theme, the medals and trophies that will be awarded to the UAAP 82 winners will be handcrafted from recycled materials from Taal, Batangas and bullet shells from Marawi by partner organizations. Definitely a very thoughtful step which will bring a deeper sense of fulfillment to everyone that makes it to the top.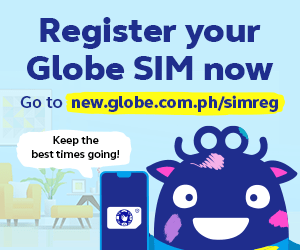 Futuristic Set
This is it —we are in for a visual treat as we begin to commence #UAAP82 here at the Arena!#UAAP82AtMoAArena#UAAPSeason82 pic.twitter.com/5nJQknXIbG

— MALL OF ASIA ARENA (@MOAArena) September 1, 2019
The Ateneo students put on an incredible dance spectacle which showcased each school in a very unique and futuristic manner. Following that, one member of each university's board of trustees pressed a "button" on the giant screen to add their school color to the Season 82 logo which consists of 8 greater than (>) signs.
Parade of Colors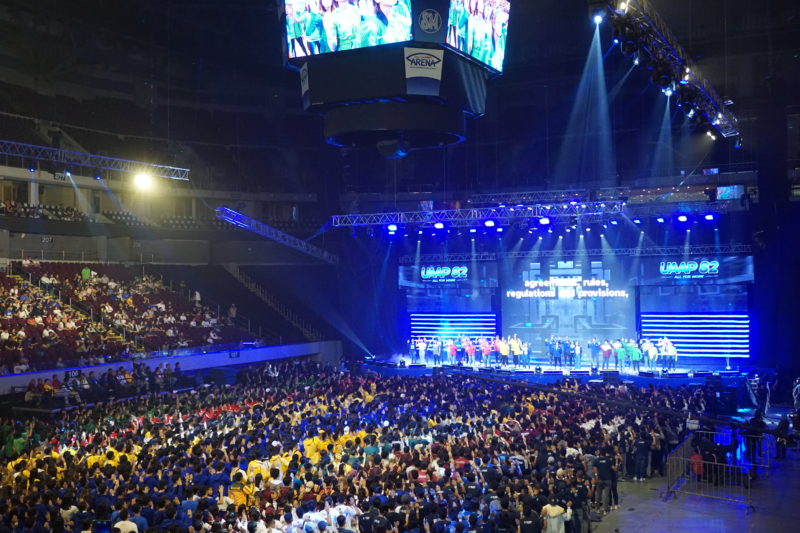 Each of the eight UAAP universities had their athletes parade in school-by-school, which of course, created a really pretty colorful view from the bleachers. All student-athletes were then led by national fencer of ADMU, Maxine Esteban, as well as some athletes that will be taking part in the SEA games, in reciting the UAAP oath of sportsmanship.
UAAP 82 Official Anthem: "Ang Ating Tagumpay"
"Ang Ating Tagumpay" is the official UAAP Season 82 anthem written by Spongecola and The Itchy Worms, and it's super catchy. The bands performed it live along with several national student-athletes. Give it a listen on Spotify! We're sure you'll be humming the tune immediately after.
Sponge Cola and The Itchyworms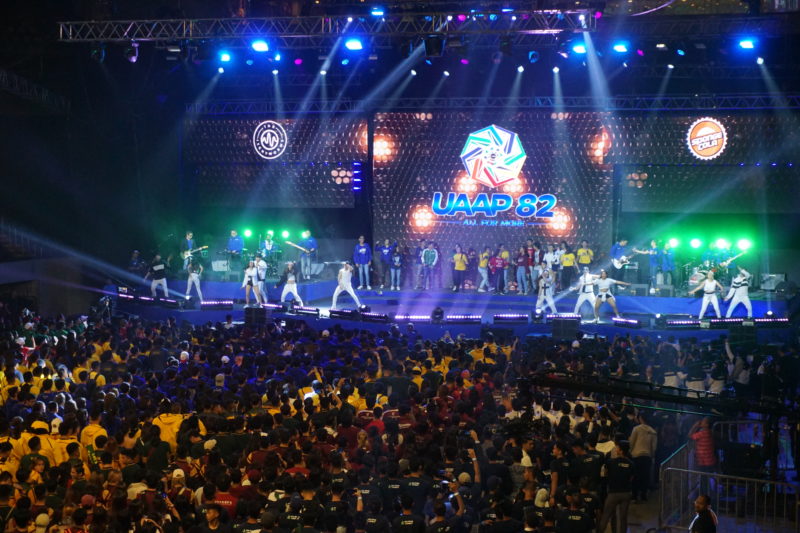 Okay, but is it really a classic Pinoy send-off/celebration without some Sponge Cola and Itchyworms? We'd say not. Usually, we'd just loop them to our playlist for the night but lucky for everyone that was there, we got to enjoy their music live! Sponge Cola even recorded a music video with everyone in attendance. What a treat.
Autotelic and December Avenue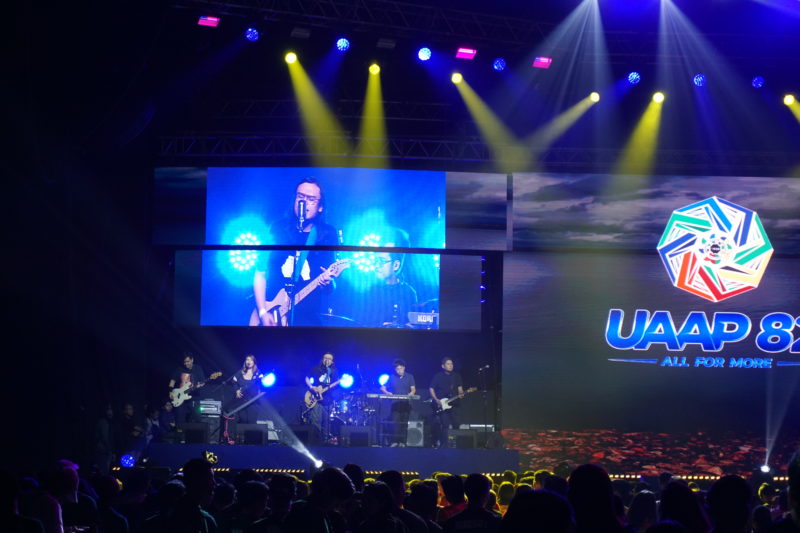 Autotelic had everyone tapping their feet along to Laro, while December Avenue had everyone that's ever been heartbroken singing along with all the feels, a.k.a everyone in the audience. Nothing like great rock OPM for some college bonding before the friendly rivalry begins!
IV of Spades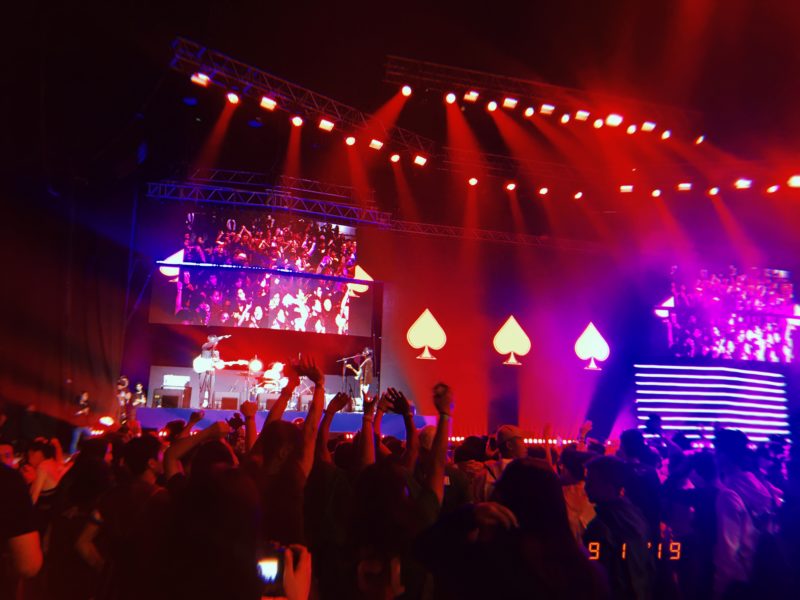 The perfect band to culminate quite the ceremony. The crowd may have been spread out around the arena while all the other acts were performing, but by the time IV of Spades came on, everyone was front and center, especially smitten as we were being serenaded by "Mundo." Not to mention their incredible guitar solo in the middle of the song! There was also a dance-off by some student-athletes during their set. What a great way to welcome the season!
If the way this opening ceremony went is any indication of how UAAP Season 82 is going to go, then we absolutely can't wait to see how it unfolds. See you at the games! The first games will be the Men and Women basketball teams this Wednesday, September 4.
What school are you rooting for? Share it with us below!