Listen to this article:
Gone are the days when corsets were mere undergarments, scandalous if worn by themselves. Now, this body-shaping fitted bodice is a fashion statement. The asymmetrical hemline flatters any body type making it look slimmer around the waist. The illusion makes for a sexy head-turning OOTD. These corset tops go well with anything — a polo underneath, a blazer over it, with jeans, shorts, boots, and the list goes on. And the best part is they come in different designs you'll want to cop ASAP. Here's where you can buy corset tops online.
Marie Rojie
View this post on Instagram
Marie Rojie has several corset collections you can choose from. There's the neutral colors in dark mocha, taupe, and khaki — perfect for the minimalist ladies who want their tops to match with literally anything. There's also the floral print collection so you bring summer with you wherever you go. But our favorite is the vintage collection. It includes cursive handwriting prints and floral oil painting designs. We won't blame you if you start acting like you're the main character in Taylor Swift's "Love Story"! These beauties are size customizable and start at P749. Send Marie Rojie a DM on Instagram for orders.
Corsets by Diana
View this post on Instagram
Diana gives you a number of options to customize your corset and bustier top. You could go for the sexy, strapless look, a ribbon strap, balloon sleeves, or lace sleeves to match your mood. They also have funnel corsets in long and cropped versions. These adorable tops come in different colors and patterns too. Corsets and bustiers by Diana start at P1,500 and can go up to P2,500. Send them a DM on Instagram for orders.
Mina Luna PH
View this post on Instagram
Turn heads when you wear this little number! Mina Luna's high-quality corset tops come in different colors and patterns and with adjustable straps and lace-up backs. Their sizes run up to XL and they're affordable too! You can get one starting at P650. Send them a DM on Instagram for orders.
April Jean Reflection
View this post on Instagram
April Jean Reflection is local fashion designer April Bridgmon's masterpiece. She creates handmade and reworked corset tops that will make any woman feel confident in herself. Her designs range from vintage (like something straight out of the Victorian era or a fairytale) to modern sexy silhouettes with matching bottoms. You can find the corset designs and styles on Depop with free local shipping.
Damitan ni Pat
View this post on Instagram
Get customized corsets from this size-inclusive shop. All you have to do is send a reference of the design you want along with your measurements, preferred fabric color, and other details. In about two weeks, your corset will arrive at your doorstep. How cool is that? Send Damitan Ni Pat a DM on Instagram for more details and orders.
Corsetry MNL
View this post on Instagram
Corsetry's previous customers only have high praise for the local clothing brand. Their corset tops are made with thick, quality fabric carefully sewn together to make sure it lasts you a lifetime. The straps are adjustable and so is the lace-up back so you can be comfortable wearing it throughout the day (or the week, if you want). While Corsetry's designs are limited, you can make it a goal to collect the whole collection.  Check them out on Shopee.
Trendyol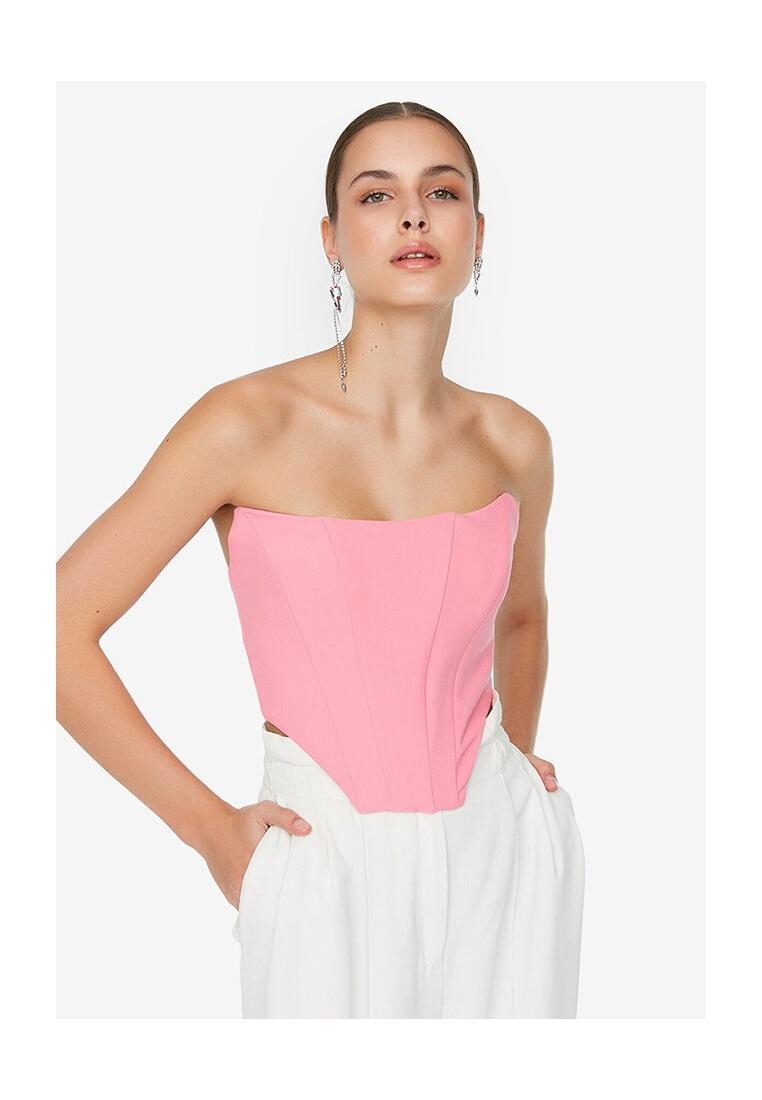 Looking for something a bit more simple? Trendyol's Strapless Bustier Top is the perfect fit. The solid tone makes it easy to mix and match with other pieces — a black blazer and a mini skirt finished with boots, for example. It comes with back zip fastening for a more secure fit. This top is also available in red, black, white, nude, and turquoise. Head on to Zalora to get yours.
Paraluman
View this post on Instagram
You could even thrift corset tops so you (A) save money, (B) save the planet from textile overproduction, and (C) save yourself from the dilemma of accidentally wearing the same thing as another girl at a party. Paraluman on Instagram has a wide range of secondhand corsets you can snag. They drop a collection at least twice a month so make sure you turn on your notifications so you won't miss taking home a lovely corset.
Check us out on Facebook, Instagram, Twitter, and YouTube, and be the first to know about the latest news and coolest trends!