8 Must-Visit Foodie Destinations in Alabang
Aug 13, 2015 &nbsp • &nbsp Shen Mascariñas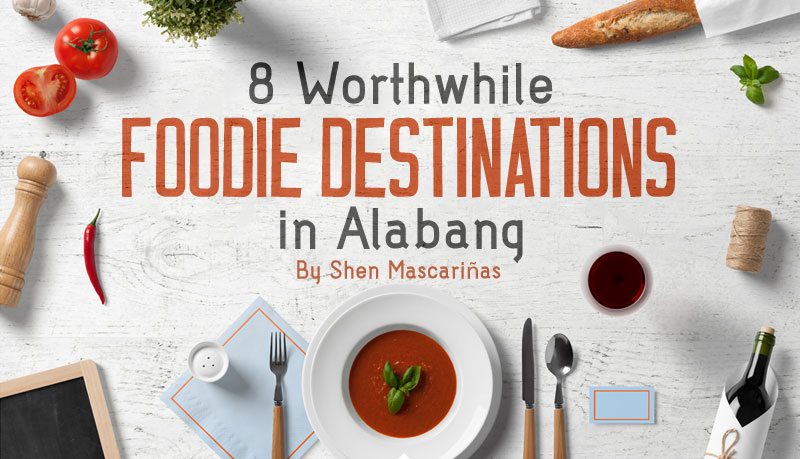 Dear northerners, aka residents of Makati all the way up to Quezon City, Paranaque is not the only food hub in the south. Alabang also has its fair share of culinary gems that are definitely worth the toll fee and gas refill. Drivers that need more convincing will also be pleased to know that it is much easier to find parking there.
Here are 8 restaurants that will make your visit to what most northerners consider "the province" absolutely worthwhile: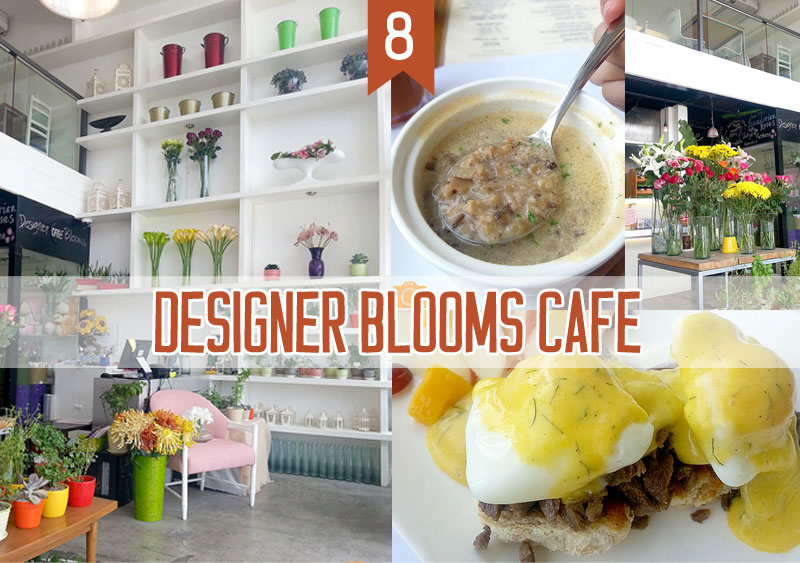 The very first fresh flower shop café, Designer Blooms Café, might be the prettiest place to have a meal in. Visitors will be greeted with pleasant fragrances from fresh flowers and quirky, mismatched furniture that give the place a kitschy character all around.
The ambiance and interiors are noteworthy, but the food in Designer Blooms Café is decent. There are healthy options like their various salads, and the Mediterranean Chicken Skewers with Quinoa Salad (P375). They also offer fresh pasta like Seafood Pesto (P235) and Tartufo (P235). Being a café, of course they have several choices of coffee, tea, and (surprisingly) various alcoholic beverages.
Address: Molito Commercial Complex, Madrigal Avenue
Contact No.: (02) 808 1406, 0917 846 2674
Operating Hours: Monday and Thursday: 10:00AM to 9:00PM, Friday: 10:00AM to 12:00MN, Saturday and Sunday: 8:00AM to 10:00PM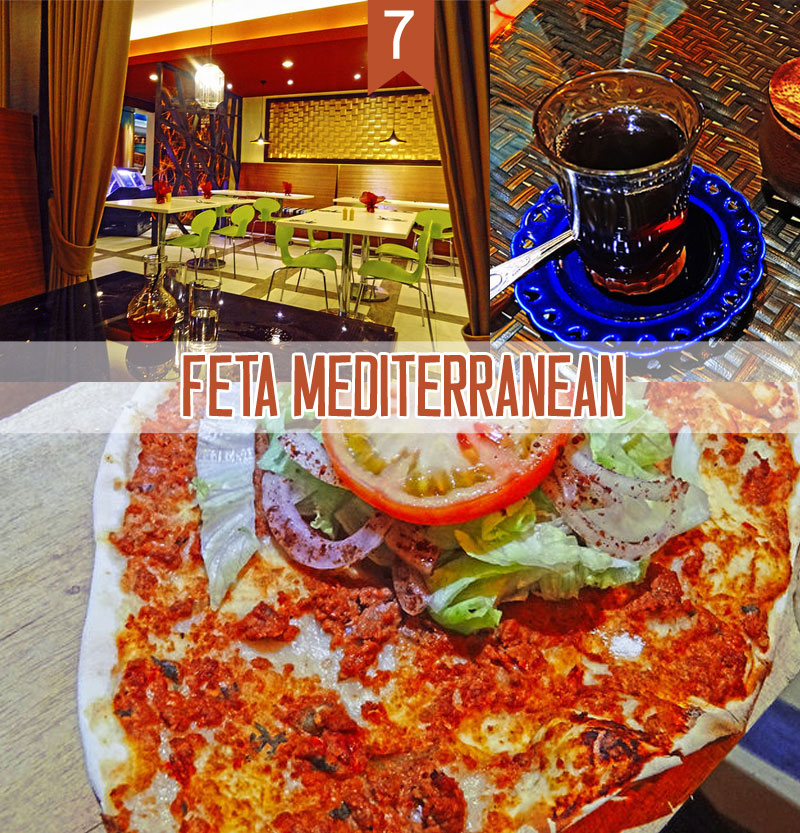 It's a shame that Alabang has very few restaurants serving Mediterranean food. With the recent addition of Feta, both northerners and southerners can rejoice. Feta executes Turkish, Greek, and Mediterranean food such as souvlaki, moussaka, baklava, and the like very well. It's also an added treat to watch them create bread right in front of the customers against the beautiful backdrop of their brick oven.
Address: Third Floor, Festival Supermall
Contact No.: (02) 822 3335
Operating Hours: Monday to Sunday, 10:00AM to 10:00PM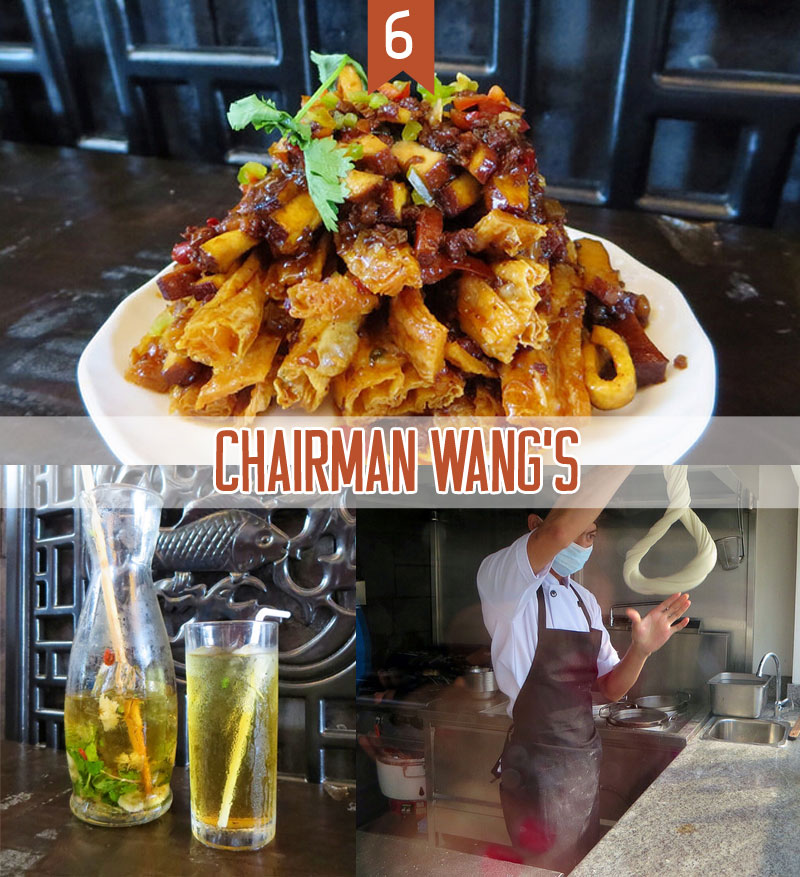 This Chinese restaurant is best known for its hand-pulled noodles that customers can watch the kitchen staff make from scratch. Try the Smoked Duck Breast Noodle Soup (P240) and the Prime Beef Noodle Soup (P280). Noodle soup is the perfect rainy day or just any Alabang day companion.
Customers won't miss the classic Chinese dishes in Chairman Wang's, but for those looking for something more modern and experimental, this restaurant will also satisfy. Order the Northern Style Lamb Dumplings (P220) for a unique appetizer and the Black Olive Fried Rice (P280) to go with your favorite viands.
Address: Molito Commercial Complex, Madrigal Avenue
Contact No.: (02) 828 8477
Operating Hours: Monday to Sunday, 11:00AM to 10:00PM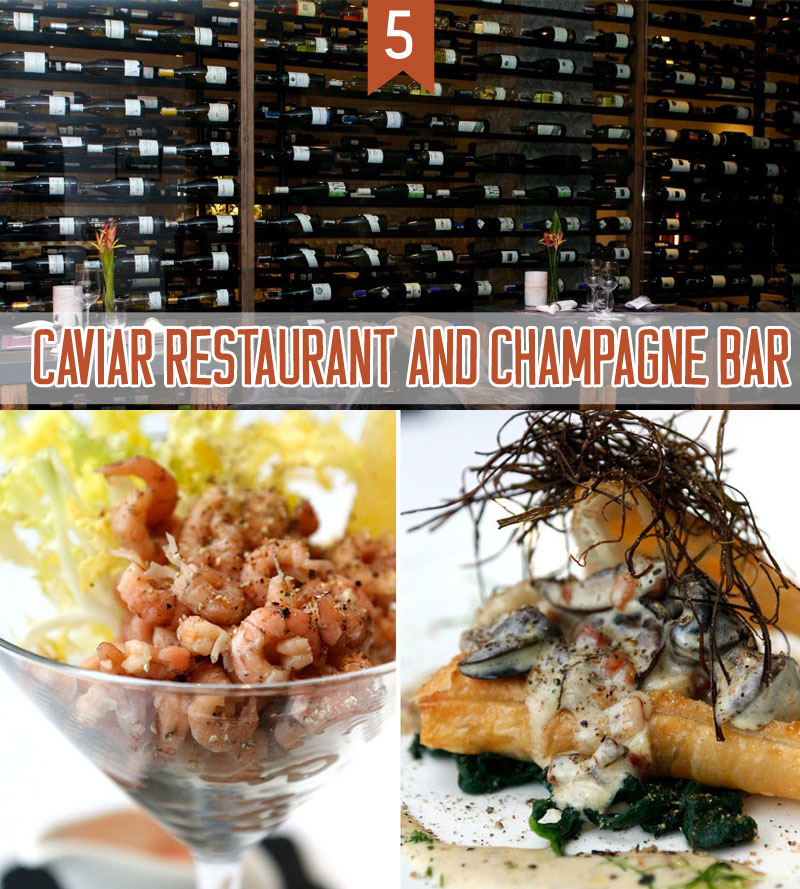 Are you in an LDR with someone from the south? If you are in one and want to have a fancy date, Caviar is the solution. If you're just looking for the perfect place to celebrate a special occasion, Caviar is the right place for that as well. It's known for its great wine selection, fine food, and exquisite ambiance.
Caviar has tasting menus, signature whiskeys from Scotland, and everything else that could impress your date.
Address: Westgate Center, Filinvest Avenue
Contact No.: (02) 552 7930, 0915 623 7277
Operating Hours: Monday to Sunday, 11:30AM to 2:00PM for lunch; 5:30PM to 10:00PM for dinner
Most dishes at this restaurant are cooked and served in "cazuelas" (Spanish cookware) and in skillets. This is not what makes Tus' a must-visit on your Alabang food trip, though. Their generous servings of rich comfort food, executed with a twist, are what truly draw in the crowd. For example, the classic pizza is transformed into a pot pie that's a lot cheesier. A lot of their customers rave about their huge calzones, served with aioli or marinara, as well.
If you're more of a steak lover, Tus' offers several sauce options to go with well-cooked meat that's priced cheap considering its good quality and size. Finish off your meal with their must try Half Baked Cookie (P160).
Address: Westgate Center, Filinvest Avenue
Contact No.: 0917 568 0964, (02) 828 3178
Operating Hours: Monday to Thursday and Sundays: 11:00AM to 10:00PM, Fridays and Saturdays: 11:00AM to 10:30PM
Although Sushi Ninja is fairly new in the game, Japanese food enthusiasts will not be disappointed. Sushi ninja offers plenty of sushi choices from the traditional rolls to the modern and more experimental ones.
Something unique from Sushi Ninja is the "Toshi", which is a ball of sushi rice deep fried to make the outside crispy then topped with all things delectable. The Okiniwa Toshi (P360) is a crowd favorite; it's topped with cream cheese, torched salmon, tobiko and truffle oil.
For the more conservative ones when it comes to their Japanese food, Sushi Ninja also serves various kinds of yakitori, tempura, and donburi.
Address: Westgate Center, Filinvest Avenue
Contact No.: 0917 837 8744
Operating Hours: Monday to Sunday, 11:30AM to 10:00PM
Black Pig is a charcuterie, bar, and restaurant by Chef Carlos Garcia, a Michelin star chef that used to be based in London. Along with his partner restaurateurs, they've created a place that serves European dishes made with local ingredients, international craft beers, and food presentation that puts art on a plate.
Foodies also flock to the Black Pig for their Jamon Iberico, which is known as the finest ham in the world, accompanied by an excellent selection of cheeses. There's an al fresco balcony as well, perfect for hanging out while enjoying great food washed down with a cold beer.
Address: Second Floor, Commercenter Alabang, Commerce Avenue corner East Asia Drive
Contact No.: (02) 808 1406, 0917 846 2674
Operating Hours: Monday to Sunday, 12:00PM to 3:00PM for lunch, 6:30PM to 10:00PM for dinner
When you enter Neil's Kitchen, you'll be greeted by quirky yet tasteful interiors and if you're lucky, the friendly and smiling Chef Neil Ramos. There are a lot of Instagram-worthy spots and signs in this restaurant, and there's even a Christian bookstore inside. However, people don't visit Neil's Kitchen just for its beautiful interiors.
Although fairly new, this restaurant has been making a lot of buzz for its fresh take on Filipino cuisine. Examples of which are the Sinigang Paella with Grilled Pork Belly (P350), Crab Fat Palabok (P350), and Bagoong Paella with Kare Kare (P395). They also have unique desserts such as the mouth-watering combo of fried suman, mangga, and chocnut (P250) and the Turon Napoleon (P195).
Filipino food at home will always have a special place in our hearts (and tummies), but the unusual execution of Filipino favorites will definitely make a mark on the minds of anyone who get to eat in Neil's Kitchen.
Address: Westgate Center, Filinvest Avenue
Contact No.: (02) 710 8962, (02) 771 1334, 0917 311 2916
Operating Hours: Monday to Sunday, 11:00AM to 10:00PM
Know any other must-visit destinations for foodies in the south? Leave a comment and share your spots with us!