8 Food Havens for Hangry Shaw Drivers and Commuters
Sep 1, 2015 &nbsp • &nbsp Shen Mascariñas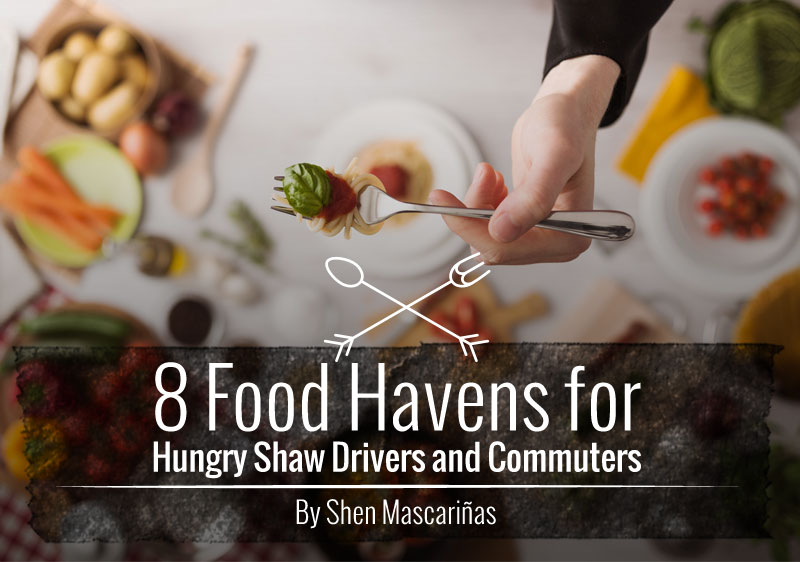 Hunger worsens the hassle of being stuck in traffic for hours. Just thinking about the traffic along Shaw Boulevard and that hunger is instantly amplified to hanger (hunger + anger). Real talk: Rush hour on Shaw Boulevard can unleash full-on cranky mode in even the kindest drivers and commuters.
Let this be a warning to those who need to pass through Shaw; come very prepared. To avoid hanger, bring lots of food that keep you in your happy place. Even better, turn this adversity into a memorable food adventure with the many restaurants on Shaw that are worth a try or a revisit. Here are 8 food havens in close proximity to Shaw.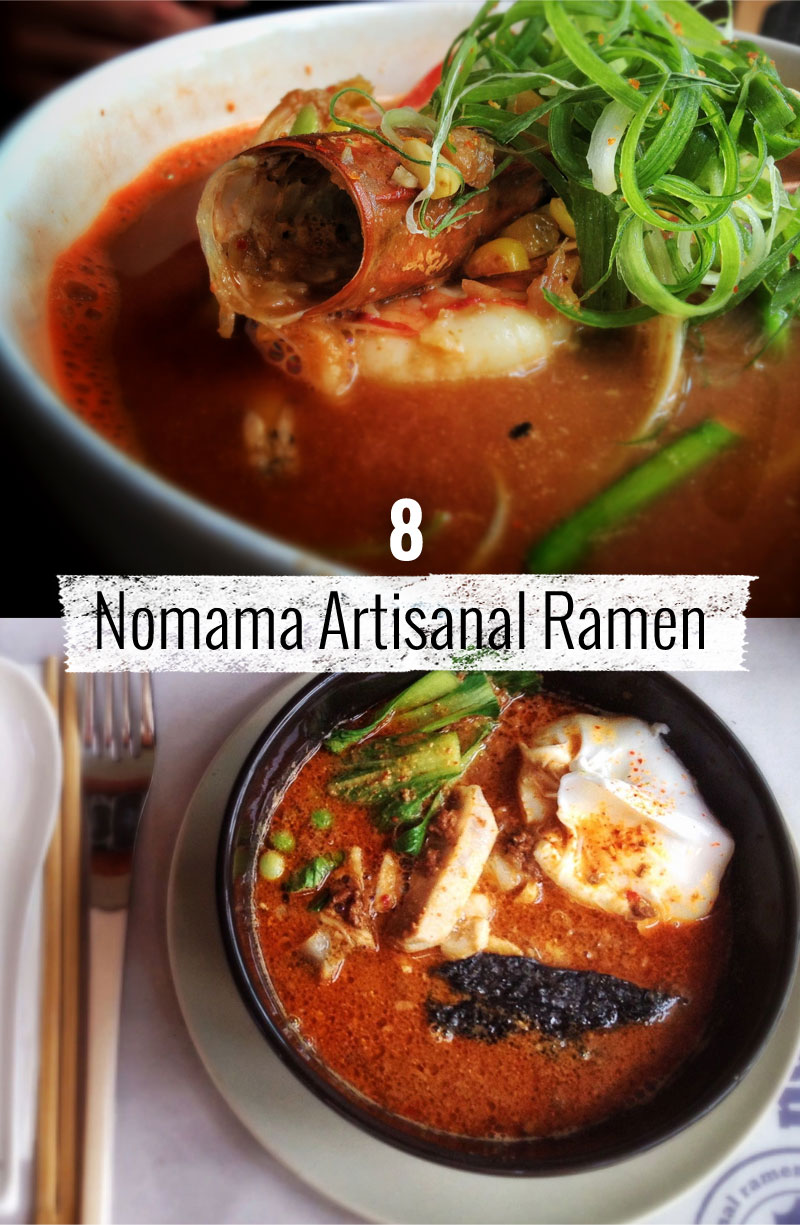 What if pouring rain is added to the traffic and hunger equation? Don't panic. Nomama can make it all better with a bowl of their comforting ramen. They have classic ramen favorites like the Tantanmen and miso-based ramen in the form of the Nomama Ramen, as well as unique kinds like the standout Thai Green Curry Ramen.
If soup and noodles don't do the trick for you, Nomama has various other Japanese fusion dishes that just might. How does Edamame Hummus with Spiced Pita sound? It's a puree of edamame and tahini with a dusting of seven Japanese spices served with toasted pita chips.
Location: Capitol Commons, Meralco Avenue corner Shaw Boulevard
Contact Number: 0916 518 0689
Operating Hours: Tuesday to Thursday 12NN to 3PM, Friday to Saturday 12NN to 3PM & 6PM to 12MN, Sunday 11AM to 3PM & 5PM to 10PM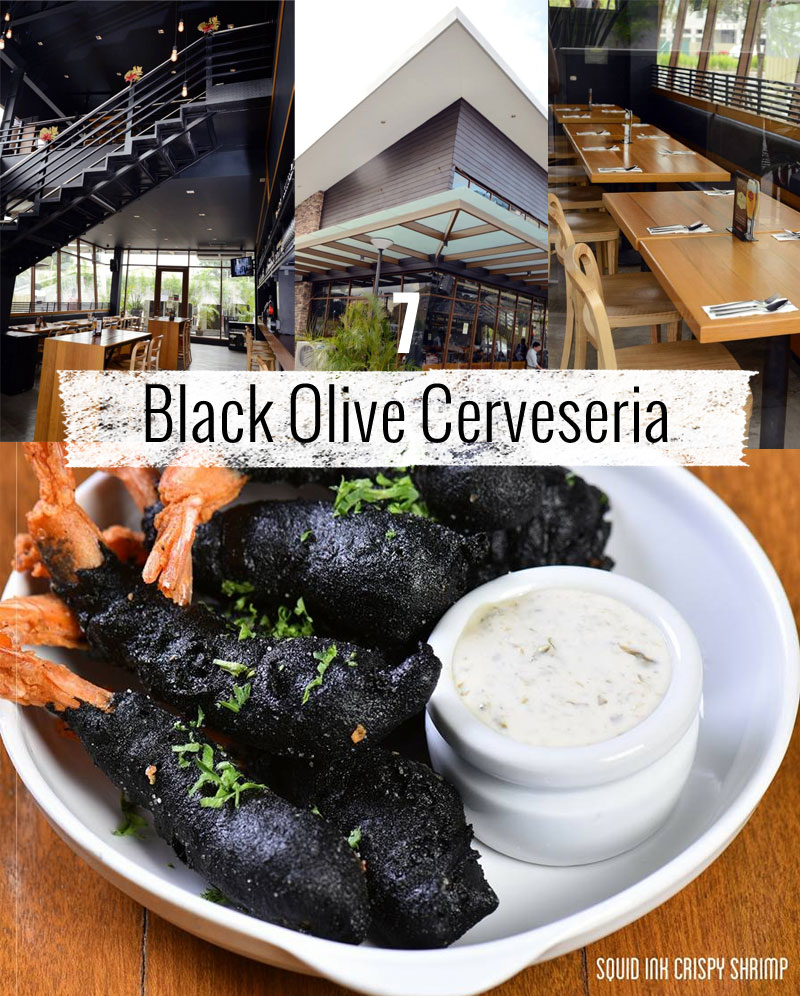 Try unique offerings like the Squid Ink Battered Prawns with Honey Aioli and the Crispy Boneless Chicken Wings with Mojo Picon.
Reliable options like pizza, pasta, and risotto are present in the menu as well, but done in an impeccable manner and still with a twist. An example is their Risotto Verde that's topped with a seared salmon fillet and creamy salmon tartare.
Location: Capitol Commons, Meralco Avenue corner Shaw Boulevard
Contact Number: (02) 633 2071, 0917 507 3512
Operating Hours: Everyday 11AM to 1AM
Sometimes hangry emotions get so bad that a drink becomes a necessity. No judgement. In times like these, don't settle for anything less than one of the best gastropubs in the metro. Go to Tipsy Pig.
It offers more than the usual bar chow; how do Shrimp Po'boy, Beer Can Chicken, and Crispy Sisig Pizza sound? Wash all of that down with local and imported beers, signature flavored brews like caramel and hazelnut, whisky, signature cocktails. Tipsy Pig's extensive list goes on and on.
Location: Capitol Commons, Meralco Avenue corner Shaw Boulevard
Contact Number: 0946 595 2798, 0916 734 2837
Operating Hours: Everyday 4PM to 3AM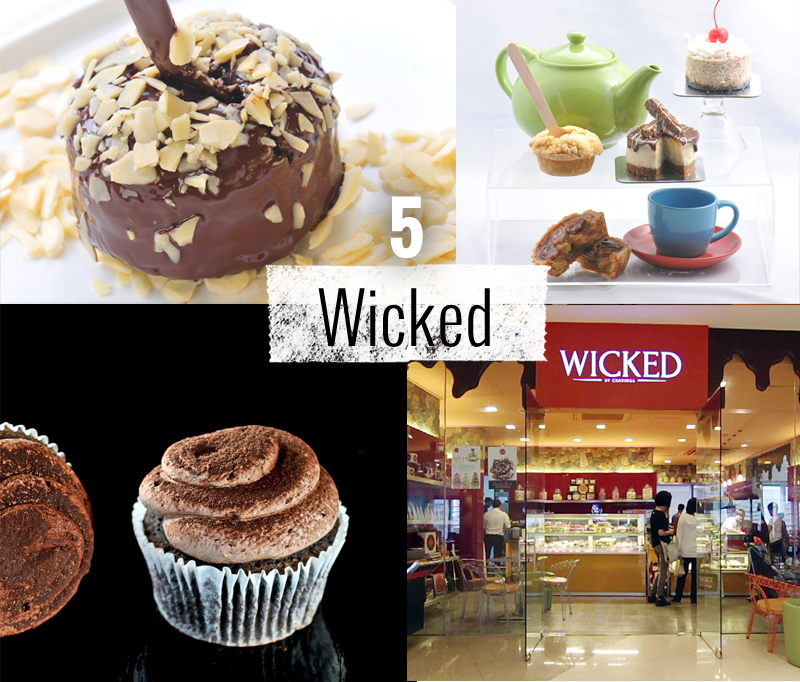 The heavenly aroma of cookies, cupcakes, tarts, cheesecakes, and everything sweet will greet you. From classic desserts to out-of-this-world concoctions, Wicked has everyone's favorite dessert on board. Noteworthy specialties are the Reese's Peanut Butter Cupcake with rich peanut butter ganache, Campfire Chocolate Cupcake with marshmallows, and Chili Avocado Brownie.
Wicked also has savory snacks such as various kinds of quiche, sandwiches and salads. This restaurant is from the makers of Cravings, so you'll be sure to be munching on good quality food.
Location: Fifth Level, East Wing, Shangri-La Plaza Mall, Ortigas, Mandaluyong City
Contact Number: (02) 426 6681
Operating Hours: Monday to Thursday 11AM to 9PM, Friday to Saturday 11AM to 10PM, Sunday 10AM to 9PM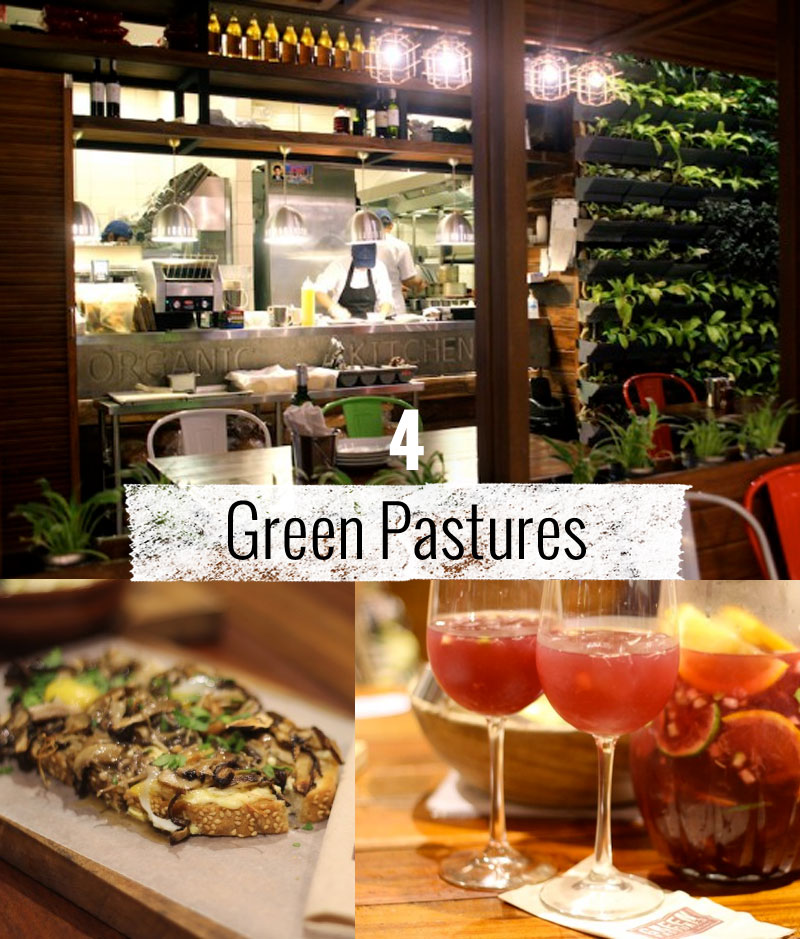 First-timers must try Green Pastures' homemade cheeses like Ricotta and Stracciatella, unique pasta combinations like the Crab Meat and Sea Urchin, as well as their take on desserts like the Milk Eggs Honey (organic honeycomb, homemade greek yogurt and citrus curd).
After eating in Green Pastures, you'll leave with a happy tummy that's not too bloated and ready to face the traffic.
Location: Fourth Level, East Wing, Shangri-La Plaza Mall, Shaw Boulevard, Wack Wack, Mandaluyong City
Contact Number: (02) 654 3219
Operating Hours: Everyday 11AM to 10PM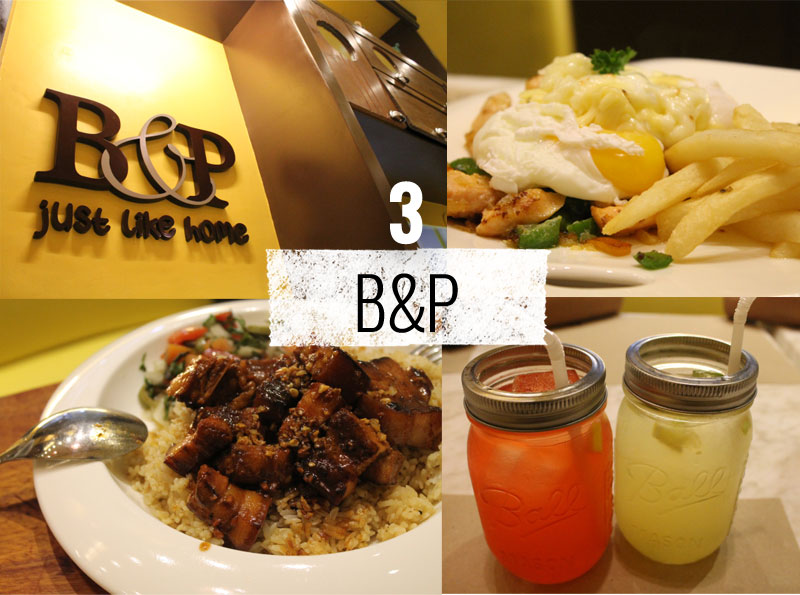 B&P is a homey and quaint restaurant offering all-day-breakfast food, introduced through witty entries in the menu. Your cravings for juicy tapa (made special with Angus beef), layers of pancakes (laced with toppings of all kinds), and the ever reliable french toast will be satisfied here.
Other favorites are B&P's Spam Rice and Mang Benedict (malunggay pandesal, longganisa, and hollandaise sauce). They also have non-breakfast options that are just as comforting: Beer-battered Buttermilk Chicken, Baby Back Ribs, and Lasagna served with grilled focaccia.
Location: 515 Shaw Boulevard, Mandaluyong City
Contact Number: (02) 631 3252
Operating Hours: Sunday to Thursday 7AM to 12MN, Friday to Saturday 7AM to 2AM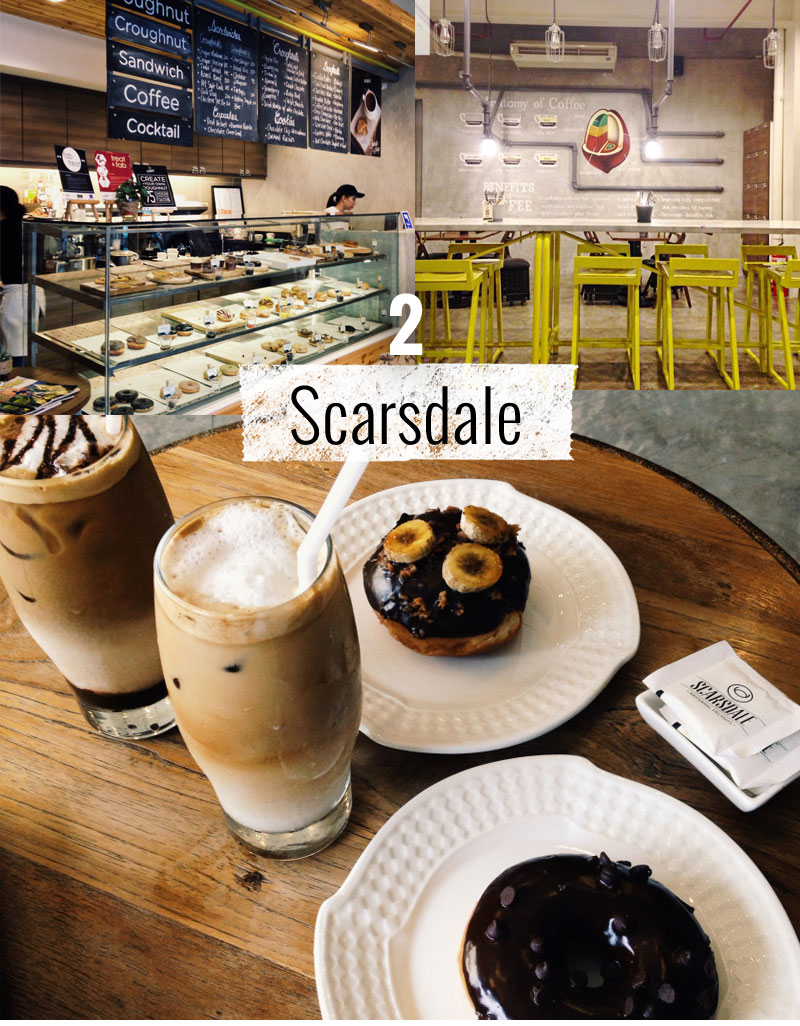 Scarsdale is known for its heavenly croughnuts and doughnuts in sinful flavors like Coffee Con Leche, S'mores and Honey Truffle Blue. Their unique offerings don't stop there though. They have a Cheddar Jalapeño Doughnut, Chicken Pot Pie Croughnut and other savory snacks that are definitely extraordinary.
Location: Ground Floor, S&R Shopping Center, Shaw Boulevard, Pleasant Hills, Mandaluyong City
Operating Hours: Everyday 10AM to 10PM
This hidden gem is very reasonably priced with excellent service. It will make your date forget that you've been stuck in traffic for hours.
Location: No. 8 Calbayog Street corner Malinao, Mandaluyong City
Contact Number: (02) 532 0482, (02) 534 4633
Operating Hours: Everyday 11AM to 11PM
If any of these food havens helped avert a hangry meltdown, share your experiences with us in the comments section below!