8 Places to Eat Along White Plains, Katipunan Avenue
Mar 20, 2015 &nbsp • &nbsp Joachim Tan-Torres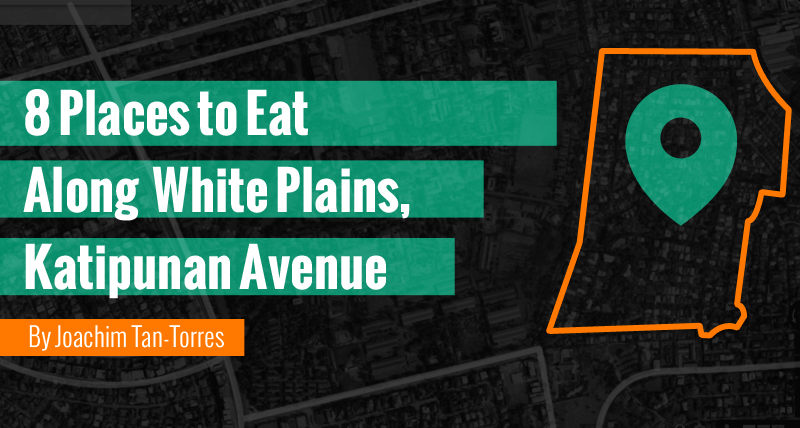 The White Plains/St. Ignatius Area is only a little more than a kilometer long, but the selections of restaurants and food stalls are extremely diverse.
Home to a wide array of cuisines, this stretch along Katipunan Extension used to be the go-to place for Quezon City residents, but now more and more people from other areas in Manila are making their way to it.
Having grown up in this area, I've seen it evolve and change into this beautiful place where restaurants and good food are everywhere. If you're not yet familiar with what this place is about, here's an 8-point guide to get you started.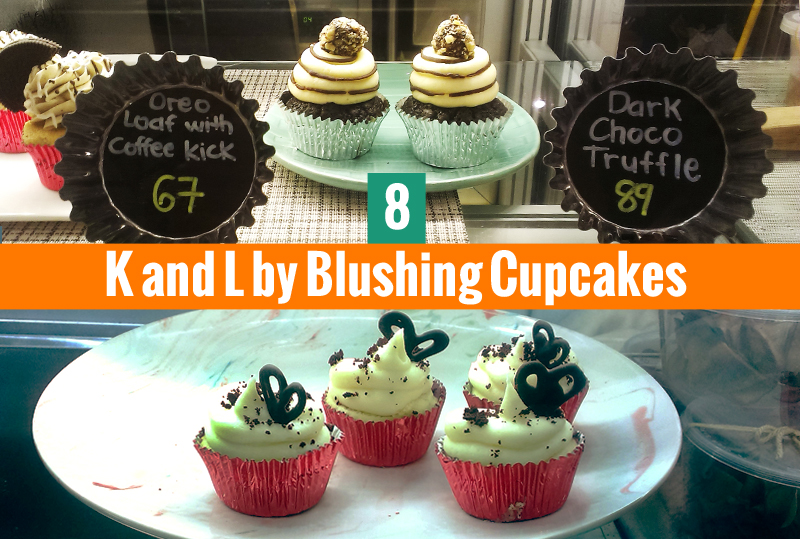 138 Katipunan Ave cor St Ignatius White Plains, Quezon City
Open 7am to 9am
Price Range: 200-350PHP (meals); 60-200PHP (desserts)
Blushing Cupcakes started out as a small shop along Libis (near Shopwise), serving only a small selection of sweets. It has since expanded to a bigger space (Sky Garden, SM North Edsa) that serves their signature desserts as well as meal selections. They also have some Baguio products like strawberry jam and wine. K and L by Blushing cupcakes, its newest spinoff that's located along St. Ignatius, has a concept conducive to relaxed eating with its homey feel.
They have fun promos as well. The last time we were here, they had a social media promo where you'll get free cupcakes just by liking and tagging them on Facebook and Instagram. Pretty sweet deal, because look at the free cupcakes that we got: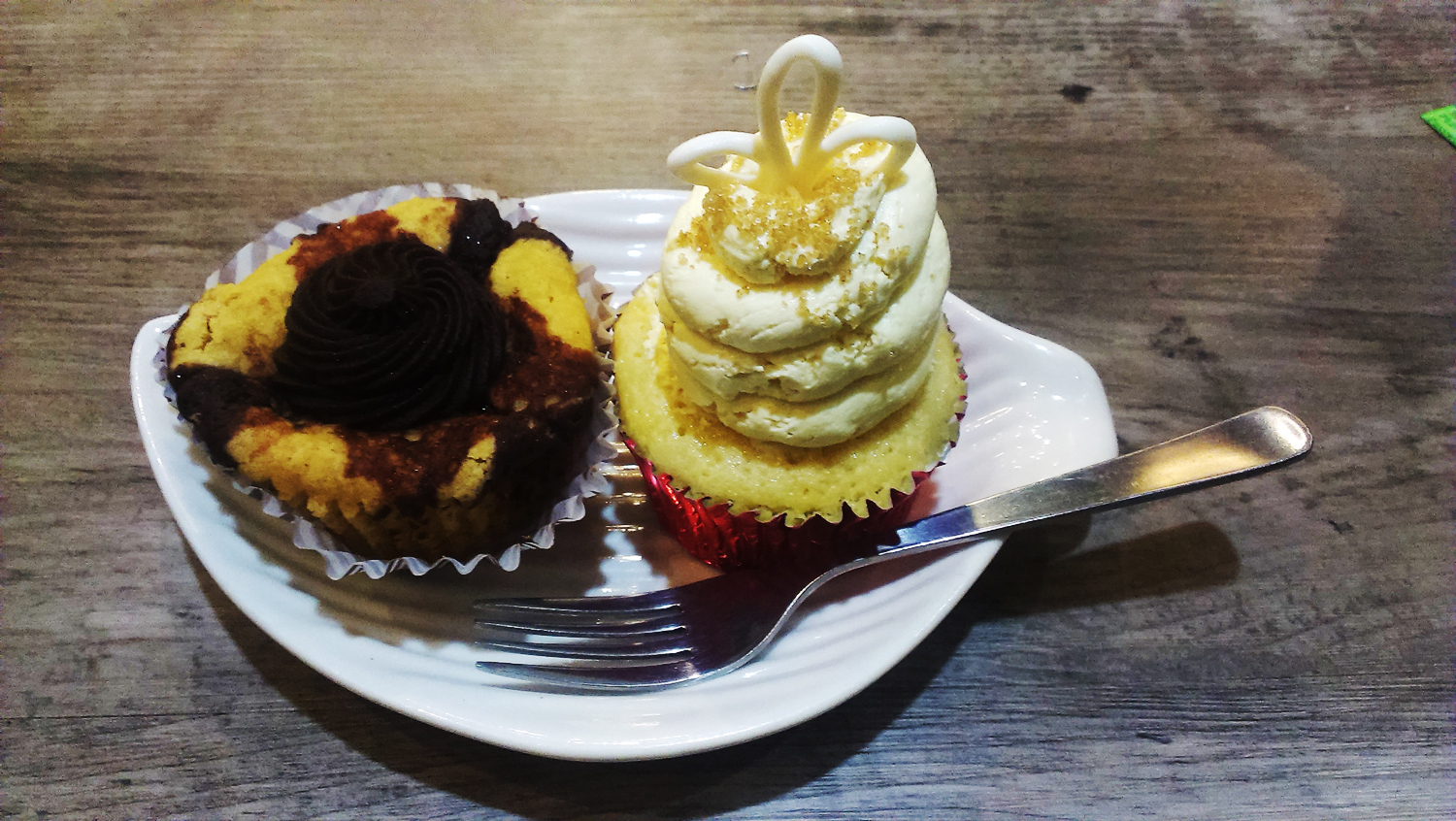 79 Katipunan Avenue, White Plains, Quezon City
Open Daily, 11am to 2pm; 5pm to 10pm
Price Range: 250-500 (most of the items are for sharing)
"Bawai" is the Vietnamese way of calling one's grandparents. This restaurant, which started out in Tagaytay and branched out in Manila in 2013, makes sure that it keeps a homey and relaxed atmosphere, serving food that's meant to be shared.
Some of the crowd favorites include the light Goi Con, which is caramelized pork and steamed fresh shrimp rolls; the Pho/noodle soups Pho Bo (beef) and Pho Ga (chicken); and the lemongrass fillet Ca Nuong Xa Ot. Don't leave without the traditional drip coffee.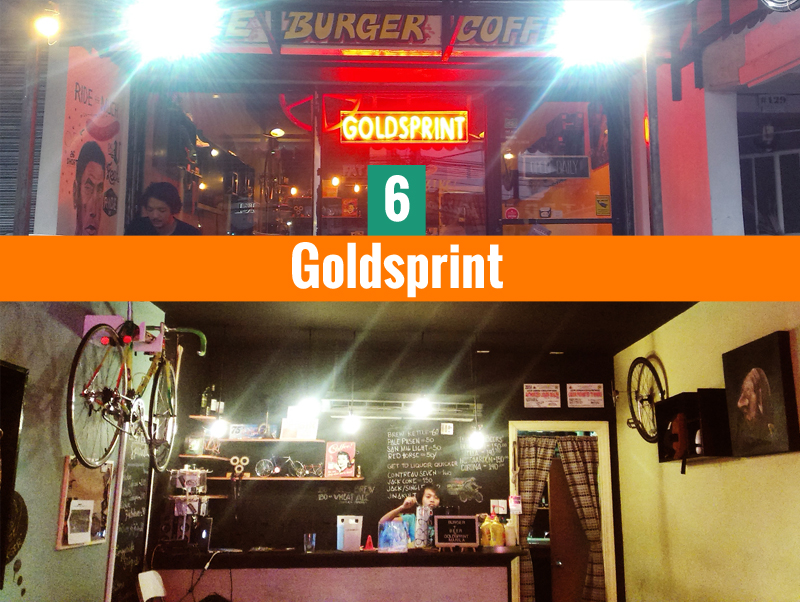 129 Brgy. St. Ignatius Katipunan Ave., White Plains, Quezon City
Open Daily, 5pm-2am (Mon-Friday); 10pm-2am (Saturday-Sunday)
Price range: P110-300
If you like bikes, burgers, and beer, this is the place! Goldsprint is a cycling themed restaurant serving food called Get up and ride, Breakaway Sausage and Sprint Burger. They have an indoor cycling bike race, serve local and craft beers, and of course–great burgers (best sellers include Get up and ride, Green Trail, Sprint Burger and Burger Domestique). Check them out if you're in the area and hang out with cool people and good food.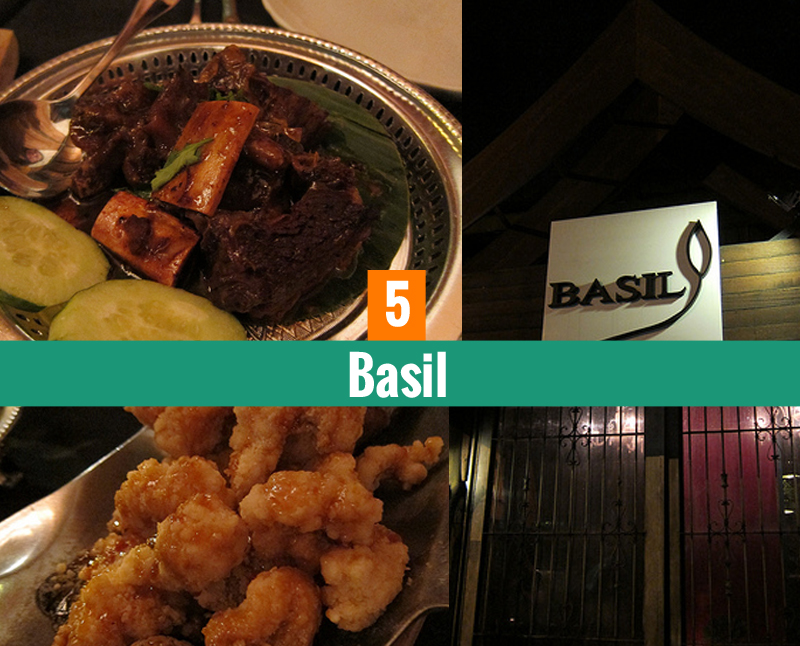 79 Katipunan Ave., 1110 Quezon City, Philippines
Price Range: 250-500
Thai restaurant Basil is located along the stretch of the famous White Plains garden/landscaping supply area. The interior is  a great has warm and traditional details of plants and Thai-inspired design. The set-up is elegant without being intimidating–here you can take someone out on a date, have your lunch meetings, or spend your Sunday lunch with the family.
The wide-ranging menu, which are all made from scratch, is made up of Thai favorites such as salads (pomelo salad), curries (Kaeng Phed or red curry), rice (pineapple, bagoong) , soup (Tom Yun Ta Lay, or spicy seafood soup). Their Thai sticky rice is a must-try as well.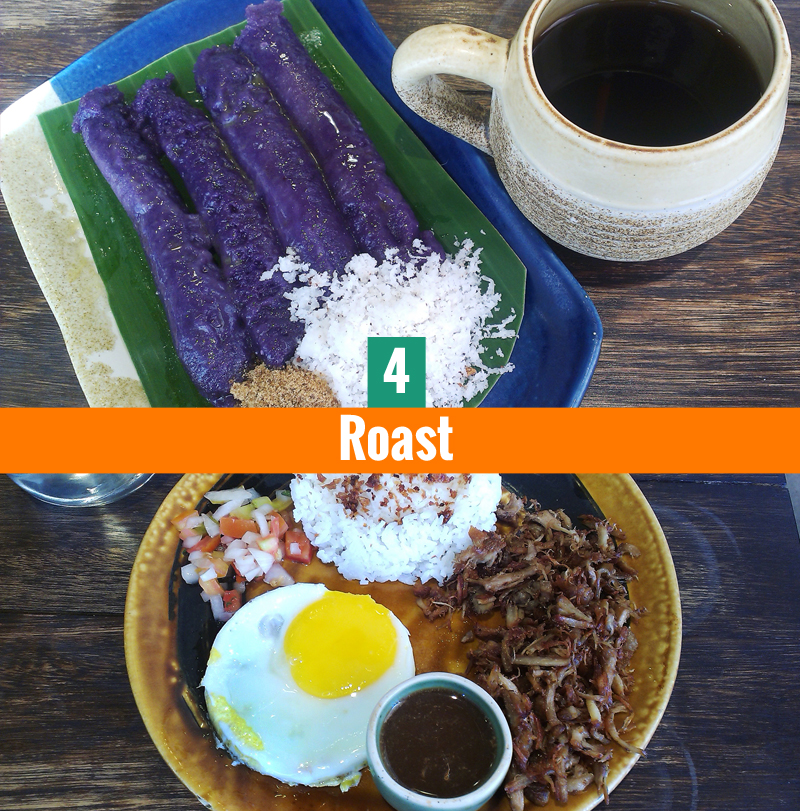 #142 Katipunan Road, St. Ignatius Village, Quezon City, Philippines
Store Hours: 7AM to 11 (7AM to 4PM on Sundays)
Roast is a quaint cafe/restaurant on the second floor of the new Linear bldg. along Katipunan Avenue. The architecture has a simple, industrial feel: inside, there's a wood-lined bar decorated with coffee sacks, and an organized clutter of cups, glasses, and different coffee flavors.
There are about four tables inside, which adds to its charming appeal (there are more al fresco tables in the balcony area for bigger groups), and one of the things that came to mind was how this can be a great place to get some work done, the natural light and the wide array of coffee choices can surely help one get that jolt for some creative juices to flow.
They serve coffee, comfort food,all day breakfast: Some of the things I've tried so far are the adobo flakes (had to order another cup of garlic rice for this one) which did not disappoint; the filling truffle pasta, the homemade puto bumbong, and the Breakfast Blend (their brewed coffee). Great value for money, and you'll most likely be stuffed to the brim with all the familiar yet fresh flavors.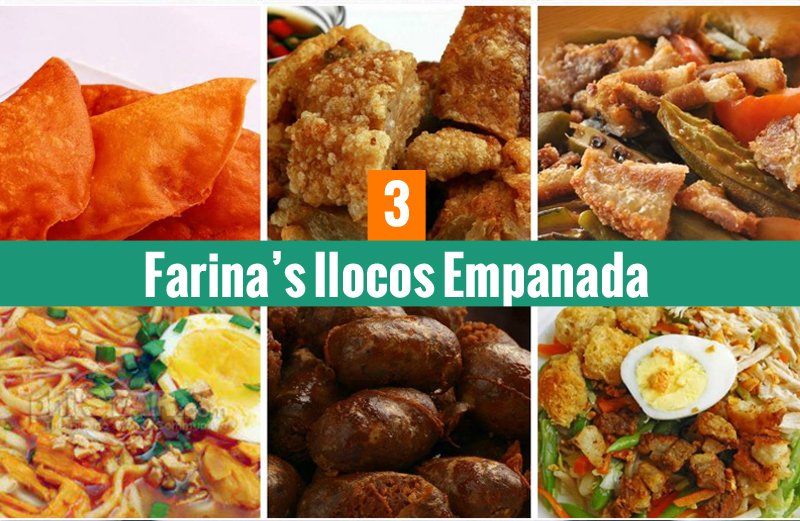 58 Katipunan Road White Plains, Quezon City
Open 24 hours. 
If you want Ilocano food  that's affordable and well-prepared, Farina's Ilocos Empanada is definitely the place. They first opened along Visayas Ave. and started as a small stall but now they've expanded to a lot more branches all around the city. The one along White plains is an open space restaurant with wooden tables and chairs and has a no-frills ambiance. Aside from making their famous empanadas as you order, they also offer other comfort food like bagnet, miki bihon, pinakbet, poqui poqui (an Ilocano eggplant dish) and a lot more. This one's perfect for the late-night eaters, as they're open for 24 hours.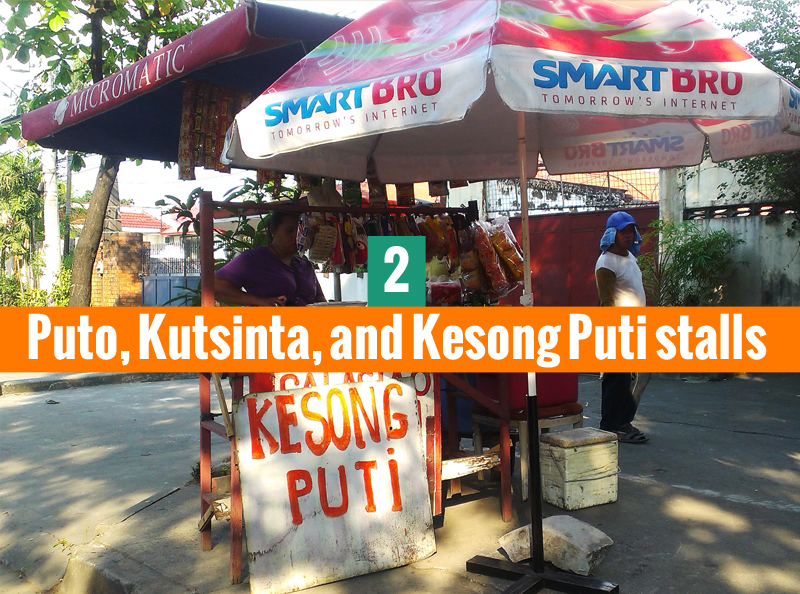 Along White Plains stretch (usually starting off near the gate)
Price Range: 35PHP to 100PHP
Usually available in the afternoon
If there's one concept defines the White Plains/St Ignatius area, this would be it. The small stalls selling puto, kutsinta, and kesong puti have become an institution in the area, becoming the go-to place for pasalubong or afternoon snack. A craving for an omelette or pasta with white cheese is just a 10-minute walk–at least for people like me who live in the area. If you happen to pass by, take some home with you, because it's unlikely that you'll encounter anything like this anywhere else in the Quezon City area.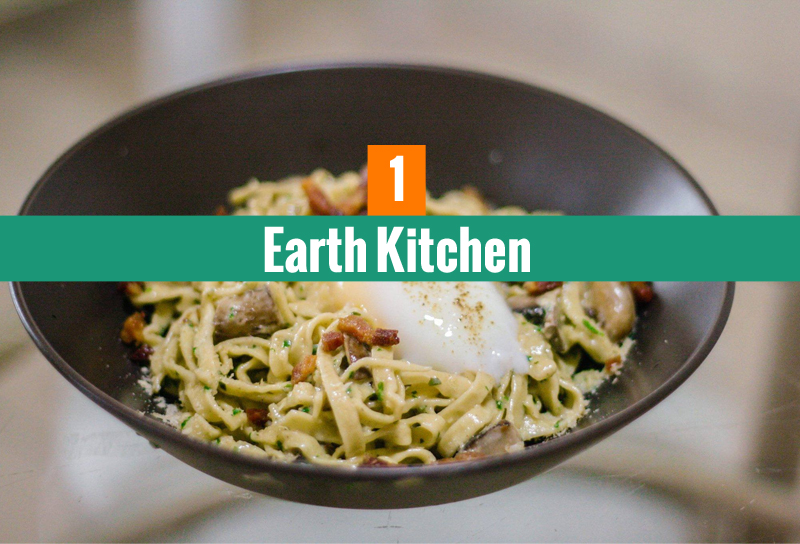 Lot 10-B-10 Katipunan Ave., White Plains, Quezon City
Store Hours: Tuesdays to Sundays,11AM to 9:30PM
Price Range: 250-500
Earth Kitchen never seems to run out of customers. Pass by it anytime and you'll notice a number of parked cars outside. Go inside and you'll see why: the interior is inviting with its friendly details of plant and wood, and the staff are friendly and accommodating.
This place has proven that if you serve good, quality food, people will come back. The price tags aren't exactly screaming "budget," but you can be assured that the food you eat here is of quality. The food–which they describe as healthy, local, and sustainable–promotes the products of local farmers and indigenous communities. They're working with the newly-expanded Got Heart Foundation, where they get a lot of their ingredients, and where you can shop for natural food and products. Good stuff indeed.
Have you tried these restos? Share your reviews in the comments section below.