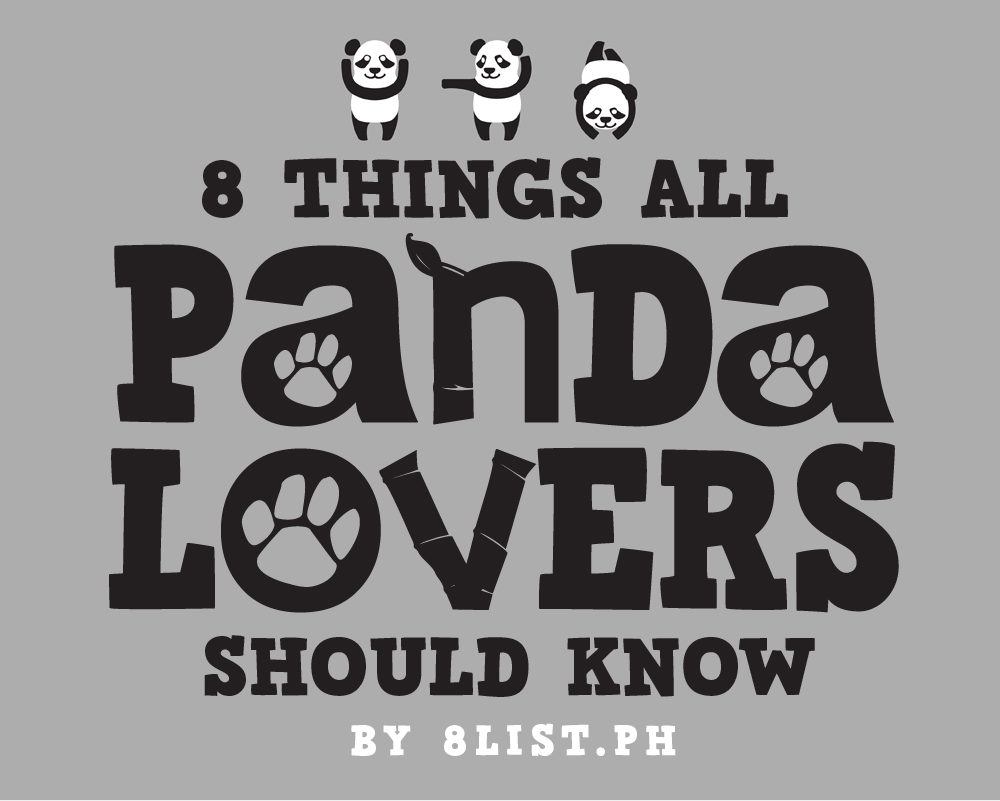 Next to the animals we can turn into pets like cats and dogs, the panda is probably the next most favorite animal in the world. Look at them—black and white in the right places, fat, lazy. They look like they were designed to make you say awwww however manly you are or however cold your heart is.
But do panda lovers know enough about pandas? Let's see.
8. Pandas, a.k.a. Giant Pandas, aren't related to Red Pandas.
They may both be called pandas and exist in the same environment, but these two are as far from each other as cats and dogs. Pandas, or giant pandas, are the biggest and rarest member of the bear family. The red panda, meanwhile, is more similar to a raccoon, weasel or skunk.
These two pandas have a couple of similarities, though: they're both from China, and they're critically endangered from losing their habitat to deforestation and commercial development. Zoos and conservation parks like Wildlife Reserves Singapore (WRS) contribute by loaning pandas from the Chinese government through a partnership with the China Wildlife Conservation Association to help them breed and to educate people about the plight of these beautiful creatures.
7. They eat a lot.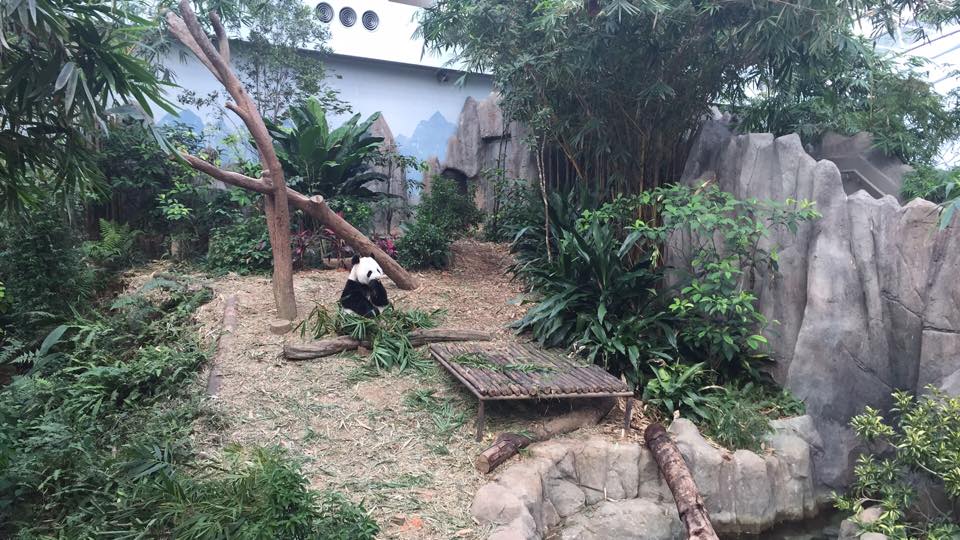 The adorable animal you see in the photo is Kai Kai, WRS' River Safari's male panda. Like all pandas, he spends most of his time eating and sleeping. At some point after this photo was taken, he attempted to do both of his favorite activities at the same time.
Because pandas are built as carnivores but eat like herbivores, they get little energy from what they eat. But what bamboo shoots lack in providing energy, the bears sure make up for in the amount they consume or devour—and that's about 20 kilos a day, which is about 20 percent of a mature panda's body weight.
6. But, bamboo isn't all they eat.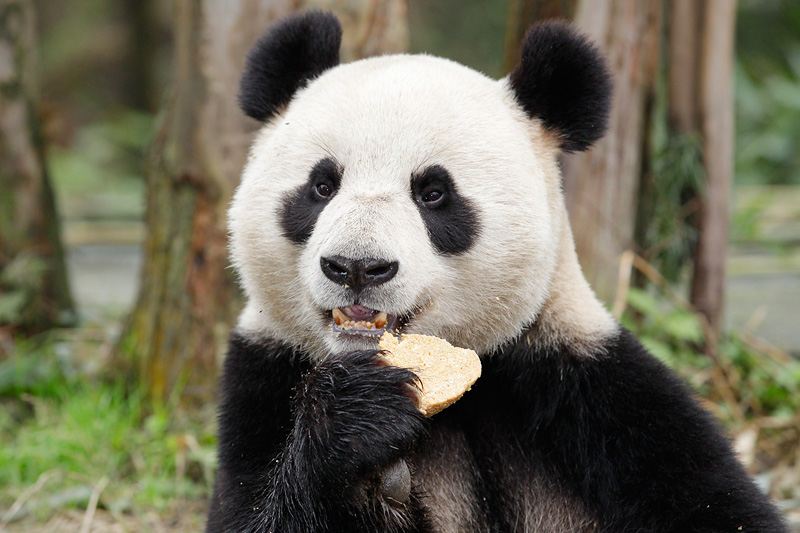 A panda's diet may consist of around 90 percent bamboo but they're also known to eat other grasses and sometimes, birds. Pandas also eat fruits and vegetables. Kai Kai's favorite is apples, while Jia Jia, the reserve's female panda, loves carrots.
5.They poop a lot, too.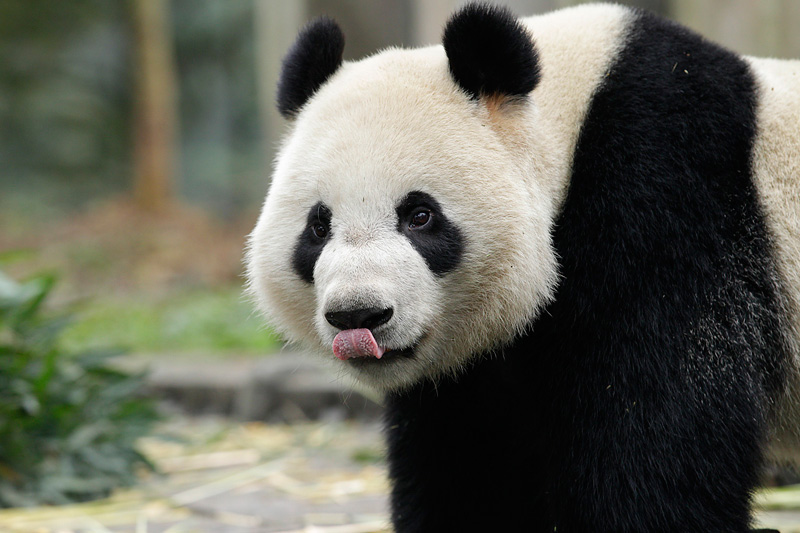 What happens when you eat 20 kilos of food each day? Well, you poop around 40 times.
Okay, this isn't just because they eat a lot. Pandas have a short, straight digestive tract and the indigestible plant material that they eat passes through it fast. Super fast.
4. They're only fertile for two to three days(!) every year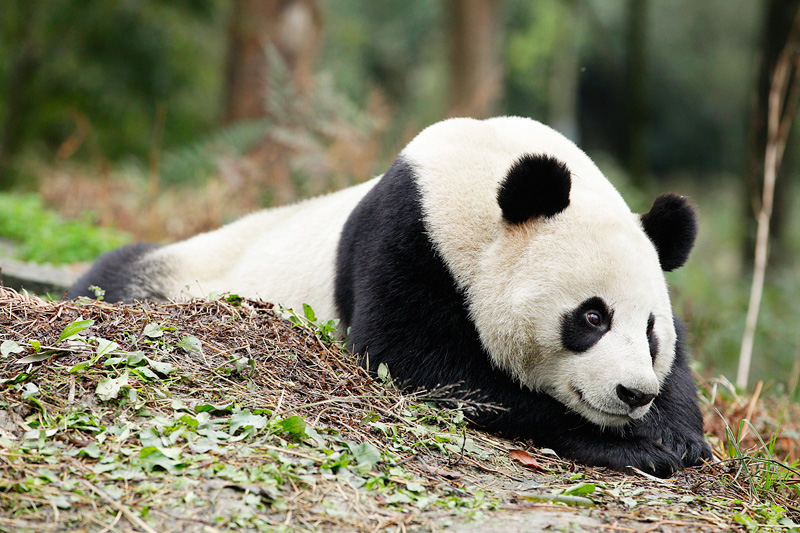 Breeding is a difficult task—especially in the wild where these mostly solitary creatures may have trouble finding each other because of deforestation. The first hurdle is that crazy biological thing that makes female pandas fertile for only two to three days in one year—usually between March to May. Pandas sexually mature between ages 4 to 8 and they can reproduce (i.e. be fertile for two to three hours once a year) until age 20.
3. They can have trouble making babies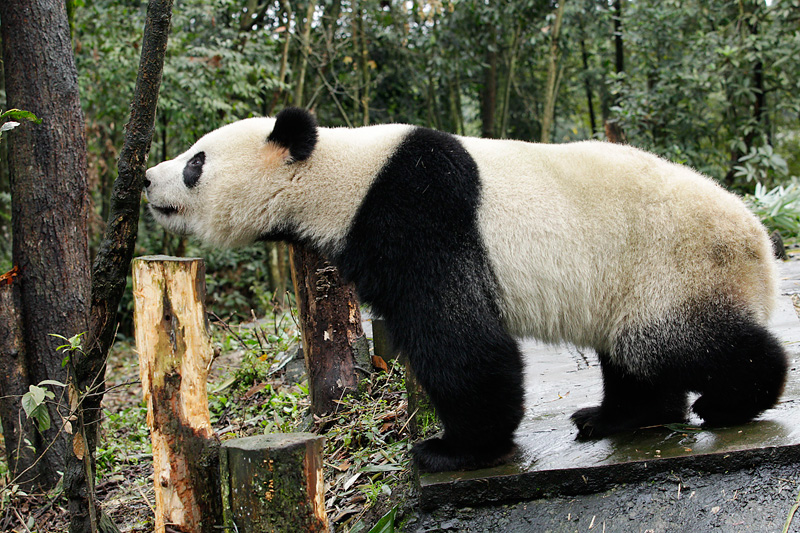 Artificial insemination is done as a back up method when intercourse fails. According to our guide, there was once a time in another reserve when researches got so desperate that they showed videos of other giant panda couple successfully mating (i.e. panda porn) just so the male panda can see and learn. At first the male seemed to be interested. And then they realized that he was only looking at the TV because there was an apple on top of it.
2. They don't mean to fake pregnancies for food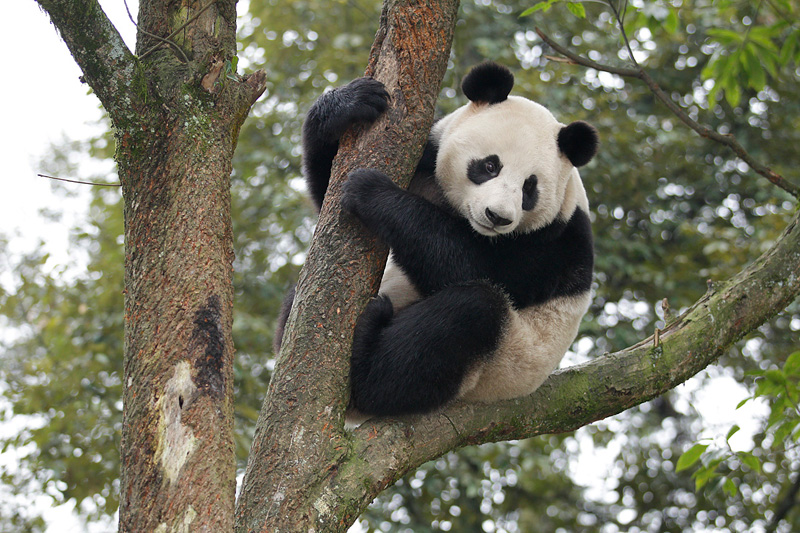 You all saw that headline about a panda faking pregnancy so she could get more food. It's not really true.
In WRS' case, Jia Jia was artificially inseminated with Kai Kai's sperm in April 2015, by July, she started showing signs of pregnancy—"she was seen eating less bamboo, sleeping more and her hormone levels were increasing—all signs consistent with pregnancy or pseudopregnancy. Giant pandas commonly display pseudopregnancies and experts worldwide are often not able to determine a panda's pregnancy status until a late stage," according to WRS.
But, when they do give birth, the giant panda cubs actually start out really tiny and pink! A newborn cub weighs about 100 to 200 grams and is six to seven inches long. It'll be pink until about a month after birth when it gets a softer version of it's parents' coarse black and white fur.
1. There's hope for these babies.
Pandas are one of the world's most endangered animals because of threats caused by people. Zoos and conservation parks around the world have about 300 in captivity, and scientists are learning more and more about successfully breeding pandas in captivity.
The population of those in the wild, on the other hand, has grown by 16.8 percent in the last 10 years according to the World Wildlife Fund. They estimate the number to be 1,864, and it's all from teamwork between the Chinese government, the local communities and WWF.
The Chinese government expanded the survey of pandas in their habitats by planting hidden "camera traps" that record how the bears are, naturally, in their environment.
"They demonstrate that by saving the iconic giant panda, we secure a vibrant future for other incredible wildlife, wild places and people – it's the best kind of win-win proposition," says Dr. Sybille Klenzendorf, managing director of WWF's species program.
Got any other panda facts you'd like to share? Sound off in the comments below!