Social media personality Xian Gaza is once again at the center of Pinoy internet after he suddenly posted a not-so blind item recently. Yes, he's trending again. And yes, everyone's tired (except for some very extreme Mariteses in the comment section of his Facebook posts).
Before anything else
Here's another reminder that Xian Gaza already has quite a colorful history. He is known for publicly asking out local celebrities like Nadine Lustre and Erich Gonzales (and even one international personality: BLACKPINK's Jennie). And he also has a police record for scamming other people. Many netizens find his actions "annoying", "creepy", and even "alarming and disturbing".


Again? Xian Gaza Just Asked Blackpink's Jennie Out On A Date Via Billboard and Netizens Are *TIRED*

Again? Xian Gaza Just Asked Blackpink's Jennie Out On A Date Via Billboard and Netizens Are *TIRED*
Alex Alvarez | Nov 02, 2021
So what did he post this time?



Out of nowhere, Gaza shared a new Facebook post that says: "Barbie Imperial neseye ne eng lehet Kathryn Bernardo." This seems to be a reference to Daniel Padilla's song titled "Nasa' Yo Na Ang Lahat." A few minutes later, he shared a photo of Karla Estrada, the mother of Padilla, and alleged that Imperial looks like one of the girls behind Estrada. He followed it up with a comment saying "may alam ako." Much later, he directly tagged Estrada in a separate post, asking her to clarify things about the photo.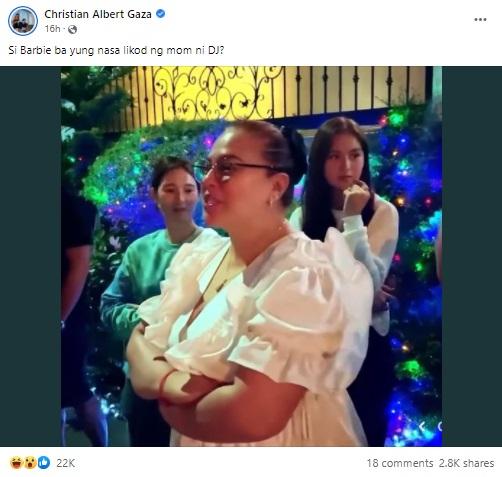 KathNiel fans are mad
Including Kathryn Bernardo in your gossip? Talaga ba Xian Gaza?? KathNiel pa talaga. I'm waiting for them to sue you. Lols.

— Zai Vergara☁ (@MAPPLEmonia) January 5, 2022
Fans are warning Xian: you're testing the wrong couple and the wrong fandom.
Xian Gaza, sa lahat ba naman ng artista, si Kath at DJ pa talaga?

I know in my heart that Kathniel will last forever and no one can break that relationship.

— Philo Theia Sophos ❤️ (@PhiloSophiaSoph) January 5, 2022
He's really just angering the fandom. They've got full trust in their idols.
can't wait kay xian gaza!! https://t.co/HEccDAPhM8

— ~ (@aintkols) January 5, 2022
They're waiting for Daniel Padilla to pop off, like he did before.
Xian Gaza version when https://t.co/9r50j15n5l

— xei (@xxeeiixxkn) January 6, 2022
Ingat-ingat.
They've even got receipts
Dec. 18 xmas specialhttps://t.co/5ynqG7H31N

— Yellow (@Djp5SOS) January 5, 2022
KathNiel fans created a timeline of the couple's location based on their posts and those from friends. Detectives who? KathNiel fans can do a lot of work when they're provoked like this.
end of thread pic.twitter.com/2R5JP9JJEv

— Yellow (@Djp5SOS) January 6, 2022
Cue mic drop! Daniel Padilla has spoken.
kabogera yun asa trending topic ha!!!! ooops na post ~ pic.twitter.com/Xap8CHC2Ld

— MJ Lastimosa (@MJ_Lastimosa) January 6, 2022
Even Kathryn Bernardo is just laughing it off. "Alagang Ford po." The couple sounds very happy, so what is Xian Gaza going on about?
But netizens in general are just so done
Everytime Xian Gaza is trending: pic.twitter.com/482nyk2GK8

— #PresidentLeni #SenChel (@maroondemigod) January 6, 2022
It's 2022, Xian Gaza. Leave people alone!
Xian Gaza needs to leave Barbie Imperial alone AND STOP BEING BITTER. hes literally HARASSING the woman online and some of you shamelessly find it funny

— Isla ·˚ ♡ #LAFS (@kaodollz) January 5, 2022
Is he doing this as retaliation?
He has been on Barbie Imperial's case before, creating drama about the actress and alleging she was involved in a cheating scandal. And now here he is once again, speculating Imperial is a third party. Some netizens believe that he's doing this in revenge for Imperial turning down his offer to work for his company for PHP 6 million. If this is true, our only question is, why can't some guys (*cough*Xian Gaza*cough*) take a no gracefully? We hope Barbie's okay.
just a reminder that x*an g*za is doing this to barbie imperial just because he got rejected by barbie (and money also). see how girls cannot freely say no to a man without being shamed and drag? MEN AND THEIR EGO.

— ً alisson (@k4treng) January 6, 2022
Or is he doing this to promote his app?
Xian Gaza is doing everything to promote his useless and shitty gossip app and gain attention, and use it as part of his dramas on becoming a billionaire.

Freak. I'll protect my girl.

— snappedtsus (@snappedtsus) January 5, 2022
lahat gagawin ni Xian Gaza mai-promote lang yung walang kwentang app nya

— kim. (@kmmgny) January 5, 2022

Other netizens think these blind item posts he keeps on publishing are all part of a marketing effort to promote his gossip app ISYUS. And if this is his reason, can we all make a deal to not download it?
#StopXianGaza2022
Regardless of his motives, most netizens just want him to stop. We're tired of seeing his name on the internet, but can't look away. *googles how to deactivate someone else's Facebook account*
oh wow, xian gaza is really testing my 2022 patience

— belle (@bellacioszo) January 5, 2022
The year *literally* just started.
What do you think of Xian Gaza's latest antics?