Happy humpday! We are now closer to the weekend, and it's not like any other: it's sweldo weekend. Yaaaas! Amid the COVID-19 outbreak, many still have to brave through the traffic and hassle of commuting. Para sa ekonomiya. Fortunately, we have the internet. From booking cheap flights to Italy to discovering Duterte's talent in poetry, here are some memes that will relieve you of stress from a tiring day.
Oh, to be a commuter
Everyone highlights the importance of avoiding public places and keeping distance during the outbreak but what about us, commuters? Though classes have been suspended in Metro Manila, there are still those who use different modes of public transportation: the workforce. A number of companies have already implemented temporary work-from-home schedules, and we're hoping that the rest would follow.
Kaya naman pala sa email, eh.
Me kapag may meeting na naman na kaya namang email https://t.co/KoiEM2fUrU

— Richard Bolisay (@richardbolisay) March 10, 2020
Aren't we all Mayor Vico when we get that meeting schedule but when you sit in, you all realize that it can be discussed via email? Sigh. Also, now that WFH schedules are being implemented, many are realizing that some meetings aren't even necessary. Kaya rin naman pala via concalls.
How not to touch your face
Working on not touching my face :) pic.twitter.com/qfyNdrDReh

— Hannah (@McBBQSauce) March 5, 2020
One of the best practices to protect yourself from catching COVID-19 is avoiding touching your face, especially when unclean hands. Fun fact: you unconsciously touch your face 23 times an hour! So how will we avoid touching our face especially in deep focus? The struggle is real.
The 2019 Novel Coronavirus: What You Need to Know About the Deadly Disease
The 2019 Novel Coronavirus: What You Need to Know About the Deadly Disease
Meryl Medel | Jan 22, 2020
Tickets: Booked
The media: "CORONAVIRUS PANDEMIC IS GETTING WORSE EVERYONE PLS WASH UR HANDS AND QUARANTINE URSELVES DON'T MOVE WE'RE GETTING CLOSER TO THE END"

Millennials on our way to the airport cuz flight prices dropped: pic.twitter.com/WKtfnWEwJW

— air (@ayoair) March 6, 2020
To make up for the loss of profit due to the outbreak, many travel companies have been reducing fees on tickets and accommodation. Is this an opportunity to grab cheap flight tickets? Schedule a 5-day trip abroad? As what others say, they're here for a good time not for a long time.
How to Protect Yourself Against the COVID-19 Outbreak
How to Protect Yourself Against the COVID-19 Outbreak
Ina Louise Manto | Mar 10, 2020
Off to Italy
me after hearing someone cough on my $8 round trip flight to italy pic.twitter.com/5Fumi7fWvm

— dijahsb.com (@DijahSB) March 6, 2020
Italy has become one of the countries with the most COVID-19 positive patients leading to the whole country's lockdown. It's a very scenic country and airfare has dropped drastically, so what are you waiting for? Yun nga lang, you'll get what you paid for.
The Kit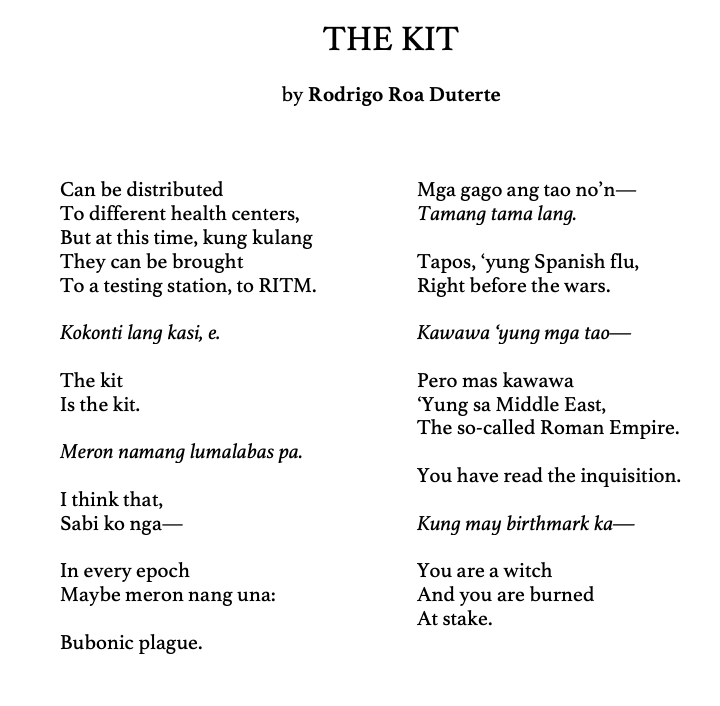 By multi-awarded poet Rodrigo Roa Duterte.
These words were culled from an actual statement from our President during his press conference on Monday night. Everyone's still confused about what he was trying to say. Was he speaking in verse? And what does it mean?
#WalangPasok
#CartoTuesday Manila vs. Metro Manila

When the fuzz about the #WalangPasok and related news about Metro Manila broke out, many people seem to be confused about the difference between the two. Here we illustrate the differences. pic.twitter.com/k84YgIOfRF

— EarthShakerPH (@earthshakerph) March 10, 2020
Due to the rapid increase in the confirmed cases of COVID-19 over the past days, classes in Metro Manila have been suspended. However, many still can't help but get confused over the announcement. Remember that Manila City is the capital of the Philippines, while Metro Manila includes different cities. It pays to read thoroughly when announcements are posted.
PH Health Fund
Most times, you'll really question this government's priorities. Of course, it reflects on how unequipped the government is in dealing with the outbreak. Budgets were cut loose and there aren't enough testing kits. Fortunately,  scientists from the University of the Philippines have developed COVID-19 testing kits that are much cheaper than the imported ones used in hospitals. At times like this, researchers often dismissed by politicians are the unsung heroes.
Have you seen other funny COVID-19 memes this week? Share them below!