So. How was your week? Fun? How about your Tuesday? More fun? However you spent your Balemtayms day, we're 100%  sure your feed was  50% Balemtayms related  and the other 50% were  posts from your single friends who, ironically, said they're not bitter even when they actually were. But hey, it's Wednesday and more importantly, it's SWELDO DAY! So let's move on from all the love stuff and get on with the meme stuff! Here's this week's Yay Wednesday for ya!
Beyonce aka the mother of all
Can we just pause and appreciate how flawless Bey looked at the Grammy's?
Flawless @Beyonce #GRAMMYs pic.twitter.com/ezclfuhWmP

— Rap-Up (@RapUp) February 13, 2017
Let's also appreciate all the memes we've masterfully created from the goddess' performance.
Listahan ng mga lalaking hindi ako kayang mahalin:pic.twitter.com/gvPG5V2J5U

— NEUTROGENA PAREÑO (@Watdahel_Marcel) February 13, 2017
: Judgment Day. Binabasa na ng Diyos ang lahat ng naging kasalanan natin sa mundong ibabaw.pic.twitter.com/TqF3vGNVXp

— NEUTROGENA PAREÑO (@Watdahel_Marcel) February 13, 2017
Kapag ikaw lang ang may papel sa klase tapos magsisimula na ang quiz

Me: pic.twitter.com/YZIwbF7rd0

— Yayoi Kusama Sutra (@Cinephilliacy) February 13, 2017
Yung biglang-preno ang jeep: pic.twitter.com/J6bjlrnuK2

— TONI ROSE GAYDAR (@keiakamatsu) February 13, 2017
This adorable Asian girl knows how to properly play
my little sister got a barbie dream house N HER ASIAN ASS MAKES ALL THE BARBIES TAKE OFF THEIR SHOES BEFORE ENTERING pic.twitter.com/vBMWXaRSyC

— ivy (@ivaayz) February 12, 2017
Luluhod sa monggo si Barbie kapag pinasok niya tsinelas niya.
All these Jollibee memes
Of course, the aftermath of the massive Jollibee video series is worth mentioning.
May Philippine version na pala. pic.twitter.com/X7fI1xgr8k

— girl almighty (@TheNxcs) February 11, 2017
Doon tayo sa praktikal pic.twitter.com/cFVYRnP29x

— Kendrick Raymundo (@eatmyposts) February 11, 2017
Mcdo: #TuloyPaRin
Jollibee: #KwentongJollibee
Max's: #MaxStories

Angel's Burger: pic.twitter.com/H5zIx9YNUQ

— PATH! GANERN! (@pathcarcer) February 9, 2017
Angel's Burger offers more than Buy 1 Take 1.
Here's some self-love courtesy of Shiel bath soap
Perks of dating me:

1. Marunong ako sa sakit
2. Marunong mag-alaga
3. May malasakit
4. May shea butter moisturizer

— Yayoi Kusama Sutra (@Cinephilliacy) February 8, 2017
'Di biro maging nurse…
So, yeah, Derek's still a thing
POP QUIZ:

ILAN YUNG KAMATIS NA NALAGLAG SA AD NI DEREK?

— NEUTROGENA PAREÑO (@Watdahel_Marcel) February 13, 2017
And we ain't complaining! Ay! (spills the tomatoes)
This  thing that escalated quickly
The comment section is PURE GOLD.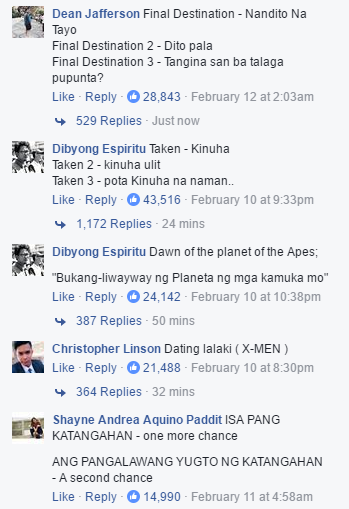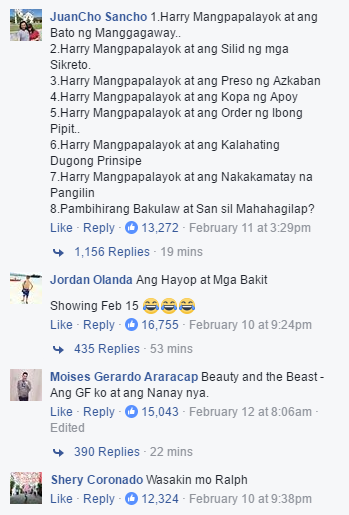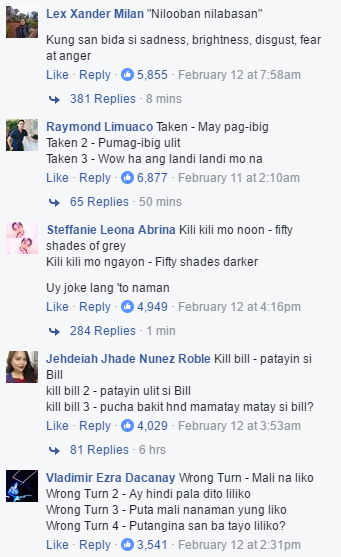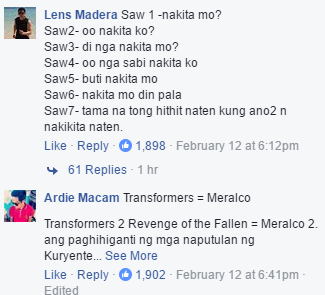 Ethel Booba, at it again!
Bes, umeeffect na yung glutha na gamit mo ah. Charot! pic.twitter.com/wYXWvHjrU0

— Ethel Booba (@IamEthylGabison) February 13, 2017
AND THIS WEEK'S BEST THING…
SINO NAKAIWAN NG DILDO SA MAY PEDRO GIL???? LORD WHY. pic.twitter.com/gNgiDum1LX

— Nikka Ambulo (@nikkasabaw) February 13, 2017
THANK YOU, UNIVERSE, FOR GIVING US SUCH A BEAUTIFUL TWEET! (We're sorry for the person who lost it though. Here's something to help you out.)
What's on your list? Share them with us below!