Yay Wednesday! |
UAAP Posters and Clown Sightings Edition
By Abu Poblete

Hey, Halloween's just a weekend away! ! Have you been preparing your costumes already? Perhaps consider a mask like this if you want some killer looks?
Here's where to buy your own.
Anyway, we hope this week has been treating you well. Whatever's letting your heart down right now, we hope that the items on this list will make your life a little less miserable.
8. This surname battle of the year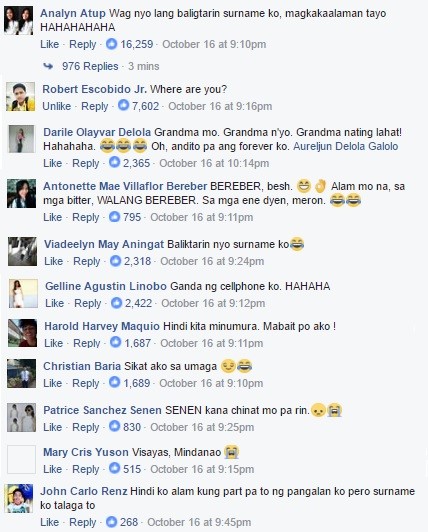 It's so hard to pick which one's the best!
7. This year's UAAP Poster
It's like the new Instagram icon again. Again, DON'T LET AN INTERN DO THE IMPORTANT STUFF!!
6. Nora Aunor is awesome
Drinks: NAWASA pic.twitter.com/4sqVyQ7rEl

— PiL0$oPoN9 Jej3+ (@PILOSOPOZ) October 16, 2016
"Dislikes: Proud"
Same, Ate Guy. Same.
5. Bato or Bayani?
: Hindi ko alam na artista pala si Bato sa Cathy Garcia Molina film. pic.twitter.com/YDVKx6MWqZ

— SPOOKY NG INA MO (@Watdahel_Marcel) October 14, 2016
huy internet bakit di pa 'to meme??? pic.twitter.com/kZVmUhoSDl

— DJ (@deeeejayyyy) October 14, 2016
All the politics aside, who'da thought Bayani Agbayani was our PNP Chief?
4. The uncle we all wish we had
…so my uncle got a drone now he's fucking with people😂😂😂 pic.twitter.com/xFwnLDUYoa

— crüger (@ZacCrueger) October 17, 2016
Okay, so where can we buy an uncle like that? Where??
3. This poor dog and its weird human being
https://www.facebook.com/PrettyRicky/videos/10154557243993159/?hc_ref=NEWSFEED
Props to the guy who probably broke his entire spine but continued the song fabulously.
2. The best news of the week
Motoristang inakalang patay sa loob ng minamanehong SUV sa Malate, Manila, nakatulog lang pala dahil sa kalasingan. | @luisitosantos03 pic.twitter.com/2Q50bDZLeM

— GMA News Breaking (@gmanewsbreaking) October 14, 2016
At least he didn't drive while drunk!
1. This legit scary clown sighting
ARE YOU FUCKING KIDDING ME RIGHT NOW THIS WAS LITERALLY AT MY FRIENDS HOUSE WTF HOLY SHIT @_KyleOLeary @brunojohn117 pic.twitter.com/wFu67i9GQL

— Chris Melberger 👉 (@chrismelberger) October 15, 2016
LOOK AT THE PLAIN PLAID SHIRT!
Got any notable social media post to share? Tell us about them below!