Happy Hump Day! From celebrities to politicians, here are this week's eye-rolling, face-palm-inducing quotes. And then some more.
Annabelle Rama on Ruffa's love life: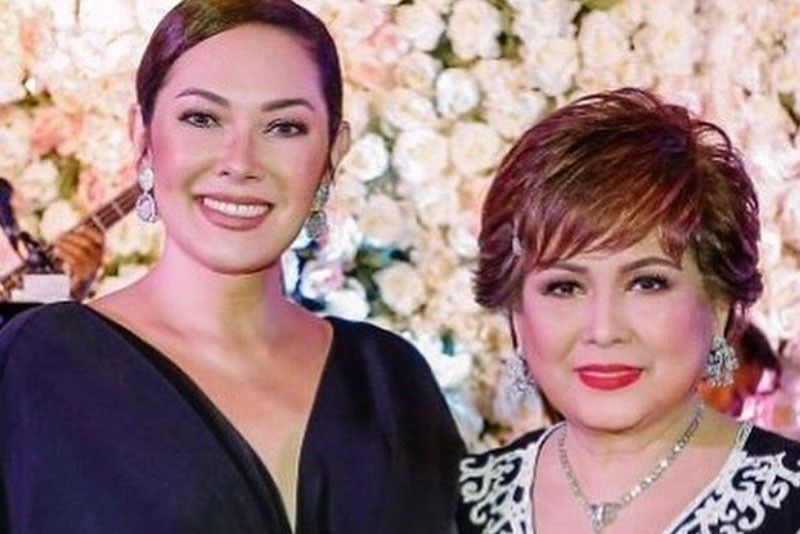 "Pagdating sa lalaki, talagang bobo talaga siya."
When Annabelle Rama guested on Gandang Gabi Vice last February 16 you'd think the producers of the show would have the foresight that she'd say something inappropriate. But of course, the industry thrives on inappropriate statements. After saying that Ruffa, her daughter, is actually smart and beautiful, Annabelle then does a 180 and proceeds to bash her choice of men. We're all stupid for love, Annabelle. Get with the program.
Bato's wedding vows
We typically love bromances, but the way Bato shows his affection for the President just leaves a foul taste in our mouth. Probably because he's a public official who should be more concerned about the Filipino people rather than pleasing his idol, but what do we know?
DJ Chacha to Bato
I suggest mag-resign na dapat si Senator Bato sa pagiging senador at mag-apply na Bodyguard ng Presidente tutal naman ang loyalty niya ay sa Pangulo at hindi sa taong bayan.

— DJ Chacha (@mor1019chacha) February 18, 2020
Naniniwala akong mas mahal ni Bato ang Pangulo kaysa sa asawa niya. Nangako pa hanggang kamatayan! Taray! IBA. #itopoangbinotoniyo

— DJ Chacha (@mor1019chacha) February 18, 2020
Following Bato's statement in the previous point, radio host DJ Chacha (Czarina Balba) commented that Bato is only obviously and painfully loyal to the President and not to the Filipino people who elected him to serve the country. We stan.
Her call for him to resign was met with another comment from Bato: "baka ang alam lang nya ay magchacha." Gasp. Oh no he didn't.
Mocha Uson thinking it's okay to send this tweet
Dapat anak ng mga OFWs ang i-prioritize ng mga State Universities para sa libreng edukasyon!! pic.twitter.com/hSpsOkHbeV

— Mocha Uson Blog (@MochaUson) February 16, 2020
Mocha seems to have crawled out of whatever cave she has been hiding in the past few months only to post a tweet that earned her digital evil eyes from everyone.
8 New Careers For Mocha Uson (Other Than Politics. Please.)
8 New Careers For Mocha Uson (Other Than Politics. Please.)
Kel Fabie | Oct 04, 2018
Panelo on the President's ABS-CBN issue:
PSpox Salvador "Damage Control" Panelo strikes again. This time, after much backlash, Panelo "clarifies" that President Duterte saying he will shut down ABS-CBN should not be taken literally. NKKLK?! Is it safe to assume that everything he says should not be taken literally?
Random Twitter person who does not know how a couple of things work:
Body piercing artist Rachel Ravana (IG: pierced.ravana) took to Twitter to say that she had her piano professionally fixed for Php 55k after she found out it was infested with rats. She asked for customers to help pay her bills but was dragged instead for having the infestation, even though she dealt with it quickly.
"Hello, I didn't want to respond na sana but a lot of people have been messaging me about this and I just want to say na the rats were inside my piano & the piano was back in my house — not in my studio," Ravana retaliated. It was also just very recently because i noticed that the keys no longer functioned. I play the piano often so i know. But anyway, since this has been going around & i couldn't take the amount of slander going on, I would like to press charges."
Rachel already clarified in her thread that her studio is different from her house and that she makes sure everything she uses is sterilized. NKKLK.
This tweet exposing Star Cinema: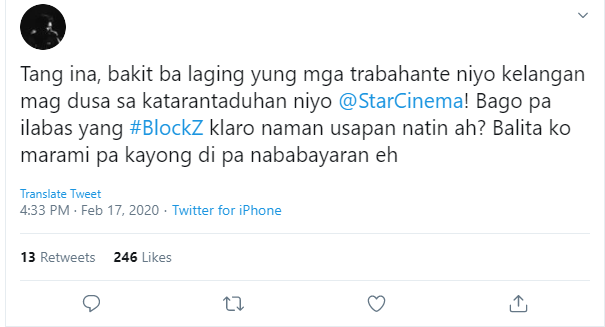 In the Philippines, artists are underappreciated and that's a fact. You'd be hard-pressed to find artists (animators, videographers, editors) paid worthy enough of their efforts and on time too.
A Twitter user who worked for Star Cinema's Block Z (directed by Mikhail Red and released last January 29, 2020) expressed frustration over still not having received their pay. The thread included the user saying that they can't pay bills on time and they can't even do their groceries. This is exploitation, if anything, and maybe the exact reason why artists don't give their best for PH cinema effects – why would they if they won't get paid anyway. NKKLK kayo.
And lastly, we present to you, Mr. and Mrs. Sotto!
This isn't a quote, it just made us scream NKKLK. Read the comments. You're welcome.
What's the most shocking-slash-annoying thing you've seen this week?