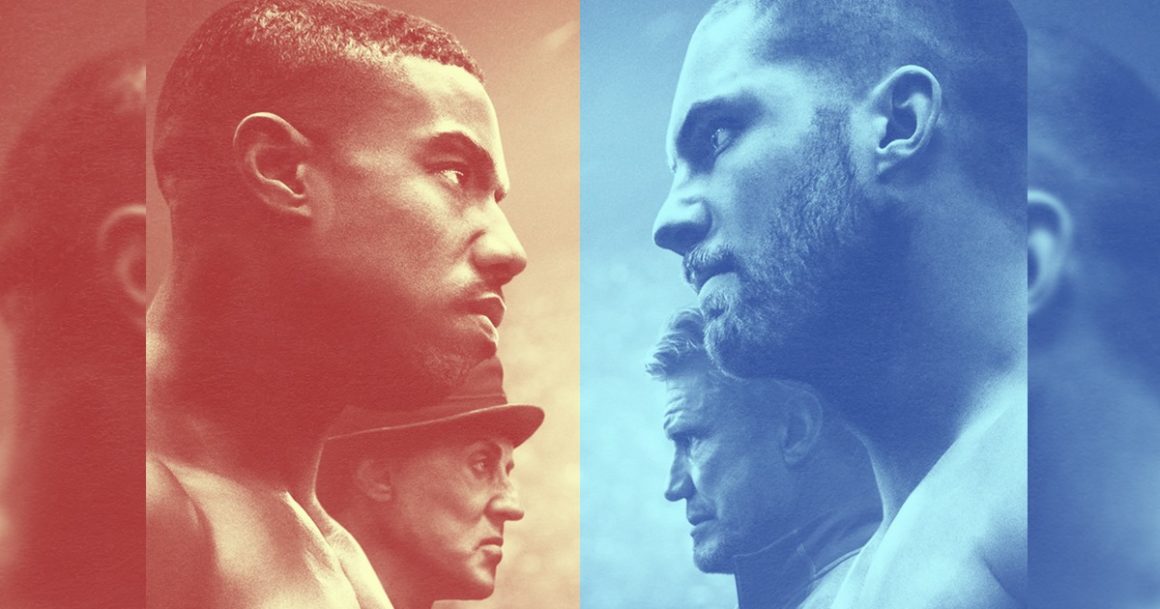 There's a certain satisfaction to seeing how the first Creed movie back in 2015 became a hit, mostly because it meant that, despite the shifting political and social cues of defining masculinity, an excellent sports drama can still be successful.
To have Sylvester Stallone's franchise continue for a new generation and to actually be relevant as well as meaningful is a great reflection of how a movie about boxing can be a resonant reminder of how triumph can be borne of hard work.
The best thing? You don't really need to be a boxing fan much less know much about the sweet science to appreciate this movie. Here are a few reasons why.
Sins of the Son and the Father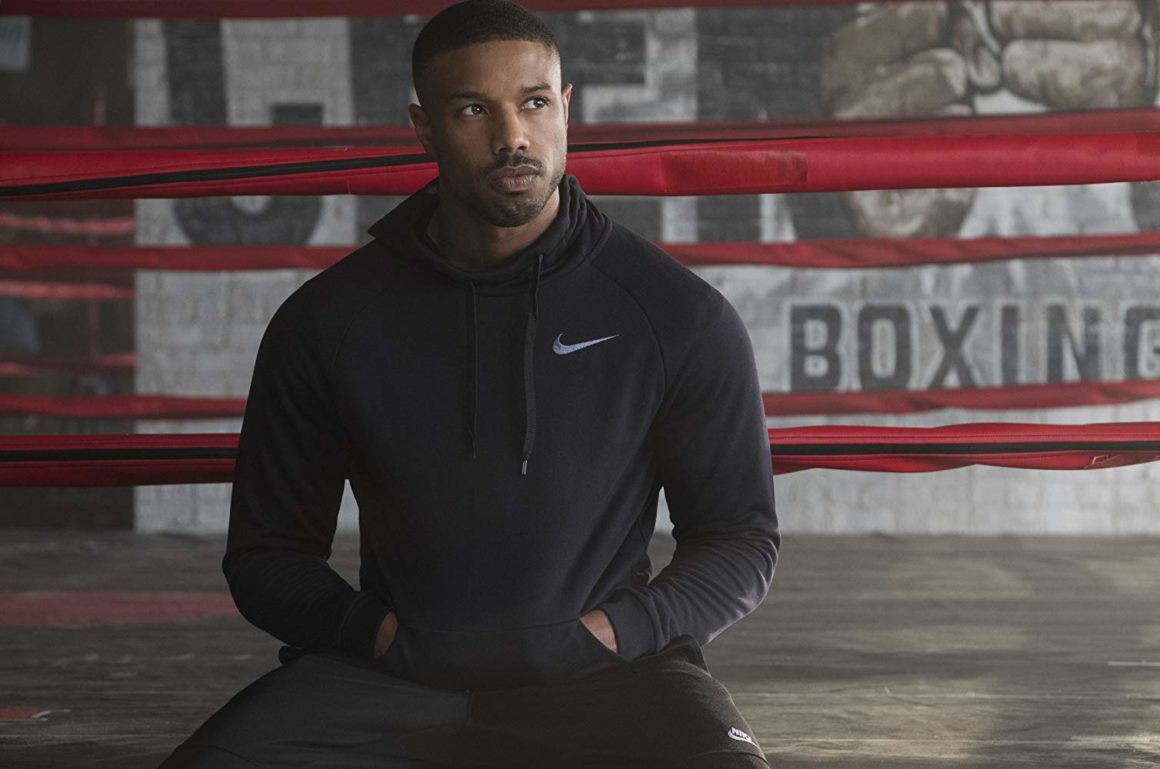 A shadow looms over Adonis "Donnie" Creed (Michael B. Jordan), the illegitimate son of boxing legend Apollo Creed, even though he's now found success as a professional boxer. In fact, when the movie opens he's about to step into the ring and fight for a heavyweight title.
Since the last movie, it has also been 3 years since Adonis left California for Philadelphia to train with retired former heavyweight champ Rocky Balboa (Stallone), and despite now becoming a champ, he's instead struggling to reconcile his doubts and fears of inadequacy and living up to name and legend of his father.
Meanwhile, Rocky has also been battling his own demons, having been an absentee father for most of his son's life he wonders if he can still find a place in the world that includes his own blood. For now, Donnie is the only son he has and the young boxer also looks up to him as a surrogate dad. But soon they'll both need to confront the sins and events of the past in a public, bloody way.
The Agony of the Rising Athlete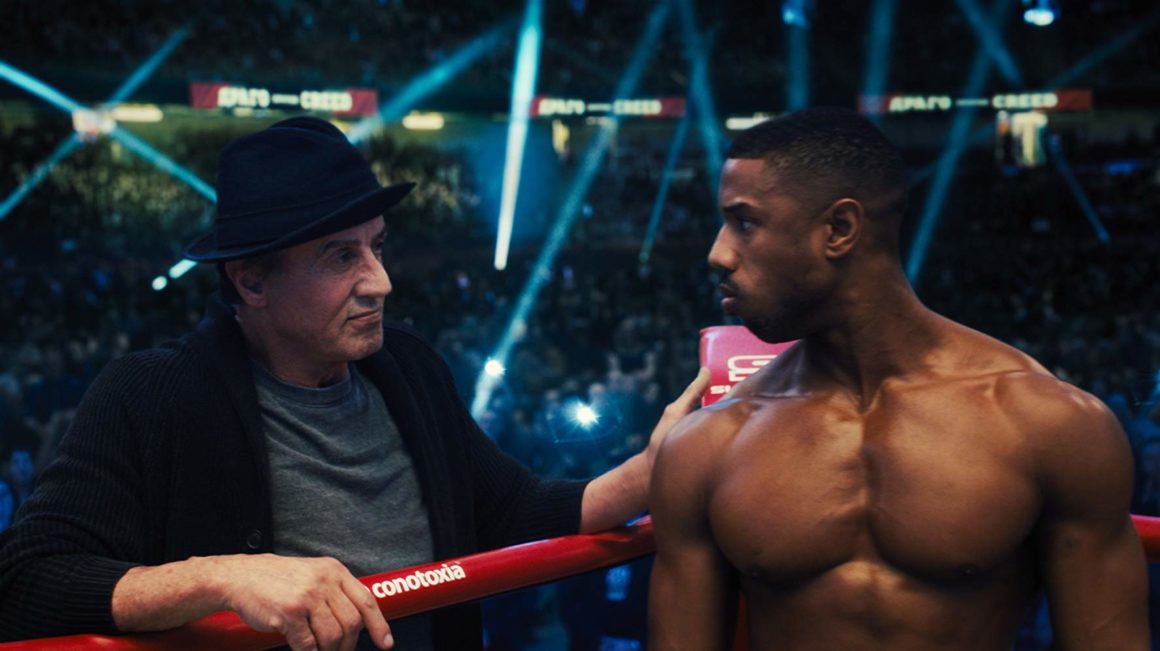 The story arc of Donnie is the hero's journey and it's apt that he feels a deep and abiding doubt despite the acceptance and adulation he's receiving from the world. Has he really tested himself both as a person and a boxer?
Apollo Creed died in the ring before Donnie was born. Giving his life to the sport he loved when he was killed by the Russian juggernaut Ivan Drago (Dolph Lundgren) in an ill-fated exhibition match 3 decades earlier—a tragic moment filled with comedic overtones had it been less bloody or less final: see, Rocky (Donnie's coach) was supposed to be the one to fight said match with Drago.
Donnie questions his abilities, and wonders if he's fought the best and is worthy of being a champion. After all, what has he done except beat on opponents that were, to be honest, far below his skills?
As Donnie grapples with his life as a new celebrity, enter the young and undefeated heavyweight contender, Viktor Drago (played by real boxer and athlete Florian "Big Nasty" Munteanu). Viktor also happens to be the son of…you guessed it, Ivan Drago.
The boxing world labels their upcoming match a historic next-generation "Creed vs. Drago 2" showdown. And Donnie can't help but take the bait.
The Suffering of the Dragos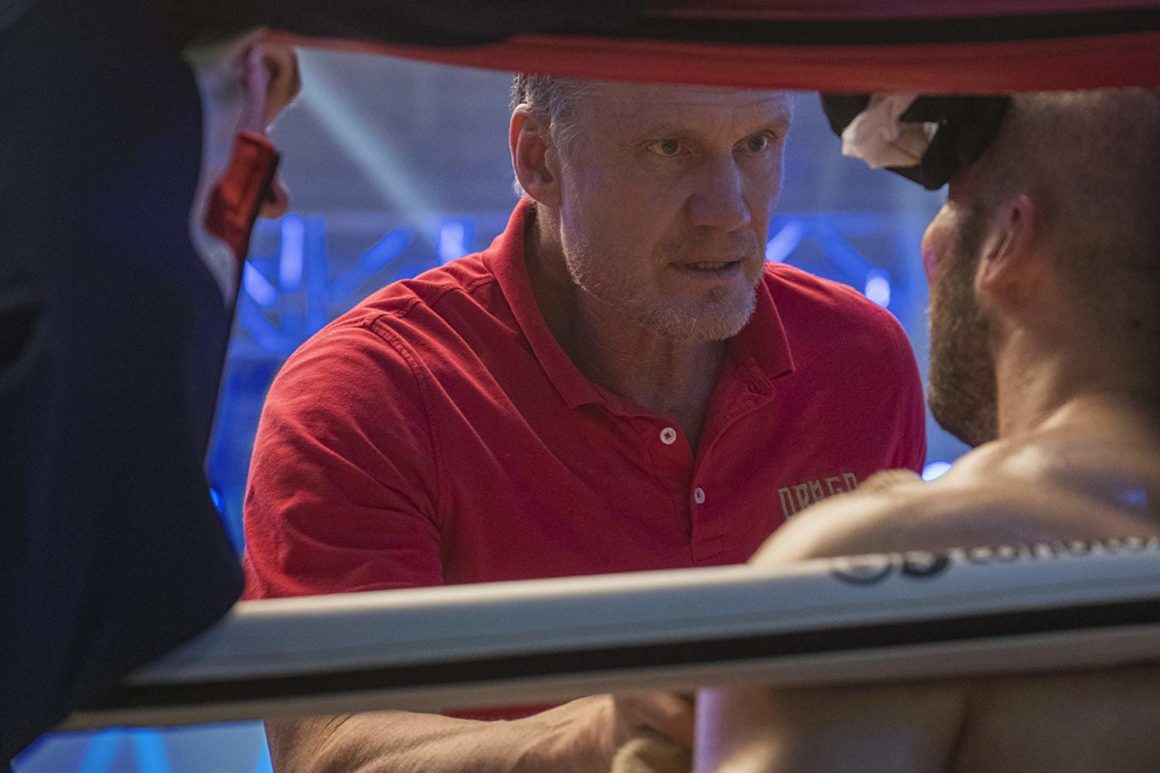 Deep in the slums of the city of Kiev in Ukraine, Ivan Drago, the man who killed Apollo Creed in the ring before losing to Rocky in a dramatic U.S.-Soviet super-match, has been nurturing his hate for the past 30 years.
When Ivan lost that fight, he lost everything. His son, Viktor, was forced to grow up in a hard life in a run-down apartment far from the Russian center, working two jobs, and training for long hours in very Spartan conditions.
As the Creed vs Drago 2 match approaches, it's clear that Ivan has taught his son to feed off the same hate that's he's suckled on. He's also coached the young firebrand to boxing greatness with 14 heavyweight KO finishes despite their destitute conditions.
Love and Pugilism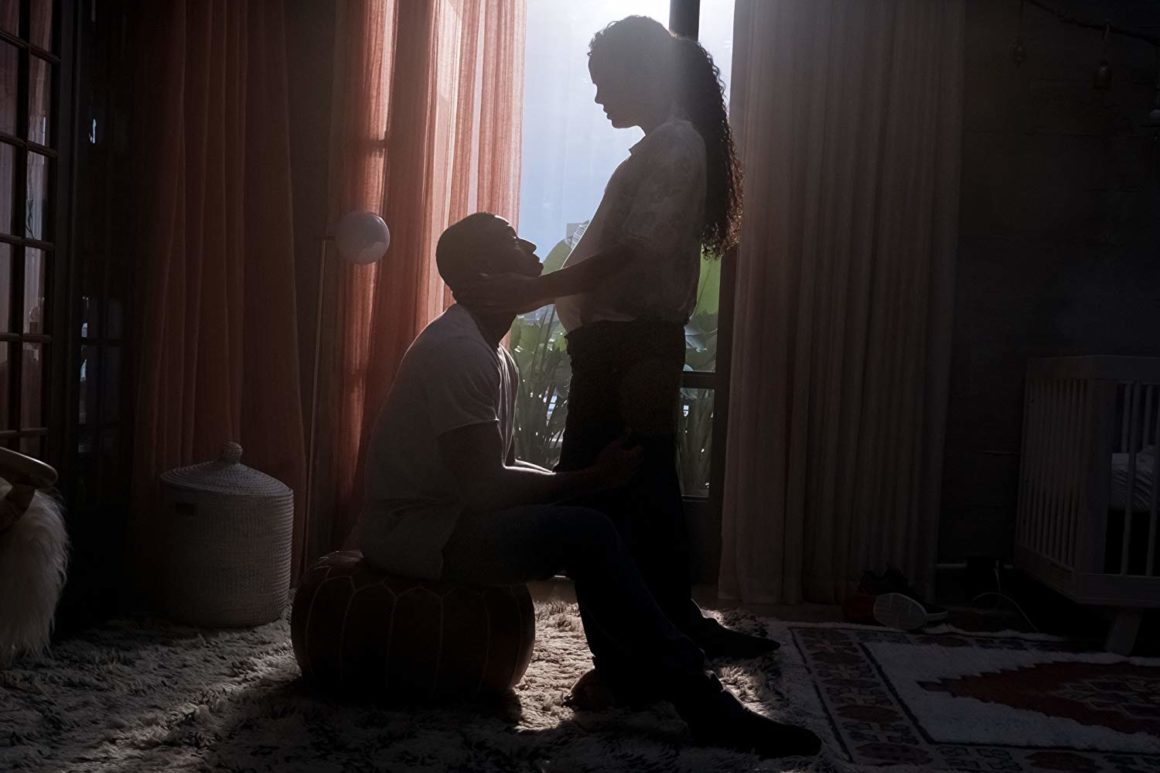 Meanwhile, Donnie is also dealing with other matters outside of the ring. He and his longtime love, Bianca (Tessa Thompson), a talented singer-songwriter who has transcended her partial deafness has become a rising music star in her own right, are now ready to start a family.
One of the great things that Creed 2 does is expand on the troubles and triumphs of the athlete outside of their sport and how it affects and enriches their performance just as much as training does. Here, we see how Donnie and Bianca's relationship make for a better boxer and a better musician in an unlikely marriage of arts and athletics.
"You won't be no good to nobody if you don't do what you love, if you don't make music," declares Donnie to Bianca. "And I won't be no good to nobody if I don't handle this the right way. And I can't be an army of one no more. Neither can you."
Is being a champ and remaining one mutually exclusive to being a good father or husband? Creed 2 answers this and becomes the narrative anchor for which the in-ring action is but the aperitif.
Russian Redemption Song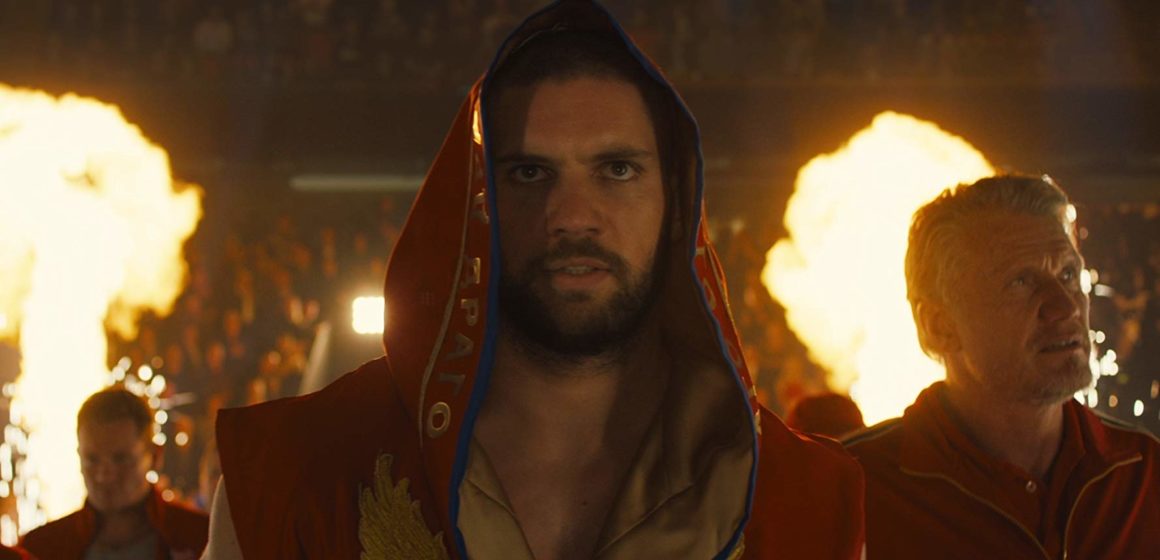 "Because of you, I lost everything. Country. Respect. Wife," Ivan says to Rocky when they finally meet again, to discuss the upcoming fight and to chat about the good old bad old days.
When Donnie wins the heavyweight belt, Ivan and Viktor see their chance, for them to have their revenge and redemption in one fell swoop. They work with an American promoter to setup the Creed vs Drago 2 fight, determined to defeat Donnie so they can dig their way up out of the hole of the past 3 decades.
"Viktor is fighting for a better life, but the things that he really wants are family and love, which he never got," opines Munteanu. "His mother, Ludmilla is not there anymore. His father has his own problems from decades earlier. Viktor doesn't feel that he's loved or really appreciated as a son, and that is the biggest struggle inside of him."
Oh, and watch out for that Brigitte Nielsen cameo.
Slaying the Son of the Dragon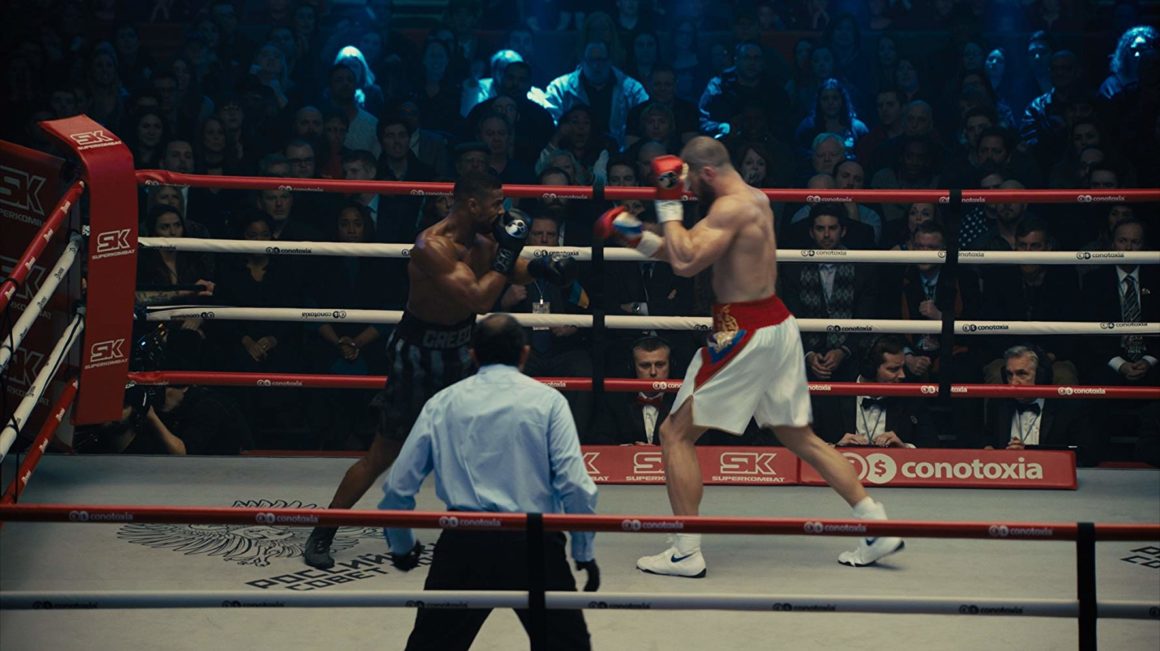 One of the biggest questions that Creed 2 tackles is about legacy, an important matter that plagues every athlete once they achieve success and titles.
"So now ya ask yourself, 'Am I here to prove something to other people, or to prove something to yourself?'" whispers Rocky to Donnie before he steps into the biggest fight of his life. Despite being afflicted with doubts and fears about being a good son, a good partner, a good student, and being a good role model, Donnie must also ask himself if he is as good a boxer as the world thinks he is and in so doing find the strength to be tactical in the ring, to not fight the bigger and stronger Viktor toe to toe.
For the explosive boxing scenes director Steven Caple, Jr. uses some very nifty filmmaking tricks to bring us visually close to the action. The sweat flying, the hard shots, the counters, and the footwork of the two boxers feel gritty and dangerous but also express the two very different flavors and styles they've been trained in. Viktor relishes close distance power shots that setup that singular devastating KO to the body, while Donnie relies on counterpunching and strategic entries to get his work done.
Drago vs Creed 2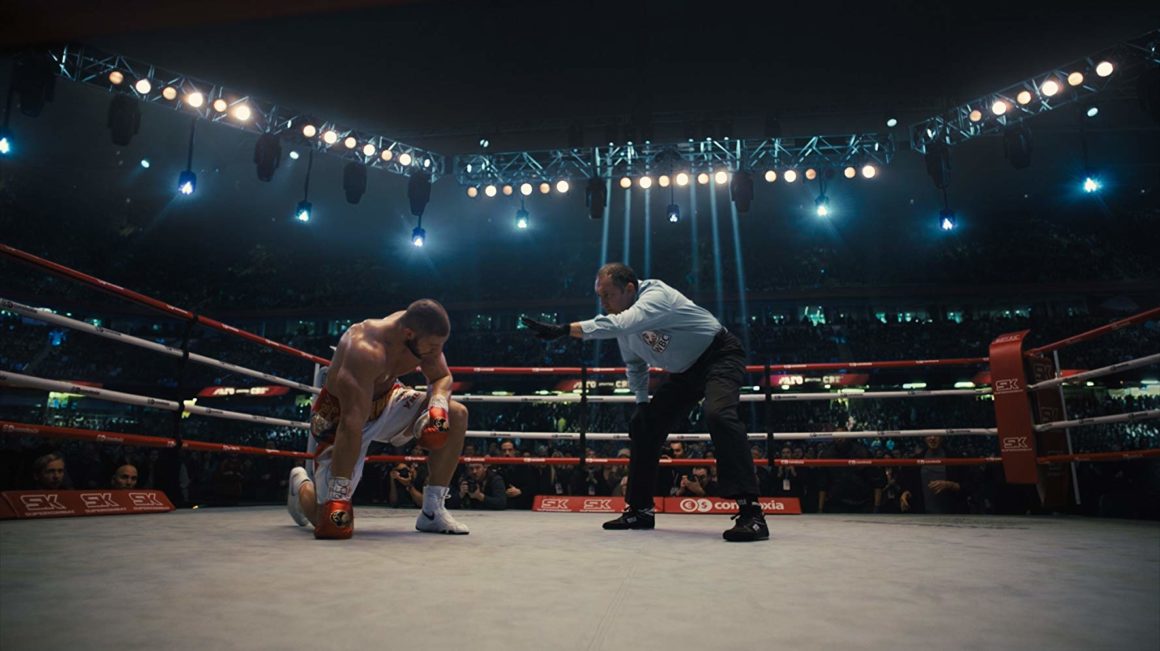 The idea of Adonis avenging his father's death in the boxing ring by fighting the son of Ivan Drago is a natural, almost Shakespearean progression for the complex character that Jordan has brought to life.
"Rocky's past has caught up to him, and also with Adonis, who is drawn into it because this is the man who killed his father," notes Stallone, who continues to supervise the script well along in the franchise he first penned and starred in back in the late 1970s. "So now Adonis feels like he should take on Ivan's son, Viktor, to avenge his father."
"As for Ivan, after losing the fight to Rocky, he lost everything else in his life, and has spent years instilling in his son nothing but hatred and revenge. Ivan has come back to prove to the world he isn't a loser and is using Viktor to achieve that, while Rocky is afraid that history is going to repeat itself."
Papa Ivan vs Uncle Rocky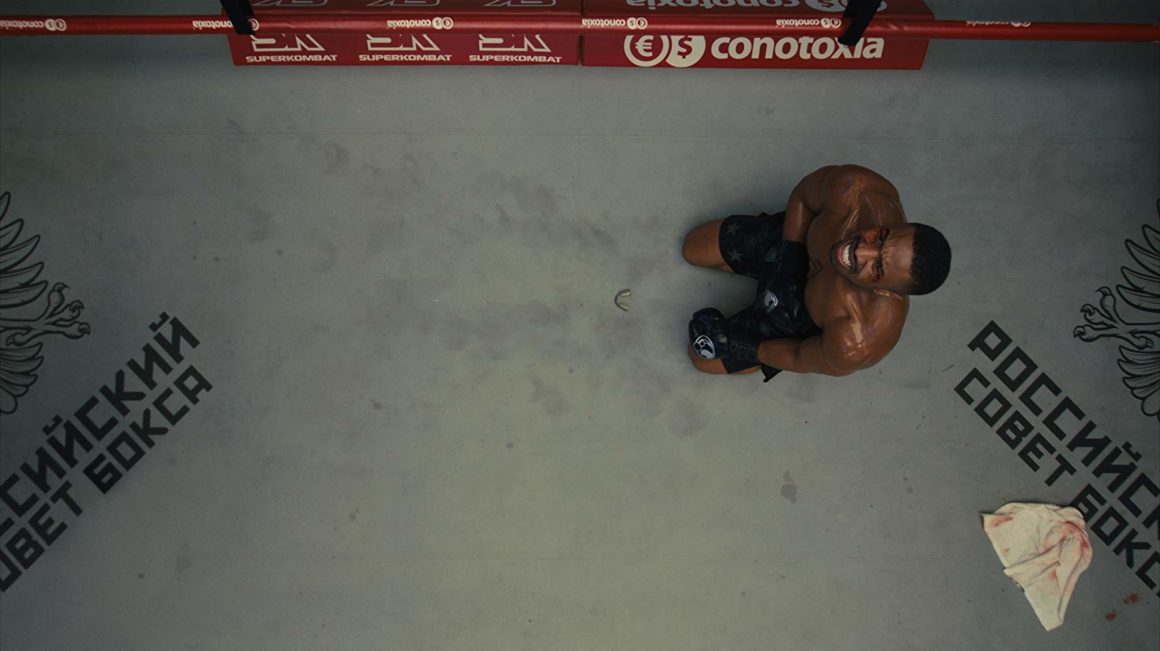 For Donnie, taking on Viktor is more than just a fight, it's a benchmark in his life. For Rocky though, who fears history repeating itself, there's much more that Donnie can lose than just a title. In many ways it's also a battle of the boxing coaches who are living vicariously through their fighters, like an Ivan Drago vs Rocky Balboa rematch that's been a very long time coming.
Creed 2 is an excellent starter pack for those who haven't yet gotten to know the characters and the Rocky franchise, the first movie was the highest-grossing film in 1976 and was nominated for 10 Academy Awards (with 3 wins, including Best Picture of the Year).
For fans of both the new series and the old, Creed 2 reinvigorates and expands the franchise's cinematic mythos by returning the series to its underdog roots in something legitimately gritty and compelling. Something that just might be a fable to aspire and reference for a new generation about self-worth, redemption, and the rewards of the hard grind.
"Creed 2" opens on November 28 in Philippine theaters.
Which fight do you think is better, Rocky vs Ivan or the new one? Tell us below!