Along with the rise of music channels, a new "it" job was born: veejaying. It definitely seemed like a cool gig, as it involved meeting artists, going to events, and hosting shows. And with the emergence of Pinoy versions of MTV and Channel, and the arrival of Myx came more opportunities for VJ-wannabes. Aside from that, defunct station Studio 23 (or what is now ABS-CBN Sports & Action) also employed VJs to present their shows.
Let's take a look back at some of ladies who clinched the dream job and find out what they're up to now.
Bianca Araneta (Studio 23)
After appearing in TV commercials circa 1993, the most popular of which was her Ivory Soap and Shampoo ad, Bianca went on to become a VJ for Studio 23. She appeared in between shows to dish about the network's new promos and upcoming events, and introduce the show that was up next. She later became a VJ for MTV as well.
Today, Bianca has her hands full being a mom to her and husband Juan Elizalde's four daughters, as well managing her restaurant The Wholesome Table.
Tricia Chiongbian (Studio 23)
Tricia shared VJ duties with Bianca Araneta and JM Rodriguez on Studio 23. She was also tapped to be a sports anchor in the said network's nightly newscast. She later took on hosting duties at Gameplan, where she was able to channel her athletic inclinations, doing scuba diving, triathlons, and adventure racing among others.
Even a short run does the body good! Ran home after spin class thru Rodeo Drive. #tryingtogetfit #rodeodrive pic.twitter.com/krK5msUYIe

— Tricia Chiongbian_C (@Trishccon) May 28, 2016
Now based in Los Angeles, California, Tricia is married and is mom to two boys, Pablo and Rory.
Clara Balaguer (Myx)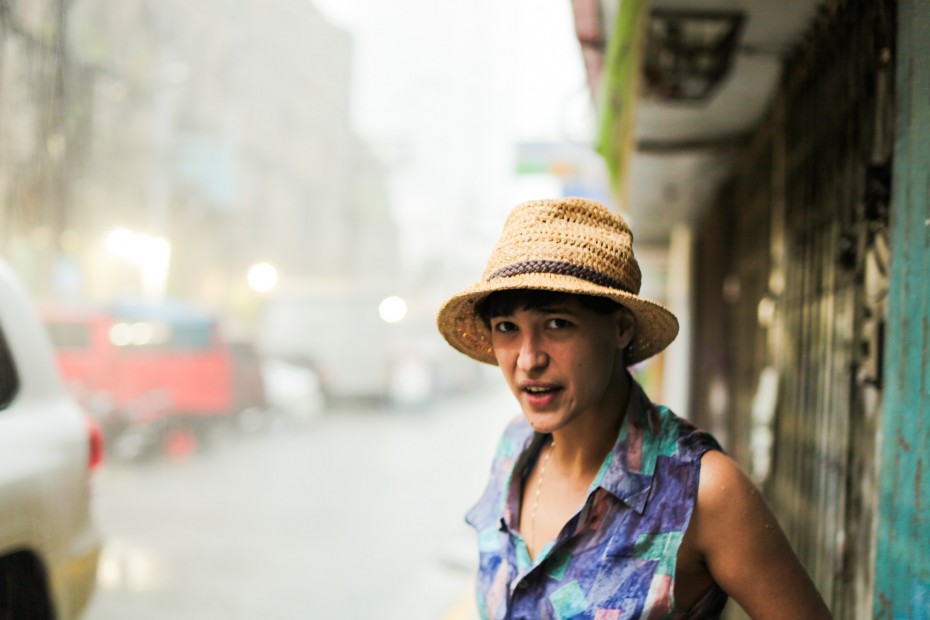 Clara was among the pioneer VJs of Myx, along with Kaz Castillo and Ed Feist, when the said music channel took over MTV's slot on Studio 23 way back 2000. Edgy, eloquent, and beautiful, Clara easily stood out. She had admirers but also had some haters, but she merely raised her eyebrows at the latter.
Clara worked at a creative agency in Spain, but went back to the Philippines to care for her mother who was dying. When her mom passed away, Clara used her inheritance to put up the Office of Culture and Design, a "social practice platform for artists, designers, writers & assorted projects in the developing world."
Ala Paredes (Myx)
Ala also made her showbiz debut via TV commercials, the most memorable of which was a Clean & Clear Facial Wash ad. After a slew of endorsements, she became a VJ for ABS-CBN's new music channel Myx. She moved on to host the show IslaMusik on ABC 5 and was also an in-demand host at special events.
Ala, who is now based in Australia, is presently awaiting the birth of her first child with husband John Buencamino. She's taken a break from teaching language to focus on motherhood, but she continues to engage in artistic pursuits.
Michi Valeriano (Myx)
With her signature throaty voice, pleasant smile, and energy that radiated onscreen, it's no wonder why Michi was easily a favorite among fans of Myx, where she hosted several programs. Just like many others in this list, Michi was also a print and TV commercial model, and also dabbled in hosting special events.
After moving to the US in 2003, Michi became a part of the TFC show Adobo Nation. She's now married and resides in San Francisco with her husband and son. When she's not busy, she enjoys doing yoga and kickboxing.
Claire Olivar (MTV Philippines)
A product of the MTV VJ Hunt 2005, Claire, according to her interview with Candy Magazine, was inspired to give veejaying a shot after interviewing then MTV VJ Sarah Meier for a high school project. She auditioned in SM Megamall, where she waited for hours alongside hundreds of other applicants. In the end, she won along with Colby Miller, Nicole Fonacier, and Don Puno.
Claire has since moved to the US where she pursued law studies. She's now an Associate at Stradley Ronon, where she "focuses her practice on counseling investment companies (including mutual funds, closed-end funds and exchange-traded funds) and investment advisers on regulatory, compliance, and transactional issues." Whew.
Maike Evers (MTV Philippines)
Maike was a commercial model who appeared in several campaigns for brands such as Sunsilk, Ponds, Close-Up, Sony, and more. She segued into a career in television via MTV, then became a corporate host. She found her way back to television via another VJ stint, this time at Channel V Philippines.
According to the latest information on her website, Maike is now a real estate professional based in Vancouver, Canada, where she also hosts the lifestyle program City Lights on Novus TV.
Melanie Casul (Channel V)
Melanie was touted as the first Filipina VJ, after winning in Channel V's VJ Hunt in 1994. She hosted several shows on Channel V, but the gig lasted for only a short while.
At present, Melanie is based in Vietnam where, according to her LinkedIn account, she does freelance work as a communication specialist, producer, writer, and event manager. She's also a senior educator at the RMIT University where she teaches part-time.
Who was your favorite VJ? Tell us below!