8 Things You Can Relate to If You Work in Makati
Jun 19, 2018 &nbsp • &nbsp Tynne De Leon
Working in Makati can be both a curse and a blessing. For those who have been here for quite a while, they say it's like a love-and hate-relationship. The city is where the stress starts, and yet it's also where the fun begins. Here are some reasons why:
8. Walking is part of your daily routine
Walking around a city can be a daunting task, but not in Makati where cafes, movie theaters, malls and parks are just short distances away from each other. Walkways, overpass, and underpass abound in the city, especially in the business district, so it's pretty normal to have a kilometer-long walk getting to your destination. You've definitely lost tens of calories with all that strolling, only to have gained them back because, duh, food hubs are everywhere.
7. It's the best place for an after-work drink
Whether you prefer a walwal kind of TGIF or just a chill inuman session, there's a perfect drinking spot for you in this city. There is always a bar near offices, especially if you're near Poblacion, so you never run out of places to grab a drink and relieve yourself of stress (whether it's because of work or life in general.) It's easy to get lost in Makati's cool midnight vibe.
6. Jolly jeeps are total lifesavers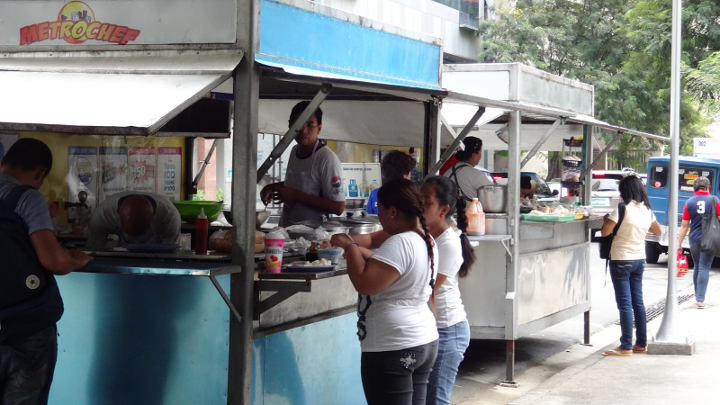 With all the food options in this city, there are budget-friendly alternatives that are total lifesavers. They're in the form of jolly jeeps, Makati's version of mini carinderias selling our homemade favorites at very affordable prices. They make life easier, especially during petsa de peligro.
5. Living in a condo is a big plus
Makati is very accessible from wherever city you're from, but the thing is, everyone is here–whether working, side-hustling, or doing some kind of business. Ergo, there is an insane amount of traffic. Renting a condo near your office is a big plus (although a little expensive), and you definitely won't experience the hassle of commuting. Besides, weekends here are serene.
4. Shopping galore
Ever went on an unexpected shopping spree? We feel you! Most prime malls are here in Makati, so you're guaranteed to get first dibs on the latest product collections before anyone else. It's also guaranteed that your wallet will be crying most of the time.
3. It's an all-around entertainment city
Brimming with cafes and food hubs, it's no doubt that you've gone around the city for meetings, date nights, catching up with your friends, and even some family day outs. It's a total entertainment city, from the classic Ayala malls to the hidden gems in Circuit Makati, the number of lifestyle options has probably overwhelmed you. Still, it's fun to have a lot of options!
2. No shame in wearing anything
Makati is the place where you can dress freely—you may have worn formal clothes in the morning, yet you may also go on a stroll to the park in your gym clothes during the evening. There is no shame.
1. The amazing contrast of the busy and the party
There is an amazing contrast in this city where you can be totally stressed the whole day, but can be completely relaxed at night. It's a city with different souls— it doesn't get boring because you always find ways to escape the daily grind.
What's your take on Makati? Tell us below!