90s Pinoy Love Teams
that Shaped Your
#RelationshipGoals

There's no doubt that we live in the age of JaDine and KathNiel, but for those of us who grew up in the 90s, our pop culture love teams took on very different forms. For one, our leading men were considerably less…Spartan, and our leading ladies were usually clad in oversized t-shirts and unattractive butterfly clips. Simple kisses on the hand and coy glances across the room were enough to send us spiraling into a kilig frenzy, and we didn't have the benefit of social media to keep up with our celebs' personal lives.
While current love teams are just as hysteria-inducing with their levels of kilig, these couples pretty much set the standard for our #relationshipgoals.
 8. Judy Ann Santos and Wowie de Guzman
Why They're Goals: Back then, love teams weren't decided by auditions or workshops. You either had chemistry and won fans over, or you fizzled out on screen and doomed yourself to obscurity. Juday and Wowie were a happy incident of the former. After spending hours together every day, Juday even found herself developing off-screen feelings for her co-star. As if their on-screen Mara Clara romance wasn't enough, Wowie even became Juday's first boyfriend off screen!
 7. Antoinette Taus and Dingdong Dantes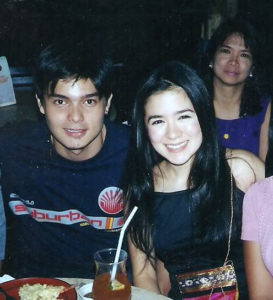 Why They're Goals: From their stints on TGIS to Ana Karenina, these two were insanely kilig-worthy on and off screen. In fact, Dingdong was Antoinette's first boyfriend. They were together for years before Antoinette moved to the States and Dingdong's career skyrocketed into superstardom, but sadly the pair split quietly and Dingdong moved on to marry Marian Rivera.
The two were so good together that they remained friends even after their amicable split. The poster couple for both romantic and platonic love, Dingdong was even rumored to have given Antoinette a heads up years before he proposed to Marian, and Antoinette maintains that he is her most unforgettable ex.
 6. Heart Evangelista and John Prats

Why They're Goals: Boy, did these guys give us serious relationship issues as adults. Not only did our first loves have a hell of a time living up to their story, but even now we still wish that we had that kind of undeniable chemistry with our partners. Beyond the obvious #relationshipgoals, these guys became our peg for all firsts and ever-afters.
5. Angelu de Leon and Bobby Andrews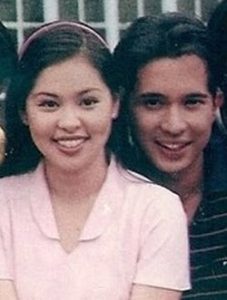 Why They're Goals: No one, and we mean no one, will ever take the place of Wacks and Peachy in our hearts. They were the epitome of 90s kilig on TGIS, playing such relatable characters that they made it difficult for fans to not want a relationship just like theirs.