Running a total of 73 episodes across 8 seasons over 9 years, Game of Thrones defied industry norms and conventional beliefs to become the biggest TV show on the planet – quite the accomplishment for a fantasy TV series based on books mainstream audiences had probably never heard of prior. Packed with brilliant storytelling, characters, lore, and pathos, Game of Thrones drew critical acclaim while enthralling viewers all over the world. The latest season, however, has proven to be divisive. As Episode 6, "The Iron Throne", brings the epic saga to an end, we go into what worked and what didn't in the biggest TV event in recent history.
THE STORY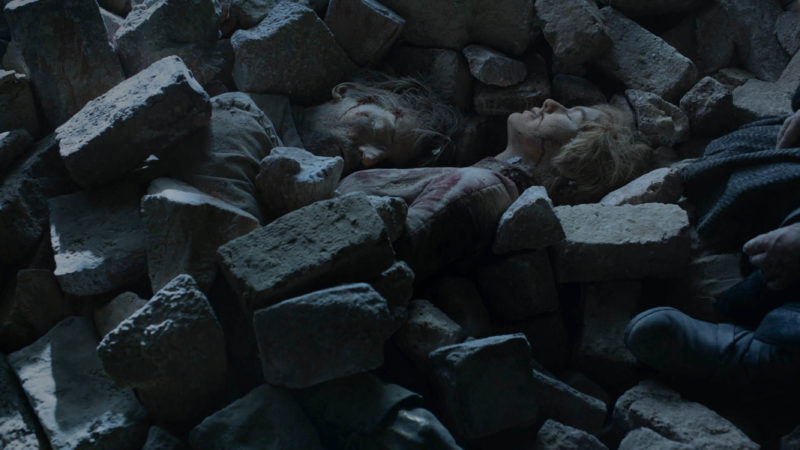 We open on the wreckage of King's Landing, where Daenerys Targaryen has reduced armed opposition and civilians alike to ashes. In the wake of the massacre, her allies make their way through what remains of the once-thriving city, unsure of their next move. Tyrion Lannister makes his way to the catacombs beneath the Red Keep, where he had directed his brother Jaime to evacuate their sister, Cersei. On finding their crushed forms beneath fallen brick and rock, Tyrion breaks down in grief.
On the surface, The Dragon Queen addresses her remaining Unsullied and Dothraki forces, thanking and congratulating them for their loyalty and bravery in "liberating" King's Landing, before pledging to do the same for every country with a sovereign leader. Disgusted, Tyrion resigns as Hand of the Queen, and is subsequently taken prisoner for setting Jaime free in the previous episode.
Jon Snow, having walked through the streets of charred corpses after witnessing the carnage firsthand, is horrified by the proclamation, yet publicly reaffirms his commitment to Dany as his queen. A conversation with the incarcerated Tyrion will drive Jon to action; he may not want the Iron Throne, but he certainly wasn't raised to let a tyrant claim it (even if he is sleeping with and/is or related to said tyrant).
With the Dragon Queen eliminated, the question remains: who will rule the Seven Kingdoms?
THE SMARTEST MAN IN THE ROOM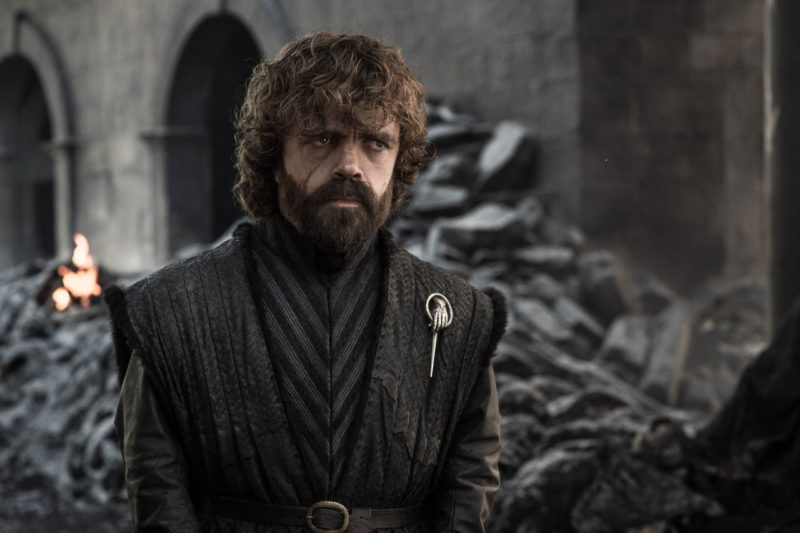 In a season where his character did not make a single correct decision, Tyrion Lannister dominates this episode, both through his character's ultimate influence, and Peter Dinklage's impeccable acting abilities. In lesser hands, Tyrion's dialogue with Jon could have played as the writers' feeble attempt to justify Dany's sudden madness, but, as delivered by Dinklage, it plays as a powerful warning on absolute power's ability to corrupt absolutely.
Dinklage has multiple moments to shine in this episode, putting his all behind every inflection and gesture, as if making up for this season's deficiencies through the sheer power of his performance. For the most part, he succeeds restoring to the character a dignity and intelligence that has been sorely missed of late.
Say what you will about the producers, but don't be surprised if Dinklage picks up a healthy share of trophies in the upcoming award season.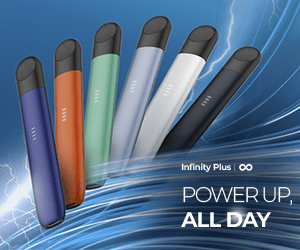 MOTHER OF DRAGONS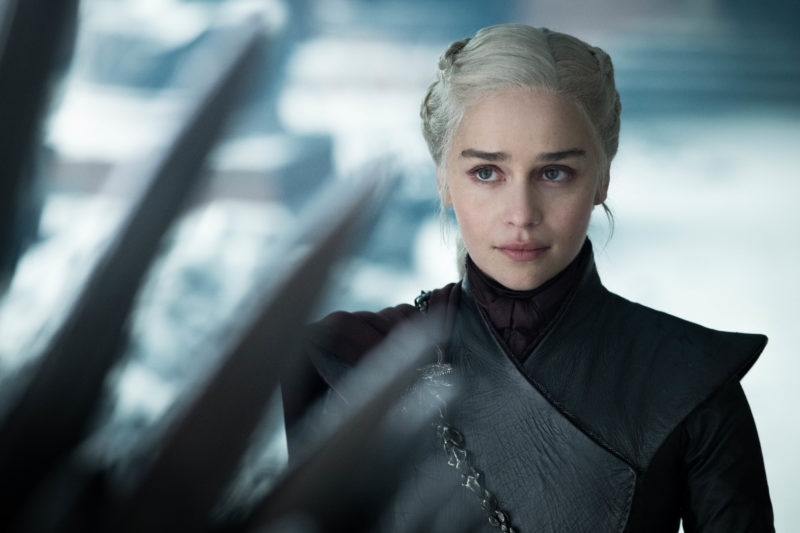 As noted in my review of Episode 5 ("The Bells"), perhaps the most contrived element of this season has been Dany's descent into madness. Here, with no future seasons in the cards, that madness is taken to its logical conclusion so we can get on to the (seemingly) requisite happy ending. On paper, Dany's final scene is appropriately dramatic, but in execution, not so much. It's a good thing, then, that she gets a hell of a scene (complete with framing by dragon-wings) to show her chops before that happens.
Emilia Clarke is appropriately charismatic in rallying her troops, delivering a speech in High Valerian. Her shortcomings as a performer come to the fore in a later intimate sequence with Jon, where their supposed love is meant to provide the scene with its emotional weight. Sadly, as in Season 7, their (non-) chemistry remains about as stimulating as a wet tea biscuit. In a show where characters have come back from the dead, dragons rule the skies, and Mark Addy was married to Lena Headey, the only thing less convincing than Dany's madness remains her love story with the man who knows nothing.
THE QUEENSLAYER (WHO KNOWS NOTHING)

Even with Rob and Rickon's statuses as corpses, Jon Snow remains the most boring of the Stark Siblings, his frowny-faced-cluelessness robbing Dany's denouement of any pathos. Fortunately, the scene is saved by Drogon, who magnificently shows infinitely more emotion and investment here than Kit Harrington at Dany's passing, and our hearts go out to the beast.
Less convincing is Drogon's sudden sentience and grasp of Westeros politics that push him to concentrate his anguish on the kingdom's literal seat of power, as opposed to, say, snacking on the man who murdered his mother, but I digress. Dany's death is a necessary evil to get out of the way, so the episode can get on with what the producers have (seemingly) wanted to get to all season: the endings.
LUCKY STARKS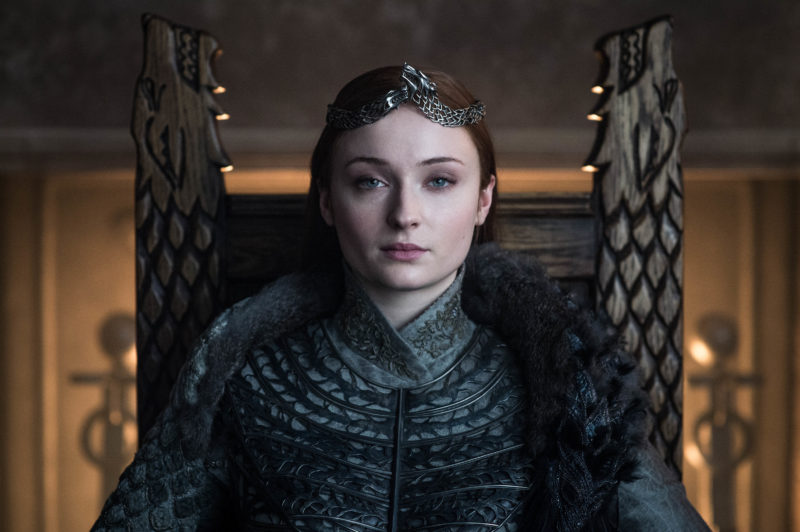 Ever since Bran was revealed to have powers, the Internet ran wild with theories on how his abilities would tie into the war against the Night King or the fall of House Lannister. As it turns out, they didn't, because Bran's greatest contribution to the recent conflicts was to sit in his wheelchair and stare creepily while espousing condescending one-liners. While Tyrion's reasoning for Bran as king is sound, the self-entitled way that Isaac Hempstead Wright chooses to play him here ("Why do you think I came all this way?") only inspires one to punch him in his smug little face.
Faring better on the epilogue front are the Stark sisters, Sansa and Arya. Even if no real reason was presented for the other kingdoms to not claim independence the second Sansa demanded it for the North, her final scene is a wonderful culmination to years of character development. Not only is she sporting one hell of a dress, but sorry, Cersei, THIS is how a beloved queen is welcomed into her court.
As for Arya, the decision to explore the world suits her character well, as there was no way she was going to be a lady in waiting, either at King's Landing or Winterfell.  The glee on her face as she sets sail for the unknown is happiness hard-earned, and it is impossible not to feel for her.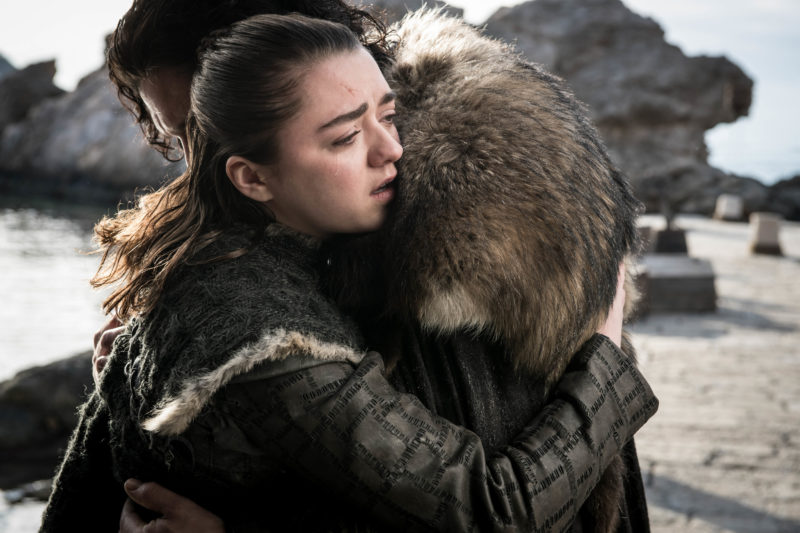 On the lower end of the epilogue spectrum is Jon Snow, whose ability to completely misread situations and screw up every situation he ever walked into yield one last blunder: Despite being tasked by his new king to man the Wall as a member of the Night's Watch, the bastard decides to abandon his post on his first day back and ends up joining the Wildlings on their journey home. For all the drama this idiot has created by his mere existence over the years, this is just outright irresponsible; regardless of the Wall and the Watch having outlived their original purposes of defending the realm against Wights and Wildlings, an order is an order, and Bran would be well within his rights to have him executed for abandoning his post.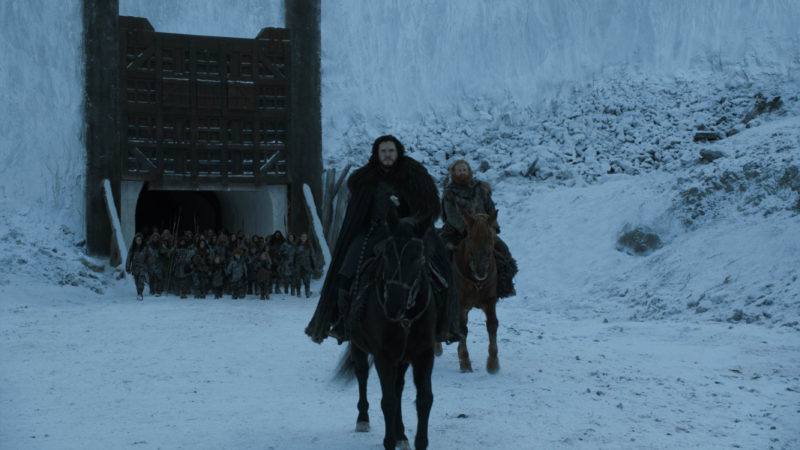 If nothing else, at least Jon he took the time to notice Ghost this time around.
WINNERS AND SINNERS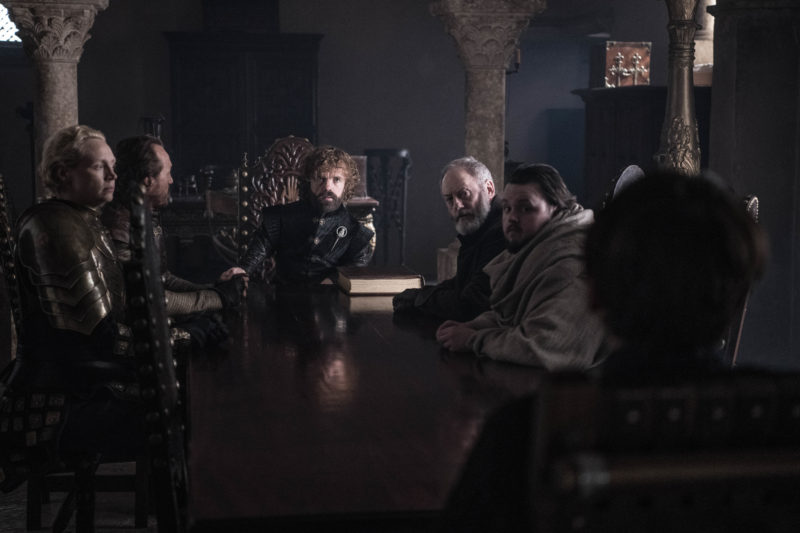 While the Stark siblings' endings are logical progressions of their established arcs, those of the secondary characters' suffer from being blatant attempts at fan service. Make no mistake, it is wonderful, absolutely wonderful, to see our favorite characters come to their respective happy endings, but the rushed nature of the season as a whole does tend to somewhat rob said endings of their significance.
Sure, it's cute seeing Podrick achieve his lifelong dream of becoming a knight, but, given what we've been presented of his character's growth, the title just seems completely unearned. In fact, the same could be said of the majority of this finale; while it is chock full of emotional, striking imagery to drive home the notion that we are witnessing the end of an era, a lot of it feels unearned, given the haphazard means by which we got to this point.
Put simply, it feels like the endings were crafted before any of the recent episodes leading up to them; one feels the difference between (George R. R. Martin) writing to guide characters through natural progressions, versus (the producers) doing increasingly contrived things to get those same characters to a predetermined ending as described by the author (from books yet to be written).
That having been said, the scene with the new ruling council's admin meeting was one of the episode's high points. Was it excessive? Maybe. A bit ridiculous? Definitely. Fan-servicey? Absolutely. While there is probably no way anyone in their right mind would name Bronn the Master of Coin, it is mostly worth it to hear him try prioritizing the reconstruction of brothels over clean drinking water.
THE BOTTOM LINE
In terms of genre scope, influence, and execution, no television program in recent memory has captured the zeitgeist like Game of Thrones. It was a genre that should never have caught on (fantasy!), dealing in topics that probably shouldn't have been so entertaining (politics!), performed by a cast featuring nearly nobody anyone knew (Nikolaj Coster-Waldau?!). And yet, as the years went past, and the characters, plots, and situations evolved, Game of Thrones graduated from TV show, to appointment viewing, to out-and-out phenomenon.
While the producers weren't quite able to stick the landing they needed to deliver independently (after overtaking the books), it is highly doubtful that any fan, even the dissatisfied ones, will regret having joined them on the journey.
As streaming services and entire season binge releases become the norm, it remains to be seen what will take GoT's place on the pop culture landscape, but for those of us who followed the last 8 seasons, the high points easily outweigh the low. While "The Iron Throne" may not have been a great finale, as far as endings go, it wasn't all that bad.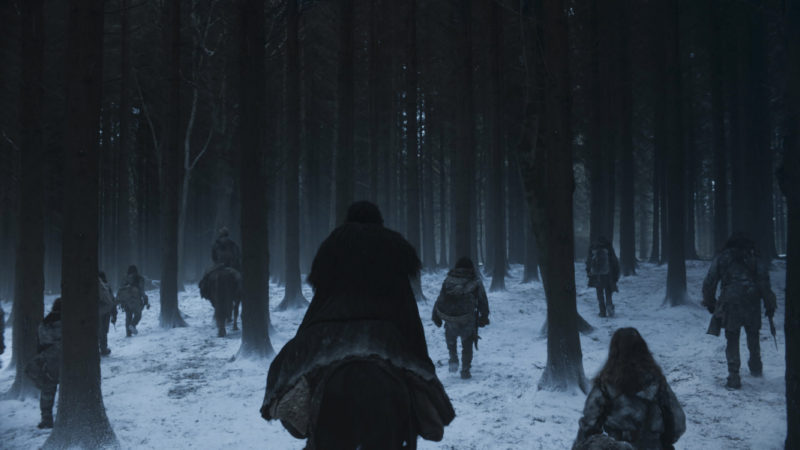 Thanks for the memories.
All images courtesy of HBO
Need to catch up? Check out our dissections of Episode 1, Episode 2, Episode 3, Episode 4, and Episode 5 for all you need to know about the final season of Game of Thrones.