Fire Up the New Year with the Videogames of January 2019
Jan 3, 2019 &nbsp • &nbsp Matthew Arcilla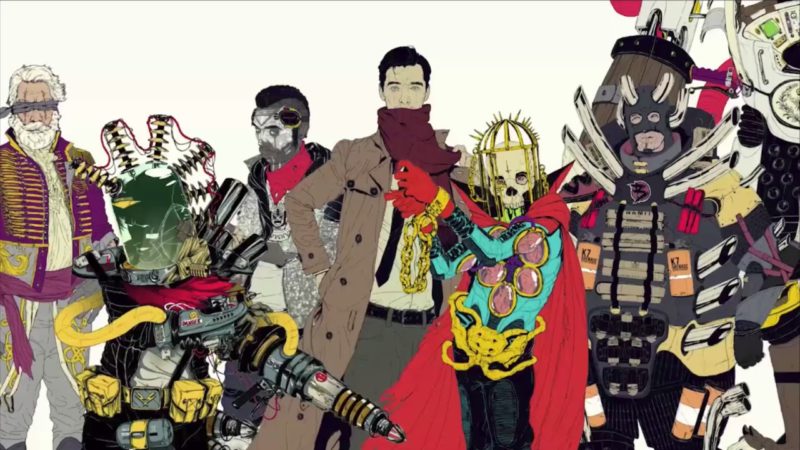 The year has just begun and already it's looking to be filled with great releases. Some of them feel like leftovers originally scheduled for last year pushed into the next. But that's okay, all those games could've been lost over the holidays like tears in the snow or something. Hear are 8 of the best games coming out in January.
Ace Combat 7: Skies Unknown
Releases January 18, 2019 on Xbox One and PlayStation 4; February 1 on Windows PC.
The long-running Ace Combat series takes to the skies once more. As one of the last remaining vanguard of the flight simulation / air combat genre of video games, Ace Combat swoops in with a surprisingly earnest story mode that combines geopolitical intrigue and a thoughtful take on modern warfare technology. Oh and it also promises some of the most detailed aerial combat ever.
Travis Strikes Again: No More Heroes
Releases January 18, 2019 exclusively on the Nintendo Switch
No More Heroes and its sequel No More Heroes 2: Desperate Struggle are cult classics from Grasshopper Manufacture, the eclectic studio behind Lollipop Chainsaw and Killer is Dead. In this sequel, the insouciant Travis Touchdown returns as a weary, disaffected gamer. When he and his rival are zapped into a demonic console, they must fight through all the indie games. Yeah, it's hella weird.
Onimusha: Warlords
Releases January 15, 2019 on Xbox One, Nintendo Switch, Windows PC and PlayStation 4
One of the definitive classics of the PlayStation 2, Onimusha returns to modern consoles with widescreen support, an easy mode, support for analog stick controls and a brand new soundtrack. Relive the combination of tense, measured sword combat, cinematic storytelling and bomb-ass supernatural foes as Samanosuke Akechi, dashing samurai and monster slayer.
YIIK: A Postmodern RPG
Releases January 17, 2019 on Nintendo Switch, PlayStation Vita, Windows PC and PlayStation 4
YIIK (pronounced Y2K) is a Japanese-style RPG for the hipster American set. And that's not a pejorative. Akin to manga created by non-Japanese artists, YIIK mixes minigames and turn-based combat like other JRPG classics in a unique story. Set in 1999, it follows eight strangers investigating the disappearance of a young woman, and set about an adventure filled with mystery and danger.
Life is Strange 2: Episode 2
Releases January 24, 2019 on Windows PC, Xbox One and PlayStation 4
A tale of two brothers, Life is Strange 2 focuses on teenager Sean and younger brother, Daniel, fugitives when a tragic accident changes their lives forever. They head out for Mexico, but life on the road and on the run is dangerous. The series teases a connection with Captain Spirit, the eponymous hero of The Awesome Adventures of Captain Spirit, the free to download prequel to Life Is Strange 2.
The Walking Dead: The Final Season – Episode 3: "Broken Toys"
Releases January 15, 2019 on Nintendo Switch, Xbox One, Windows PC and PlayStation 4
While the AMC TV series circles around on its ninth season with no guaranteed end in sight, it's the story of Clementine in this video game series that is nearing its culmination. As Clementine, you'll be making decisions about who lives and dies, where you go and who to trust as you struggle to survive the never ending zombie apocalypse. No matter what you do, your ward A.J. will remember that.
Kingdom Hearts 3
Releases January 29, 2019 on PlayStation 4 and Xbox One
A full fourteen years is a long time to wait for a videogame saga to conclude. The worlds of Toy Story, Monster, Inc., Big Hero 6 and Pirates of the Carribean and others are torn asunder by the forces of light and darkness in this epic finale. When you're a Kingdom Hearts fan, it seems no wait is too long for this singular combination of Disney nostalgia and JRPG extravaganza.
Resident Evil 2
Releases January 25, 2019 on Xbox One, Windows PC and PlayStation 4
While 2017's Resident Evil VII was a welcome return to excellence for the Resident Evil franchise, some fans still longed for the singular action horror combo that defines the franchise. Enter this remake of Resident Evil 2, which promises to not just remaster the experience but rejigger its mechanics to suit more modern sensibilities and smooth out the story with better writing and performance capture.
Which of these are you getting? Tell us below!