Got international travel plans soon? You might want to get your vaccine certificate. As the world slowly opens up, travel for leisure is once again a possibility and Filipinos can freely hop on a plane to an international destination soon. That is if they're fully vaccinated. If you're not sure what the vaccine certificate is for, read on!
What is a vaccine certificate?
Simply put, a vaccine certificate serves as evidence that you've been immunized with two doses of any vaccine. They are different from vaccination cards, the physical ones marked at vaccination sites. While both are proof that you've been inoculated, the cards are for domestic travel while the certificates are digital and allow for travel to other countries.
When can I get one?
The Department of Information and Communications Technology (DICT) said that by August 2021, fully vaxxed Filipinos can finally be issued a vaccine certificate. So if you've got international travel plans beyond August, all you have to do is request your own certificate.
DICT Undersecretary Manny Caintic said that the Philippines' Vaccine Information Management System was created in partnership with the World Health Organization (WHO) and International Air Transport Association. This means it's recognized by many countries.
Your Biggest COVID-19 Vaccine Questions, Answered | #8ListAsks Part 1
Your Biggest COVID-19 Vaccine Questions, Answered | #8ListAsks Part 1
Matthew Balicudiong | Jun 15, 2021
Here's how to apply for your Vaccine Certificate of Record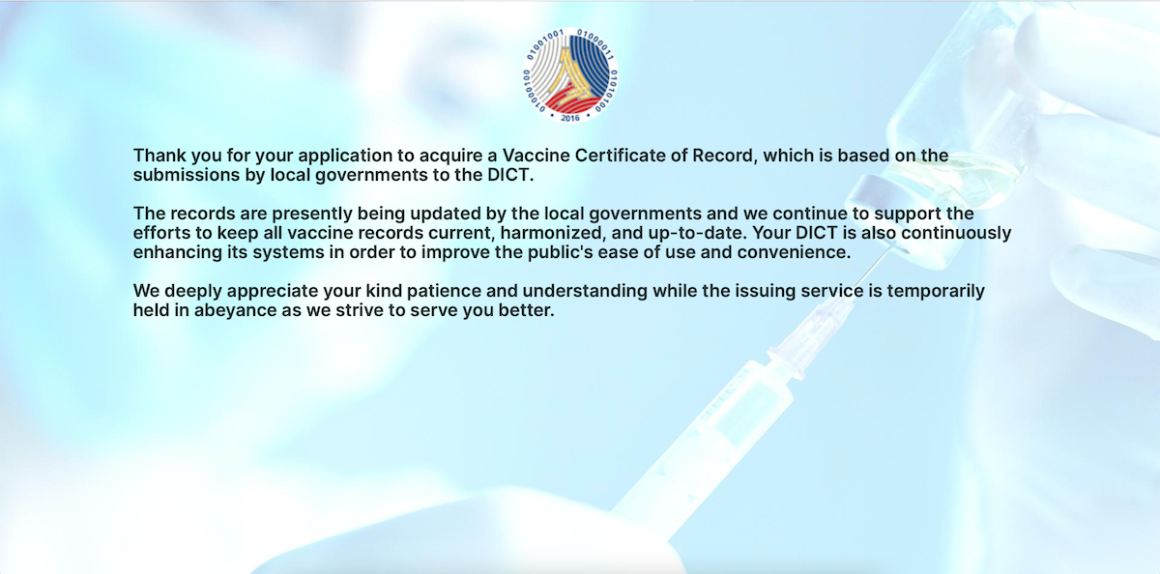 You've got two options: (1) visit the Certificate of Vaccination Record Portal of the DICT or (2) go to your City Health Officer for your LGU which administered your last dose of vaccine. However, DICT has temporarily suspended the submission of requests as they update the records of all vaccinated Filipinos. They are currently waiting until July 31, 2021, for all LGUs to submit the names of all fully vaccinated individuals.
But once the system is made available, here are the steps for request submission:
Step One: Read and accept the DICT Data Privacy Policy

Step Two: Fill out your information such as complete name, email address, address on vaccine record, and contact number

If you're vaccinated but your record isn't showing, you should go for Option 2: visiting the City Health Officer of your LGU vaccination site. This problem will be common for the first few weeks since the vaccine certificate is a new policy.
DICT has also made sure that the vaccine certificate is tamper-proof since it will come with a unique QR code.
How can you use it for travel?
According to Resolution 119, the latest mandate by the Inter-Agency Task Force for the Management of Emerging Infectious Diseases (IATF-EID), fully vaccinated individuals who wish to travel outside of the Philippines need a:
Verified vaccination card to be presented before boarding, and;
Vaccination certificate issued by the DICT as proof that they got two doses of the vaccine
Once those are secure, you're good to go. Of course, you still have to check the COVID-19 safety rules of the country you're trying to enter so you can comply with their travel requirement documents too.
Vaccine Tourism: Is It Ethical to Go Abroad to Get Your Vaccine Jab?
Vaccine Tourism: Is It Ethical to Go Abroad to Get Your Vaccine Jab?
Alex Alvarez | Jun 14, 2021
What are the benefits of getting a vaccine certificate?
View this post on Instagram
Aside from proving you've got a full dose of the vaccine, certificates and cards come with their own conveniences. 
For one, with the certificate, Filipinos returning to the Philippines will only be required a 7-day quarantine instead of the usual 14 days. If they show no symptoms during those days, they won't have to do an RT-PCR test.
Filipinos with vaccination cards can also get discounts on food, ease of access to establishments, and freedom to book flights. 
These benefits prove that the vaccine is not just for your health and safety. It's also a key to bringing back what we had pre-pandemic — a normal world.
What if you didn't get your vaccine through your LGU?
Aside from government-offered free vaccines, some private companies have also provided doses for their employees. Don't worry, if you're one of those, you can still get your vaccination certificate. All your company has to do is submit their list of vaccinated employees to the LGU where they got the jab.
For example, Caintic says that if you get vaccinated in BGC, Taguig, the company has to send the list to the Taguig LGU so their employees can get vaccination certificates.
Over 1M Filipinos Missed Their 2nd Vaccine Dose; Here's Why You Shouldn't Skip Your 2nd Jab
Over 1M Filipinos Missed Their 2nd Vaccine Dose; Here's Why You Shouldn't Skip Your 2nd Jab
Meryl Medel | Jun 04, 2021
See why it's important to get that jab?
The Philippines to date has vaccinated almost
3.5 million Filipinos
. Compare that to the 109 million total population of our country and we've clearly got a long way to go. So if you haven't had your jab yet, what are you waiting for? Protect your health and the health of everyone around you. Help bring the world back to normal!
Check us out on Facebook and Instagram and be the first to know about the latest news and coolest trends!