After Jake Gyllenhaal got roasted online when Taylor Swift released Red (Taylor's Version), Swifties are preparing to do the same for John Mayer in anticipation of Speak Now (Taylor's Version). Both men are Swift's exes and the inspiration for some of her best and most heartwrenching songs. But what started as a fandom joke has quickly turned into cyberbullying and death threats. What happened?
Swifties attack John Mayer's DMs
In today's segment on Fans That Went Overboard, a 15-year-old Swiftie seems to be regretting her decision to DM John Mayer a death threat. Screenshots of her conversation with the singer went around the Internet effectively snapping fans out of their hate trance (misplaced adoration of Swift) and back to reality (being a decent human being).
"F**k yourself you ugly b***h i hope you choke on something," said the IG Swiftie, ending her lovely message with a heart. A few minutes later, she followed up with "Answer me you b***h."
And Mayer did.
Taylor Swift's Exes Ranked, Based on the Romantic to Scathing Lyrics She Wrote About Them
Taylor Swift's Exes Ranked, Based on the Romantic to Scathing Lyrics She Wrote About Them
Kyzia Maramara | Nov 16, 2021
John Mayer is "curious"
Our secondhand embarrassment is real but points to Mayer for responding to the ridiculous message and putting obsessive fans in their place. He replied to the IG Swiftie and confided that for the past couple of days, he's been getting so many death threats and hate messages. He picked her DM, out of the many hate DMs he's received, to ask her if she genuinely wanted him dead.
"OMG WHAT i don't want you to DIE," said the IG Swiftie, doing a complete 180 from her last message. She immediately apologized and explained that the hate was a dare from a friend, something they didn't think Mayer would even read. Okay. Bullying someone because "they won't know anyway" is in now?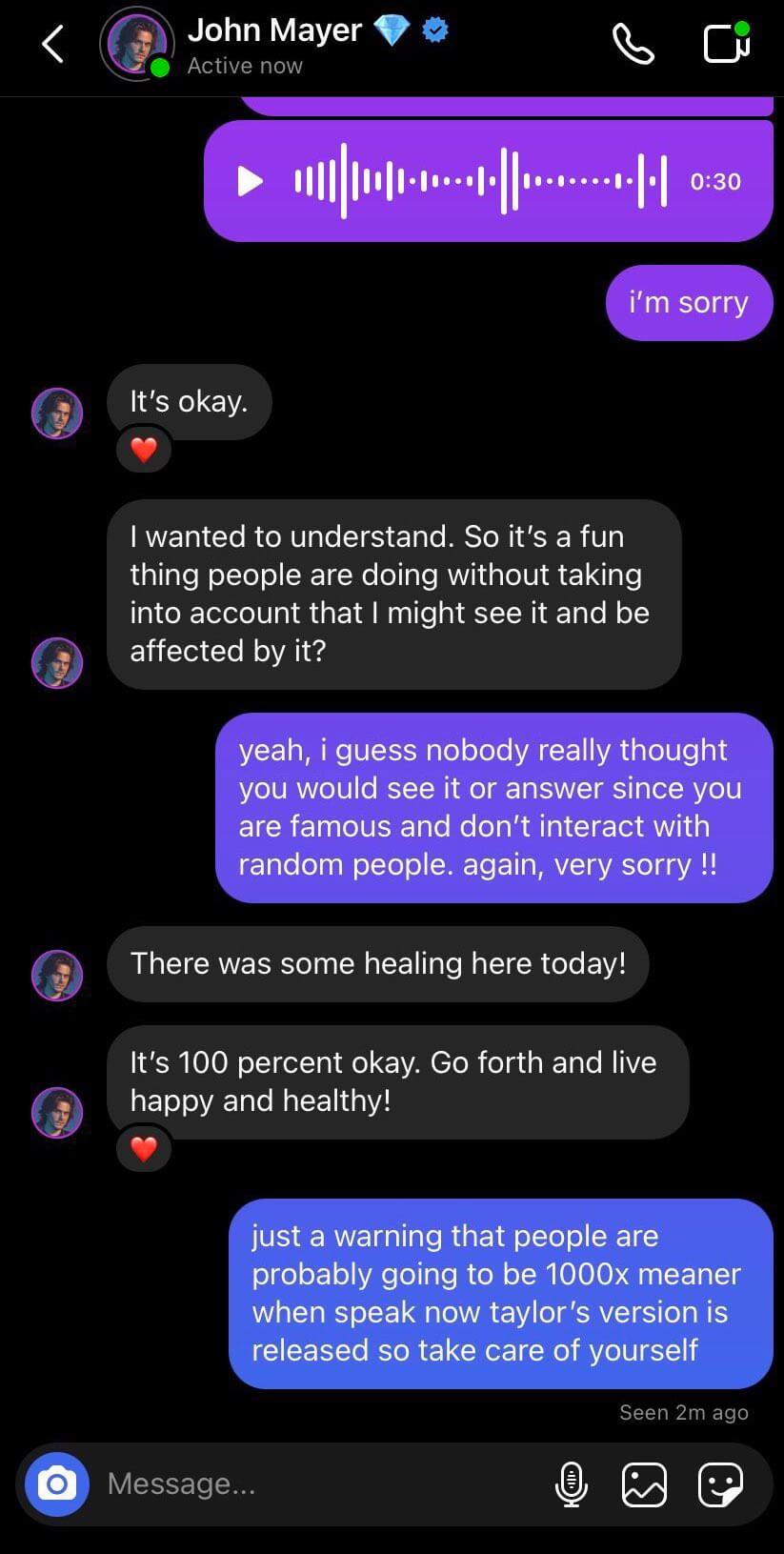 Mayer was cool as a cucumber assuring IG Swiftie that "it's okay." But he also passive-aggressively clarified if their idea of "fun" was actually sending hate messages "without taking into account that I might see it and be affected by it?"
Gotta hand it to stars, they have A LOT to deal with.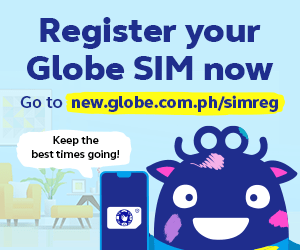 ICYMI, John Mayer and Taylor Swift are ex-lovers
If you're confused about the Swift-Mayer connection, the two singers actually dated in the past and their relationship in 2009 is a crucial part of pop culture history. Not only did it give us a collab ("Half of My Heart"), but the failed romance was also the inspiration for one of Swift's most heartbreaking tracks. She was only 19 years old when they dated, he was already 32. While neither camp confirmed the relationship or spoke up about its ending, what happened the following years speaks for itself.
Taylor Swift ~Might~ Have Written 'All Too Well' During Her Speak Now Tour's PH Stop
Taylor Swift ~Might~ Have Written 'All Too Well' During Her Speak Now Tour's PH Stop
Meryl Medel | Nov 15, 2021
She wrote a song about him
And speaking of speaking for itself, Taylor released her third studio album, Speak Now in 2010. It famously contained tracks that referenced her failed relationships with famous exes Joe Jonas and Taylor Lautner. And yes, John too. Swifties ate up the almost 7-minute song "Dear John," which had lyrics that go: "Dear John, I see it all, now it was wrong / Don't you think nineteen is too young / To be played by your dark twisted games, when I loved you so? / I should've known."
In 2012, John actually spoke up about the song, something Taylor's exes rarely do. He said in a Rolling Stones interview that it was 'cheap songwriting' and it humiliated him and made him feel terrible. Apparently, he had no idea Taylor felt that way.
But instead of burying the hatchet or apologizing or even acknowledging that he, a grown man, did a teenager wrong, John went on to write his song. "Paper Doll" was released in 2013 with many claiming that it was his response to "Dear John."
"You're like 22 girls in one / And none of them know what they're runnin' from" is speculated to be in reference to Taylor's famous song, "22." "Someone's gonna paint you another sky" could be a reply to the "Dear John" lyric "You paint me a blue sky / Then go back and turn it to gray."
John Mayer shades Taylor Swift
Even if "Paper Doll" didn't exist, it was obvious that Taylor and John didn't have a good breakup. Throughout the years, John would perpetually mention the singer, always with hints of sarcasm. Back in 2016, in a now-deleted tweet, he said: "Tuesday, December 13, may be the lamest day of the year, conceptually." ICYDK, that's Taylor's birthday. And then in 2019, he also commented on the lyrics to Taylor's "Lover" while on an Instagram live with Shawn Mendes. Mayer went on a mini rant about "keeping the Christmas lights on 'til January" saying that he normally takes his down on December 29. Huh.
And then Taylor Swift starts to rerecord her songs
So now we come down to this: Taylor is dropping her versions of her old albums to claim ownership of her masters (another topic for another day). We've only got Taylor's Versions of Fearless and Red so far with Speak Now, 1989, and Reputation left. It's fun listening to her versions and vault tracks, it's like reliving all over again everything that happened on the year she released them.
The re-recording of her 2012 album Red, for example, has a track famous for being written about her brief relationship with Jake Gyllenhaal. A relationship that everyone certainly remembered clear as day last week. If the lyrics of "All Too Well (10 Minute Version) (Taylor's Version)" are to be interpreted, Gyllenhaal gaslit her a couple of times and didn't show up to her 21st birthday party. It made him the Swifties' Public Enemy #1 again, after a decade of peace.
Now everyone's waiting for Speak Now
john mayer after he saw what happened to jake gyllenhaal #RedTaylorsVersion pic.twitter.com/VU8MVGoqeC

— kadriye (@tayspetsch) November 12, 2021
If Gyllenhaal is Public Enemy #1 last week, everyone's looking at Mayer as Public Enemy #2. Why? Because the whole fandom is anticipating Speak Now (Taylor's Version) and reopening wounds of yesteryear. Mostly because everyone wants to cry in the shower with "Dear John" in the background. The consensus is this: Gyllenhaal was a bad ex but Mayer was even worse.
But get this: You can still support your favorite artist while being a decent human
i know we hate john mayer the idiot but DEATH THREATS ? lets not embarrass taylor please 😭 pic.twitter.com/osRKp0251l

— m🧣 the very first night !!! (@welcometoneyork) November 14, 2021
Instead of celebrating that Swift is one album closer to owning all her masters, intense fans chose to take it a little too far. Like we said, Gyllenhaal was dragged back into the controversy but this time the vehemence was amped up. This time around, memes exist. The first few jabs were funny in an it's-all-in-the-past-we-can-laugh-about-it-now kind of way. But then it suddenly became too much, condemning someone for what they did a decade ago.
We get it. Both Gyllenhaal and Mayer broke the Artist of the Decade's heart. According to our ancestors, guys with names starting with a "J" tend to do that. They weren't exactly angels, they were dudes that messed with her heart, but that doesn't give a horde of 15-year-olds a valid reason to cyberbully them and send death threats. Learn to draw the line. Like one Swiftie said, let's not embarrass Taylor, please.
Check us out on Facebook, Instagram, Twitter, and YouTube, and be the first to know about the latest news and coolest trends!