Cavite governor Jonvic Remulla becomes a hot topic online after he deleted a Twitter survey on presidential bets for the 2022 elections. Days later, he posts a different survey on Facebook that favored a presidential aspirant he believes is "destined" to win in 2022. Remulla's recent actions didn't sit well with many netizens and they weren't afraid to call him out. What happened?
Jonvic Remulla holds a Twitter poll…
Last January 11,  Remulla posted an informal survey on Twitter to find out which presidential candidate his followers are voting for. Online polls like these aren't new. Last October, Manila Bulletin held one for their Facebook and Twitter followers and their website visitors. Spoiler alert: Vice President Leni Robredo won both Twitter and website polls while Ferdinand "Bongbong" Marcos Jr. won on Facebook. But these aren't accurate snapshots of the country's preference. And like with other polls of the same nature, Remulla's started getting traction online.
Marcos-Era Massacres You Might Not Have Learned About in School
Marcos-Era Massacres You Might Not Have Learned About in School
Cristina Morales | Feb 25, 2021
…and then he deletes it

However, soon after the poll gained traction, Remulla proceeded to delete it. It still had 20 hours left for people to vote and had clocked in over 20k votes already. Luckily, some vigilant netizens took a screenshot of the results which showed how VP Leni was winning by a mile with 81% of the votes. Other presidential bets Ping Lacson, Manny Pacquiao, and Marcos Jr. got 7%, 1%, and 11% each respectively.
In an interview with Rappler, Remulla said that his staff "accidentally put it in the wrong setting" and that the deletion was an "honest mistake." However, he didn't repost the poll.
Jonvic Remulla takes to Facebook
Earlier today, Remulla posted yet another survey but this time, on Facebook. And this time, it wasn't an online poll — it was an internal survey with 1,600 respondents in Cavite which he said was conducted last December 1-5. The results were as follows:
BBM 62%
Ping Lacson 16%
Leni Robredo 9%
Isko 6%
Pacquiao 4%
"Surveys are a snapshot in time," wrote Remulla. "If the election was held today? BBM will win in Cavite by a landslide. I believe he will win the Presidency in 2022. It's his time. It's his destiny."
The exact same Facebook post was also reposted on the official Facebook page of the Provincial Government of Cavite.
8 Reasons Why Marcos is a Hero
8 Reasons Why Marcos is a Hero
8List | Sep 11, 2017
The whole thing left many netizens dismayed


Remulla's recent actions had many netizens shaking their heads in dismay. "Gov your Twitter survey last night says otherwise — out of 20,466 who participated, 16,577 voted for Leni. If the election was held today? Leni will win in Cavite by a landslide," one comment read.  "Caviteños are independent thinkers and intelligent voters. We will definitely not vote for robbers, tax evaders, and incompetent politicians."


The numbers don't add up


Many also pointed out how the two surveys clearly shouldn't be compared to each other. One was done in early December with a sample size that wasn't even 1% of the Cavite population while the other was conducted a few days ago with more than 20k respondents. "Kayo na po humusga based sa sample size at kung alin ang mas recent," one netizen said. "Magkita-kita na lang po tayo sa Mayo 9 at magkaalaman kung sino ang isusulat namin sa balota."
Some even challenged the governor to share his standards for supporting a politician. Is it someone who leads the survey or someone who works with integrity?

Let's Try To Answer 8 Questions About The Marcos Regime That You Were Too Afraid To Ask
Let's Try To Answer 8 Questions About The Marcos Regime That You Were Too Afraid To Ask
Trisha Arboleda | Sep 21, 2019
Caviteños protest

Caviteños also flooded the comments section to debunk the Marcos Jr. "landslide" claims in the vote-rich city. Many believe that the results of the Twitter poll were more accurate. VP Leni is the majority's choice. "Remulla" and "Cavite" also trended on Twitter with the netizens posting the same sentiments.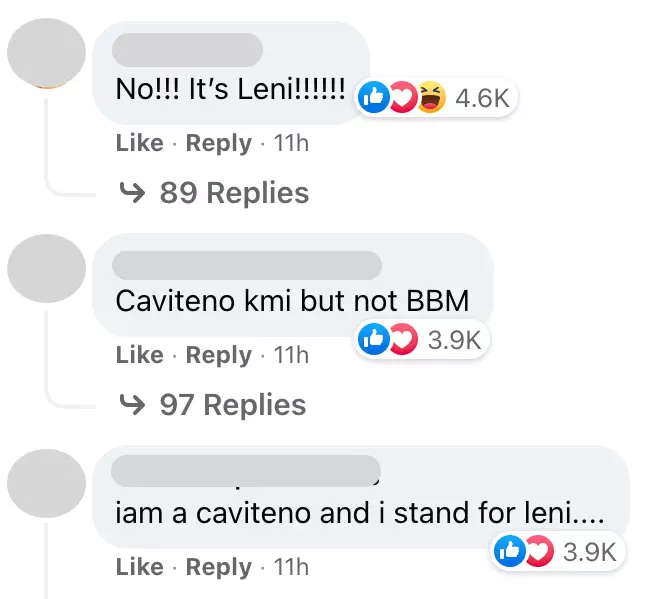 Netizens ask Remulla to focus on Cavite instead
Some netizens chose to look beyond his surveys and witty Twitter posts and instead called out Remulla, asking him to focus on doing his job. One netizen asked the Cavite governor to look into the recent events in Brgy. Patungan, Maragondon, Cavite where the police allegedly used violence against residents protesting the demolition of their community. (As of writing, Remulla is yet to address the issue.) Others told him to prioritize the city's COVID response by providing free swab testing and  helping those with severe COVID cases.
What the Philippine 2022 presidential candidates are busy with at the moment
VP Leni and her team are responding to the overwhelming surge in COVID-19 cases in the country. The
Office of the Vice President's Bayanihan E-Konsulta
continues to screen, help, and send relief for Filipinos infected with the virus. Filipinos can also get free antigen testing from Swab Cabs in the city. VP Leni has also recently come to the aid of Typhoon Odette victims in badly-hit Visayas and Mindanao areas.
Presidential aspirant Manila Mayor Isko Moreno recently shared photos of the new 10-story Ospital ng Maynila that's near completion and operation. This was after he unveiled the
new Manila Zoological and Botanical Garden
in December. As for his COVID-19 response for Manilans, vaccination sites and testing centers (some drive-thru) are in full swing.
Thank you for those who have answered our call for help after the devastation of Typhoon Odette. I appeal anew for your generosity. Many parts are still dark, people are hungry, and rehabilitation is yet to begin. We need your help. Please check my bio for more info.

— Manny Pacquiao (@MannyPacquiao) January 9, 2022
Senator Manny Pacquiao continues to appeal to the government on behalf of the yet-to-be-vaccinated Filipinos. The government is seriously considering mandatory jabs as well as reducing the mobility of unvaccinated in public. Last December, he canceled his birthday celebration to provide relief and cash aid for the victims of Typhoon Odette.
As for Senator Ping Lacson, the presidential aspirant has recently recovered from COVID-19. He is currently fighting for the regularization of public transport workers, something he said will be a "to-do list" if he wins the presidency. And since the election is just around the corner, he has also
appealed
to the public to look at a candidate's track record before casting their votes.
Ferdinand Marcos Jr. has also provided aid to Typhoon Odette victims gathering
over P38-M
with the help of Vice Presidential bet Davao Mayor Sara Duterte. Recently, Marcos Jr. was caught in a "Zoomicron" controversy after he skipped an online hearing on disqualification cases against him in fear of "spreading the virus." Marcos Jr.'s camp cited he was "too sick" to attend but netizens found out he
accommodated two radio guestings
the day prior.
Check us out on Facebook, Instagram, Twitter, and YouTube, and be the first to know about the latest news and coolest trends!