Yesterday, Julia Barretto posted an official statement in response to allegations about her hand in breaking up three-year couple Bea Alonzo and Gerald Anderson, as well as allegations about her infidelity to ex-boyfriend Joshua Garcia. Let's break down the recent development of this circus.
What Julia did wasn't brave
View this post on Instagram
It was an attempt to redirect the discussion towards how she felt. She didn't confirm nor deny her involvement with Gerald, but just straight up accused Bea of sending the Internet after her. This wasn't her speaking up – this was her saving face.
But it was definitely messy, incoherent, and inconsiderate
Makalat is one way of putting it. Julia's statement was full of sentiments that preached to some kind of moral council. She mentioned things like refusing to be Bea's victim (when clearly, in this situation, Bea owns that role hands-down), social media responsibility (when Bea never even posted anything about her), and an appeal to uplifting women (more on this later). Also, can we not forget that she outed Josh on national TV when they had their own cheating scandal?
I mean, using that picture to preempt your statement? Girl, really?
Bea is 100% allowed to feel and express her heartbreak
Among the things that Julia got wrong is her policing on how Bea should be reacting. She definitely has a point about Bea having a platform and how one should be responsible in using it, but… you know… Bea didn't really use it to drive a "culture of hate". It was shady for sure, but I wouldn't say it was a vendetta against Julia.
I bet you would have been that dramatic online when your three-year boyfriend ghosted you and got caught in a cheating scandal in the same month, too. Bea's just being human, a thing that Julia would like to be acknowledged as as well, and yet, here we are.
Julia's framing women empowerment in a flawed way
So, are we really pitting women against each other? In 2019? In this economy?
Julia mentions that Bea could have used her platform to "promote strength and grace in women", when all she means is that she's at a disadvantage and the sisterhood card is an easy play. Let this be a cautionary tale of basic human decency, and not one of selective feminism.

Image source: CNN Philippines
Instead, please take cues from our lord, savior, and president, Nadine Lustre.
The only team we should be on is the one against Gerald
In the daily fiasco of men walking all over women, we usually end up placing bets on our chosen stallion, or just want to watch everything burn. Through her statement, Julia just feeds that frenzy by creating a statement that is basically blaming Bea for the mess that Gerald put both of them in.
Whose career is effectively getting dragged through the mud? Not the guy, that's for sure. No one loves to hate women more than everyone.
Gretchen just needs to stop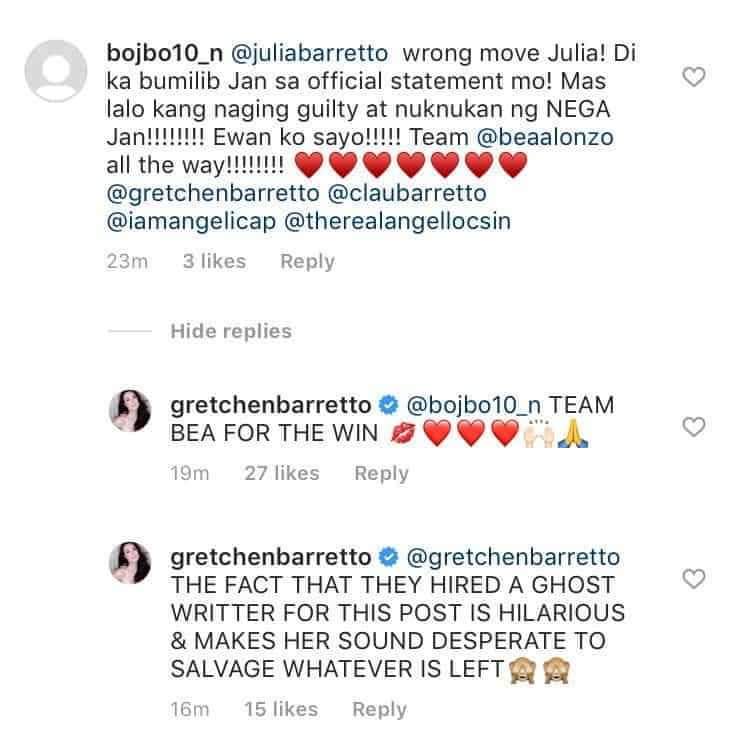 Screenshot taken from Instagram
Probably the nastiest of those watching from the cheap seats is Julia's own aunt, Gretchen. She just keeps finding a way to insert herself into the narrative to reignite some kind of Barretto feud (as Barrettos do) in probably an attempt to stay relevant.
A while back, she also sent Bea a bouquet of flowers.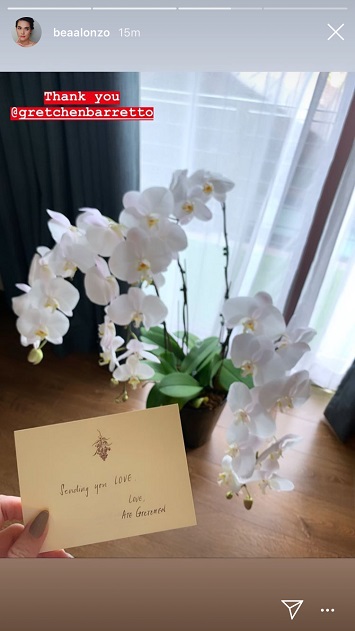 Keep it classy, Tita Gretch!
We're blowing things way out of proportion
We absolutely love it when teleseryes come to life. Perhaps we're incredibly bored with our lives, and that's why our national pastime is gossiping over other people's lives, but seriously, we shouldn't really care about who fucks who. In the publicization of our idols' private lives, we feel a justified voyeurism to the issues that they face in their lives (emphasis on their, if you didn't catch it yet).
No one cares about what you think of Julia's statement, or how vehemently you condemn cheaters. Julia nor Bea don't need you to fight for them – they don't even know you exist. Don't you have work to do or something?
Julia was wrong, but she's also just 22
View this post on Instagram
Everything that Julia did was no doubt immature, but let me ask you this, what were you doing when you were 22? Probably something stupid, too, right? Mistakes are a part of growing up, which is something that we all have to do.
Let's let Julia breathe. No matter how possibly wrong she was, she definitely does not deserve the hate she's getting from people who spend too much time on the Internet.
*The views and opinions expressed in this article are solely those of the original author. These views and opinions do not necessarily represent those of the 8List.ph.
How do you feel about the scandal? Share it with us below!