The third Jurassic World film (sixth in the overall "Jurassic" series) proudly unites the casts of both 2015's titular reboot with the stars of the beloved 1993 original. Directed by Colin Trevorrow (Safety Not Guaranteed), Dominion promises a grand finale to the series, but can it deliver on 30 years of expectations?
It follows up on a classic
Released in 1993, Jurassic Park quickly became one of the biggest event movies of all time, powered by groundbreaking CGI from George Lucas's Industrial Light & Magic (Star Wars, Avengers Endgame), and animatronic effects from Stan Winston Studio (Terminator 2, Aliens) that brought genetically-engineered dinosaurs to life. Directed by Steven Spielberg (West Side Story, Schindler's List, Jaws, E.T.) at his blockbuster peak, the film eschewed the source novel's (by Michael Crichton) overt cynicism, anchoring the innovative thrills with awe and wonder.
While the sequels (1997's The Lost World, and 2001's Jurassic Park III) grew increasingly inferior, the franchise was resurrected with 2015's enjoyable Jurassic World. Building on the original storyline via a (mostly-)new cast of characters, that reboot was followed by 2018's massively misguided Fallen Kingdom, which in turn yielded this year's Jurassic World: Dominion.
The story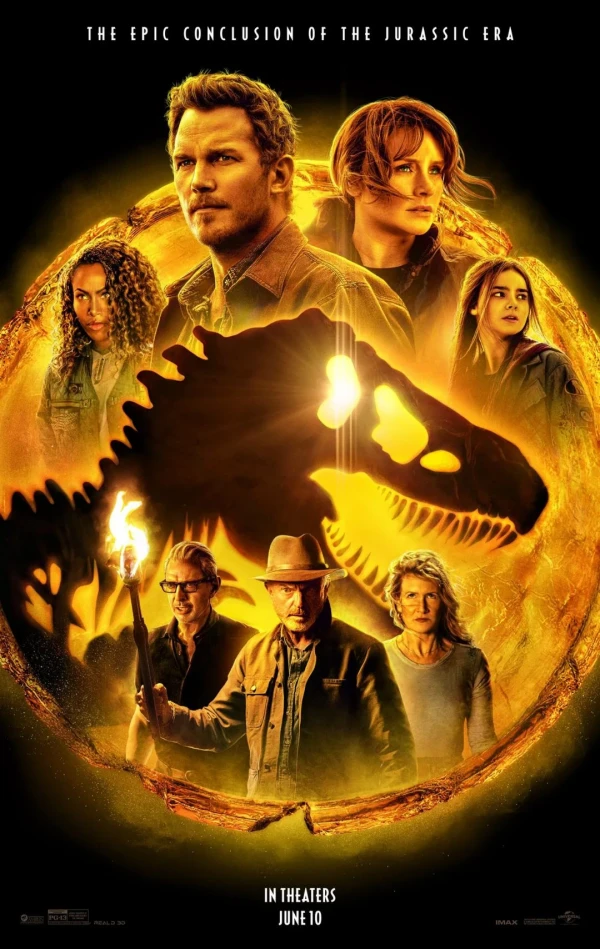 Dominion picks up where Fallen Kingdom left off, with the decimated Jurassic World's dinosaurs scattered across North America after escaping an international auction that had them being sold off to terrorists. That escape also saw Owen (Chris Pratt, Guardians of the Galaxy) and Claire (Bryce Dallas Howard, Rocketman) fleeing with Maisie Lockwood (Isabella Sermon), the human clone of one of the scientists behind Jurassic Park.
When poachers kidnap Maisie and the offspring of Owen's trained velociraptor Blue, he and Claire team up with their former colleagues (played by Detective Pikachu's Justice Smith and Lupin's Omar Sy) who've apparently parlayed being chased by dinosaurs into careers with the CIA.
Coincidences, crops, and old characters
While Claire and Owen embark on a faux-Bourne adventure, legacy characters Ellie Sattler (Laura Dern, The Last Jedi), Alan Grant (Sam Neil, Memoirs of an Invisible Man), and Ian Malcolm (Jeff Goldblum, Thor: Ragnarok) search for proof that genetic research firm BioSyn is behind a plague of mutant locusts wreaking havoc on American wheat fields. By coincidence, BioSyn has been tasked by the U.S. government to relocate the aforementioned dinosaurs to a biological preserve. Ironically, BioSyn's obviously evil CEO Lewis Dodgson (Campbell Scott, The Amazing Spider-Man), is a character we last saw in 1993, paying off Dennis Nedry (Wayne Knight, Space Jam, Seinfeld) to steal dinosaur embryos from Jurassic Park!
Eventually, everyone ends up at BioSyn's dinosaur relocation site, where Jurassic casts old and new fight to stay alive, while Dodgson attempts to destroy the evidence of his mutant locusts.
Everything, everywhere, all at once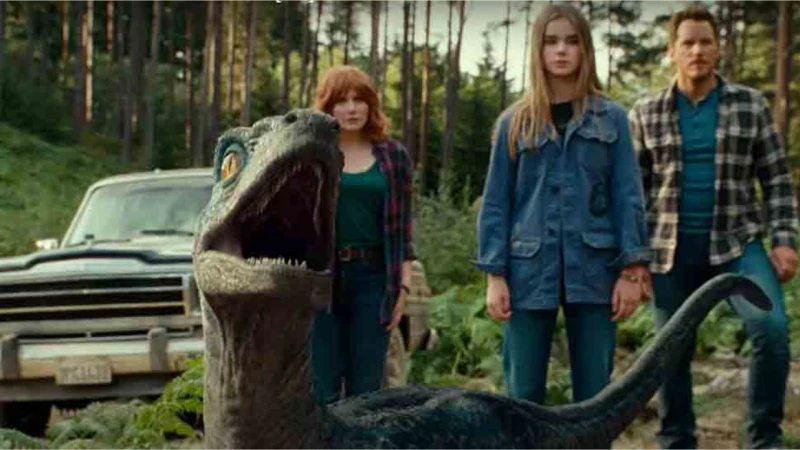 If it sounds like a lot to take in, it is. Almost the entire first hour is spent setting up so many contrivances and cringey callbacks that The Matrix Resurrections looks almost masterful by comparison. Whereas recent hits like Top Gun: Maverick and Ghostbusters: Afterlife have proven how well nostalgia can be used to push new narratives, Dominion is here to show how very, very wrong such productions can go.
Clocking in at an interminable two-and-a-half hours, the presence of supermodel mercenaries, parkour velociraptors, or (literal) flaming moths can't make up for the fact that Dominion's story is all over the place. Even the main selling point of having the old and new casts interact (along with nearly every surviving character with a speaking line since 1993) is robbed of any emotional resonance due to the narrative hoops the film jumps through to achieve it.
Misplaced priorities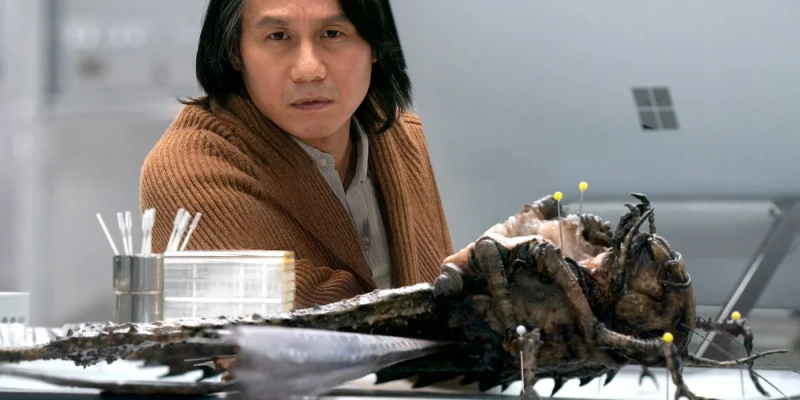 In a case of misplaced priorities, the filmmakers hilariously continue to assume that audiences needed complicated justifications for seeing humans being chased and/or eaten by prehistoric creatures. By the time we get to dinosaurs chasing humans in the wilderness, nearly all of it — save for a scene on ice and a nail-biting sequence of Claire immersing herself in a swamp — are things we've seen before, minus anything resembling fun or spectacle. Howard does what she can with the anemic script, while the best thing one can say about Pratt is that he's also here.
While the original cast is present, their storyline is superfluous to the point of inanity. While the notion of bioengineered pestilence is intriguing in and of itself, it only exists in the film as an excuse to bring in Neil, Dern, and Goldblum. Sure, it's fun to see them together again, but only Dern appears to know what kind of film she's in, Neil just looks befuddled, and Goldblum falls back on playing the meme version of himself. With their participation representing the lowest form of nostalgia bait, it makes Goldblum's single Fallen Kingdom scene (which is featured in every one of that film's trailers) seem revelatory.
Regardless of what one expected from this film, it's a pretty safe bet that killer bugs weren't anywhere on the list, but one supposes that anything goes in the absence of good storytelling. B.D. Wong's (Mulan) immoral geneticist Henry Wu returns, somehow convinced that his greatest sin was creating genetically modified locusts, going so far as arranging Maisie's kidnapping in hopes of using her DNA to kill them.
The best stuff isn't even in the (main) movie

Like Fallen Kingdom before it, the filmmakers relegate their most compelling footage — of dinosaurs interacting with the modern world — to Dominion's closing montage and a pair of online shorts. Set to a sentimental score from composer Michael Giacchino (No Way Home, Superman Returns, Star Trek), the montage's images are simultaneously beautiful and infuriating for being pushed to the absolute end of the movie we just sat through. Accompanied by a pseudo-philosophical closing narration belying the film's utter lack of depth, the squandered potential is staggering.
So, while dinosaurs rampage across suburbs and city streets offscreen, we're left with Sattler and Grant committing corporate espionage.
The online shorts are better than the movie
Adding insult to injury, Universal released a pair of rather enjoyable short films to drive hype for the film. The first is Prologue, a five-minute piece originally created to open the main film, beginning in the dinosaurs' heyday before cutting to a t-rex in the present. Reverent and lyrical, Prologue gives us a taste of the awe and wonder that Dominion sorely lacks.
The second film, Battle at Big Rock shows us what happens when a family camping trip goes awry, care of a terrifying Allosaurus.
The bottom line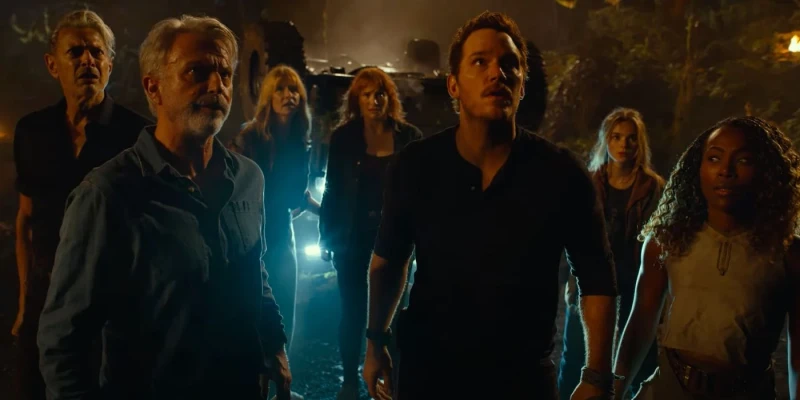 Despite no shortage of recent legacy sequels to show them how it's done, Jurassic World: Dominion's filmmakers have created an incoherent, overstuffed attempt at fanservice that only succeeds in failing at everything it set out to do. For anyone struggling in their professional lives, there is an immense comfort to be derived from not being the person who thought Jurassic World: Dominion should be about insects.
Follow us on Facebook, Twitter, Instagram, Tiktok, and Youtube for the l8est entertaining, useful, and informative lists!