Why I Choose to Live in Zamboanga
Mar 13, 2015 &nbsp • &nbsp Anne Hope Bataan

I moved to Zamboanga City after I got married–my husband is from Zamboanga, he grew up here and works here.  Lines from "The Song of Ruth" come to mind: "Wherever you go, I shall go, wherever you live, so shall I live, your people will be my people …"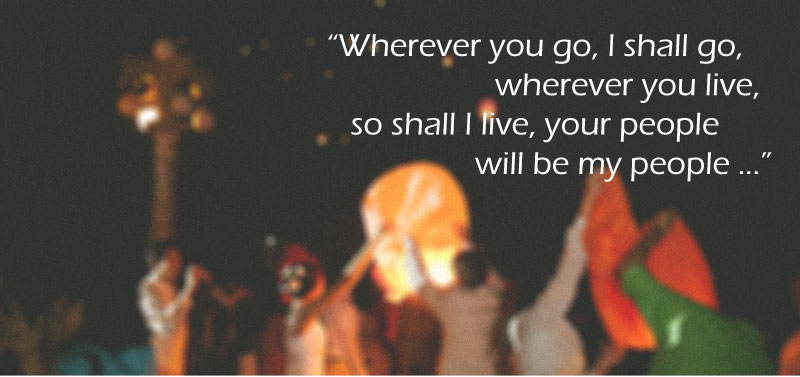 I had my own apprehensions at the prospect of moving to a place that's notorious for the lack of…peace. I can recall how back in the early '90s, I was an officer of a youth organization, and we were going to have a national convention in Zamboanga City.  Due to a bombing at the Zamboanga International Airport that same year, the venue was moved at the last minute to Metro Manila. Those apprehensions were set aside when I had the opportunity to visit the city, later on, with its blue beaches, tropical flowers, colorful vintas, fresh seafood, and its beautiful culture as a melting pot of people.  After seeing what I was "getting into," I knew that I could stay, grow and "transplant" my life here.
A friend of mine who works for an NGO conducted some training in the city, and their venue was so close to where I live that I walked over to meet her.  She was so shocked and scared for me that I walked over, thinking that even walking on the streets of Zamboanga is a dangerous activity.  I kept laughing at the incredulous expression on her face when I explained that it was just a two-block walk from my apartment to this building, and that it was relatively safe to walk around the city.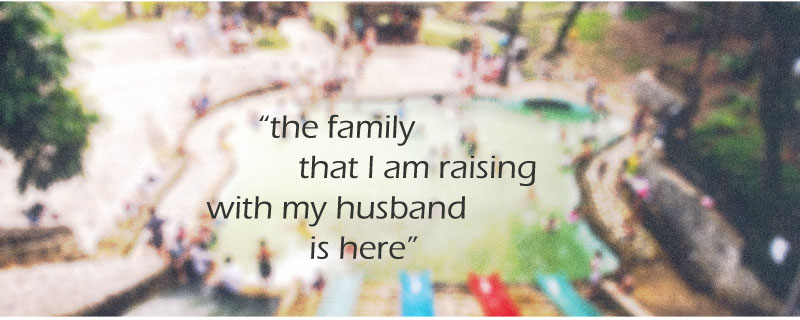 She made me laugh even more when she started teasing me that it was "true love" that brought me to face the perils that the city holds.  When I had more time to mull over this thought, I can only agree that it is love–real, tangible, committed, true–that brings me here.  I have found a home in our love and marriage, in the children we are raising, in the friends I have made here, the new hobbies that I acquired here, the work that I do here.
My family-of-origin hails from Manila, the family that I am raising with my husband is here in Zamboanga City.  Our family life is rooted here. Zamboanga is where our kids attend school, where they run, play, get sick, heal and get well, where they make friends with children of different faith beliefs, where they enjoy various tastes and foods in and outside of their home, where they discover the shells, rocks and other treasures that the shorelines hold at the beach, where they light candles and offer prayers to God at the Fort Pilar Shrine.
For almost a decade a, I have been calling Zamboanga my adoptive home.  I have picked up some Chavacano language skills, enough to get me by for trips to the market: "Cuanto se?" (how much?) "Caro man!" (That's expensive!), for traveling around by "taxi-cle" (tricycle), and for all the adventures and misadventures I've had while living here. Whenever friends and family visit, I become their official tour guide as we go around the city: the beaches of La Vista Del Mar, the view of Sta. Cruz islands from Cawa Cawa (now R.T. Lim) Boulevard, Pasonanca Park with its flowers and butterflies, Jamboree park and Tree House, Fort Pilar to pray to Our Lady of Pilar and light candles, Paseo del Mar to stroll along its walkways, City Hall and Plaza Pershing for its history, and the Barter Trade for shopping of batik clothing and fabrics, and other food items.

Though I was homesick during my first year living here, I gradually had opportunities to meet and gain new friends–fellow parents at my children's school, fellow hobbyists who are interested in photography, fellow "soul searchers" in the prayer group that I joined, and later on, fellow educators at work. I have friends here whom I can invite for kwentuhan, coffee, movies, or just simply to talk. These new friends made me realize that no matter where in the world you find yourself, there is always an opportunity to forge new friendships and meet fellow companions on life's journey.
When the Zamboanga Siege and Crisis happened in 2013, it was my first time to experience the anxiety, fear and frustrations that come from the realities of war. We could hear rapid gunshots everyday, the sounds of helicopters flying overhead. We stayed at home, as the city government mandated, and counted the days that passed, Day 1, Day 2, Day 3…hoping that by handling the stress and anxiety one day at a time, that the day would come when the crisis would finally be over.  My husband and I tried to stay calm and to put on a brave front for our kids, to give the home environment an air of normalcy, even though the situation was extraordinary.
Day 8 happened and there was an airstrike, with three bombs exploding in succession. My children were so scared, they ran towards me. I hugged them tightly and assured them that everything's alright.  From Day 1, at the back of my mind, I knew that I should have prepared an emergency bag for us in case things go badly and we have to run, yet I held off on doing so, possibly because I was in denial, hoping against hope that the crisis would end soon.  After that airstrike, I packed emergency bags for us.
Day 12 seemed more hopeful as the military and government announced that some of the MNLF forces were captured and the hostages were released. We were taken by surprise when during the early dawn of Day 13, we heard loud gunfire close to our home. My husband ran and told me and the kids that it sounded like it was raining bullets on our neighbor's roof. I instructed our helper to get my sleeping child and bring her downstairs. When everyone was on the ground floor except the helper and my daughter, I quickly ran back upstairs, quickly picked up my drowsy daughter, only to be shocked by the sound of a bullet landing on our bedroom floor.  That very bullet grazed the body of our helper, who just sustained a bruise and some light scratches from the impact.  Another bullet landed in our garage.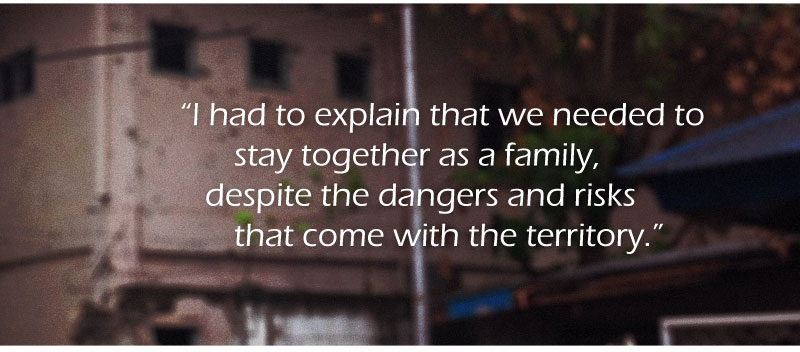 When the airport finally opened, after weeks of the city ports being locked down, my husband insisted that we fly to Manila for the children's safety. I didn't want to leave him alone to face the dangers of war. I was an emotional wreck, but he remained calm, and pointed out all the logical reasons for security and safety. So for a few weeks, we stayed in Manila until the situation stabilized again. My family and friends kept urging me to stay in Manila, because they deemed it unsafe to return to Zamboanga.  I had to explain that we needed to stay together as a family, despite the dangers and risks that come with the territory.  I didn't get their full understanding, but they respected our decision nonetheless.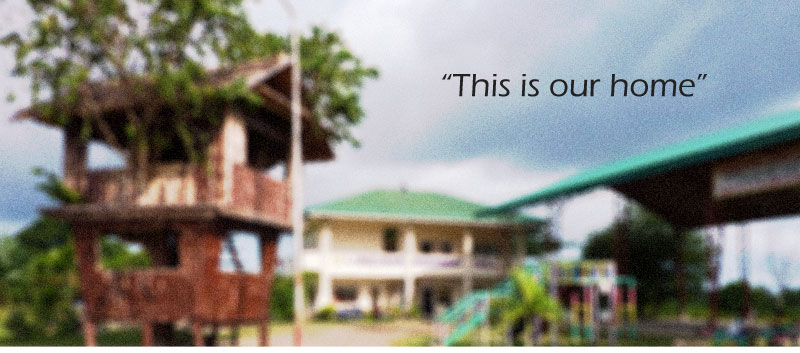 While many families, even long time locals, have fled to safer cities after the 2013 Zamboanga Siege, we have decided to stay.  We continue living here because this is our home, and we would like to see the day when there would truly be peace in Zamboanga City, in Zamboanga Peninsula, Mindanao and our country.  The city is still recovering from the effects of war–there are still evacuees in the Grandstand complex, and displaced people who are in makeshift homes.  There is much for each and every Zamboangueno to do to help this city to "build back better." Despite the continued red alert status, the occasional bombings and acts of terrorism like the recent bombing near the Guiwan bus terminal in January 23, 2015, and knowing that we live in uncertain times, what keeps me grounded are my family, my prayer life, and my spirituality. My family and I try to stay vigilant, and calm, knowing that there are a lot of things that could happen that are beyond our control, and entrusting these to God's protection and peace.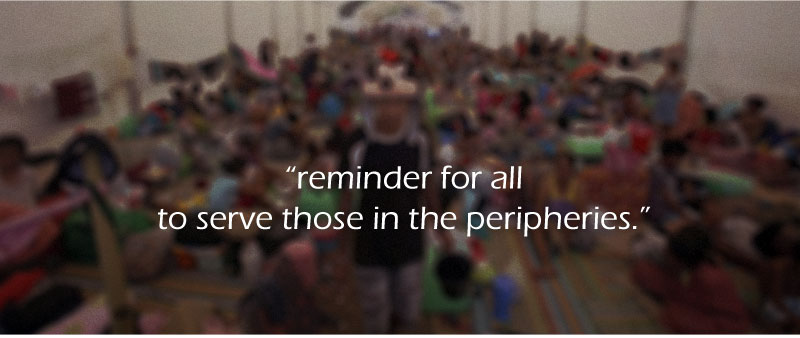 My life in Mindanao has made me observe that a lot of the decision-making of our national government and leaders, who are mostly based in Luzon, aren't made fully understanding the cultural nuances and life here in Mindanao, thus rendering this part of our archipelago as a "periphery" of our national situation. With the recent papal visit, and Pope Francis' reminder for all to serve those in the peripheries, my husband and I have also decided to stay here and work in our respective fields (education and business) to serve the city in our work.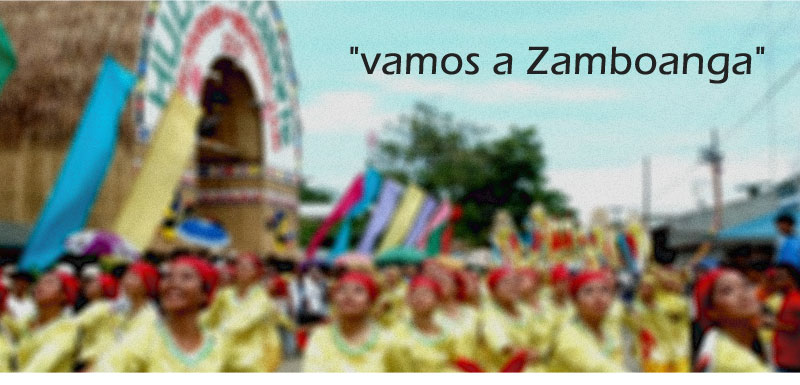 Upon the seeming exodus of people from the city, post-siege, the government came up with a campaign of posters with the message "No Te Vayas A Zamboanga" (Don't Leave Zamboanga).  I found it rather disturbing, because of the negative approach of the campaign–if one is given a message: "Don't leave this place!", the natural follow-up questions would be, "Why is there a need to leave? What are the reasons behind others leaving the place?"  Instead, I would have preferred if the campaign was more positive: "Te Amo Zamboanga!" (I love Zamboanga!) or something that would encourage Zamboanguenos to remember why they love their city and why they will stay to rebuild and develop their city. My husband and I continue to "vamos a Zamboanga" (come to Zamboanga) because we still see potential for growth, development, peace and progress for our beloved city.  We continue to hope, pray and work, for the future of our children and the future Zamboanguenos who will want to have "Levanta Zamboanga" (Rise up Zamboanga).