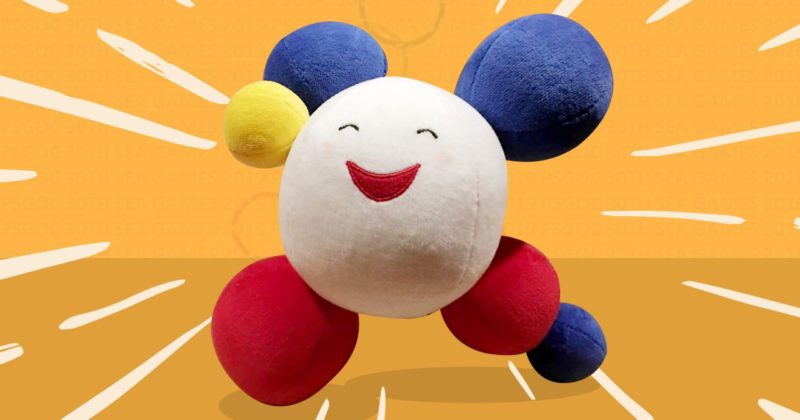 About half a year ago Filipinos had the shock of their lives when the logo for the 30th SEA Games was revealed.
READ: 8 Tweets That Show The Philippines 2019 SEA Games Logo Might Not Be So Good
Let's just say it looked like something a 10th grader would submit for homework. The logo didn't fly and so netizens took it upon themselves to create re-imagined beautiful versions that had a lot of symbolism and potential. Everyone thought it was the end until the official mascot was revealed this week.
⚛ #SEAGames2019 | Let's start to know more about #SEAGames2019?
🔸 Meet "PAMI" – "Pami" is the official mascot of the 2019 SEA Games. "Pami," short for the Filipino word "pamilya,"or "family" is a smiling sponge ball-type figure. pic.twitter.com/9jvAJjWgJZ

— SEA Sports News (@sea_sports_news) January 8, 2019
Yikes.
It won't take a genius to know that this "smiling sponge ball-type figure" is not good.
Naglolokahan na ba talaga tayo dito??! First the official logo. Now this outrageous mascot???! One word. UGLY! 😒😒😒👎🏼👎🏼👎🏼 Maganda pa yung 2005 SEA GAMES Mascot na si Gilas eh. #SEAGames2019 @psc_gov pic.twitter.com/oQJXh2XpXI

— Two City Trails (@TwoCityTrails) January 8, 2019
Are those cells all clumped together? It even has a plushie! What does the rest of the internet think?
Keep your eyes closed!
SEAGames Mascot Unveiled…

ME: pic.twitter.com/pRcCmt9Hn9

— KK (@BaddictsPH) January 10, 2019
Oops.
'Pami' is also 'Pamimigay' (giving away) our territories to China.

— Charlie Mike (@unlicomments) January 9, 2019
From this to bubbles and sponge ball-type real quick
SEA Games 2005 Logo and Official Mascot. That year was beautiful. pic.twitter.com/dE95U9HopO

— Terence (@_terentado) August 20, 2018
So that's why Pami looked pamilyar!
hmmm pic.twitter.com/5BYjxljaEt

— boyet stan account (@ye_naeuri) January 9, 2019
Aaaahh that's why pami looks PAMILIAR 🙊😂 pic.twitter.com/v4hAaLBEwZ

— Liz (@lizzycapellan) January 9, 2019
This is a highlighter, by the way.
Nakikita ko yung logo ng Baby First TV dun sa logo ng 2019 SEA games mascot pic.twitter.com/P6aBXf8PHv

— RARE (@Rica_Estrella) January 9, 2019
IDK The Sea Games Mascot reminds me of LAZ ng LAZADA 🤔 sketchy talaga idk 🙄🙃 #SEAGames2019 pic.twitter.com/irxDhURnvf

— Bendrix 🌲 (@imjababy) January 9, 2019
Dear SEA Games logo makers, the truth hurts
Jusko may budget kayo magpatayo ng venue na pagdadausan pero artists para gumawa ng logo at itong mascot wala kayong pambayad? Kahit sa paint sa computer ang dali-daling gawin yan ng sino maski kinder.

— M e s h a c h (@iam_mishael) January 9, 2019
Getting to host the SEA Games is a big deal and considering the budget the government has allocated for it, they could really have done a better job.
My pamily!
"Pami" is also a short Filipino word "pamily" used by Janina San Miguel, joined her first pageant at only 17 years old, and she did not expect to be one of the taf 10. But as what she said, dat… "My pamily is the most important persons in my lyf."

— ไทร (@simonmacasero) January 9, 2019
I think it's time for advanced graphic design classes
Somebody please tell the SEA Games 2019 graphic designers to stop using MS Paint for their designs. https://t.co/LR9KLzy8u2

— A-Daaamnnn! (@EydamRamirez) January 9, 2019
Pam-pam might just fly
The PH Sea Games' mascot's name is Pami. As Filipino nicknames go, it prefers be called Pam-pam. https://t.co/gOAygUlTAx

— DaddyJulala (@DaJulala) January 10, 2019
You would've thought we'd step up the logo game by now. Quick, SEA Games, you can still change it while the plushie production isn't completed!
But who are we kidding.
Got anything else to add? Share it with us below!