Back to the Wizarding World! | What to Expect from "Harry Potter and the Cursed Child"

By Regina Sicat

The Boy Who Lived lives on with the recent release of Harry Potter and the Cursed Child. Like its predecessors, the eighth story of the series has broken records. It's this decade's fastest selling book in the U.K.; it's sold over two million copies in just two days in the U.S. Locally, it's the first book to create a tiff between rivals National Book Store and Fully Booked, due to distribution issues. It's official: fans have been brought back into the Wizarding World.
The story follows the lives of Albus, Harry's son, as he struggles under his father's shadow, and Harry as he juggles the difficulties of parenthood and Ministry work.Their journeys collide as father and son realize the power of friendship, strength in love, and finding value in the present.Despite its record-breaking success the book's reception is as varied as Bertie Bott's Every Flavour Beans. However, one growing agreement among Potterheads is resounding: it feels like fanfiction.
Veritaserum be damned, I think it's true. Here are eight reasons that make "Harry Potter and the Cursed Child" feel like fanfiction.
8. It's not by Rowling.
Fanfiction is when fans make their own stories inspired by, and using, the characters and settings of an original work. Cursed Child may feel like one because it's actually written by Jack Thorne and only approved by Rowling. Thorne's writing style, coupled with the script format, evidently makes it very different from the previous novels. Without the lengthy prose, Cursed Child lacks the usual rich storytelling. Thorne, however, makes up for it with witty dialogue and poignant lines.
7. Alternate Universes
Through the Time Turner, Albus and his friend Scorpius Malfoy learn a lesson akin to Marty McFly's: one small change in the past can greatly affect the future. The dimensions occurring after each time jaunt is similar to the alternate universes written by fans that answer questions like "What if the Golden Trio were Muggles?" The Cursed Child will show you, in an "It's A Wonderful Life" manner, what happens if Ron isn't with Hermione or what happens when someone pranks Cedric Diggory in the Triwizard Tournament.
6. Unconventional Pairings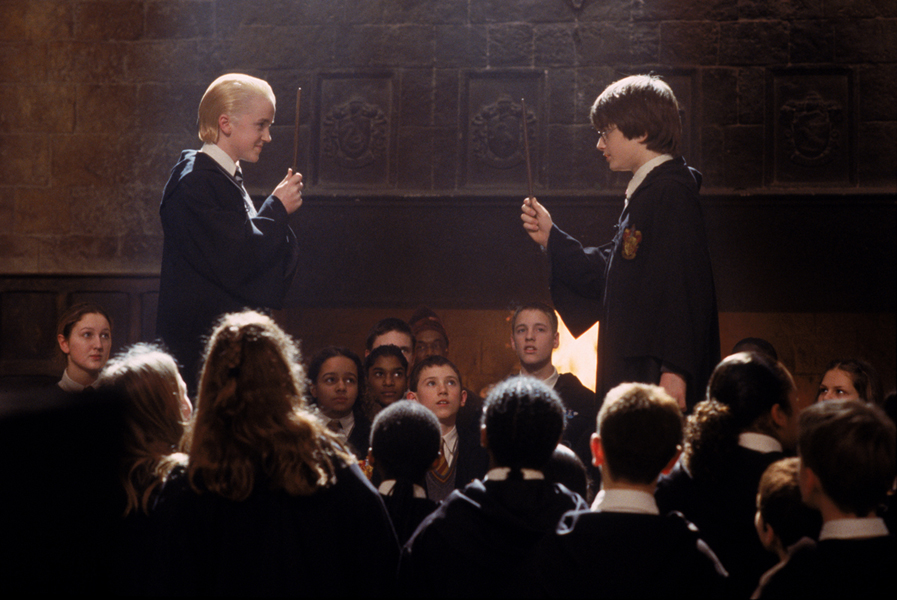 There is no fanfiction without pairings or "ships." While Cursed Child doesn't switch up the couples, it does evolve relationships that weren't brushed on previously. The ability to focus on these unconventional partnerships is something that I believe fans and Thorne are really good at. I particularly enjoyed Draco and Harry's development that will leave Drarry fans, apparently the biggest "ship" on the net, happy.
5. Teenage Angst
The Cursed Child has pointed out that Albus is Siriusly (pun intended) the Black sheep of his family. Thorne emphasizes Albus' frustration at never living up to his father's expectations. His brooding demeanor and the father-son fight filled with angst and unintentionally hilarious lines is similar to the stories on Archives of Our Own.