Mix boredom and creativity while on quarantine and you'll see a long list of all things weird. Now that the community quarantine has been extended (again), we'll definitely see more for the next coming weeks. Though the pandemic got us feeling on edge most of the time, we thank the internet for giving us content to laugh about.
Dingdong on Ding Dong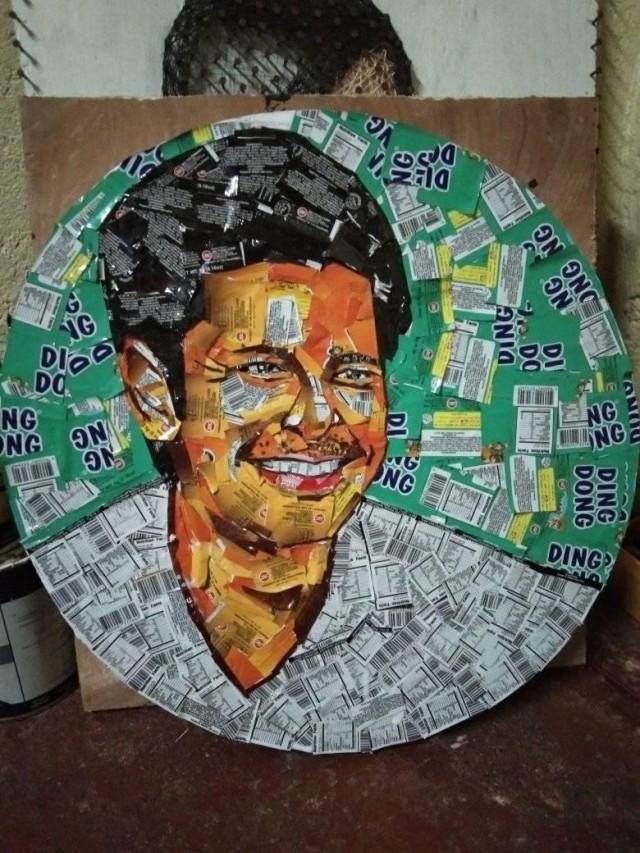 Pun intended. The quarantine has definitely brought out the creativity in most of us. James Lumagod made this hilarious collage art of actor Dingdong Dantes made of the popular Pinoy snack, Ding Dong. He shared the finished art on a Facebook page called Artist's Lounge PH with the caption "Dingdong on Ding Dong". Dingdong Dantes responded with a tweet:
His creativity is making me go nuts!! Hanep! When this is over, baka naman puwedeng makita in person? Gujab ka, parekoy! 👍🏻 https://t.co/uXrvd72moZ

— Dingdong Dantes (@dingdongdantes) April 22, 2020
Hide-and-seek went wrong
hi my name is Amari and i bet you're wondering how i got here…😭💀 https://t.co/uAipVdDAec

— 🧚🏽‍♀️ (@prncssmarii) April 21, 2020
We're all trying our best to stay indoors and one fun activity to pass time at home is through playing favorite childhood games. This game of hide-and-seek became too intense when firefighters were involved. Amari explained in a tweet that she was playing with her cousins and all other great spots for hiding were already taken. LOL.
Home Decor Nerds, Live Out Your Interior Design Dreams and Build Your Ultimate Virtual Home With These 8 Games
Home Decor Nerds, Live Out Your Interior Design Dreams and Build Your Ultimate Virtual Home With These 8 Games
Kyzia Maramara | Apr 22, 2020
Thirst trap for charity
yes this was me and no I'm not fired yet https://t.co/Q8cm6dGOgB

— matt gehring (@mattryanx) April 21, 2020
Hollywood actor Ansel Ergot broke the internet on Tuesday night after posting a thirst trap photo on Instagram (now deleted, sigh) with the caption, "OnlyFans LINK IN BIO". Girl you thought! No, it did not link to his OnlyFans profile. Instead, it redirects you to his GoFundMe page where you can donate to restaurants in Brooklyn who are supporting front line workers in various hospitals. Also, we're glad Matt wasn't fired for liking the photo using MTV's IG account.
DIY haircuts for pets
NOOOOOO pic.twitter.com/I0e2f5l4k1

— ming | nsfr (@shecannutbread) April 23, 2020
Even your furry friends need their haircuts too! What started as a joke became hilarious. Goodbye piggy banks, I'm giving all my coins to this cute AF doggo!
When your Zoom background is for the whole nation to see…
ANONG NANGYARI 😭😭😭 pic.twitter.com/PrUhHrrGvp

— Theodore (@TheodOREOS) April 22, 2020
In case you think it's fake, this Zoom call with Mayor Vico really happened. To make it worse, it was broadcasted live during a forum with the Foreign Correspondents Association of the Philippines. We don't know if it's another case of "Zoombombing" or if one of the participants accidentally turned on their video, not realizing that their background was completely inappropriate. If we're picking up a lesson or two in this, it's that one should pay attention during a conference, and Zoom should impose stricter privacy settings to avoid situations like this.
Yay Wednesday! Some Fun Zoom Backgrounds To Make Your Video Conferences Brighter
Yay Wednesday! Some Fun Zoom Backgrounds To Make Your Video Conferences Brighter
Ina Louise Manto | Apr 08, 2020
Counterfeit pigeons
How to make sure your pigeon isn't counterfeit https://t.co/LrnBqtmX4O

— Kaptain 🏴‍☠️ (@KaptainArr) April 22, 2020
No, birds don't have UV patterns on their wings. In this case, this pigeon's wings were marked with washable ink to avoid cheating in a Taiwanese pigeon race. Who knew that pigeon racing is a thing? In fact, Taiwan has the most pigeon racing events in the world, with up to three million birds!
Meiji Strawberry Chocolate
まじで俺、何やってるんだろ pic.twitter.com/RgwwnJhKAN

— 奏-kanade-🦋 (@xVx_KANADE_xVx) April 21, 2020
It seems that boredom is taking people to new heights. This person just decided to separate the famous Japanese candy, Meiji's Strawberry Chocolate. We've seen others like this too, like one from Facebook who segregated the contents of a can of fruit cocktail or this person who tried to count how much nuts there are in a pack of Ding Dong.
Pierced tongue
I bought these fake tongues and they are too much fun 😂 pic.twitter.com/EBnUD8HsnI

— Keemokazi (@Keemokazi1) April 21, 2020
You can never go wrong with pulling pranks on your mom. This teen decided to buy a fake tongue and pretend he accidentally pierced it with a fork, and it's incredibly funny. Will you try this too?
What other weird news have you see this week? Share with us below!