This Week in Weird News: My Balls Are Stuck Edition
Sep 9, 2016 &nbsp • &nbsp 8List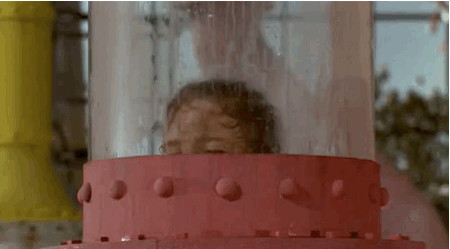 This Week in Weird News: My Balls Are Stuck Edition

By Kevin Christian L. Santos

Hey there weird team! A lot's been happening this week, from our lord and savior President Duterte. Did-he-or-didn't-he swear? Or did he just merely used a form of expression at U.S. President Obama and being his usual mercurial self? Add another weird highlight this week when Transportation Secretary Arthur Tugade blames the country's worsening traffic to a "state of mind." Yep, it's just a state of mind being stuck in God knows where for God knows how long. Well, at least he didn't say traffic isn't fatal, right?
Speaking of weird, we didn't run out of eyeball-rolling and grimace-worthy news this week. Starting with:
8. Juggalo cuts off woman's pinky, drinks blood in bizarre ritual
For the uninformed, a Juggalo is basically anyone who's a fan of the Insane Clown Posse. In this case, Juggalo Jonathan Schrap has been charged with mayhem and reckless injury when he cut off his friend Shelby Neuen's pinky, sliced her arm, and drank her blood in a bizarre ritual to commemorate a deceased fellow fan. Even weirder? The now pinky-lacking woman agreed to be in the ritual. Reports show that Schrap then put the pinky in the freezer and said that he'll "cook it and eat it for later." Neuens went to her boyfriend's house later that night and showed her injuries. His mother heard about this and they then went to the emergency room, where staff called police and had Schrap arrested.
Whatever happened to pouring beer on the floor to remember all the homies you've lost? Or going to their grave to pay respects?
7. Students eat Ghost Peppers on a dare, the expected happens
Pro-tip: never, EVER eat a Ghost Pepper. These bad boys range between between 800,000 and 1,041,427 Scovilles on the Scoville Scale – which measures how hot a pepper is. To give you an idea, a jalapeño only clocks in at 10,000 Scovilles.
Still, that didn't stop 40 middle school students in West Milton, Ohio to down these bite-sized pieces of fiery death on a dare. As expected, they were in extreme pain afterwards. Several of them had to be rushed to the hospital and some suffered allergic reactions. Charles Darwin must be blushing.
Kids, never, EVER eat a Ghost Pepper. Unless of course, you're going to do it in front of a camera and post the footage online so we could laugh at your poor life decisions. Your parents must be proud.
6. If you want to eat human meat, this one's for you (please do not contact us)
If ever you've been annoyed by a scheming, mouth-breathing co-worker and wanted to savagely crush their skull and eat them, don't do it. New documents reveal a disease called "laughing death" caused by the consumption of human meat, NPR reports.
In the 1950s, Australian gold prospectors found their way to the villages of Papua New Guinea. They found 11,000 people living in the area called the Fore, and around 200 people were dying of an odd illness. They called it kuru which means shivering or trembling. Symptoms include total loss of control on their limbs and emotions. It would get so bad that they wouldn't be able to get up off the floor, feed themselves, and control their bodily functions. They would eventually die. The disease primarily hit women and children.
In 1961, medical anthropologist Shirley Lindenbaum later discovered the disease was being caused by how the Fore treated their diseased relatives. Members of the village thought it was a result of sorcery. The Fore would cook and eat their relatives should they die. They believed that their bodies would be better off eaten by one who loved them instead of worms and maggots.
It was believed that women took the role of eating their dead husband/brother/uncle/relative/cousin's brother's sister's son-in-law's former roommate since their bodies were more capable of containing the malevolent spirit that often came with a dead body, because of course it is. They would tame the dangerous spirit and house the remains of their loved ones in their stomach. The problem? The women would often give children pieces of their cooked relatives as a snack.
Lindenbaum and other researchers would later confirm their findings when they injected infected human brain into chimpanzees, and watched symptoms of kuru develop later on. However, what puzzled Lindenbaum and her crew was that it wasn't a virus or bacteria. They compared it to Dr. Jekyll's transformation to Mr. Hyde. It was a twisted protein making nerve cells in the brain to twist, which would later damage even more nerve cells in the brain. The good news? The Fore has stopped this ritual 50 years ago.
And that my friends, is why you shouldn't eat human meat. No matter how delicious Hannibal Lecter makes it seem to be.
5. Another clown trying to lure kids spotted in North Carolina woods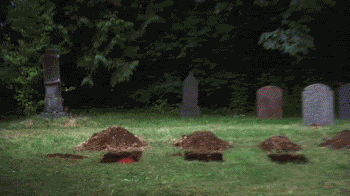 In news straight out of your nightmares, a number of clowns have been terrorizing North and South Carolina and are trying to lure kids into the woods with money and candy.  The latest clown to be spotted was chased by a man with a machete into the woods. The clown was nowhere to be found by investigating officers later on. In another incident, it was a clown with a machete trying to lure a woman into the forest.
Last August, a concerned citizen was able to capture a blurry and not-at-all creepy photo of one of the clowns:
https://twitter.com/kevthoman/status/770414347621273600?ref_src=twsrc%5Etfw
Another witness claimed her son saw the clowns whispering and trying to lure him to the woods. Greenville police has issued a warning that anyone caught in the area dressed up as a clown will be arrested.
A conspiracy theory suggests that this is all a publicity stunt for Rob Zombie's new film 31. The movie follows a bunch of clowns torture and murder a group of carnival workers they kidnap. Saban Films, the movie's distributor, has denied the claim.
Whatever the case, let's just be glad there are no reports of evil clowns in the Philippines yet. It could just be a matter of time. Who needs sleep anyway, right?