4. Police on the lookout for "Masturbating Ninja"
Photo via: Esquire/Seattle Police Department
Seattle police are on the hunt for a masked man believed to have terrorized university students by masturbating outside their homes. The man was first reported on January 10th,  after a woman called 911 saying she saw the masked man peering into her home and fapping. The residence is also home for students in the University of Washington. It's also been reported that the man has visited the home on at least four occasions. Police are still trying to identify the masked pervert.
Why can't this guy just be like Hentai Kamen and use his pervert powers for the greater good?
Photo via: Giphy
3. Woman faceswaps with boob, breaks the internet
LOL I ACTUALLY CBA pic.twitter.com/WNa6yX1YqK

— Lux (@Callux) March 11, 2016
Just when you think you've seen it all, and in case you needed a reason to download Snapchat, check this out.
A video of a woman has gone viral after she faceswapped her face with a nipple with a crudely-drawn face on it. "Your tit's on my face," she screams. It's weird and hilarious and has gone viral for the right reasons. This is technology, people. These are the moments we live for.
2. Dad pretends to be teenaged boy, tricks daughter into sending him nudes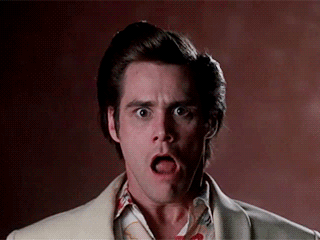 Photo via: Giphy/O&O, Inc
Hold on to your seats, because this story is all kinds of f*cked up.
A 41-year old father pretended to be a 16-year old boy and tricked his daughter into sending him nude photos of herself. In addition, he sexually abused her after.
The man set up various social media accounts and posed as a teenager in September 2013 and shortly began the online relationship with his daughter. The man pressured the girl into sending him nude, and she gave in after initially refusing. He then used the photos to blackmail her into sending him more pictures. Posing as a teenager, he said that he would send the pictures to the girl's father if she refused. In November, the girl said she didn't want to be in a relationship since all the boy wanted to talk about was sex.
After the relationship ended, the girl received a text message from the boy's supposed mother, saying the boy committed suicide. At around the same time, her father received the nude images from her "boyfriend." He then started sexually abusing her shortly after. It wasn't until she told the school nurse that the incident was revealed.
Police found out that the supposed boyfriend's text messages came from within the girl's home. The father pleaded guilty to 12 charges including receiving and sending child sex abuse images. He could be sentenced to 250 years in jail in July.
Can you imagine the emotional and psychological effect on the poor girl? Here's hoping that the man's fellow inmates find out his reason for incarceration. Inmates don't exactly treat child molesters as well, and aren't afraid to dish out some prison justice.
1. Uber driver who killed six says app made him do it
Photo via: ABC/Kalamazoo Sheriff's Department
Jason Dalton, the Uber driver who killed six and injured two in a shooting spree in Michigan, said that the ride-sharing app took control of his body and told him to commit the murders. Documents shown by the Kalamazoo Sheriff's Department showed that Dalton said "he is not a killer but knows he has killed."
Dalton also told police that a devil-like figure appeared in the app, describing it as having a cow's head with horns. The figure would then give him assignments and take over his body. Dalton told detectives that it started making him "feel like a puppet." He's being charged with six counts of murder. Police also say that he has no history of mental health issues. He also passed a background check prior to driving for the service.
It's a good thing that there have been no cases reported of Uber drivers being violent here in the Philippines. Oh wait. There's this asshole.
Anything weird happening on your side of the world? Sound off in the Comments Section!