4. Firefighters rescue man who got penis stuck in ring spanner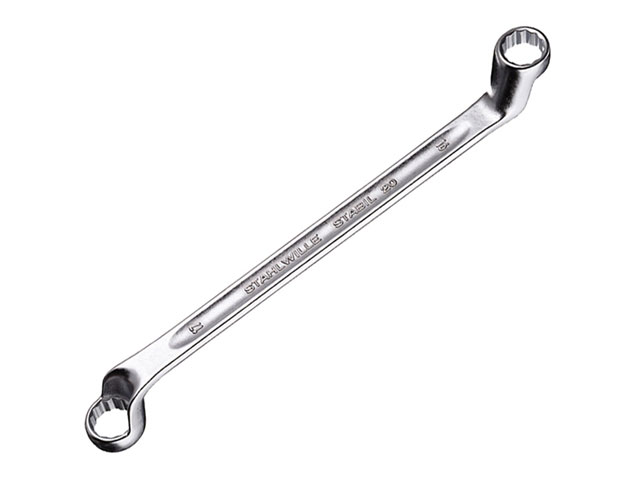 In Australia, firefighters had to perform a "delicate operation" using an angle grinder when a man got his penis stuck in a ring spanner. The man was unable to remove his schlong from the spanner after it got swollen. Tweed senior firefighter said they "do quite a few" similar operations. The question now is, who in their right mind would want to put their wiener in a ring spanner? Probably the same people who enjoy having sex with a park bench.
3. Shit hits the fan when Merlin helicopter flies close to portable toilets
A Royal Navy Merlin helicopter was lifting heavy guns for the Ten Tors Challenge in Dartmoor, flew a bit too close to portable toilets and took them out with the chopper's sheer power. Rolls of toilet paper are seen flying in the air as the toilets are powerless against the helicopter's wrath. Let's hope that no one was dropping a deuce when the chopper flew in and let's all say a prayer to whoever will be assigned to clean this mess. Shit happens, after all.
2. New study shows that your burger may have human and rat DNA
A new study by Clear Labs showed that your burger may have traces of human and rat DNA, while veggie burgers may contain actual meat. The study ran across 258 burger samples from 79 brands and 22 retailers. Three samples tested positive for rat DNA and one had human DNA. 13% of the meat burgers were found to be problematic and 23% of the veggie burger samples were also found to be problematic. Two samples had traces of beef while a black bean burger lacked any black beans.
The study also said that the human DNA found in the burger was most likely someone's hair, skin, or fingernails that got mixed in during the manufacturing process. However, don't go vomit just yet. Here's what Clear Labs had to say about the human and rat DNA:
"While unpleasant, it's important to note that it is unlikely that human DNA or rat DNA is harmful to consumer health. What many consumers don't know is that some amounts of human and rat DNA may fall within an acceptable regulatory range. The amounts we detected in our research most likely fell within the acceptable regulatory range as we understand them."
Well it's still "acceptable." That's good right?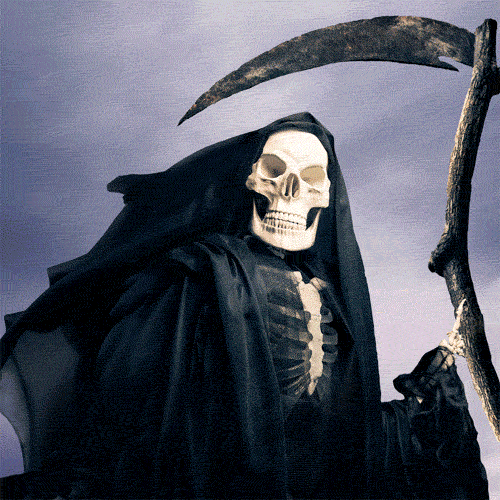 1. Azealia Banks goes on bizarre Twitter rampage
Azealia Banks got suspended from Twitter after going on bizarre and racist Twitter rant against pop star Zayn Malik, Disney star Skai Jackson, and at more groups of people.
It all started when Banks accused Malik of ripping her off in his new music video. Malik sent out a bunch of tweets that may or may not be directed at banks, and it all spiraled from there.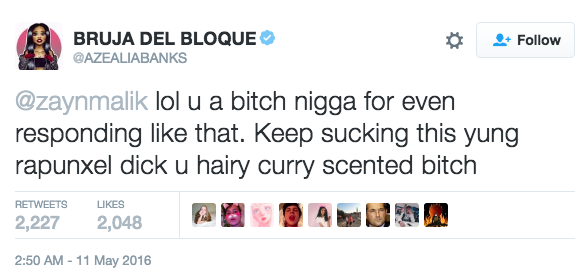 14-year old Disney star Skai Jackson was having none of it:
Azealia Banks needs to simmer down a little😶😂

— Skai Jackson ♛ (@skaijackson) May 10, 2016
To which Banks replied: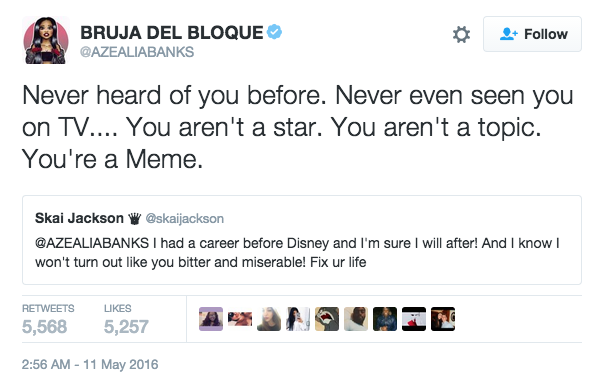 However, Jackson proved that she can also be a straight-up savage:
@AZEALIABANKS a meme with 2.3 million Instagram followers. My memes are more relevant than you😂 now that's sad. Now bye Twitter troll

— Skai Jackson ♛ (@skaijackson) May 11, 2016
MIC DROP.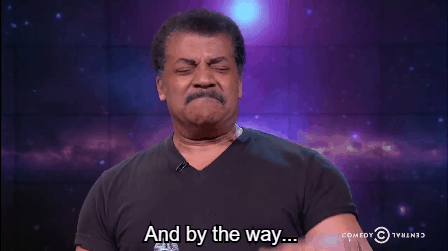 Class act that she is, Banks turned her attention to the UK rap scene: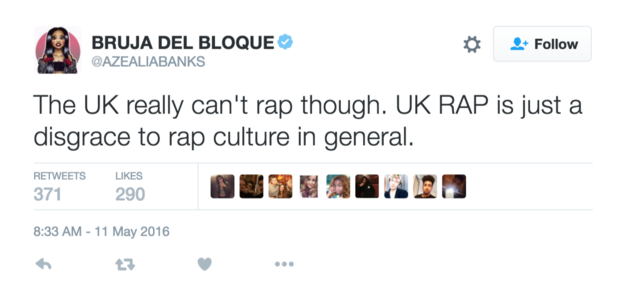 In response, London's Rinse FM's Born and Bred Festival dropped her from the event's lineup, saying "We have decided to cancel Azealia Banks' headline appearance at Rinse Born & Bred. Rinse Born & Bred is a celebration of rave culture and has been created for EVERYONE. We celebrate inclusivity and equality."
Azealia Banks' Twitter account is currently suspended.
What weird news are you reporting from your end of the web? Sound off in the comments below!