True, our esteemed readers from the 8List are (thankfully) not huge fans of the book series turned film series Fifty Shades Of Grey,but it definitely isn't a surprise to see that very few people who are on the outside looking in have the foggiest idea how one even gets into BDSM, let alone that there's actually a Manila-based Filipino community (or two) that's active to this very day.
We don't need to get into a lecture about how BDSM when practiced between consenting and informed adults is a perfectly acceptable lifestyle choice, regardless of how weird or dangerous it might seem to us "vanilla" people. We don't need to explain that this list isn't here to cast judgment on their lifestyle, given that the only difference between us and most of them is that they're more forthcoming with their proclivities than we are. It's a subculture that isn't for everybody, but we don't have to condemn it just because we don't think it's for us.
That being said, we recently sat down with Sandra (not her real name) a formerly active member of the local BDSM community, who identified as a "sub," or a submissive. Her story was more than just fascinating: it was eye-opening, and perhaps a sobering cautionary tale in some ways to people who might want to get involved with the community before really knowing what they're getting into.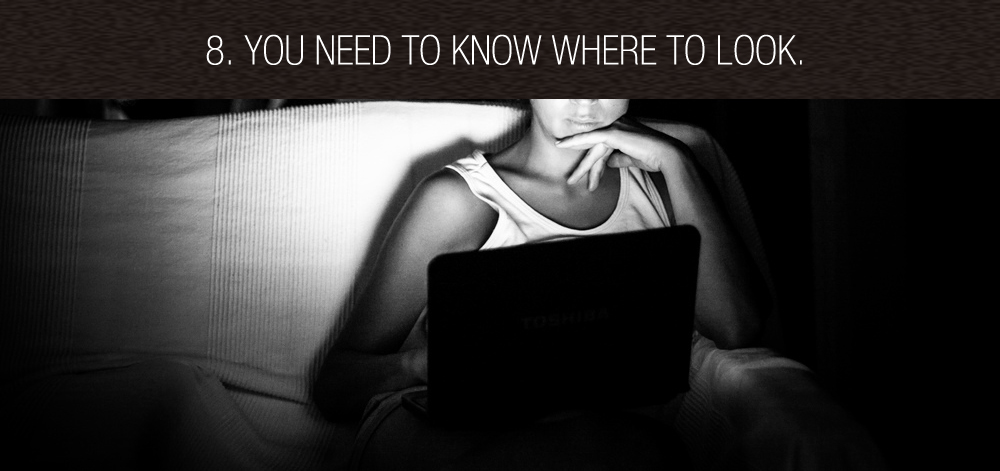 Here's something that might not surprise you: there are a lot of people who got interested in BDSM thanks to Fifty Shades Of Grey. If you go back to before that, you would also find people who got interested in it thanks to Anne Rice's Vampire Chronicles. But once you're inspired, where does one proceed to join a community who's into whips and chains and all that jazz?
Well, fetlife (Link is definitely NSFW.) to the rescue! Our intrepid submissive got into the local community by finding kindred spirits online, and after talking to them, she managed to find herself deep into the community. For the budding BDSM enthusiast, it's a whole new world to explore, which we'll get into a bit later.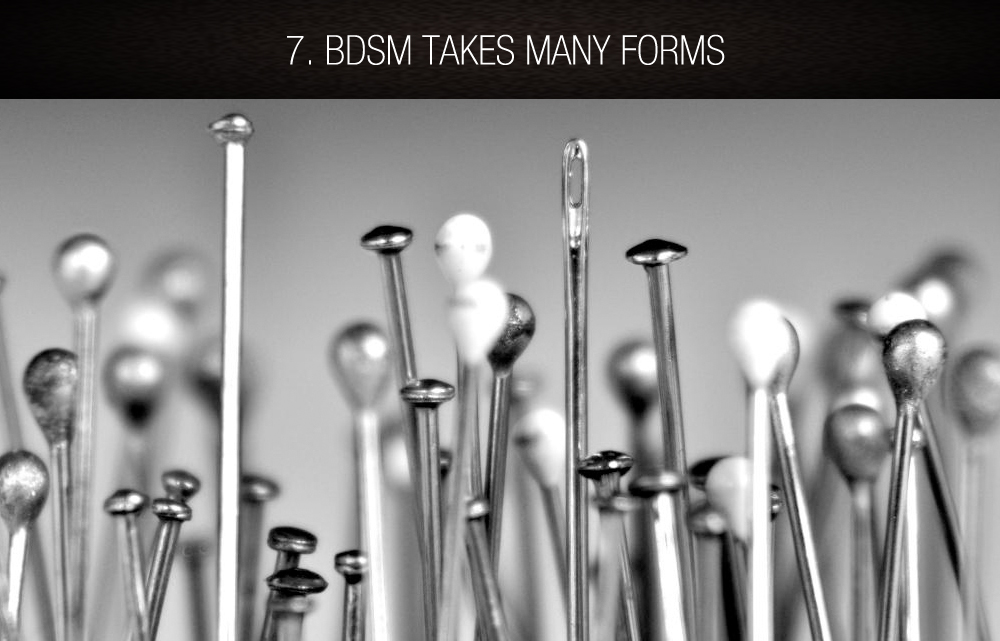 When we hear about BDSM, we assume they're into whips and chains and maybe a ball gag and a gimp outfit or two. It's all standard issue to us, thanks to what Hollywood has made the subculture out to be. By now, we're familiar with Doms and Subs, who form a relationship where the dominant person may have control, but only thanks to the implicit trust given by the submissive, who willingly submits to the Dom. We have Switches, who manage to perform both roles. We also have Tops and Bottoms, who generally are like Doms and Subs, minus the notion of complete submission and the offering up of tribute by the Sub to the Dom (Usually in the form of money or sex.). Think of it like some weird version of friends with benefits, and you'd be far from halfway to understanding the concept, but you're at least getting somewhere.
Beyond that, there are specializations (feel free to Google Image search these, if you want.). You have the Rope Bunnies who are into ropes and hogties and the like. Generally, they look down on the ones who are into Chains, because "it's lazy." You also have the ones who love Needle Play, where they insert needles through your skin in a way that would make your friendly acupuncturist freak out, then maybe tie a nice corset out of it afterwards. Then you have the ones who use Hooks (okay, maybe don't Google that one) to suspend themselves, as some sort of even more hardcore version of Needle Play. You have the ones who love the DID (Damsels In Distress) dynamic, which probably needs little to no explanation. Then you have the ones who are into Whipping and/or Spanking.
And I'm pretty sure all the stuff I just said is merely the tip of the iceberg, and I missed a lot more.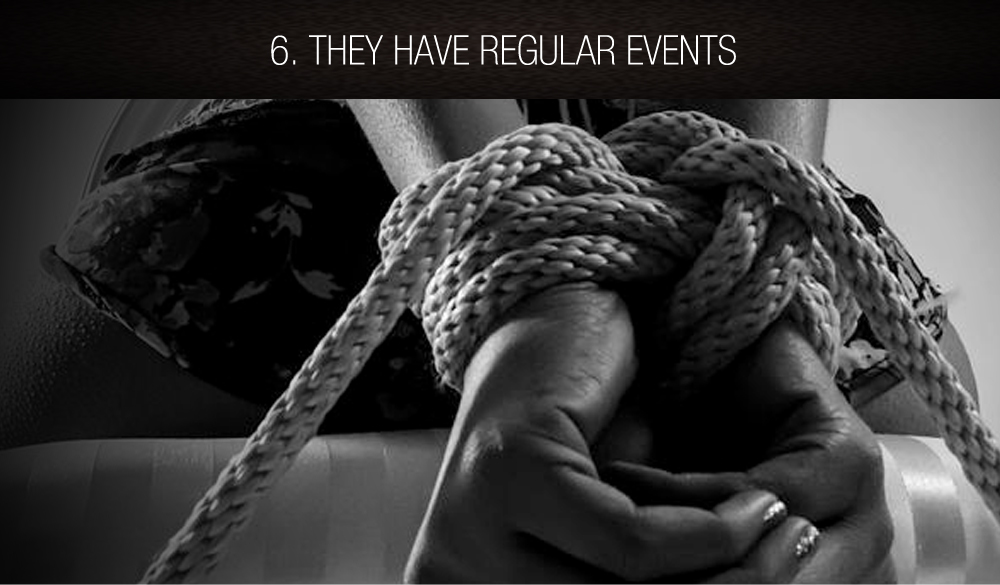 The local BDSM community is obviously very small, maybe numbering by the few hundreds to thousands online. They come together via events, often held in h/motels, and obviously not because the crispy pata in these places is pretty awesome.
So what do they do in these events? This might come as a surprise to you, but not sex. They would demonstrate their craft, for example, by setting up a scaffold where people could be tied to be whipped. Here, people get to see how it's done, learn from each other, sort of like a comic book convention where you talk about ropes and paddles instead of comic books and movies. This is where our intrepid sub really got to immerse herself into the subculture, and end up meeting her eventual Doms.
And yes, if there's one thing you can count on, your privacy is respected very well by the community. Probably one of the biggest sins you can do in this subculture is to blackmail someone about their lifestyle, so it's as close to sacrosanct as possible when it comes to preserving that privacy.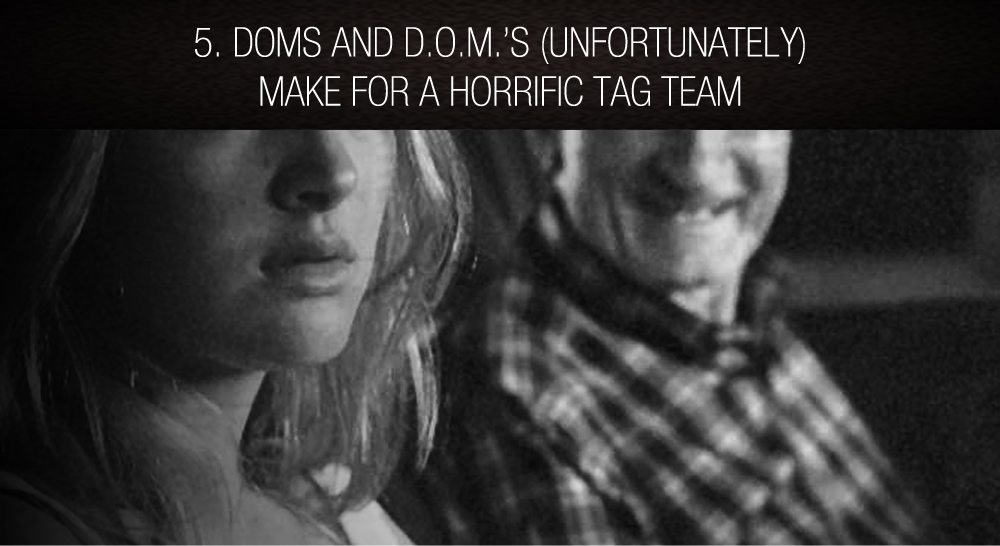 "Most of the members of the community skewed towards their late '30s to their '50s," said our source. What's alarming about this is that not an insignificant number of the male Doms were actually married. Sandra never went there, but during her time, it was really slim pickings. Doms who were also Dirty Old Men. Who would've thought?
When you realize that the local BDSM scene isn't too big a fan of the concept of monogamy, it does take a lot of the rose-colored velvet handcuffs from the Fifty Shades myth, where you magically get to find your one true love in the middle of the lashing and binding. If you're the romantic type, just like Sandra, then you end up feeling pretty jaded and disenchanted by that sad realization.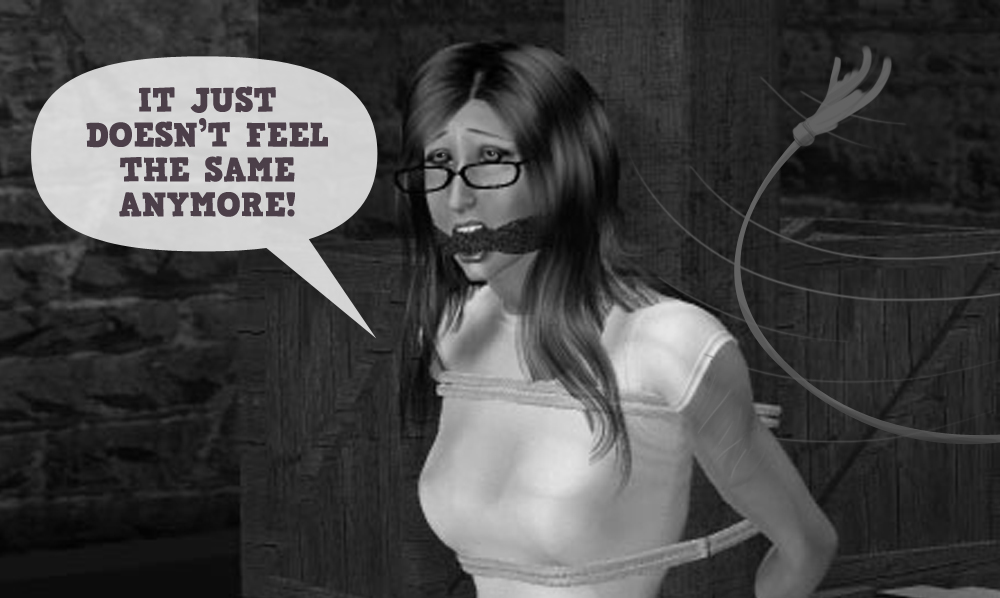 She was once an adventurer just like you, until she took a camel whip to the knee. And another. And another. And another. And another. And another. And another. And… you get the idea.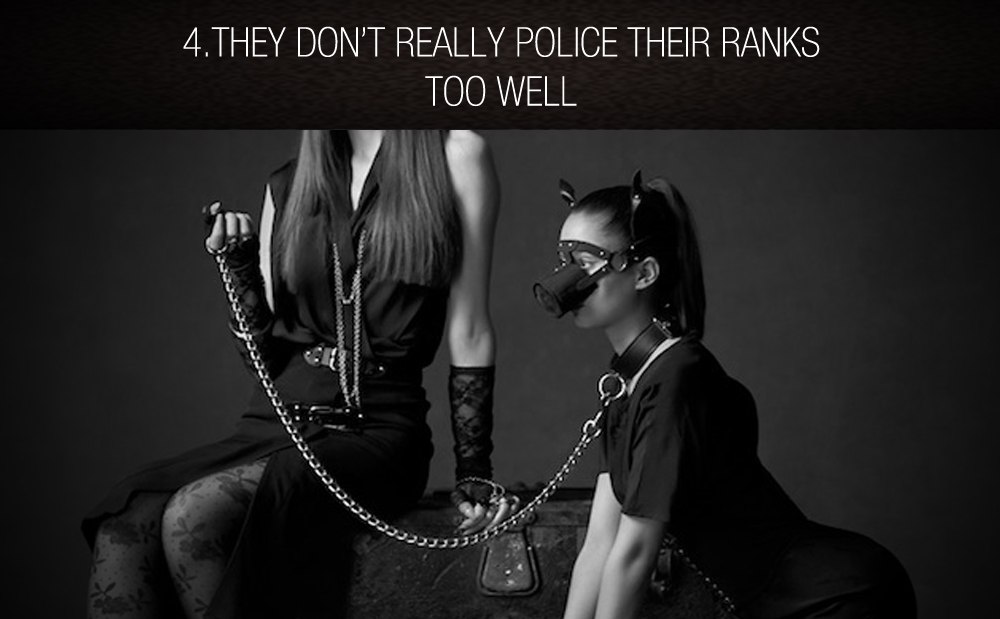 When you realize that sexism isn't exactly non-existent in the local scene, especially with how all the male Doms swarm over the new young, wide-eyed women who get into the subculture thanks to Fifty Shades, you realize it's hard to draw the line and stop people from going too far. Could you really demand Doms and Subs have to have a one-to-one correspondence? Is it fair that only the Doms could have multiple Subs, but the Subs (generally) couldn't have multiple Doms? Maybe the rules are a bit different for them, but these kinds of relationships are built on trust. It's hard to have that kind of trust when the scales are blatantly tipped one way or another.
It got bad enough for the women at some point that our source actually had to organize an all-girl group so they could practice BDSM without fear of predatory behavior. You have to understand: these are all straight women, so it's not like they got together for the possibility of romantic relations. It was a way to defend themselves, and for them to actually compare notes with which particular Doms were not, well, assholes. When you need a support system like that, you just know something's pretty messed up there.
And let's not even get started with new members who go alone to someone's house, without the safety in numbers that the events can provide. The worst experience Sandra ever had with a Dom was when she met this Iranian who tried to coerce her into sex, and got very upset when she refused because she was actually still a virgin at the time. She was terrified for her life, and she was pretty damned lucky to get out of that house unscathed. Not everyone has the same luck, unfortunately.
Nobody ever said that the BDSM community was promoting a low-risk subculture. Unfortunately, the community is pretty much helpless when it comes to making sure the unsavory predators don't get to infiltrate their ranks and become the reason why nobody can have nice (sharp, spiky, whippy) things. Why can't people just get bound and gagged and whipped in peace?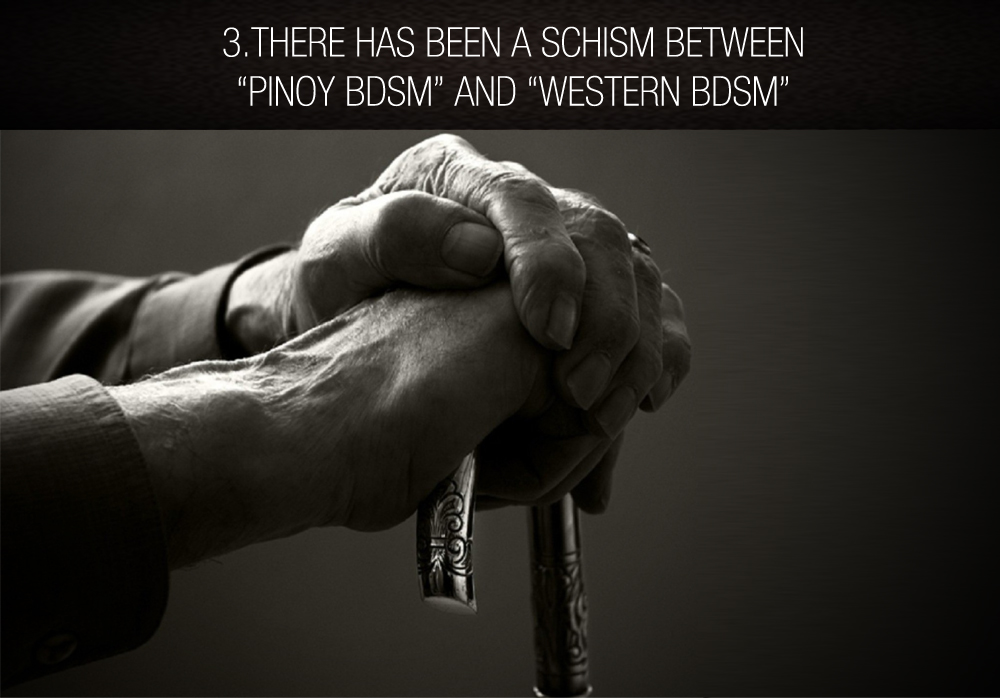 Unlike other more "mature" BDSM communities, the Manila community certainly didn't conform to a lot of things we've now come to know as "ethical" BDSM. Policing of ranks, a working sense of monogamy, gender equality, and so forth. These so-called western ideas were brought by some veteran practitioners who came to the Philippines, which produced a schism within the community: some decided that being more ethical was the way to go, while some decided "Pinoy Pride" were words to live by even while you're being whacked with a crop rider.
At first, Sandra thought she could co-exist with the two communities that erupted from this schism. She went with the West side, but kept in touch with the Pinoy side. Eventually, being caught in the middle took its toll on her, among other things.
"I thought I'd find depth. Instead, I found old dudes looking for playthings," Sandra said. I'm sure other people have had different, maybe even better experiences than her (local BDSM celebrity Joyen comes to mind), but when you put it like that, can you really blame Sandra for leaving the scene eventually?
No, it's not that when poor people do it, we end up calling it "domestic violence." When you get the kind of materials you use for BDSM, from chains to whips to lots and lots of leather, they can get pretty costly, and importing them (unless you know a lot of non-judgmental hardwares in town with a wide selection) obviously doesn't come cheap, either.
Most of the members of the local community are well-to-do professionals. Lawyers, doctors, high-level executives all come together for a way to break free from the tedium of their daily lives. You would be surprised how many people in power in, say, the corporate world, simply want to turn things around and be a submissive when they're in a place where they can trust someone to just relinquish that control to them.
That's too bad, really, because BDSM can betherapeuticin certain cases. Contrary to what closed minds would tell you, there's actually something very liberating about being put in seemingly dangerous situations where your power to say "no" is treated as a non-negotiable.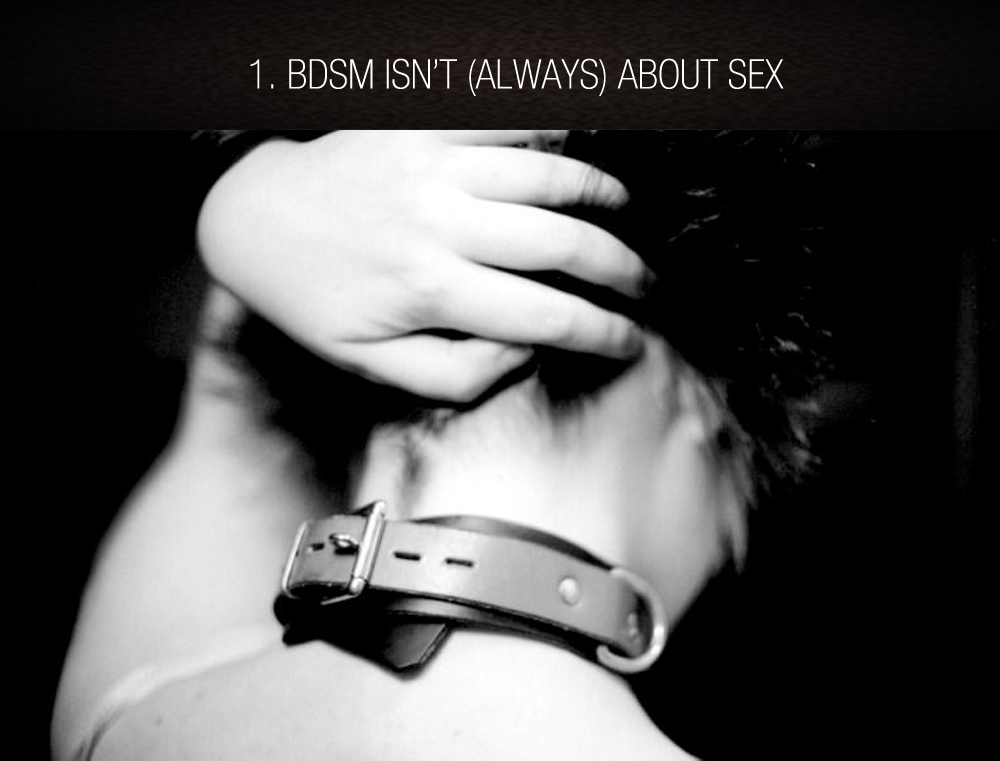 We touched upon it a bit already in #6, but BDSM isn't really all about sex. Unsurprisingly, in the local community, the ones who are mostly focused on mixing BDSM with sex are the male Doms, while the female Doms ask for money as a tribute from the Sub, not that there's anything wrong with either per se. We've all heard about how lucrative a career being a Dominatrix can actually be, so it's also a pretty important distinction to make that sex is not necessarily a part of the package, if at all.
Unfortunately for Sandra, romance and BDSM definitely don't go hand in hand, either. Which goes double for anyone hoping to join the community in hopes of finding their very own Christian Grey.
Sandra left the community, and while personally, she wishes she would never have joined it if she could do it all over again, she would never begrudge anyone who believes that the community is for them. Maybe it's for you. Maybe it's not. What's important is that you know what you're getting into, because if your only picture of BDSM comes exclusively from Fifty Shades of Grey, then you know as much about the subculture as an elephant would know about doing a backflip.