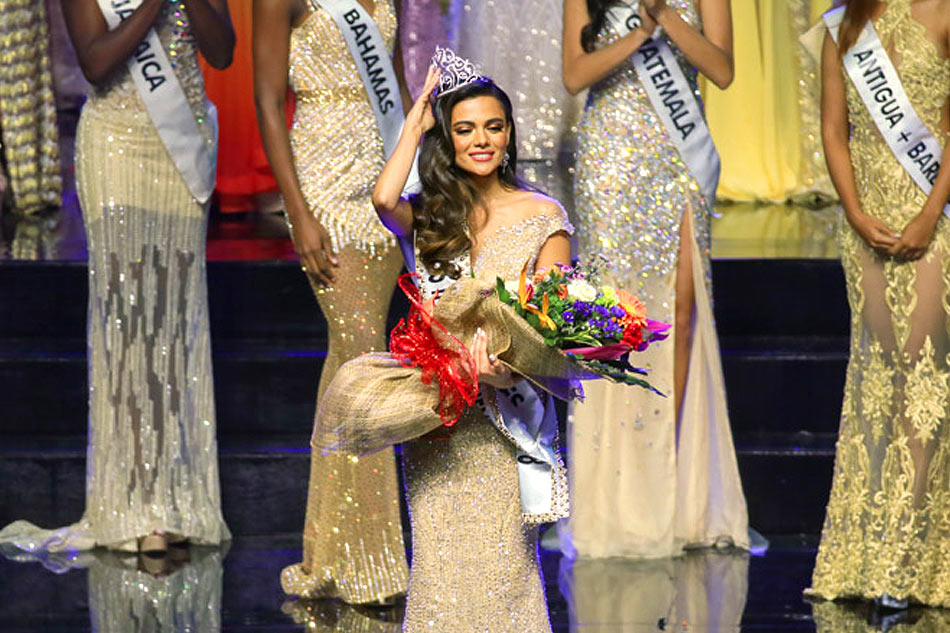 A month after Catriona Gray made the Philippines proud by bagging the country's 4th Miss Universe crown, we have another win: our first Miss Intercontinental crown won by Karen Gallman.
Karen Gallman made history last Saturday when she wowed all the contestants and judges (which included former PNP Chief Gen. Ronaldo "Bato" Dela Rosa) at the 47th Miss Intercontinental pageant held at the Mall of Asia Arena.
Miss Philippines, KAREN GALLMAN during the Q&A Portion of #MissIntercontinental2018

"How do you define success?" pic.twitter.com/Ea34iToKe2

— J O H N D A N I E L L (@itsjohnygreen) January 26, 2019
Ultimately, her winning answer to the question "How do you define success?" distinguished her from more than 80 other ladies vying for the crown.
She answered "For me, success is not just about winning in life. It's about setting goals, achieving your dreams, working hard for everything you want and always looking up to God and be thankful for everything."
She definitely succeeded that night and she did us proud! Here are 8 facts about our new Miss Intercontinental 2018.
She won three special awards for Miss International 2018
Aside from winning the crown, Karen was also presented with three special awards: the Standout Beauty Award, Media Favorite Award, and the Body Beautiful Award. And she won all this before the coronation night last January 26!
She is Filipino-Australian
View this post on Instagram
Add this to the ways Catriona and Karen are similar: they're both Filipino-Aussies. Karen, 26, was born in Bohol where her mother is from and moved to Australia at age 8. Her mother, Editha Bayonas, still made sure that her children would learn Bisaya and Boholano culture growing up, this is why Karen can speak Bisaya fluently without an English accent.
She graduated from Griffith University
View this post on Instagram
Karen graduated with a degree in Business Arts major in Management at Griffith University in Brisbane. She does not only have the beauty for a Miss Intercontinental title, but she also has the brains for it too.
She worked as a company analyst in London before returning to Manila to compete for Binibining Pilipinas once again.
A Look at Catriona Gray's NYC Media Week Wardrobe
A Look at Catriona Gray's NYC Media Week Wardrobe
Kyzia Maramara | Jan 18, 2019
It was her second time trying for Binibining Pilipinas
View this post on Instagram
Yes, the 2018 Binibining Pilipinas was Karen's second time joining the pageant. She first joined in 2012 when she was 19 years old and where she came out as part of the top 12 plus awarded as Miss Photogenic. She didn't let her pageant dreams die then and there though, she came back 6 years later even more confident and she finally won!
She is advocating for better education for underprivileged kids in rural areas
View this post on Instagram
Karen said in an interview that having been born and raised in Bohol and witnessing the hardships children undergo just to be able to attend primary school, this solidified her advocacy of helping these kids get a better education. She has vowed to use her platform to promote her advocacy.
Catriona Gray's Miss Universe Slay: 8 Reasons Why She Deserved the Crown
Catriona Gray's Miss Universe Slay: 8 Reasons Why She Deserved the Crown
Dennis Heruela | Dec 18, 2018
She is a peace ambassador
View this post on Instagram
Last September, she was appointed by the Office of the Presidential Adviser on the Peace Process to be one of the National Peace Ambassadors alongside Eva Patalinjug, Miss Philippines Grand International 2018 bet.
Karen says peace, education, and children's welfare are the causes she's most passionate about.
She loves traveling
View this post on Instagram
View this post on Instagram
As evidenced by her Instagram account, Karen loves traveling. She has been to Prague, Austria, Croatia, London, Greece, Australia, and many more countries. Her recent trip to South Africa showed her enjoying the safari and quiet moments with her fiancé at Cape Town.
She's engaged
View this post on Instagram
Karen got engaged last June to her longtime boyfriend Ian Garton. She announced the news on Instagram with the caption "WE ARE ENGAGED! Two weeks today, the love of my life asked me to marry him… I said YES of course! Thank you for making me the happiest girl on the planet, I am so blessed to have you in my life. I love you with all my heart."
She is photographed above, vacationing with her fiancé in Greece afterward.
Congratulations, Karen Gallman!
What's your favorite Karen Gallman look during the pageant? Share it with us below!