The internet is abuzz over Kuya Kim Atienza's rumored transfer to GMA Network. Netizens gave mixed reactions: on one hand, they will miss seeing the walking encyclopedia that is Kuya Kim spout knowledge on TV Patrol, on the other, they're excited about his future projects. But is Kuya Kim really swapping networks?
Goodbye Kapamilya?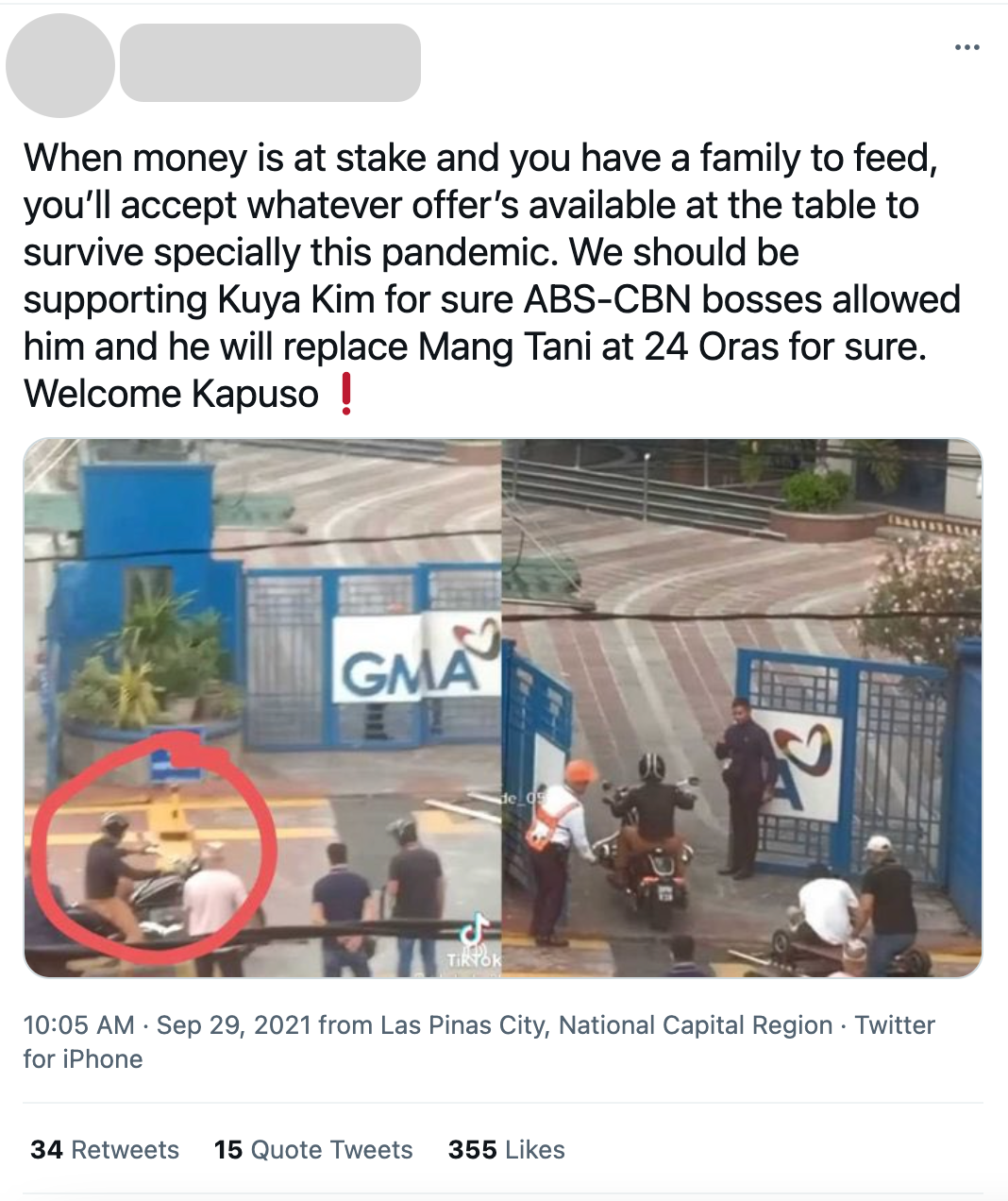 While there's no official news just yet, netizens are convinced Kuya Kim really did make the jump and switched networks. There are photos circulating online of a man on a motorbike, believed to be Kuya Kim, entering GMA's headquarters in Quezon City. But even before the public saw these images, there were already talks about Kuya Kim being the next Kapuso. GMA has allegedly offered him five shows to be revealed when his transfer is confirmed.
What does Kuya Kim have to say about it?
Kuya Kim went live on Facebook and YouTube last Sept. 28 to talk to his followers. He acknowledged the rumors going around and admitted that he is going through a "transition."
"That period of transition is still ongoing," he said. "What does transition mean? Transition is moving from Point A to Point B. This is what I can say: the transition is real."
He couldn't mention any specifics during the live but he did invite everyone to watch him on TV Patrol this coming Friday, Oct. 1. "It will be a very historical day for me on TV Patrol."

"I'll be very truthful and I'll tell you what's going to happen," he adds. "But you know.. that Kuya Kim has been in transition and has been praying for a peaceful and seamless transition."
But it looks like we all know what the announcement is. GMA Network just uploaded a teaser for a certain 'Kuya' which answers everyone's question:
— GMA Network (@gmanetwork) September 29, 2021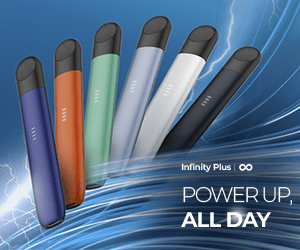 Kuya Kim's legacy
View this post on Instagram
Kuya Kim is the resident weather anchor of ABS-CBN's primetime newscast TV Patrol, replacing the late Ernie Baron in 2005. He is known for pairing his segment, Weather Weather Lang, with interesting trivia. Hearing him say  "Kaunting kaalaman…" is almost a part of every Pinoy's evening. Everyone loved Kuya Kim's trivia so much that he was given his own weekly science-environmental educational show in 2008 called Matanglawin. The show has been on hiatus since 2020.
Beyond news and trivia, Kuya Kim also became a host for ABS-CBN's noontime show Its Showtime and early morning program Umagang Kay Ganda.
What do netizens have to say about it?
Even without GMA or Kuya Kim announcing a transfer yet, netizens are convinced this is the end of an era. Many are bemoaning Kuya Kim's alleged network switch and saying watching TV Patrol won't be the same again.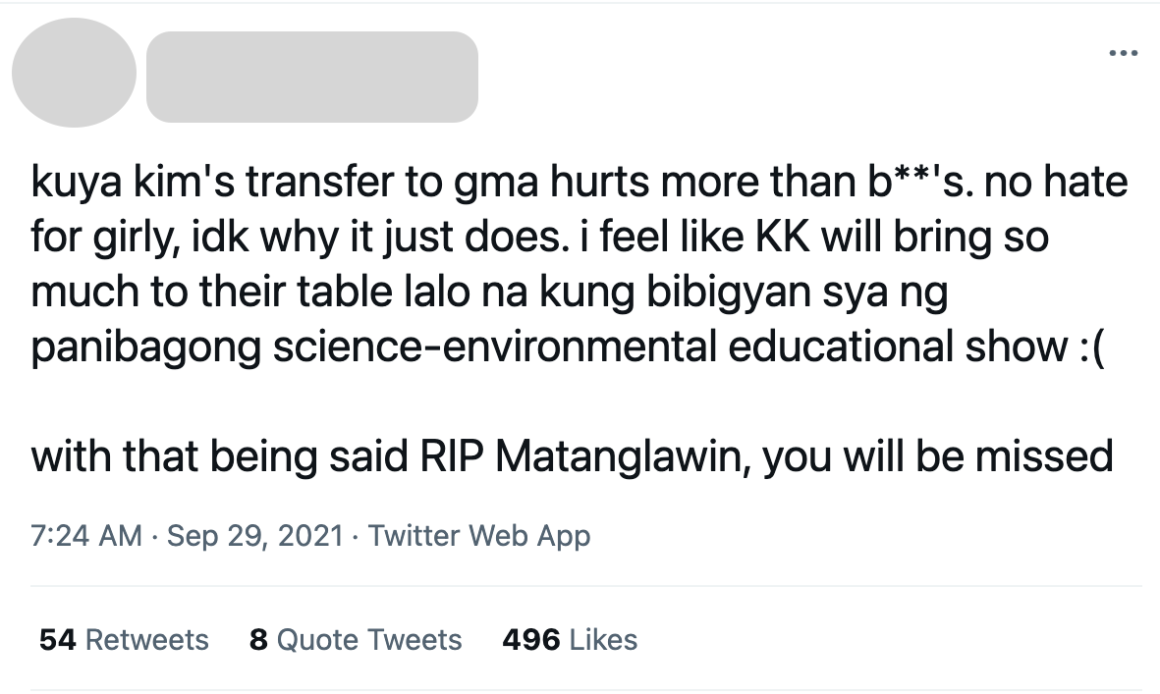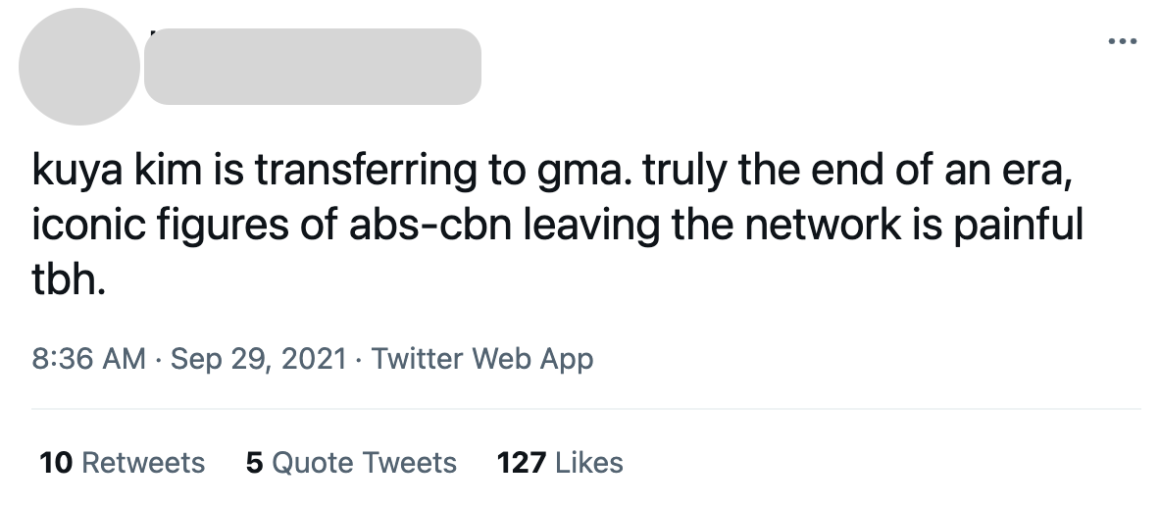 Meanwhile, many are also excited for him to create award-winning shows with GMA: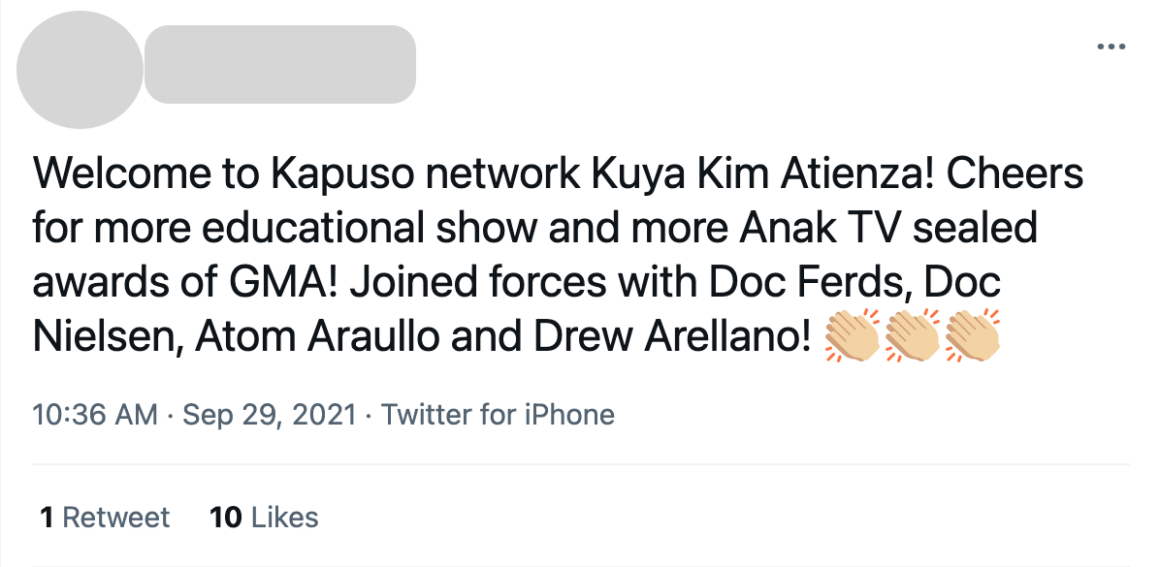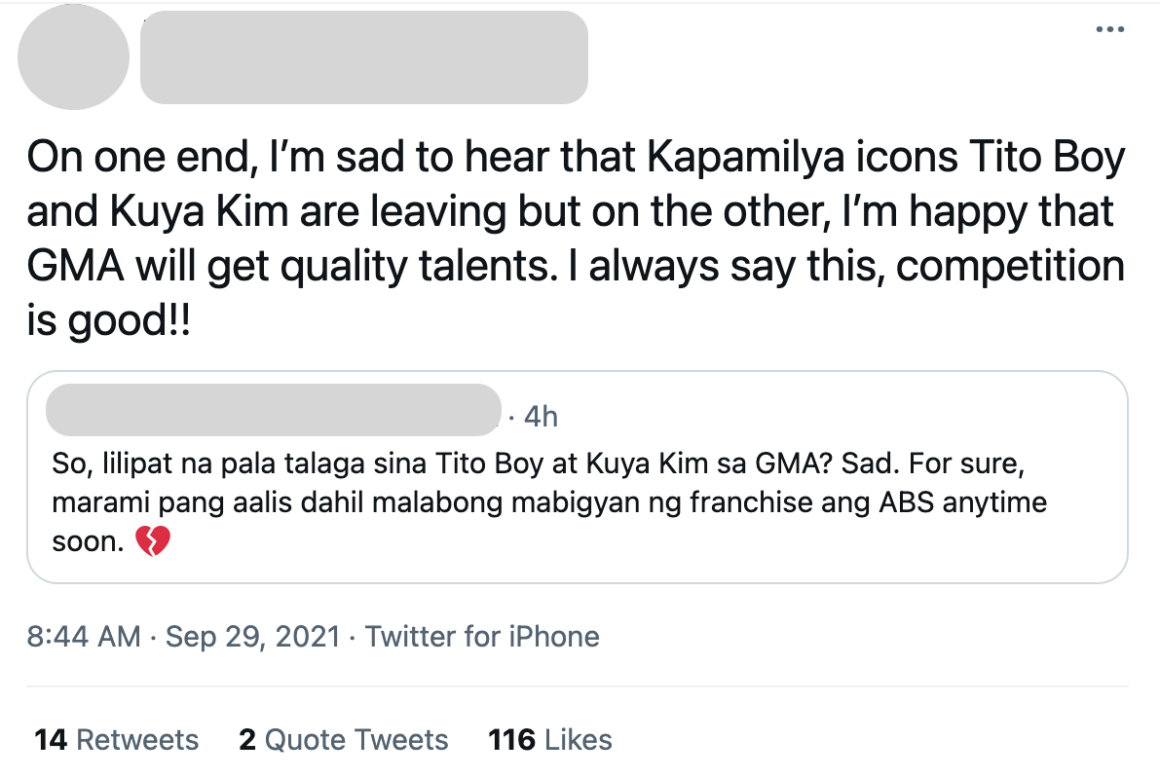 And, of course, some people will crack jokes to cope with the news:
LUMIPAT NA DAW SI KUYA KIM SA GMA. PAGOD NA SIGURO KAKA HAMPAS NG PAPEL SA MRT😔 pic.twitter.com/88S4ySGMXv

— /j (@JShenrick_m) September 28, 2021
In case you didn't get it, that's South Korean actor Gong Yoo in Squid Game. Netizens are convinced he is Kuya Kim's long-lost brother. The resemblance is uncanny!
Netizens reimagine TV Patrol
Some netizens also can't help but imagine how different TV Patrol will be without its resident weatherman. There are also talks about former vice president and current anchor Noli de Castro running for senator in the upcoming elections. If that's the case, netizens think TV Patrol could spice things up with anchors like ANC's Christian Esguerra, journalist Karen Davila, and sports news anchor Migs Bustos.
And what if they decide to create an all-female news program? That would go down in history as one of the most iconic news programs ever.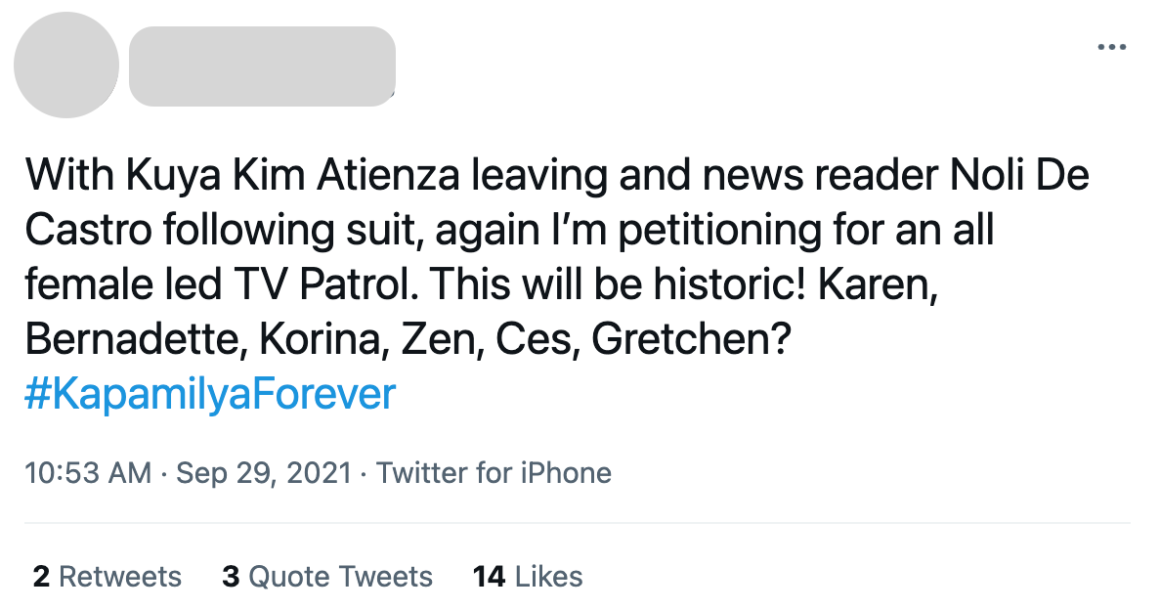 Will Kuya Kim replace 24 Oras' Mang Tani?
There's no doubt that Kuya Kim is a great weatherman, it's only natural he gets a similar position if he transfers to GMA. Many speculate he will replace Nathaniel Cruz, or Mang Tani, as the weatherman for GMA's primetime newscast,
24 Oras
. But what happens to GMA's resident meteorologist now?
Apparently, netizens also noticed that Mang Tani is now staying with his family in Melbourne, Australia. A quick scroll through Mang Tani's social media pages and you'll see how he's been recording his weather reports remotely. In fact, he worked in Australia's Bureau of Meteorology for two years before returning to the Philippines and becoming GMA's weatherman in 2012. Who knows, he might be planning to work permanently in the country and leave GMA behind for good.
Is Tito Boy transferring too?
Alongside the talks about Kuya Kim becoming a GMA talent are also whispers that Tito Boy Abunda, yet another iconic Kapamilya figure, is jumping networks too. In Ogie Diaz's vlog, Diaz mentioned that Tito Boy was finalizing fee negotiations before officially leaving behind his life as a Kapamilya.
It is well worth noting that Tito Boy started out in GMA hosting variety talk show Show and Tell and entertainment show Startalk before he transferred to ABS-CBN in 1999. This supposed 'jump' is just him going back to his roots. But then again, there are no official announcements just yet. We'll have to wait for news to unfold in the next couple of weeks.
What's so bad about switching networks anyway?
View this post on Instagram
Network loyalty is something Filipinos treasure. Many fans believe that stars who rose to fame with a certain network commit something short of a crime when they transfer to the 'rival' network. Imagine the backlash if Kathryn Bernardo became a Kapuso. Or everyone's shock if Marian Rivera suddenly announces she's now a Kapamilya. (You don't have to, Bea Alonzo's recent transfer from Kapamilya to Kapuso illustrates this perfectly.) But switching networks shouldn't be a bad thing. After all, these stars, anchors, and personalities all have to make a living one way or another. If ABS-CBN looks like they won't be getting a franchise renewal soon and GMA Network is brimming with projects, it wouldn't be a tough choice. At the end of the day, we all need a paying job to provide for our ourselves.
Check us out on Facebook, Instagram, Twitter, and YouTube, and be the first to know about the latest news and coolest trends!