Why People are Voting for Senator Miriam Defensor Santiago

by 8List

Here's the fifth and last in our viewpoint series on people's reasons for their presidential choices.
Let's see why people think Miriam Santiago should be the next president of the Philippines.
8. "One Great President We Never Had"
From Manuel Castaneda
7.  We Need Her – We Really, Really Do
https://twitter.com/kimpoyfeliciano/status/724234697593610240
From Kimpoy Feliciano – Recording Artist, Dancer, Performer
"My President is SEN MIRIAM SANTIAGO! She doesn't need us, we need her! The Philippines needs her! #PilipinasDebates2016"
6. She is Worthy of Your Vote
https://www.facebook.com/jeleneegrace/posts/1310987082248596?__mref=message_bubble
From From Jelenee Laborte 
5. "Pinili mo ang Pilipinas, ang mga Pilipino."
From Aki De la Pena
4. Her Consistency
From Myk Gregory Albao
3. Her Academic Track Record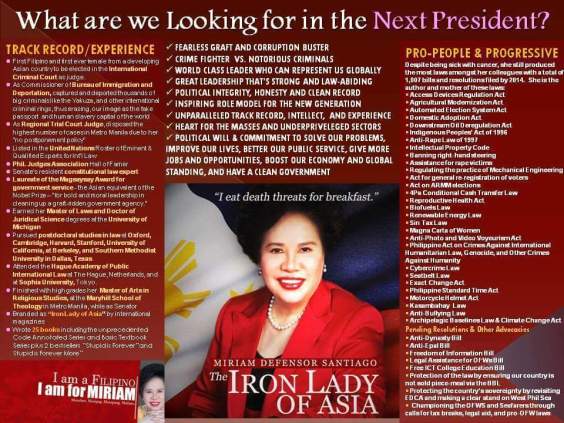 She didn't stop there as she went on to do postdoctoral studies all over the world before immersing herself into the Philippine Government.
2. Her Professional Track Record
MDS has dedicated her life to serving the Philippines. She has given approximately 47 years of her life to this country.
MDS is an Elected Judge in the International Criminal Court (the first Asian from a developing country to be honored as such)
She has an amazing record in all three branches of the government – judicial, executive, and legislative.
Out of all the candidates, she has the best track record, the most experience, and just seems like the noblest person out of the lot. It's a shame she got sick and lost track of her campaign, but she still seems like the spec of hope we all need.
1.  The Hope for the Future
What started out as a Facebook chat group has now grown to a 5,000+ strong support group for Miriam Santiago. What's even more impressive is that all of these people are volunteers – and they form our country's youth. Today, there are 20 chapters of the group in provinces like Laguna, Cebu, Iloilo, Leyte, Zamboanga del Sure, Pangasinan, and Pampanga, and in Davao City. Some diehard supporters have even resigned from their jobs so that they can work full-time on MDS' campaign.
Since MDS didn't really work on her Campaign, this is basically all she has – but it says so much. If people are willing to lay down everything for the sake of the greater good, than they must really believe in what they're fighting for. The youth is our future, and the youth have spoken.
From Youth for Miriam