Why JaDine are Pros at Making Ordinary Moments Extra Special
Apr 23, 2015 &nbsp • &nbsp 8List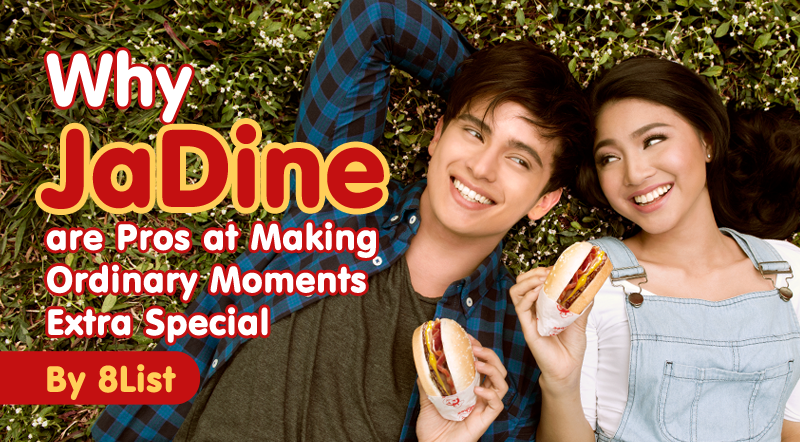 Kilig-worthy duo James Reid and Nadine Lustre are the newest addition to Jollibee's roster of talented endorsers, and we couldn't be more excited. Here are some of the reasons why we think they're perfect (together, forever):




Apart from having great chemistry, James and Nadine look really good together. Unlike the usual showbiz love team that constantly dodges the "Kayo ba o hindi?" question, James and Nadine are really open about their friendship on and off screen, even spending Valentine's Day and their love team anniversary with fans. This transparency and honesty only serve to make them even more lovable together.


Both James and Nadine are tasteful Instagrammers. While some of their posts are obviously shot by professional photographers during shoots, even candid shots and food shots are composed well.



They go the extra mile for each other, unafraid to put in effort like how James dressed up like Edward Scissorhands for Nadine's birthday last year, and how they're both always there for each other in general.



It's nice to see a celebrity duo enjoying things that normal people do, like going to concerts from one of their favorite bands (The 1975).


A video posted by James Reid (@jaye.wolf) on

For Valentine's Day, James picked up Nadine in an awesome vintage car, greeting her with a giant bouquet of flowers. Our V-Day expectations will never be the same again.



They make photoboothing look effortless and aren't afraid of not looking "perfect" at all times.


James and Nadine are always having a good time together. There is a very small number of the population who can make that move look effortless!


They're the perfect endorsers for Jollibee's Cheesy Bacon Mushroom Yum. James and Nadine are pros at turning ordinary moments extra special, showing their fans how it's done. They are the perfect combination of fun and good vibes for the Filipino's favorite fast food chain.
How do you turn your ordinary moments extra special? Let us know in the comments! #CBMYumMoments